VALLEY PARK • Black high-top sneakers and pants. Burger King shirt and visor. Eyeglasses patched with a wad of glue. LaTonya Williams was ready for work.
Now the 18-year-old just needed to get there for the lunch shift.
She lives at Valley Park Apartments, an isolated public housing complex nestled in a patch of woods on Cheryl Lane off Highway 141. A two-mile obstacle course of trails, river, a few delusional men and a six-lane highway stood between Williams and $7.50 an hour.
Without a car or public transportation, she thought the homeless guys under a bridge up ahead on the 30-minute trek seemed like the least of her worries.
"I don't like trucks," Williams said.
Most subsidized housing in the region is concentrated in poor parts of north St. Louis County, such as east Ferguson. West County's Valley Park bucks that trend — in part, fulfilling a dream of planners to intersperse such projects.
The 125 residents at Valley Park Apartments enjoy better schools and safer environments than areas with high-density subsidized housing complexes.
But there is a trade-off.
Valley Park Apartments, which has 42 units, represents a small sliver of the 529 public housing units owned by the Housing Authority of St. Louis County; however, it's the most isolated from public transportation. The closest bus stop is about a mile away on Big Bend Road for the Twin Oaks Express. It runs infrequently. The Fenton Gravois Bluffs bus is two miles away, at Interstate 44.
Neither of the buses travels up and down Highway 141, a north-south corridor regularly jammed with traffic.
"It's quiet, but everything is too far," said Williams' mother, Tonya, still adjusting from the move three years ago from Bellefontaine Neighbors. "We have to walk a country mile."
Minutes later, her daughter was careful not to muddy her uniform as she navigated a steep dirt path through the woods at the starting line of her trip to Burger King. The path was a quick access route to her main thoroughfare — the center median of Highway 141.
About to scuttle across three lanes of traffic to the median, Williams quickly stepped back.
"Whoa," she said of a stray sedan zipping by.
For years, Highway 141 was two lanes. The later expansion to six lanes didn't include room for sidewalks or bus stops.
Pedestrians such as Williams navigate the spine of the highway. As she walked a span over the Meramec River, she had only a narrow cushion from the passing dump trucks and big rigs.
After that, Williams had a dicey decision to make. Walk under the next railroad overpass where the homeless men were, or keep pushing down the center median, now only 2½ feet wide.
"It's quicker," Williams said about her choice to take the high road. That and she said police once stopped her for walking across the railroad tracks.
She patted the raised concrete barrier on her right to keep balance as oncoming traffic approached from her left side, near Interstate 44.
Soon after, fellow workers at Burger King greeted her when she arrived five minutes early to her three-hour shift.
'SCARY WRITTEN ALL OVER IT'
A common problem with subsidized housing is that it winds up being concentrated in low-income areas. That often leads to elevated crime rates. Subsidized housing and other nearby apartment complexes in Ferguson, for example, have accounted recently for half of the city's police calls, an issue that's been visited since Michael Brown was shot by a police officer.
But the situation is different in Valley Park.
Apart from some vandalism and thefts from parked cars, St. Louis County Police Lt. John Bielefeld, who oversees law enforcement in Valley Park, said there isn't much crime in the area.
According to St. Louis County crime data, fewer than 100 crimes — most of which are for misdemeanor-level offenses — have been reported since 2007 at the complexes on Cheryl Lane. That's a little less than 4 percent of all crime reported in a city with a population of about 7,000.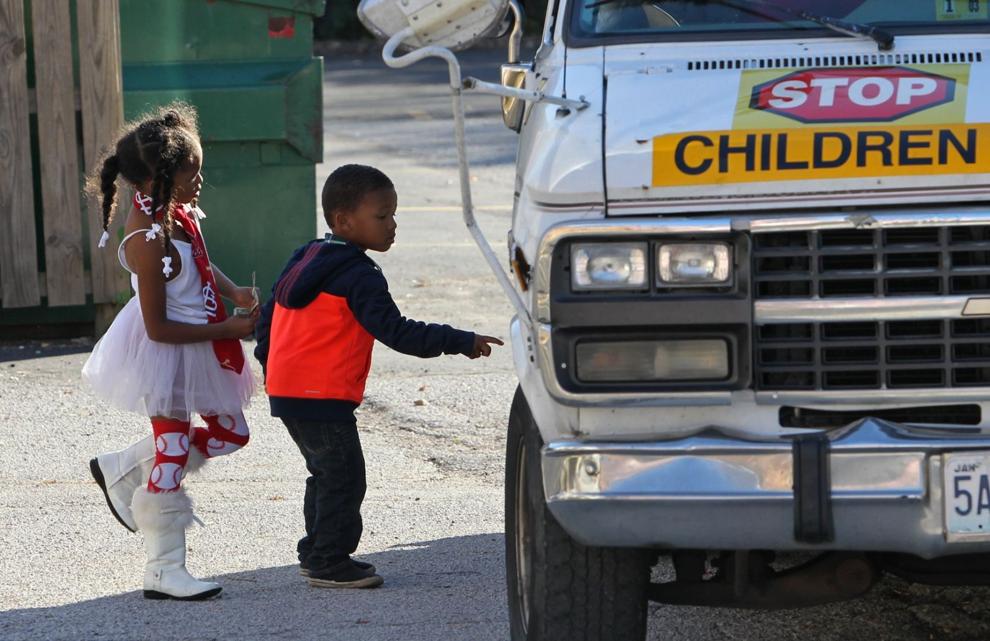 "When I go through there, everybody is friendly," Bielefeld said about Valley Park Apartments. "They wave. There's always people out."
One of the main law enforcement issues in Valley Park is accidents — along Williams' route to work.
In 2013 alone, there were more than 220 crashes in Valley Park that occurred on Highway 141 or by an intersection where 141 was a cross street, according to Highway Patrol records. That's three-fourths of all crashes in Valley Park during that time frame.
"That whole area is a traffic nightmare," Bielefeld said. "I wouldn't want to do the early shift in the morning walking that route."
Told about Williams, he said: "I don't know what color uniforms they wear at Burger King. If they are dark, that's got scary written all over it."
The housing authority has owned Valley Park Apartments since 1977. Many more residents, including immigrants and a few people with disabilities, live across the parking lot in a scrappy complex that charges about $450 a month in rent.
Ellen White, who used to manage Valley Park Apartments, said transportation often came up at monthly meetings.
"Many of them wanted to work, but because of transportation issues they could not," said White, now director of public housing for the housing authority. "If they could work, they could be able to acquire transportation."
Juliet Holden, community communications director at Circle of Concern, a popular nearby food pantry, said a recent assessment indicated that transportation is a leading need among clients. Some residents share vehicles; others, for instance at Valley Park Apartments, walk across Highway 141 to get to the pantry. One woman, child in tow, ended up having her food delivered later because she couldn't carry it all.
"It seems so close," Holden said of the nonprofit agency. "It's right here in small town Valley Park. It's dangerous if they were to walk."
Linda Clay, 63, who has owned two Subway sandwich franchises on Big Bend for nearly three decades, said she's always struggled to get employees. She said other businesses in the area are also hiring.
"Part of it is the shortage of labor force, and we've never had a regular bus coming out Big Bend," she said. "If you could get them to save money like we did when we were young and get a car, it opens a new world."
Ray Friem, chief operating officer of transit at Metro, said bus routes are scarce west of Interstate 270 because there aren't enough riders to make it economically feasible.
"We know it's not perfect, but it's what we can do with the resources provided in the system," Friem said.
Last week, he started studying the possibility of expanding existing service near Valley Park Apartments, but one change to the public transportation system can quickly hit $250,000 a year in costs, funds that would probably need to be cut from somewhere else. What's more, he said, Highway 141 isn't conducive to safe public transit because of the way it's built.
To Williams, and others, $7.50 an hour is worth walking through six lanes of traffic.
She shares a two-bedroom unit at Valley Park Apartments with her mother, who she said is struggling, a 4-year-old brother and a cousin who has 2-month-old twin boys. Williams said she helps support her family financially.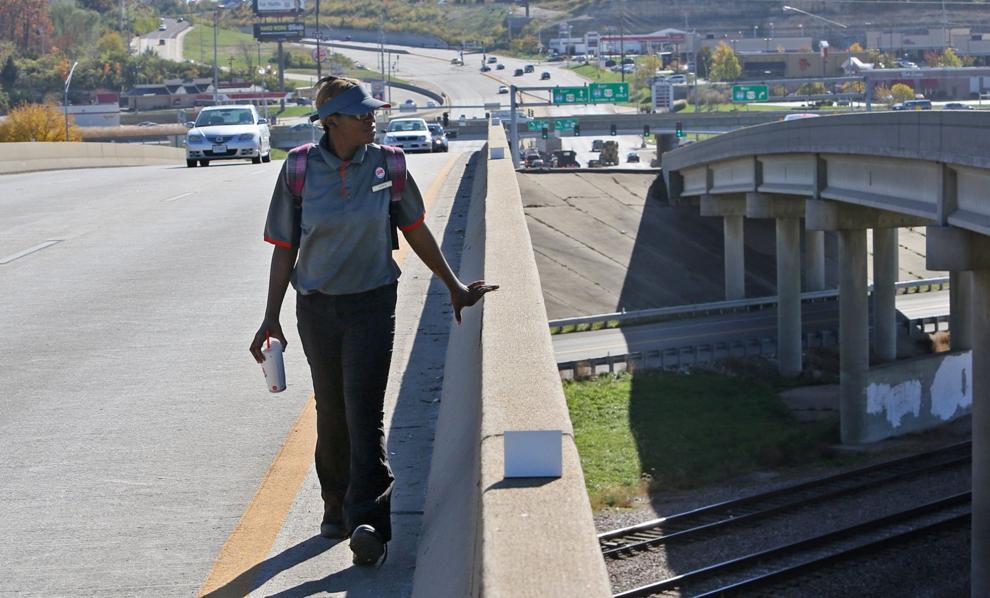 "It's what I have to do to get to work," she said of walking. "I don't want to get fired."
So far the worst thing that happened was when somebody in a red car went by and threw a turkey leg at her. She said it blasted her in the neck.
"I had to stop," said Williams, who has asthma. "I couldn't breathe."
And it messed up her all-black uniform for her second part-time job as a cook at Bob Evans, a restaurant across Highway 141 from Burger King.
Sometimes she works nights there. She's not comfortable always asking for rides home, even though she has poor vision.
She walks the median instead. It's quicker that way and avoids the men living under the bridge.
"It's hard at night because you can't see anything," she said.
Post-Dispatch data reporter Walker Moskop contributed to this report.