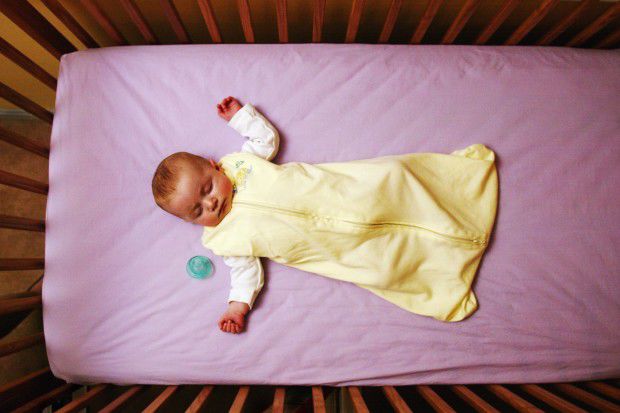 Owen Haber was about 19 pounds the day he was found on his abdomen not breathing in a crib at a state-licensed child care center in Webster Groves; a blanket found bunched up below the 7-month-old's waist weighed nearly a quarter of his weight.
Owen was rushed to St. Louis Children's Hospital but died the next day, Aug. 21.
Last month, the St. Louis County Medical Examiner's Office ruled the cause of death as Sudden Infant Death Syndrome, or SIDS.
It will never be entirely clear whether the child-sized "weighted blanket," sewn with flax seeds inside for greater weight, was a factor in the baby's sudden death.
But blankets in cribs of napping infants are generally considered a risk factor for suffocation and sleep death. A heavy blanket in particular, experts say, could restrict movement — making it hard for babies to flip from their abdomens to a safer sleep position on their backs.
Weighted blankets, typically made with quilted sections filled with seeds or other materials, are marketed online as soothing and therapeutic tools to help children calm down and sleep. Sometimes sellers give parents warnings that the blankets should not be used for infants. In other cases the products are marketed with no such disclosure.
One company specifically targets parents of infants and sells a weighted sleep sack with customized weight for babies. The manufacturer says weighted blankets "act as a deep massage and help babies to sleep."
Dr. James Kemp, a pediatrician and researcher at Washington University School of Medicine, said weighted blankets on small infants were "a dreadful idea."
"No one would recommend them for a 7- or 8-month-old," he said. "To put on anything that impedes their freedom to move when they're in the prone position is a problem."
Owen's parents told state investigators they weren't told that staff at Webster Child Care Center used the 4-pound, 8-ounce blanket on their child while he napped to help him sleep. Nor were Owen's caregivers at the center aware of manufacturer instructions to limit the blanket's use to children 3 and older. Nor was there a medical or therapeutic referral to merit its use on Owen.
After an investigation, the Missouri Department of Health and Senior Services cited the center, on Lohmann Forest Lane, for violations regarding supervision and the improper use of the weighted blanket.
Caregivers told inspectors that Owen was placed on his back at nap time — a sleep safety practice to prevent SIDS that's been required for infants in licensed Missouri child cares since 2011. During the nap, staff members said, they noticed he had rolled onto his abdomen, but he was not re-positioned.
Recent research on SIDS suggests infants are at an elevated risk in the week or so after they start rolling and should be re-positioned on their backs during that period.
The report found seven rule violations at the center, including failure to provide "constant care and supervision" and "to be alert to the various needs of the child."
An official with the Webster Groves police department said the case was under review with the St. Louis County Prosecutor's Office, but charges are doubtful with the SIDS ruling. Generally, when an an infant death is listed as SIDS, it denotes that no known cause for the death can be determined.
Aaron and Anna Haber said they are devastated by the loss of their son, and did not comment further.
The director of Webster Child Care Center, Lisa Jones, emailed the following statement:
"Our hearts and prayers go out to the family whose child experienced a medical emergency at our facility. The health and safety of the children that we care for is our highest priority. Webster Child Care Center is aware of the Report from the Missouri Department of Health and Senior Services. The Center is in the process of preparing a thorough response to the Report and continues to cooperate in the ongoing investigation of this matter with the various agencies involved."
The nationally accredited center is licensed to care for 165 children, and operates five infant and toddler rooms in addition to classrooms for older children.
Weighted blankets are most typically used with older children with sensory integration or behavioral issues, to relax and comfort them.
There is little to no research on the number of cases in which the blankets may have been associated with infant sleep deaths. One sleep safety advocate said she had never heard of such an incident before being told of Owen's case.
State interviews of staff members at Webster Child Care suggest the center had eight weighted blankets in its preschool rooms. Jones, the center's director, told state investigators the blankets were sometimes used with preschool-age children with a referral by a child's occupational therapist and parental consent. Yet the center had no written protocol regarding their use, nor consent forms.
The report further indicates the blankets also were being used with much younger children. The center's infant and toddler program director told investigators she had purchased four weighted blankets for those rooms. She also said she had seen information elsewhere that the blankets were appropriate for infants and toddlers. She said the blankets were rarely used on infants unless she was consulted and the parents were contacted.
Yet a worker in Owen's infant and toddler room told state inspectors a different story, according to the state report. The worker said she had been told by Jones and another supervisor that she could use weighted blankets on children to calm them as long as she placed them below the waist. Another worker said she was not aware of any restrictions.
And the caregiver who put the blanket on Owen the day he died told inspectors she was not aware of any instructions on the use of weighted blankets. The worker said she had used the blanket on Owen, a restless sleeper, on other occasions.
The use of any type of blanket with a sleeping infant is discouraged by infant sleep safety experts who study SIDS. Though some states forbid their use with napping infants in licensed child cares, Missouri regulators do not ban them.
Staff said Owen was smiling and active earlier in the day. He was put down for a nap at 11 a.m. but was not taken out of the crib until after 3 p.m. when he was discovered limp and blue. A 14-year employee of the center said she placed the weighted blanket on the child's legs just below his waist around noon and observed Owen on his abdomen. At 12:50 p.m., she said, she made the child a bottle when he cried out, but she never gave it to him because he did not fully wake. Caregivers noted he cried out after 2 p.m. and noticed the blanket at his waist at 3 p.m.
The report found staff checked on Owen only two to three times during a three-hour period. Staff also failed to properly monitor the crib room. One caregiver remained out of sight of the babies in an adjacent room, the report said. Inspectors also found two noise machines set at such a high volume that the inspectors and a staff member could not hear regular conversation.
The report further cited the center's director for being unaware that weighted blankets were being used on very young children. Nor could she identify the children in the child care center OK'd to use them.
The rule violations prompted a further administrative review by the state Department of Health and Senior Services. That review has yet to take place, a state official said.
But the state has already acted on one issue:
After the inspection, the center was ordered to remove all weighted blankets from all of the child care center's classrooms.