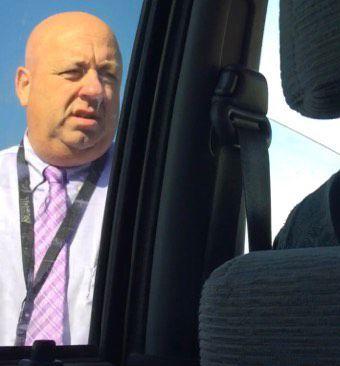 ST. LOUIS • A St. Louis man claims he was given a ticket Friday afternoon after he honked his horn at a St. Louis police officer who was stopped at a green light.
Computer programmer Scott Smith said he repeatedly honked at the unmarked police car before he was pulled over and later got in a heated exchange with the plainclothes officer. 
For Smith, the real-life beeping ticket came when he was driving back to work from lunch with two coworkers. They stopped at a red light at the intersection of South 12th Street and Geyer Avenue, but when the light turned green, the car in front of them didn't move. 
"I didn't want to be a jerk, so I waited a second," Smith said. 
Smith said the car started to move forward slowly as he decided to hit the horn, but stopped abruptly when the driver heard the honk.
"So I hit the horn again and then I just laid on it for a few seconds when he still wasn't moving," Smith said. 
Smith said the car eventually drove forward and pulled into the left lane. But after Smith passed the car, hidden police lights began to flash and the officer pulled him over. 
Smith started recording video on his phone as the officer approached his car.
The video does't show the officer, but includes audio of an exchange Smith claims began right as the officer first approached his vehicle. (Warning, the exchange contains expletives from both men).
"Is your horn stuck?," the officer asks.
"Is your brake stuck?" Smith says back.
The officer curses at Smith calling him a "smarta**" and demands to see his license. 
When Smith (who curses right back) asks why he was pulled over, the officer is recorded on the video saying: "I tell you what, you're gonna either show me your driver's license or you're gonna wind up getting a ticket. I'll tow your car and lock you up."
When Smith mentions he was late for work, the officer says: "I hope you're not in a hurry because you're going to be delayed for a little while."
Smith claims he waited in the car for about 45 minutes before the officer told him he would be sent a ticket in the mail related to excessive noise from a vehicle and he was free to go. 
"I get that he was mad that I honked," Smith said. "But don't sling insults at me, keep me on the road for 45 minutes and take your personal aggression out on me."
A spokesperson for the St. Louis Police Department said the department launched an internal affairs investigation into the incident, but declined to comment further. 
Smith said he has no regrets about honking at the unmarked vehicle.
"If it had been a regular cop car, I still would have honked," he said. "Clearly they weren't doing anything and I had to get to work." 
Smith said he's never seen the episode of "Curb Your Enthusiasm" that mirrors his story, yet he clearly agrees with the sentiment Larry David's character yells at an officer:
"No one's above the beep! No one!"
Smith plans to file a formal complaint to the St. Louis police department about the incident.