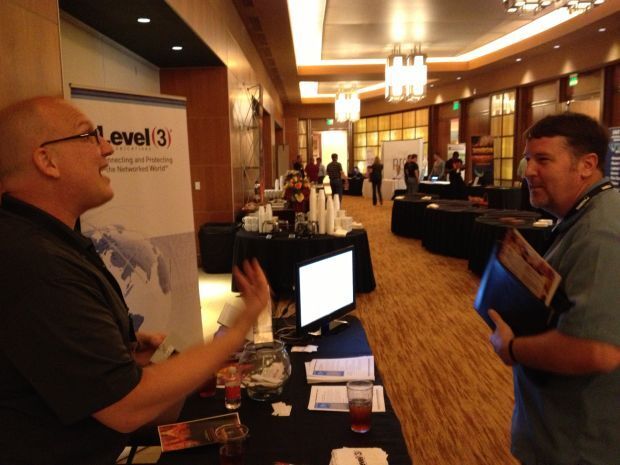 ST. CHARLES • It takes a hacker to catch a hacker.
That's the theory behind the ShowMeCon convention of "ethical hackers" and cybersecurity experts at the Ameristar Casino.
St. Charles-based companies Parameter Security and Hacker University organized the conference, which started Monday and continues today. The event is geared toward internet technology professionals who face the daunting task of securing computer systems from malicious hackers. Or at least trying to do so
"To say we're losing the battle (to hackers) is the understatement of the year," said Dave Chronister, 38, an owner of Parameter and Hacker U. "Sooner or later, (hackers) are going to get in. So, either go back to pen and paper or work on mitigating risk."
A wide range of clients — from government agencies to corporations — pay Parameter Security to attempt to penetrate their networks and computer systems using tried-and-true methods of malicious hackers. The goal: finding and correcting vulnerabilities. Hacker U. offers training in the ways of hackers.
During a break in the conference Monday, Chronister emphasized the vulnerability of computer systems to malicious hackers. Businesses need to not only protect their systems, but be prepared to react to incursions.
"Sooner or later, you're going to go through the five stages of grief," Chronister said. "The sooner you get over the anger stage and move on to acceptance, the better."
Wendy Gauntt was among those who paid $199 for the two-day conference. Gauntt is the owner of CIO Services, which contracts with small- and midsize firms to handle their IT services.
"Security is heavy on the mind of my clients right now," said Gauntt. "We send out security notices and every day we're trying to decide which ones are truly serious."
Jay Rademan, a security analyst for Unigroup Inc., was attending as part of his work toward attaining an additional security certificate. Unigroup provides international moving services for corporate and residential customers.
"We have a fiduciary duty to protect customers' information, including their names and addresses, and their financial data," Rademan said.
Chronister said recent incidents such as Monday's news that Target's massive data breach had cost company CEO Greg Steinhafel his job, as well as the hacking last year of credit card information at Schnucks stores, have given the false impression that hackers have been particularly busy lately.
"What I think is really happening is that high-profile cases like these prompt a bunch of other CEOs to finally have their systems checked," Chronister said. "And when they do, they find out that they, too, are victims."
Chronister, who grew up in Maryland Heights, founded Parameter in 2007 with his wife, Renee Chronister, who handles the company's marketing. She said the company has expanded into the forensics of tracking hackers and has provided evidence and testimony that has led to successful prosecutions.
The company has 10 full-time employees. "But we're seeking to hire," Renee Chronister said.