UPDATED with Allman off radio station Tuesday morning
Conservative commentator Jamie Allman has lost his job with KDNL (Channel 30), just days after a threatening post he made on Twitter stirred up a controversy.
A spokesman for the Sinclair Broadcast Group, which owns the ABC affiliate KDNL, confirmed Monday evening that Allman's show is finished.
"His show is canceled and he is off the air immediately," Ronn Torossian, the CEO of the PR firm 5W, said by email.
Torossian did not provide any other details.
Hogg has been among the most outspoken survivors calling for gun control in the wake of the massacre in February at a high school in Parkland, Fla.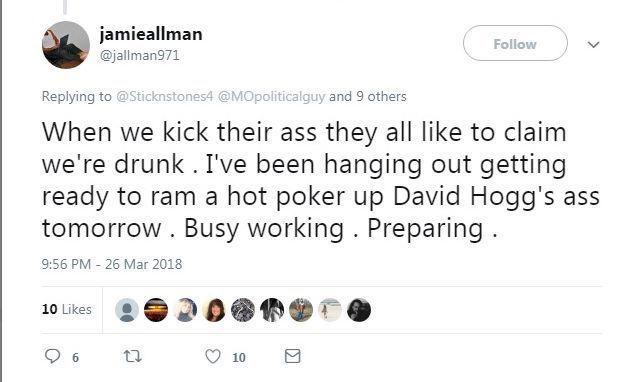 Shortly after the tweet about Hogg, Allman's Twitter account was "locked." That meant anyone who wants to see his tweets first has to request his permission to follow him.
The tweet about Hogg prompted calls for Allman's firing as well as a boycott of his sponsors.
Among those leading the boycott call was state Rep. Stacey Newman, D-Richmond Heights.
"I'm amazed at the outcry," Newman said Monday. "We've had people all over Missouri (and) all over the country weighing in on this ... it's heartwarming to know that tons of people throughout the state understand this is not acceptable. Even though we hadn't asked for his removal or resignation, (Sinclair) took it upon themselves. People know where the line is."
In addition to "The Allman Report" on KDNL, Allman also has a show on conservative talk radio station KFTK (97.1 FM). On Tuesday morning, Allman was not on air - and the station said he was taking a few days off. 
Several businesses — including a Ruth's Chris Steak House franchisee, the Gellman Team and PALM Health — pulled advertising from Allman's shows over the weekend.
Newman said that her "efforts will continue" as long as Allman has airtime on the radio.
Allman has been a fixture in St. Louis media for many years. He was a reporter with TV station KMOV for 15 years before being appointed chief spokesman for then-St. Louis Archbishop Raymond Burke and executive director of communications for the archdiocese in 2004. He resigned in June 2005, six months after he was hired.
Allman could not be immediately reached for comment. FM NewsTalk 97.1 program director Jeff Allen did not immediately respond to a request for comment.
Politicians have resigned or been removed, ended their careers or kept moving forward in the scandals since the 2000s began.