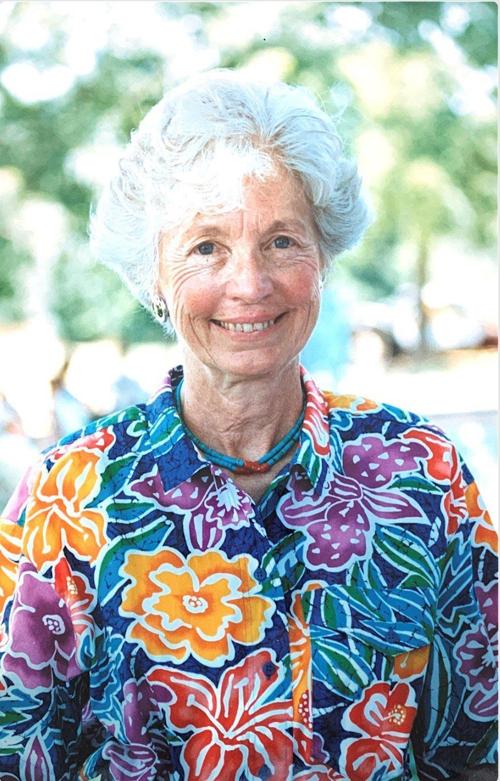 What particularly distinguished Joan Goodson, said her goddaughter, Ann Murphy Burroughs, was her "unending curiosity. When she met someone, she would want to know all about them: what were their passions? If she saw a flower or an animal or a bird, she would ask what kind it was. That extended to art and to music. She had a million questions about everything, and it kept her engaged in the world. She was so vibrant because she had so much curiosity."
Joan Blase Goodson, a philanthropist and founding board member of the Contemporary Art Museum, died at Missouri Baptist Medical Center on May 9 of complications from COVID-19. She was 94.
A St. Louis native, Mrs. Goodson graduated from Kirkwood High School in 1943. After earning a bachelor's degree from the University of North Carolina at Chapel Hill in 1947, she returned to St. Louis and became an advertising copywriter and publicist for retail stores.
In 1962, she married Jean S. Goodson, and moved to his expansive property fronting Des Peres Road. Although they gradually sold off parcels for subdivisions as suburbia encroached, the Goodsons retained more than 40 acres. In 1997, they donated 10 acres to the Missouri Department of Conservation; known as Bittersweet Woods, for Mrs. Goodson's love of bittersweet, it's leased to and maintained by the city of Des Peres.
The Goodsons built a small midcentury modern house, designed by St. Louis architect Ted Berger. "From spring to fall, the garden down by their barn was just bursting with produce of all kinds; Joan would go down and gather a batch, and make amazing meals," said Burroughs.
The Goodsons loved to entertain. There were horses and, in season, hayrides and sleigh rides. There was a pond for fishing and ice skating. There was a Mexican burro named Whirlaway, who regularly nibbled at Mrs. Goodson's rose garden, and cats, dogs, chickens and goats. "It was every kid's dream," said Burroughs, "and they loved having children there."
The burro was the gift of a Mexican supplier; Jean Goodson was president of the International Hat Company, and the Goodsons traveled the world to shop for straw and ribbon, with trips to China, India and Ecuador in the mix. After Jean's death in 2003, Mrs. Goodson continued to travel with friends and family members.
When Jean Goodson bought the property, there was a row of small houses at the front of the property, which the Goodsons rented to local secondary school teachers.
One of them was Philip Barnes, a classics teacher at John Burroughs School and the artistic director of the St. Louis Chamber Chorus. "Joan was unfailingly interested in, and generous with, everyone she met," said Barnes. "She loved contemporary art and classical music, and I am grateful that she supported not only her beloved (Opera Theatre of St. Louis), but also the Chamber Chorus. With the SLCC it was not merely a financial gift, but an engaged ear that was always eager to learn and know more."
In addition to OTSL and the SLCC, Mrs. Goodson also supported the St. Louis Art Museum, the St. Louis Symphony Orchestra, the Repertory Theatre, the Frank Lloyd Wright House, the Landmarks Association and the Missouri Botanical Garden. She took great pride in being a founding board member and supporter of the Contemporary Art Museum St. Louis, said Burroughs.
A Depression baby, Mrs. Goodson's "childhood had some rocky years in it," Burroughs noted. "Even though she had a comfortable life, that didn't stop her from having empathy for anybody. Both she and Jean connected with very diverse groups of people."
One of the people with whom Mrs. Goodson connected was Burroughs' mother. "My mother came to Kirkwood as a senior in high school; Joan immediately befriended the new girl. They became the best of friends. Joan always had a lot of young people in her life, and I was grateful to be one of them."
"Even at the end, she was still asking questions," said Burroughs. "A nurse would come into her room, and she'd ask, "Have you always lived in St. Louis?' She never lost her interest in others."
Along with her husband, Mrs. Goodson was predeceased by her brother, Guy Oliver Blase. A memorial service will be scheduled for this fall at the Church of St. Michael & St. George.
Be the first to know
Get local news delivered to your inbox!