KIRKWOOD • A notice taped to the front door of City Hall warns visitors that no signs are allowed inside.
It appeared not long after Charles "Cookie" Thornton showed up at a City Council meeting, wearing a sandwich sign. He hid two guns underneath it.
With those weapons, Thornton, a Kirkwood resident with long-standing grievances against city officials, unleashed 72 seconds of hell, killing six people and wounding a reporter.
The casualties included two council members, the public works director, two police officers, and the mayor, who died seven months later.
Thornton's rampage, which ended when two Kirkwood officers responding to the scene shot him, had a wrenching effect on the residents of this tranquil, relatively prosperous community.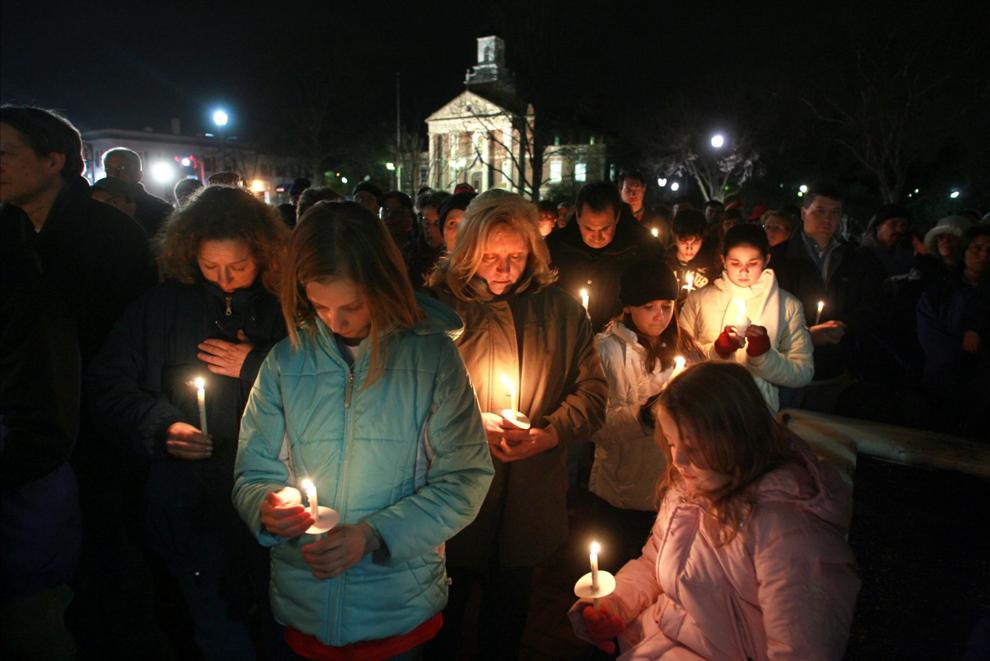 For many, it exposed a racial divide in the predominantly white city of about 27,000. About 1,000 of those residents live in a 10-block, mostly black neighborhood known as Meacham Park — a place Thornton called home.
The Feb. 7, 2008, shooting forced people in Kirkwood to address some difficult truths. In the decade since, there have been signs of change — if you know where to look.
These signs reflect a city determined to move forward. And they highlight places where progress is still needed.
Many of them are unwritten, reflected instead by the residents who have since felt called to civic duty.
In the strength of the survivors who continue to serve in the same chambers where colleagues died.
In the reignited sense of activism among others.
In the resolve of the first responders.
And in the resilience of the widowed.
The Post-Dispatch interviewed a few of the people directly and indirectly affected by the tragedy about how they and their community have changed in the shooting's aftermath, and the change they hope is still to come.
Still serving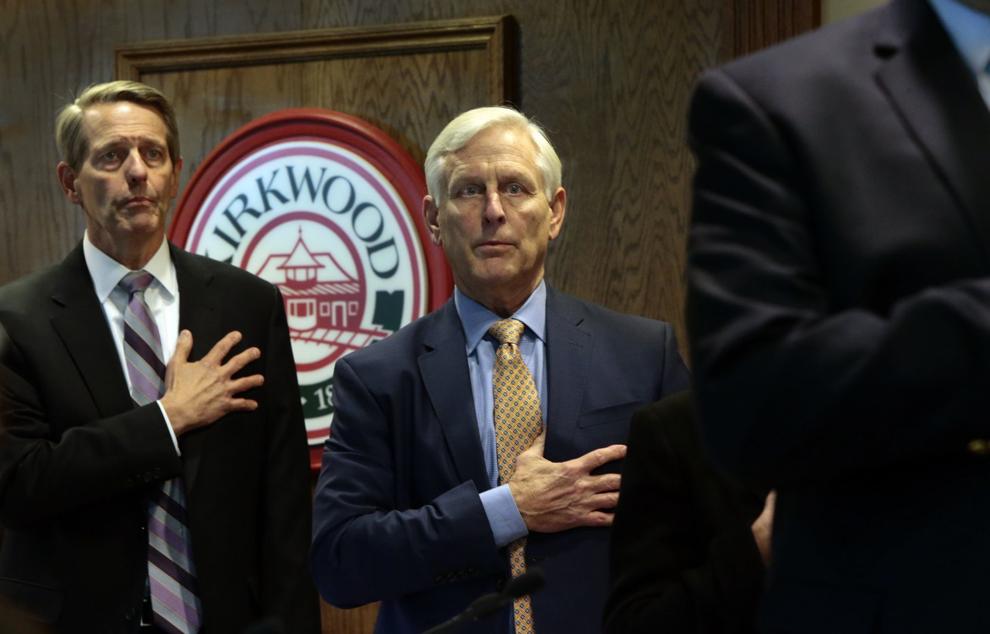 Most who attend City Council meetings see rows of modern-looking chairs, large portraits of the town's previous mayors adorning the walls, fresh drywall, light fixtures, sound equipment and comfortable stately chairs behind the arc-shaped desk at the front of the room.
But, at times, Mayor Timothy Griffin and City Attorney John Hessel see something different.
Images of the night the two men survived the shooting sometimes float back into their minds.
Griffin and Hessel were seated on either side of Mayor Mike Swoboda when Thornton opened fire. Both dove under the desk where they were seated. They saw Swoboda fall after being shot behind his ear. Griffin was just one foot from Councilman Michael Lynch when Thornton shot Lynch in the head.
"Cookie, I've known you for so long," Griffin recalled saying when Thornton turned his gun toward him.
And then, the gunman was gone, distracted when Hessel started throwing chairs at him.
"I remember saying, 'Cookie, don't do it,'" Hessel recalled, remembering when he looked down the barrel of Thornton's gun. "It was like looking into the eyes of a shark. He was very menacing. There was no emotion there."
Some of the chairs struck Thornton, giving Hessel enough time to run out of the room as two Kirkwood police officers ran past him and fatally shot Thornton.
Once outside, the first person Griffin and Hessel remember seeing was each other. They now sit side-by-side at council meetings.
Both men acknowledge that the meetings, events and coalitions that have formed in the aftermath have educated them about the racial division within their community.
"Kirkwood is a successful community, our business district is booming, people want to move here, but we have to make sure we include everyone in the success of Kirkwood," Griffin said. "The city and the Meacham Park Neighborhood Improvement Association are working together more, and there is more awareness in general of the entire community.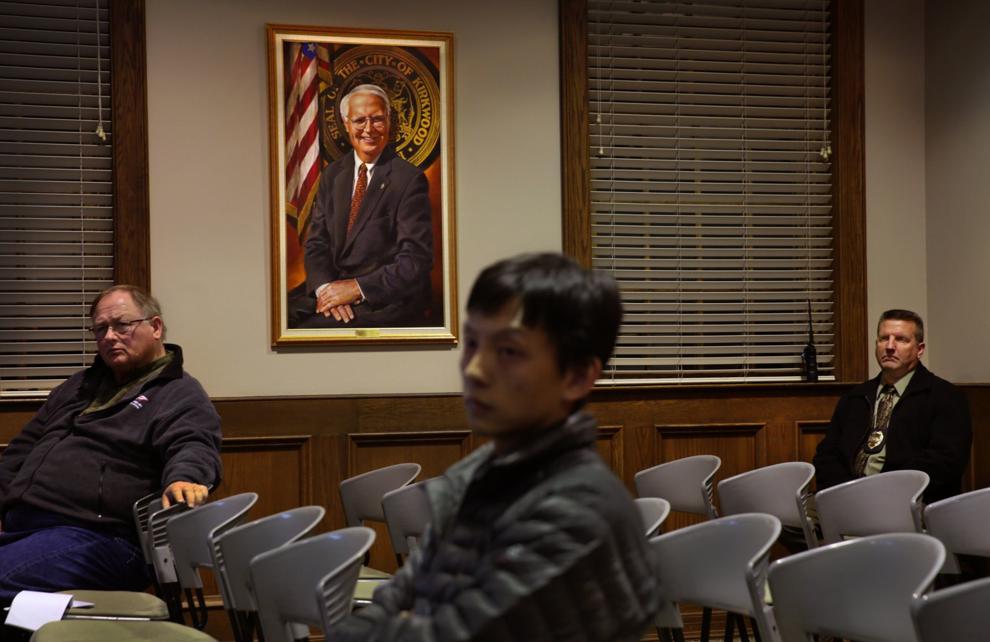 Hessel helped the Kirkwood Human Rights Commission write an anti-discrimination ordinance, making the city one of just two communities in the state that forbid discrimination based on sexual orientation.
He remains haunted by thoughts of what more he could have done to prevent the tragedy. He sometimes relives the meeting he had with Thornton offering to forgive the more than $20,000 in fines Thornton had amassed for various ordinance violations, so long as Thornton followed the law.
"He was adamant that he was not guilty and that we were just out to get him," Hessel said.
Stepping up
Maggie Duwe and Darnel Frost, both Kirkwood residents, remember watching television reports of the shooting in disbelief and from different perspectives.
Frost, a black father of three, could instantly see the racial implications that would likely follow given that Thornton, who was black, had fatally injured six white people.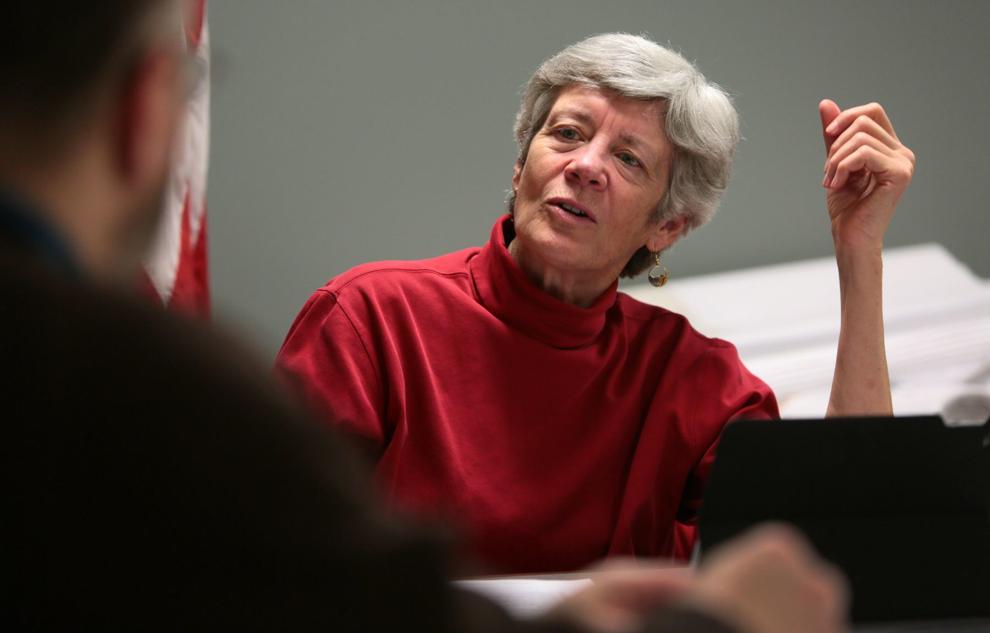 Duwe, a single white business owner, wondered how someone from her own community could have felt that disenfranchised.
In the years that followed, Duwe, now 66, and Frost, now 43, formed a friendship and a fellowship in civic involvement rooted in the tragedy.
"This place was pretty raw, and looking for help, a place to talk, a place to be with other people trying to figure it all out," Duwe recalled. "The overarching thinking was, 'We have to grow from this. We can't just let these people die.' For me, I had to be something. It was the only way I was going to be able to live with it. I had to get involved."
"For that man to feel the way he did and to think to do what he did was his only way out, we had to change," Frost said.
Both were appointed to the Kirkwood Human Rights Commission.
Frost served as the commission's chairman for six years before his term expired. He was elected to the Kirkwood School Board five years ago and has been president for the past two.
"I see the fingerprints of that February night and all that has transpired throughout the community since in a lot of what we are doing in the schools," he said.
Duwe was elected to the City Council two years ago.
Despite the progress, Duwe and Frost caution, the need for improvement remains.
Children from Meacham Park don't come to the Kirkwood Community Center. The audiences at the city's summer concerts aren't diverse. And Frost wants to reduce the achievement gap between minority and white students as well as diversify school staff.
"We never may figure it all out, but I think we've come to a place where it doesn't haunt you all the time," Duwe said.
Searching for equity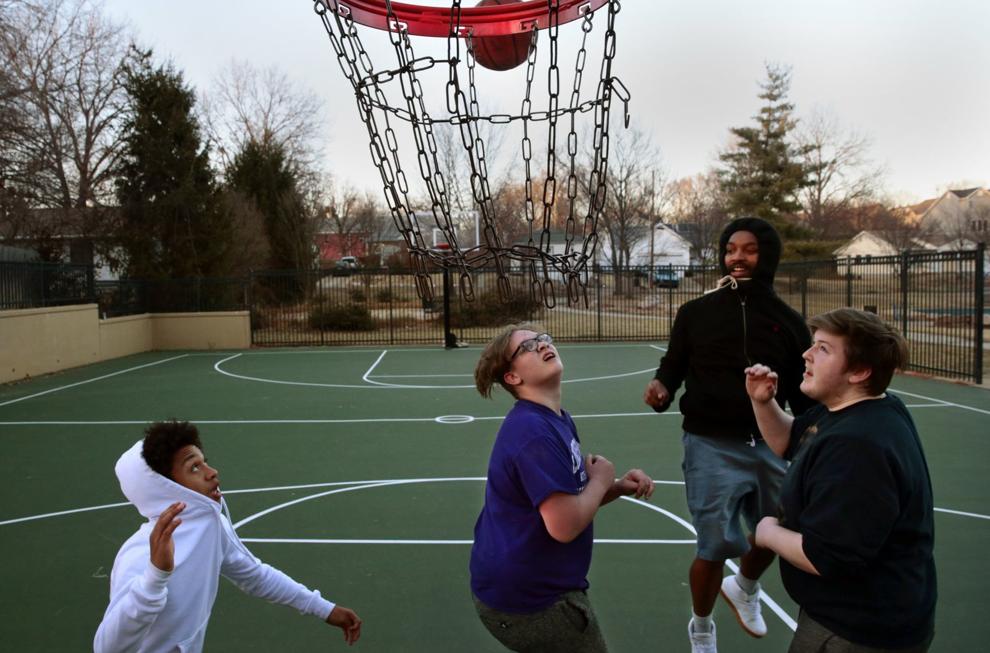 Harriet Patton has lived in her beloved Meacham Park neighborhood for more than six decades. In 1992, she said a lack of quality police services from St. Louis County prompted residents living in the unincorporated community to vote to be annexed by Kirkwood, which had its own police department.
Since that vote, Patton has served as the president of the Meacham Park Neighborhood Improvement Association. Though police service greatly improved, Patton said, the community felt isolated from its new hometown.
On the night of the shooting, fear spread through Meacham Park, as did rumors of impending police brutality. Harassment. A crackdown on unreasonable code violations. Eminent domain to seize houses and get rid of a community it never really wanted, Patton said.
But none of that happened.
Instead, Patton said, she has seen Kirkwood begin to embrace Meacham Park in ways she thought she might never experience.
She adopted a motto after the shooting: "Come Together. Work Together. Stay Together."
The U.S. Department of Justice — at the behest of city leaders — issued a report recommending ways that the racially divided community could unite. The Human Rights Commission boosted its leadership and instituted mandatory attendance rules. It continues to meet, as does the Community for Hope and Understanding Book Club that focuses on black authors.
Meacham Park, the city and the school district partnered four years ago to start a Martin Luther King Jr. Day celebration.
And the city renovated Meacham Park Memorial Park. Patton's group organized what she hopes will become an annual event to celebrate called Pride in the Park.
"Now this is what you call working together," Patton said, pointing to pictures of a diverse crowd at the event.
But, Patton says, there have been bumps along the way.
Patton resigned from the Human Rights Commission less than a year into her term, saying her ideas such as installing a voting poll in Meacham Park and conducting a citywide survey to gauge public opinion on race relations went nowhere.
Still, she says, her motivation to ensure her city keeps moving forward remains strong.
It's how the 66-year-old pays respect to those who lost their lives in the shooting, including Thornton, whom she remembers as a once-valued businessman in the community. Tears well in her eyes when she recalls the Thornton she knew and the good he did for the community, as well as how the discrimination he felt morphed into mental anguish.
"I have seen progress," she said. "A seed has been planted, it's been watered. It is strong. Now, I'm looking for the bloomin'."
A new mission

Sgt. William Biggs asked his fellow shift supervisor Sgt. Paul Faulstich if he wanted pizza from a nearby Imo's just before 7 p.m. on Feb. 7, 2008. Faulstich opted for a hamburger and watched Biggs walk out the door.
"That was the last time I ever saw him," Faulstich recalls.
Minutes later, a dispatcher told Faulstich she thought she heard shots fired nearby. He went outside to inspect. He saw Thornton's van parked nearby, not an uncommon sight, especially on a City Council night. Officer Steve Guyer joined Faulstich on his hunt for the source of the noise, and they headed toward City Hall.
"As soon as we walked in, we heard the shots," Faulstich said.
The officers pushed against what seemed like a flood of people streaming down the stairs, screaming. Between 30 and 40 people had turned out for the meeting on the second floor.
"I've never seen fear in people's eyes like that," said Faulstich, who already had 40 years as an officer under his belt.
Faulstich remembers peering into the room and seeing Thornton standing over Swoboda as though he were "about to finish him off." Guyer went left. Faulstich went right. Guyer started firing, and Thornton turned and returned fire. Faulstich fired twice, fatally striking Thornton from 38 feet.
"He turned right into my shots," Faulstich said.
The officers rushed to the dais and found Thornton in the fetal position, moaning and reaching for his guns. Guyer handcuffed Thornton. They cleared the rest of the room, finding the bodies of other victims, including Officer Tom Ballman, and some survivors hiding under the council desk.
Once outside, Faulstich asked where his partner Biggs was.
"They told me they weren't going to let me see him," Faulstich said. "I kind of put two and two together." Thornton shot Biggs before he entered City Hall.
Faulstich and Guyer were sequestered in a room to begin explaining their actions to investigators reviewing their use of force.
Faulstich punched a hole in the wall and broke his hand.
In the weeks and months that followed, Faulstich said meetings with his pastor as well as a debriefing session with the Critical Incident Stress Management Team saved him from coping in unhealthy ways.
"You go a whole career never expecting to have to do what I did, and when the time comes, it's like getting hit in the head. You think, 'My God, what happened? I just took a life,'" Faulstich said.
Faulstich and Guyer were awarded a Medal of Valor for their actions. Faulstich, now 69, retired in 2011. Guyer is now a lieutenant in Kirkwood. He declined to talk. Their comrades Biggs and Ballman were also honored with medals posthumously.
The experience of talking to other first responders who had survived traumatic events inspired Faulstich to become one of them.
A familiar face once stared back at him during one of the debriefing sessions — his partner's son, Bo Biggs, who had experienced a traumatic event as a Franklin County deputy. Part of Faulstich's message to Biggs and others he has counseled through the years is that he harbors no animosity toward Thornton.
"I pray for the man's soul every night," Faulstich said. "He wasn't the individual I knew that night. I believe that circumstances dictate your behavior, and he didn't cope with all that had happened to him in his life well."
Beyond the mourning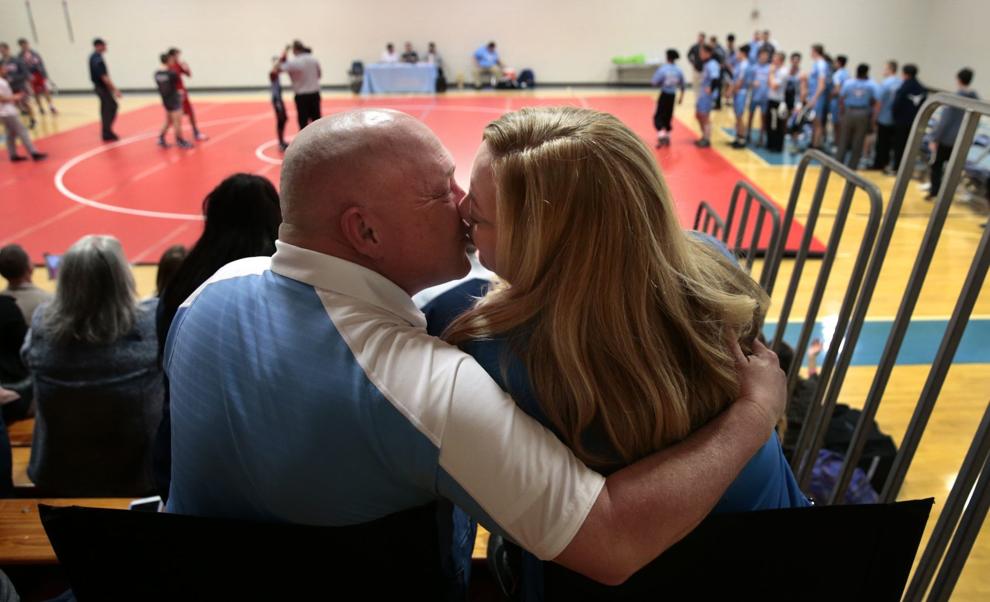 Cindy Ballman and Cindi Biggs formed a bond 10 years ago that very few police wives experience: Both of their husbands were killed in the line of duty on the same day by the same gunman — a man both officers knew. Each had peacefully escorted Thornton out of meetings that he had disrupted in the past.
"The Cindys," as they're known by many, find comfort in each other, in police survivor organizations, and, for Ballman, in another love. And they've comforted others.
"It's never going to leave you," Ballman said. "We're not moving on, we're moving forward."
When her husband was killed, Cindy Ballman was 35 years old. They had been married for eight years. Their son, Joshua, was 5; their daughter, Rachel, 3.
Cindi Biggs was 50. She had been married for 30 years. Their sons, William Cody Biggs and Bo Biggs, were 29 and 27 respectively.
Their husbands had buried one of their own killed in the line of duty just two years earlier. Both women recall how their husbands had assured them that the nonprofit Backstoppers group would take care of them financially — should the worst ever happen to them.
Tom Ballman told his wife he didn't want her to be alone.
Attending various police memorials and ceremonies through the years, a certain bagpiper, St. Louis County Officer David Sandbach, caught Cindy Ballman's eye. She and Sandbach have been together for the past six years. But her late husband's presence remains in their home, in pictures, police mementos and even on the answering machine.
Biggs also remains in the home she shared with her late husband — in Gerald, in Franklin County. Their sons have married. One of them became a Franklin County sheriff's deputy before becoming an officer in Colorado. She has two grandsons.
Her late husband's ashes are in the lake he loved on their property. Each year, friends, family and sometimes his fellow officers come to an event she calls "The Ring of Fire," where they share memories and make new ones around a bonfire in his honor.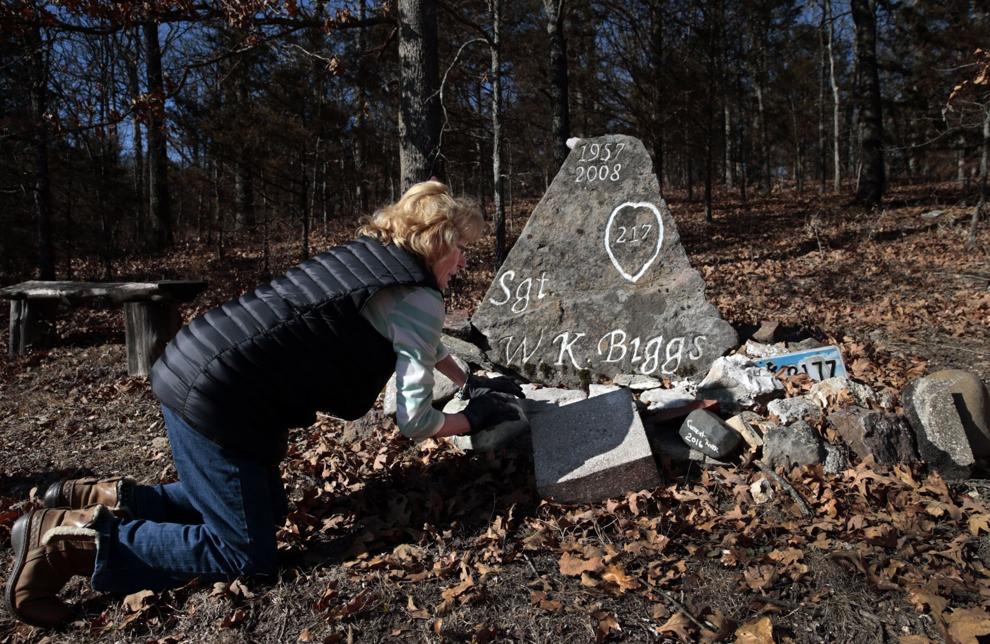 Cindy Ballman is one of the regulars.
"It's always going to be there, and it's not that we're dwelling on it, but we are honoring and we are remembering our loved ones we lost that day," Cindy Ballman said.
"It's been difficult, but we made it."
---
Victims of the City Hall shooting
Charles "Cookie" Thornton shot seven people on Feb. 7, 2008. Six died. Thornton was fatally shot by Kirkwood police officers.