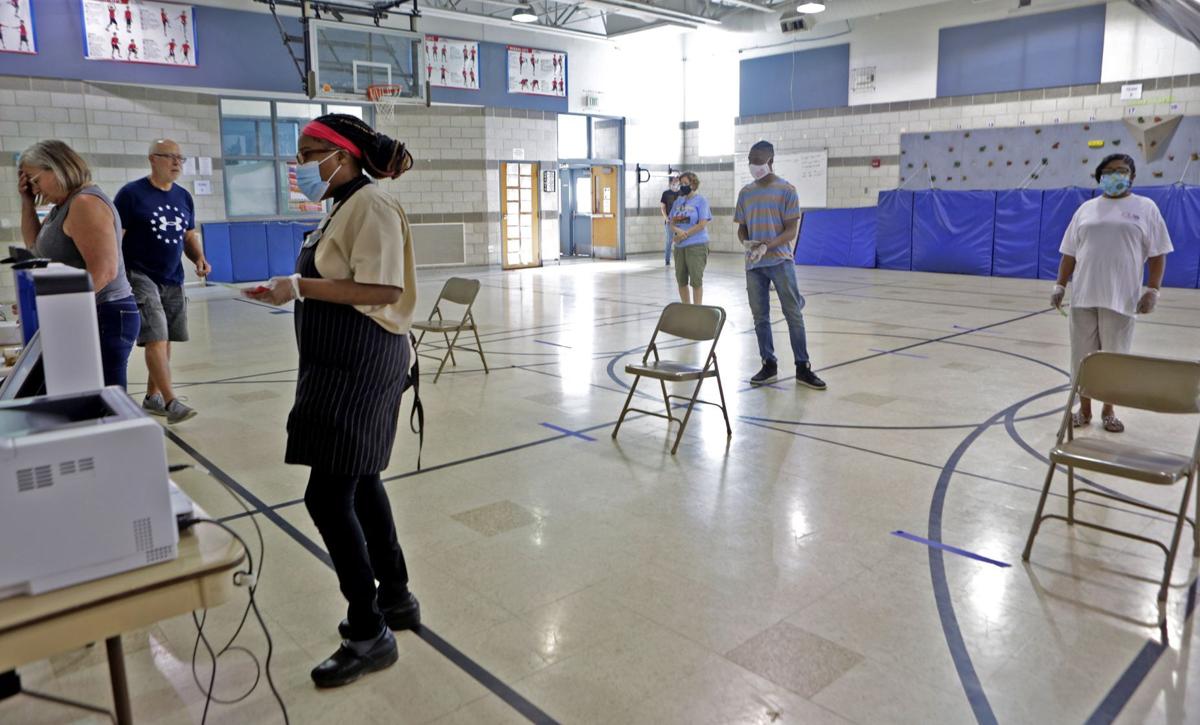 The coronavirus continues to affect all aspects of life around St. Louis.
Furloughs and budget cuts are coming to St. Louis Community College. The virus-delayed municipal elections are underway. Here are Tuesday's developments: 
7 p.m. — ST. LOUIS — Hospitalizations for COVID-19 in the St. Louis region continue to drop despite a slight uptick in new admissions for the disease, the St. Louis Metropolitan Pandemic Task Force reported Tuesday. Read more.
2 p.m. — ST. LOUIS — The St. Louis Housing Authority will host two free COVID-19 testing sites this week that are open to everyone, the St. Louis City Department of Health announced on Tuesday. Read more.
1:45 p.m. — ST. LOUIS — Fearful that the stress of the pandemic is leading to increased substance use, experimentation or relapse, federal drug enforcement officials have partnered with local community services to create a website to provide an easy way for those in the St. Louis area find help. Read more.
1:30 p.m. — While speaking and playing smaller wind instruments certainly emit quantities of droplets and aerosols, singing is getting most of the publicity. Along with opera companies, this has had a profound effect on professional, church and amateur choirs around the world and in St. Louis. Read more.
6 a.m. — STATEWIDE — Municipal elections are underway across Missouri, delayed from April 7 to try to reduce the spread of the coronavirus. But worry about COVID-19 remains part of the backdrop , with St. Louis County reducing the number of its polling places by more than half because 1,100 election judges refused to work this time around. Read more. 
OVERNIGHT – ST. LOUIS — Faced with budget cuts, the chancellor and 14 other senior leaders of St. Louis Community College have agreed to take furloughs one day a month from July through December. Other actions include a hiring freeze and reduced travel, training and operational spending. Read more.
OVERNIGHT — ST. LOUIS — As protests continued for another day over the death of a black man in Minneapolis, St. Louis-area officials expressed concern Monday that demonstrations could allow the coronavirus to further spread and urged protesters to take precautions. Read more.
6:30 p.m. — ST. LOUIS — The Missouri History Museum, the Missouri Historical Society Library and Research Center, and the Soldiers Memorial Military Museum will reopen to the public on Saturday, June 20, its operators announced Monday. Read more.
4 p.m. — ST. LOUIS — St. Louis Mayor Lyda Krewson said Monday that masks will be distributed at future protests against the death of George Floyd. Read more.
2:45 p.m. — JEFFERSON CITY — Gov. Mike Parson on Monday announced an additional $209 million in budget cuts before the end of this fiscal year, with the majority of cuts hitting the Department of Elementary and Secondary Education. Read more.
12:45 p.m. — ST. LOUIS — Concern over the coronavirus pandemic has spurred the Church of God in Christ denomination to cancel its annual Holy Convocation event, which in previous years has drawn tens of thousands of people here. Read more.
10:45 a.m. — ST. LOUIS — Fort Leonard Wood is continuing forward with Army boot camp operations despite an outbreak of COVID-19 in a new class of trainees. Read more.
10 a.m. — ST. LOUIS — Close to 100 people lined up to enter the casino Monday. One woman in the front said she had been there since 6:30 a.m. Many were elderly; most wore masks and spaced themselves out in line. Read more.
8:35 a.m. — CLAYTON —  Bars can open in St. Louis County on June 8 and all other businesses on June 15 with safety guidelines in place, the county executive said on Monday. Read more.
8:00 a.m. — The Magic House will reopen on June 15 and the Magic House at MADE on June 8 after being closed since March due to the coronavirus. Read more.
7 a.m. — ST. LOUIS — Americans weren't all that well prepared for retirement before the coronavirus pandemic hit, and they're even less ready now. Between the stock market drops and millions of lost jobs, some face a steeper recovery than others. Read more. 
6:30 a.m. — ST. LOUIS — The St. Louis Aquarium, the St. Louis Wheel and other attractions at Union Station will reopen on Monday, June 8 after closing in March due to the coronavirus. Read more. 
 OVERNIGHT — HAZELWOOD — Car horns replaced air horns when members of the McCluer North High School class of 2020 walked across the stage and accepted their diplomas Sunday in a drive-in style ceremony. Read more. 
How is the situation affecting you?
If you have a story about trying to get tested, quarantine or the way the coronavirus is affecting your daily life or planned events, we want to hear from you. You can send a news tip to the Post-Dispatch here.
Concerned about COVID-19?
Sign up now to get the most recent coronavirus headlines and other important local and national news sent to your email inbox daily.