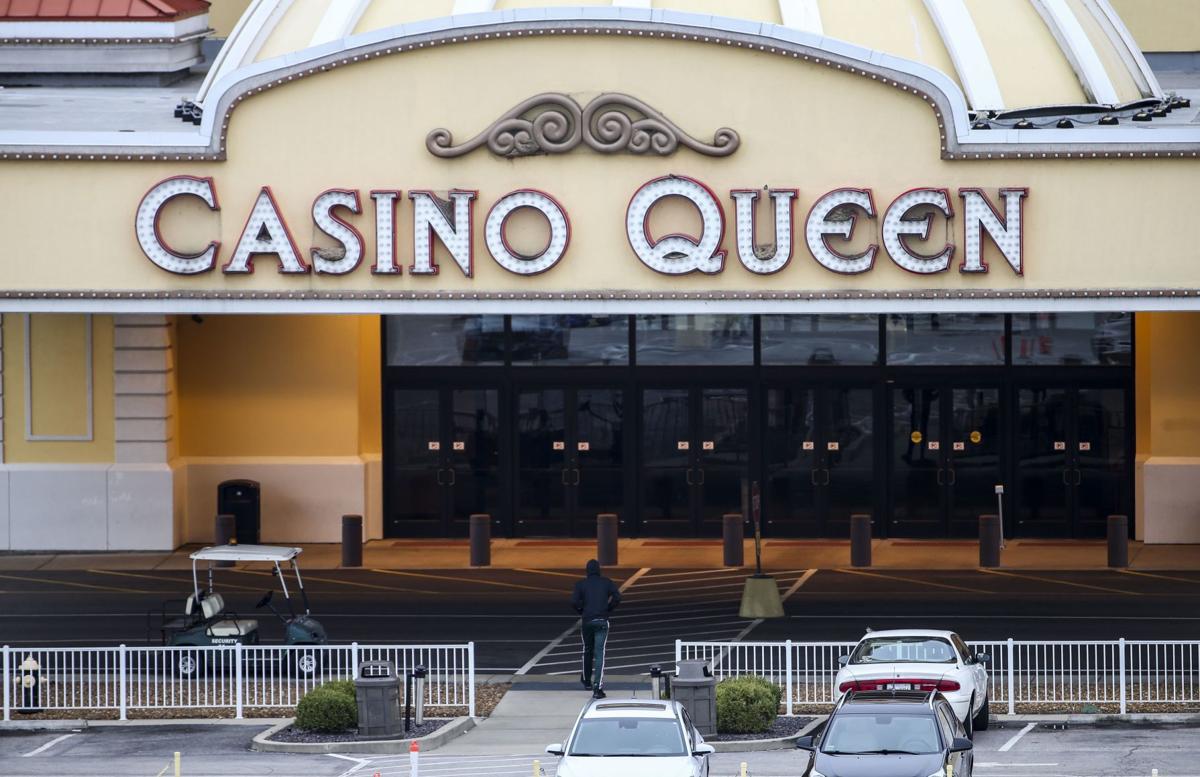 The spread of the new coronavirus is continuing to affect daily life throughout the St. Louis area. Restaurants are closing Monday to in-house diners in Illinois. Leaders from both sides of the river in the St. Louis area Sunday evening banned gatherings of 50 or more people for the next eight weeks, and advised all schools in the region to close by Wednesday. 
Throughout Monday, we will be posting updates from reporters at the St. Louis Post-Dispatch on the virus and its effects on daily life in the St. Louis region.
7 p.m. — ST. LOUIS COUNTY— The St. Louis County Department of Health confirmed the county's third positive COVID-19 case. Officials said the infected person is between 50 and 60 years old and that the case is travel-related. 
6:45  p.m. — ST. LOUIS — Mayor Lyda Krewson announced at a news conference the city's first confirmed COVID-19 case. St. Louis University later said the person is a SLU student who had returned from international travel and is currently quarantined at their off-campus home.
5 p.m. — ST. LOUIS —Archbishop Robert J. Carlson has immediately suspended all public Roman Catholic Masses in the greater St. Louis region.
The move comes in the wake of government orders banning gatherings of 50 or more people. Read more.
4:25 p.m. — JEFFERSON COUNTY —  Jefferson County Executive Dennis Gannon declared a state of emergency.
Gannon's executive order states the county government is not mandating any events be cancelled, but is advising residents to follow the CDC guidelines and not gather in groups of 50 or more for the next eight weeks. 
The order also postpones municipal court dockets and states all of the county parks and recreation activities are postponed until May 4.
4 p.m. — WASHINGTON, D.C. — The White House on Monday urged all older Americans to stay home and everyone to avoid crowds and eating out at restaurants as part of sweeping guidelines meant to combat an expected surge of coronavirus cases. The guidelines also say Americans should avoid groups of more than 10 people, discretionary travel and social visits. Read more
4 p.m. — MISSOURI — The St. Louis Public Library and St. Louis County Library announced they are closing until further notice due to the coronavirus. The St. Charles City-County Library is also closing until April 5. Read more.
3:45 p.m. — ST. LOUIS — Effective 5 p.m. Monday, the Missouri History Museum, Soldiers Memorial Military Museum and the Missouri Historical Society's Library & Research Center will be closed to the public because of the coronavirus outbreak. Read more.
3 p.m. — ILLINOIS — Illinois officials reported 12 new cases of COVID-19, bringing the state total to 105. 
Gov. J.B. Pritzker also ordered all gatherings of more than 50 people be cancelled statewide in line with new CDC guidelines. Metro East leaders had already banned such events. 
3 p.m.  — ST. LOUIS — Both parking tickets and evictions will be suspended in St. Louis during the response to the coronavirus pandemic, city leaders announced Monday. Read more.
2:45 p.m.  — ST. LOUIS — Schnucks said Monday it will further reduce hours at its stores. With the exception of four St. Louis area stores, all of its groceries will now be open from 6 a.m. to 10 p.m. Read more. 
12:45 p.m. — ST. LOUIS — A St. Louis-area grocery store is reserving its aisles for older shoppers who are at a higher risk of being sickened by the coronavirus for one hour per day. 
Beginning Tuesday, Fields Foods at 1500 Lafayette Avenue will implement a "seniors shopping hour" between 7 a.m. and 8 a.m. for shoppers who are 60 and older. Read more.
12 p.m. — JEFFERSON CITY — Missouri lawmakers are poised to vote on the state's $30.9 billion spending plan Wednesday as they work to get out of town for what could be an extended spring break. Included in the budget for the fiscal year beginning July 1 is the authority to spend an estimated $20 million in the fight against the pandemic. Read more.
11:15 a.m. — MISSOURI — The high school basketball season in Missouri is over. In response to the coronavirus pandemic, the Missouri State High School Activities Association announced Monday morning it has canceled semifinal and championship boys and girls games that were scheduled to be played Friday and Saturday in Springfield.  Read more. 
10:45 a.m. — JUPITER, Fla. — At a time when the Cardinals expected to host the first of no one knows how many informal workouts at their Roger Dean Stadium complex, players were instead parading out of the clubhouse, boxes and bags in hand, and leaving for the unknown.
They expect the spring training facility to be closed to them, and to have to find ways to work out individually, said multiple players. Read more here. 
10:45 a.m. — ST. LOUIS — The St. Louis Zoo announced Monday it is temporarily closed. Officials will consider plans to reopen closer to April. Read more.
10 a.m. — CHESTERFIELD — The drive-thru COVID-19 testing site at Mercy Health tested 83 people on Saturday and Sunday, the first days the makeshift testing facility has operated. Tests were then sent to both state and private labs. It can take up to five days to get results.
8:39 a.m.— MISSOURI — Missouri Gov. Mike Parson announced Monday that a sixth person in the state has tested positive for COVID-19, the disease caused by the new coronavirus. The person tested positive for the illness in Greene County near Springfield overnight Sunday to Monday, Parson announced on social media. The new case marks the third person to test positive for COVID-19 in the Springfield area. Read more. 
Catch up on what happened Sunday:
ST. LOUIS — Area officials have banned events and social gatherings of more than 50 people across St. Louis city and county, St. Charles County, St. Clair County and Madison County in order to slow the spread of COVID-19, a statement announced Sunday evening. Officials are also recommending that all schools in the five jurisdictions close by Wednesday. Read more.
CHICAGO — Illinois Gov. J.B. Pritzker announced that all restaurants and bars will be closed to dine-in customers beginning Monday night through the end of the month, except for delivery and pick-up orders. Read more.
FERGUSON-FLORISSANT — The first local public school district to announce Saturday an upcoming closure to stem the spread of the virus, the Ferguson-Florissant School District, is forming a plan to continue to provide lunches to students on canceled school days. Read more. 
CHESTERFIELD — Testing continued at the Mercy Health parking lot where people could be tested for the coronavirus at a drive-through testing site. On Sunday, hospital officials said they'd tested 52 people on Saturday. Read more.
SPRINGFIELD, ILL. — Illinois' governor says the state's presidential primary will continue as scheduled on Tuesday, joining Ohio, Arizona and Florida as the states continuing with voting. Read more.
ST. LOUIS — Ameren announced Saturday that it is suspending all disconnections for non-payment. Read more.
ST. LOUIS — Schnucks stores are temporarily reducing hours to allow staff more time to keep the stores clean and restock shelves, the Maryland Heights-based company announced Sunday. Read more.
NEW YORK — Ticket sales plunged to their lowest levels in at least 20 years in North American movie theaters. More people went to the movies after Sept. 11, 2001. Read more.
WASHINGTON — Walmart stores will have limited hours as the nation's largest retailer works to make sure stores keep items in stock. The stores will be open from 6 a.m. to 11 p.m. Read more.
VATICAN CITY — The Vatican's Holy Week ceremonies will go ahead but without public attendance as Italy tries to contain the coronavirus outbreak, the Holy See said Sunday. Read more.
CHICAGO — Posts on social media indicated passengers at Chicago's O'Hare International Airport, and other airports in the country, waited upward of four hours in winding lines, eliciting criticism from elected Illinois officials. Read more.
ATLANTA — Georgia's March 24 presidential primaries have been postponed until May because of fears over the new coronavirus, state election officials announced Saturday, a day after Louisiana also pushed back its primaries. Read more.
---
How is the situation affecting you?
If you have a story about trying to get tested, quarantine or the way the coronavirus is effecting your daily life or planned events, we want to hear from you. You can send a news tip to the Post-Dispatch here.
Concerned about COVID-19?
Sign up now to get the most recent coronavirus headlines and other important local and national news sent to your email inbox daily.