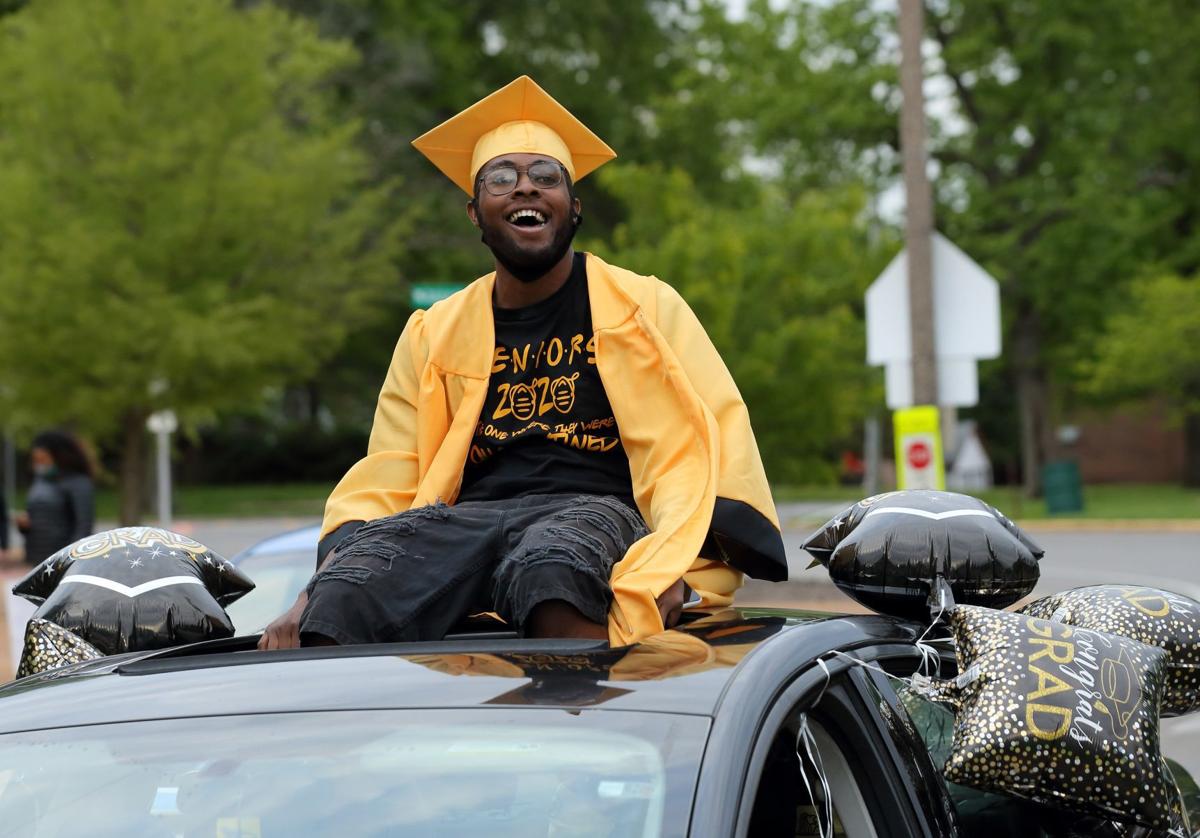 The coronavirus continues to affect all aspects of life around St. Louis.
Some nursing home workers exposed to COVID-19 at work are ordered to quarantine, but don't get sick pay. Senior stage their own special graduation day in University City. Here are Tuesday's developments.  
4:25 p.m. — ST. LOUIS — Though daily numbers of COVID-19 cases have recently fallen in Missouri, the state on Tuesday reported its second-most virus deaths in a single day. Tuesday's spike in deaths was caused by a delay from an unidentified county reporting weeks' worth of data to the state, Gov. Mike Parson said during a Tuesday news conference. Read more.
4 p.m. — The Blues have established a ticket policy for games postponed by the ongoing coronavirus pandemic. Read more.
3:45 p.m. — Cork Wine Bar at 423 South Florissant Road in Ferguson has closed permanently, as Sauce first reported. The restaurant had closed temporarily during the coronavirus pandemic in late March. Read more.
3:30 p.m. — Concerns about the spread of the coronavirus in federal prisons are cutting short the sentences for many federal prisoners, including a number of high-profile white-collar criminals from St. Louis. At least three inmates from the St. Louis area who were not due to be released for months or years have been transferred to a St. Louis residential reentry program in recent days. Read more.
3:20 p.m. — JEFFERSON CITY — Take-out cocktails could become a permanent fixture of the St. Louis restaurant scene under a proposal being served up in the Missouri Legislature. Read more.
3 p.m. — When St. Louis entertainment venues are able to reopen, the Ready Room as we know it won't be among them — not immediately, at least. Read more.
2:30 p.m. — ST. LOUIS — The city is offering small businesses supplies of masks and gloves prior to nonessential businesses being allowed to reopen, officials said Tuesday. Read more.
1:30 p.m. — ST. LOUIS — A proposed city ordinance making it illegal to intentionally spit, cough or sneeze on public safety and other essential workers during the coronavirus crisis ran into trouble Tuesday in an aldermanic committee. The bill's sponsor, Alderman Bret Narayan, said it would give prosecutors a more specific, easier-to-prove alternative to a state anti-terrorist law used to charge people in two such cases in other parts of Missouri. Read more. 
12 p.m. — JEFFERSON CITY — A hotel in St. Louis County that was converted into an emergency hospital to treat non-acute COVID-19 patients is expected to remain open until at least mid-June. In all, the site has had 27 admissions. Read more.
10:30 a.m. — In Tuesday's webinar, the St. Louis Federal Reserve Bank president also predicted that the U.S. economy will recover in the second half of this year from the shock caused by coronavirus-related shutdowns. Read more.
9 a.m. — On Monday, Grant's Farm launched a new educational video series on YouTube called Grant's Farm Adventures. Read more.
5 a.m. — Nichole Scott lost her sister to COVID. Her brother-in-law has the disease and now, so does she. And she is is one several employees at St. Louis-area nursing homes who have been denied paid leave despite testing positive for COVID-19, according to SEIU Healthcare Missouri. The union, which represents about 4,000 health care workers across the state, has held several protests in St. Louis in recent weeks to demand paid sick leave, hazard pay and other protections for workers treating COVID-19 patients. The federal Coronavirus Aid, Relief, and Economic Security (CARES) Act, passed in response to the pandemic, provides some employees up to 10 paid sick days and up to 10 weeks of paid medical leave, but allows health care providers to exempt themselves. Read more.
OVERNIGHT — UNIVERSITY CITY — About a 100 cars of alumni, parents and teachers drove past University City High School to celebrate the school's 2020 graduates. Seniors parked in front of the school in their cars and kept their social distance as supporters paraded past the school on Monday, which would have been their graduation day. See more.
OVERNIGHT — CLAYTON — The county's first attempt to shut down a pandemic scofflaw comes as some signs start to point toward the region being ready to reopen. Read more.
5:40 p.m. — TROY, Mo. — Thirty-four inmates and five staff members at the Lincoln County jail tested positive for COVID-19 after widespread testing in the Troy facility. Read more.
5:20 p.m. — ILLINOIS — Southern Illinois, including the Metro East, is on track for some restrictions to be lifted by around May 29, Gov. J.B. Pritzker said during a Monday news briefing. Read more.
4:25 p.m. — ST. LOUIS — COVID-19 hospitalizations in the St. Louis area reached another low Monday, as new confirmed cases of the virus statewide in Missouri continued to trend downward. Read more.
4:10 p.m. — JEFFERSON CITY — Missouri is set to receive 4,000 vials of remdesivir to fight COVID-19 as part of a nationwide distribution from the company that makes it. Read more.
4 p.m. — CLAYTON — St. Louis County on Monday filed a lawsuit asking a circuit court judge to force the closing of the House of Pain fitness centers in Chesterfield and Maryland Heights, which have flouted the county's emergency stay-at-home order during the coronavirus pandemic. Read more.
1 p.m. — Baseball could be back by July. The MLB owners gave the go-ahead Monday to making a proposal to the players' union that could lead to the coronavirus-delayed season starting around the Fourth of July weekend in ballparks without fans, a plan that envisioned expanding the designated hitter to the National League for 2020. Read more.
10:45 a.m. — CLAYTON — Rental car giant Enterprise Holdings, with business at a near-standstill following coronavirus lockdowns, is rolling out a vehicle cleaning campaign, with hopes its renewed efforts will bring customers back to the rental counter. Read more.
10:15 a.m. — CLAYTON — St. Louis County Executive Sam Page on Monday indicated that a dispute was heading for court with a business flouting the county's emergency order to cease operations during the coronavirus pandemic. There was no record late Monday morning of a lawsuit on file in the case, but the county executive's remarks to news reporters indicated there may be one coming soon. Read more. 
9:30 a.m — ST. PETERS —Macy's is reopening some locations Monday, including a store at the Mid Rivers Mall. Most Macy's stores have been closed since March, due to the COVID-19 pandemic. Read more.
9 a.m. — ST. LOUIS — Crown Candy Kitchen and the Nathaniel Reid Bakery are among the restaurants in the St. Louis area making a return this week. Read more.
6 a.m. – ST. LOUIS — Starting Monday, face masks are mandated if you ride Metro Transit. Face coverings will be required for everybody on MetroBus, MetroLink or Metro Call-A-Ride, they must cover the nose and the mouth and the face coverings must be worn during the entire trip. Read more.
OVERNIGHT — ST. LOUIS — Mother's Day across St. Louis looked different this year with restaurant dining off-limits and social distancing as the rule, but families still celebrated the special moms in their lives. See more.
How is the situation affecting you?
If you have a story about trying to get tested, quarantine or the way the coronavirus is affecting your daily life or planned events, we want to hear from you. You can send a news tip to the Post-Dispatch here.
Concerned about COVID-19?
Sign up now to get the most recent coronavirus headlines and other important local and national news sent to your email inbox daily.