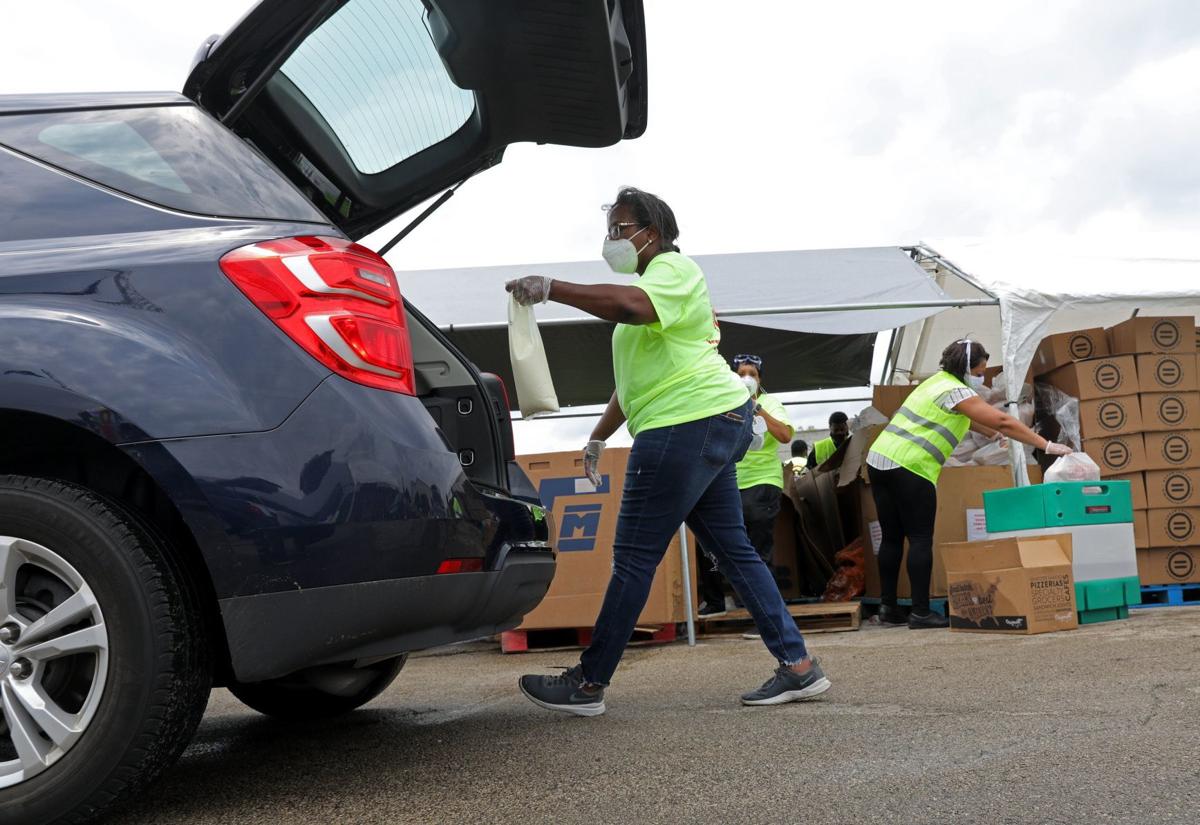 The coronavirus continues to affect all aspects of life around St. Louis.
Restaurants in St. Louis and St. Louis County are allowed to reopen dining rooms Monday, but it's not an easy decision. The 49 clients the International Institute of St. Louis brought to the city in March have been mostly at home with their new lives on hold. Big changes for baseball are likely. More St. Louis County parks are reopening. Here are Monday's developments.
6:45 p.m. — Several area malls reopened Monday, but it was far from business as usual. Few stores within the malls were open, and the ones that were encouraged protective gear and social distancing measures. Read more. 
6 p.m. — ST. LOUIS — St. Louis on Monday reached 100 deaths related to coronavirus. In all, the city has had 1,682 confirmed cases of the virus, and 42 people are quarantined Monday because of exposure to COVID-19. 
4:45 p.m. — JEFFERSON CITY — Gov. Mike Parson on Monday announced plans to expand COVID-19 testing at facilities where people are in close contact, which he said will lead to more known coronavirus cases in Missouri. Read more.
4:30 p.m. — ST. LOUIS — Enforcement of city parking meters and other parking regulations will resume next month, trailing Monday's reopening of the city economy by a few weeks. Read more.
4:15 p.m. — The Metro East will be at the forefront of Illinois' efforts to ramp up its contact tracing capabilities as it fights to control the ongoing coronavirus pandemic. Read more.
4:15 p.m. — ST. LOUIS — As the city allowed non-essential businesses to begin reopening Monday, Mayor Lyda Krewson said plans are afoot to let some restaurants expand outdoor seating to adjacent parking lots and even neighborhood streets. Read more.
1:45 p.m. — Beginning Monday, restaurants in St. Louis city and county can reopen their dining rooms again — with restrictions. How many restaurants will choose to seat diners this week is not yet clear. The complexity of the decision is evident. The protocols and guidelines for reopening dining rooms in the city and county are similar, though not identical: Wear masks. Check employees' health on their arrival for work. Maintain 6 feet of social distance among employees and between employees and customers. Wash hands and disinfect surfaces frequently. Keep tables 6 feet apart, or place plexiglass partitions between them. Read more. 
12 p.m. — HAZELWOOD —  Missing live concerts and movies? Drive-In St. Louis is bringing both back in one fell swoop beginning this week.  Drive-In St. Louis is a new drive-in concert and movie concept venue at 5555 St. Louis Mills Blvd., in Hazelwood, also known as the parking lot of what was St. Louis Outlet Mall. The COVID-19 compliant site will meet social distancing and health department recommendations.Read more.
10:45 a.m. — ST. LOUIS — If Major League Baseball returns, new policies range from the vital (expanded, aggressive use of testing) to the visual (no spitting sunflower seeds, gentlemen). The plan illustrates how baseball will return to competition by meeting the policies of local governments, the suggestions of experts, and the concerns already raised by players. The universal DH will change the look of the lineup. The document shows how precaution, health and the pandemic virus demands a change of the game. Read more.
9:30 a.m. — ST. LOUIS COUNTY — County Executive Sam Page on Monday said that the "slow and partial reopening" of some businesses can't be considered a victory. "Too many lives have been lost and too many families have been injured with family members becoming sick," he said at a news conference. Read more.
6 a.m. — ST. LOUIS —  The city needs more help identifying people potentially infected with the new coronavirus — and, in the interest of public health in the region, St. Louis County should step up, local public health advocates and some city leaders say. Read more.
OVERNIGHT — ST. LOUIS — In March, 49 clients of the International Institute of St. Louis arrived to begin new lives that month in the city. Many spent years in refugee camps, awaiting word on whether they would be accepted in the U.S. After getting the good news and traveling thousands of miles, they found their adopted country was essentially shut down because of the pandemic. Their host, the International Institute, was closing or altering longstanding programs to comply with social distancing and other rules. Read more.
OVERNIGHT — ST. LOUIS COUNTY —Another 21 parks are reopening in St. Louis County today, but with limits and without bathrooms or playgrounds. Read more.
How is the situation affecting you?
If you have a story about trying to get tested, quarantine or the way the coronavirus is affecting your daily life or planned events, we want to hear from you. You can send a news tip to the Post-Dispatch here.
Concerned about COVID-19?
Sign up now to get the most recent coronavirus headlines and other important local and national news sent to your email inbox daily.