BEL-RIDGE — While more lawmakers and inspectors close in on T.E.H. Realty over dismal living conditions at the firm's low-income apartment complexes, one player has been able to get work done quickly for tenants.
Fannie Mae, a federal government-sponsored enterprise that secures loans, recently convinced St. Louis County Circuit Judge Joseph L. Walsh III to grant an emergency order to help protect collateral here at Springwood Apartments.
Nicholas Zluticky, an attorney for Fannie Mae, argued that a receiver was needed to "protect and preserve the property" and "maximize the value of assets."
"The injury sought to be averted here — the disrepair of the Apartments, which pose a health and safety risk to all residents and guests — far outweighs any injury resulting from the appointment of receiver," Zluticky said in court records.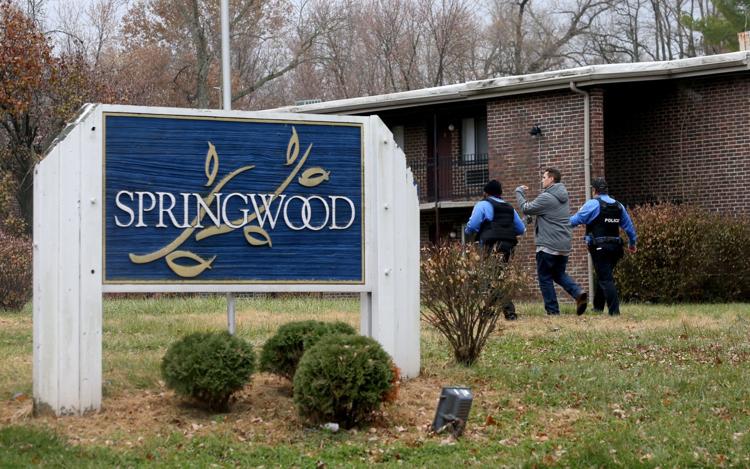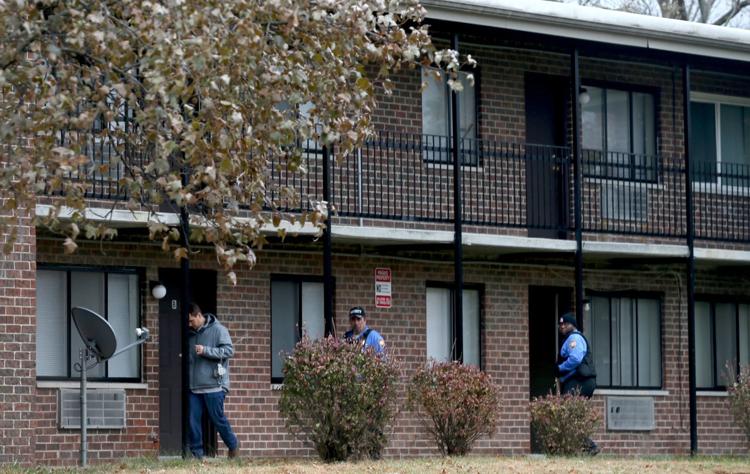 On Nov. 1, SM-T.E.H. Realty 1 LLC — the limited liability company that owns Springwood Apartments — was notified that Trigild Inc. is the appointed receiver and that its affiliate would manage the complex here, the first of 12 that T.E.H. Realty purchased in St. Louis and St. Louis County over the past five years.
The troubled property, near Interstate 170 and Natural Bridge, has garnered hundreds of citations from Bel-Ridge code enforcement and lots of lawsuits between the landlord and tenants.
This week, Trigild representatives had locks changed and went unit by unit, looking behind each door. One of the new managers donned a respirator mask. A police officer had a gun drawn.
"I paid my rent until the landlords refused to make repairs and the conditions became horrendous," said David Janowski, 29, one of few residents left at the 271-unit complex. He walks to a nearby QuikTrip to use the bathroom and lives without heat.
"It's been cold as hell," he said.
Jamie Bartels, of Trigild, referred questions to her home office in San Diego, California, which didn't respond to a request for comment.
According to the receivership case, the lender notified T.E.H. Realty in March that it had failed to maintain the property and it must fully repair "Life Safety" items listed in a property condition assessment that valued the needed work at $933,217. After failing to make the repairs, the firm went into default. As of Sept. 30, SM-T.E.H. Realty 1 LLC owed Fannie Mae $4,329,630 for the property, records show.
Absent a receiver, the Fannie Mae attorney argued that the life safety repairs "are unlikely to ever be completed," which would allow collateral to fall "further and further into a state of disrepair, posing serious safety concerns, and decreasing the value and the marketability" of the collateral.
Springwood once bustled with life, even after Bel-Ridge officials condemned a few of the buildings. But unaddressed repairs there, and at numerous other T.E.H. Realty properties in St. Louis and Kansas City, became a broken record of the same woes: no heat, broken air conditioners, mold, collapsed ceilings, unpaid bills that were supposed to be included in the rent.
Liens have been racking up. As of Oct. 31, T.E.H. Realty owed the Metropolitan St. Louis Sewer District $162,471.49.
While public records don't indicate that T.E.H. Realty has recently sold any of its complexes, or lost any to foreclosure — other than Park Ridge Apartments in Ferguson this summer — spot checks by a reporter this week indicated that some of the properties appear abandoned by maintenance and office personnel.
No management was on site at Pinnacle Ridge Apartments, the long complex on Lookaway Drive in the Glasgow Village area. Trash dumpsters have long been full. Somebody has been hauling away air conditioning units and appliances.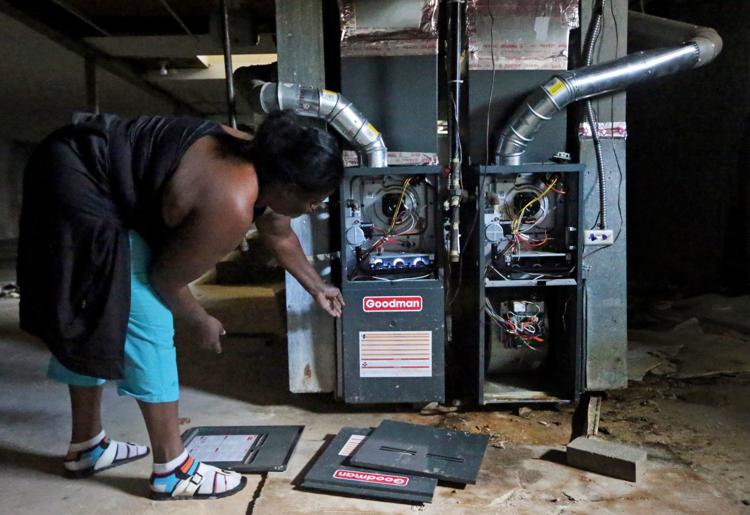 "It's really sad," said Anzela Smith, who has emphysema and lives there with her teenage daughter. "There's no reason it needs to be like this."
They were using the oven to heat the apartment. After the oven broke, they were down to space heaters.
Also in unincorporated north St. Louis County, some of the front windows at the Windham Chase Apartments leasing office were shattered. An unsigned letter informed residents that a new management company was in place, but it didn't name the company. The letter assured residents that Windham Chase wasn't affiliated with T.E.H. Realty anymore, but public records don't reflect that.
Kwani Harris, 30, said she had a rent check to pay but didn't feel confident to leave it at the office.
"I don't know what to do," she said. "Where is the money going? Who are you giving it to?"
Politicians get involved
Eliram Rabin and Gilad Israeli founded T.E.H. Realty in 2006 around the student housing market in Tel Aviv, Israel, according to a company profile that has been removed from the internet. The firm went on to establish offices in Reading, Pennsylvania; Kansas City; Tulsa, Oklahoma; Indianapolis; and St. Louis. Each apartment complex tends to be owned by a separate limited liability company.
The article mentions that some of the investors were connected with T.E.H. Realty through iintoo, a real estate investment firm that didn't respond to telephone messages seeking comment. Private investors named in the article include the current mayor of Jerusalem, a former dean at Tel Aviv University, a former bank CEO and a former Israeli income tax and real estate tax commissioner.
Rabin and Israeli could not be reached for comment this week to respond to the Calcalist article.
Last spring, Rabin told the Post-Dispatch that he liked the St. Louis market and wanted to invest more money here. He acted surprised when told of flooded basements and mold. Not long after, the Housing Authority of St. Louis County stopped allowing subsidized housing vouchers to be used at any apartment complexes owned by T.E.H. Realty because of the firm's "repeated failure as landlords."
In recent weeks, T.E.H. Realty employees at Southwest Crossing Apartments in south St. Louis trapped Rabin from leaving the premises until police arrived because they weren't being paid.
In a brief email to the Post-Dispatch Thursday, T.E.H. Realty investor Michael Fein said, "It sounds like there aren't any other stories going on in St. Louis, you have that much time to be busy with T.E.H."
He only added: "There are changes in the works …"
Last one left
On Thursday at Bridgeton Municipal Court, nobody showed up to represent T.E.H. Realty for 34 cases regarding the lack of heat at multiple units at Bridgeport Crossing Apartments.
Janet Carthen, manager of the 300-unit complex, said she'd told Shlomo Lerner, who oversees numerous T.E.H. Realty properties, about the court date. Asked for comment, Lerner hung up on a reporter.
Carthen was the only person left working at the complex. The phone rang constantly. Residents came into her office to complain about the water being turned off.
Residents of complex in Bridgeton call apartments 'uninhabitable.' Some lack heat. Others don't have water. 
At one point, Carthen was on the phone with another T.E.H. Realty employee in Kansas City who said things seemed to be the same there.
"I guess it's over," Carthen said into the phone. "I don't know what to do next."
Carthen said in an interview that she'd let tenants out of their leases.
"It's not their fault they are living like this," she said. "If they want to get out of the lease that's the least I can do."
Carthen was able to buy a little more time for one of the buildings without water. She paid the bill with a T.E.H. Realty credit card left over from when she managed Park Ridge Apartments, the complex T.E.H. lost to foreclosure this summer.
Shortly after, a new management team brought in crews to get the Ferguson property under control.
He said he found the conditions "shocking," and called for the landlord, T.E.H. Realty, to be held accountable.
Big apartment owner, T.E.H. Realty, faces complaints across St. Louis area
T.E.H. Realty acquired a dozen big apartment complexes here since 2014. Those apartments are an important provider of affordable housing in the St. Louis area, but many are in bad shape. The Post-Dispatch has chronicled efforts by tenants and others to address those conditions. 
Daily updates on the latest news in the St. Louis business community.