ST. LOUIS  •  In January, someone hid behind the empty house next to Jennifer Walter's home in the Walnut Park East neighborhood and shot her husband.
A case of mistaken identity, she believes. Her husband survived, but the shooter was never found.
"They're running from the police, running through these vacant houses," Walter said, gesturing to the empty buildings that dot her street.
The dilapidated building where the shooter hid had been owned since 2012 by the Land Reutilization Authority, the city's land bank.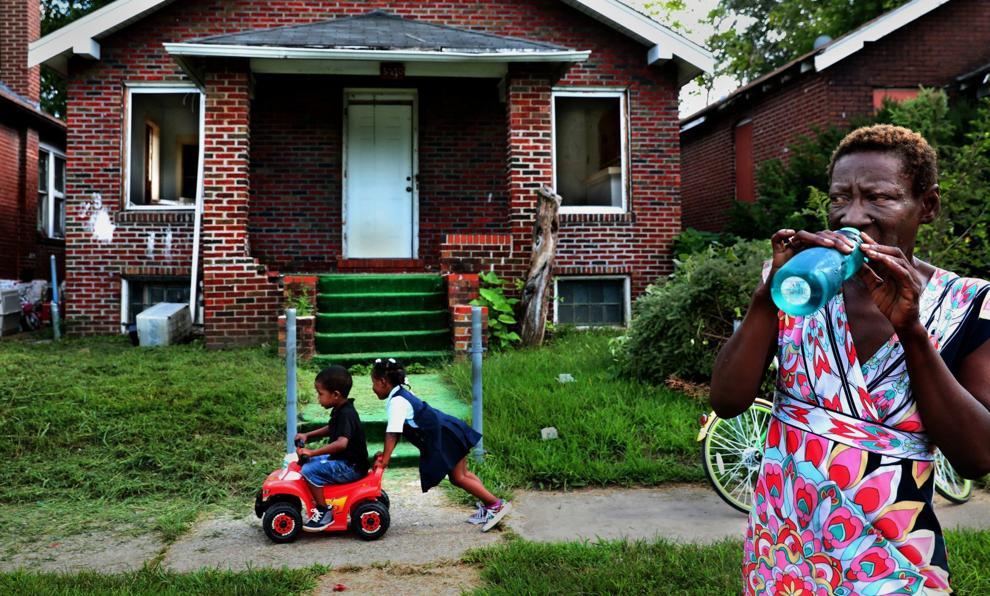 As the owner of almost half of St. Louis' 25,000 vacant lots and buildings, LRA has long been in the crosshairs of city residents unhappy with the way the agency maintains its vast property holdings.
That's not news to Laura Costello, LRA's director of real estate. "I get beat up at every neighborhood meeting I go to," she says.
LRA became the city's biggest owner of abandoned property because of forces unleashed in the 1960s, as people and businesses left for the suburbs — and unpaid real-estate taxes piled up in the city. State law at the time required the city to file suit against each individual parcel of tax-delinquent land in order to attempt to collect revenue — an unfeasible task.
City Hall at the time decided St. Louis needed a state law that would allow it to hold, maintain and eventually sell vacant property with a clear title for redevelopment, in hopes of revitalizing decaying neighborhoods. In 1971, the LRA — the nation's first city-run land bank — was born.
Once LRA began taking properties that didn't sell at St. Louis sheriff's office tax sales, its inventory quickly swelled, and it ended up with thousands of broken buildings and empty lots. In 1991, just 20 years after LRA was created, then-Building Commissioner Martin Walsh told the Post-Dispatch that "the largest slum landlord in the city is the city."
That's still true, 27 years later.
The LRA sells somewhere between 500 and 550 properties a year, but it can't seem to make a significant dent in the amount of land under its control.
Some on the Board of Aldermen have called on the land bank to be more aggressive in reducing its inventory.
The small staff tasked with managing and marketing about 12,000 parcels say they're open to new ideas to get more of those properties back on the tax rolls or into the hands of nonprofit groups that can maintain them.
But that's hard to do without resources. LRA is funded primarily through its own sales and federal pass-through grants, not the city's general revenue fund. It operates at a near constant deficit, writing IOUs to the city's economic-development arm, the St. Louis Development Corp., for the difference.
"We don't make enough money every year to take care of these properties," Costello said. "We could use a lot more help. We could use a lot more demolition money and more maintenance people."
'We are coming'
The slow pace of demolition has been a major reason why the number of vacant buildings in the city has risen dramatically. It's up 40 percent since 2009, topping 7,000 buildings, including about 4,000 that have been condemned as unsafe. While LRA once spent roughly $3 million a year on demolitions, the money has been systematically cut over time.
"Being mad at LRA is like being mad at someone because they're poor," Mayor Lyda Krewson told the Post-Dispatch this summer.
At least in the short term, that's improving. With vacancy a top priority for Krewson, she pushed for roughly $3.6 million in the fiscal 2019 budget to tear down some of the city's most dangerous properties, and she says she's committed to pushing for at least as much every year she's in office.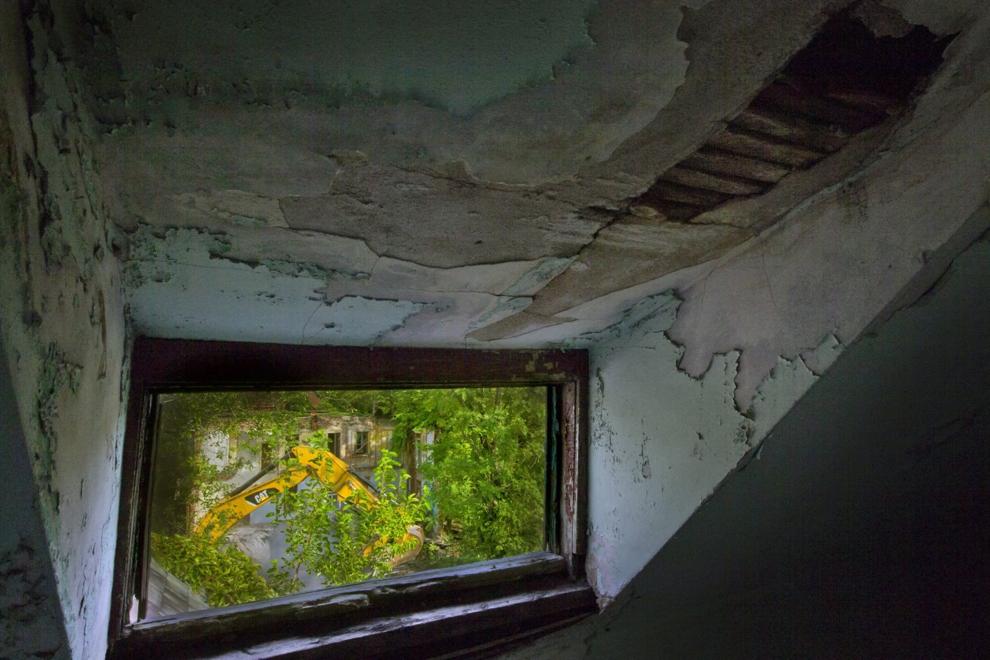 As a north St. Louis neighborhood meeting last month veered into complaints about vacant property, Costello's boss, SLDC Director Otis Williams, touted the new demolition money and a commitment from the Metropolitan St. Louis Sewer District to supplement it with another $2 million to create stormwater-absorbing green space. The pace of demolition will pick up, he told the residents.
"While we may not get there next week, we are coming," he said.
An elderly woman sat on her Davison Street porch this month, watching as a backhoe ripped into the LRA-owned house next door. Some of that MSD money had reached Walnut Park East.
People — drug users, she said — came in and out of the house, and she wanted it gone. "I've been asking for five years," she said, declining to give her name.
A block away, construction crews were scattering straw on the newly created empty lot next to Walter's house, the one that once held the building where her husband's shooter took cover.
"We need to get rid of some more of these things," she said.
'No one wants it'
The best way to keep properties from getting to the point that they pose a danger to neighbors may be to keep them out of the hands of the LRA.
A new push to reach out to residents and neighborhood organizations may be paying off at the tax sales that offer a last chance for someone to buy a property before it heads to the LRA. The agency is sending representatives to more meetings, educating the public on how to acquire vacant property. It's only taken in 187 properties this year after three of five annual tax sales.
Given that the land bank typically rakes in 500-600 unwanted properties every year, this year's lower total shows the public is becoming aware that they can buy these properties at those sales, Costello said. That means fewer parcels make it into the city's inventory.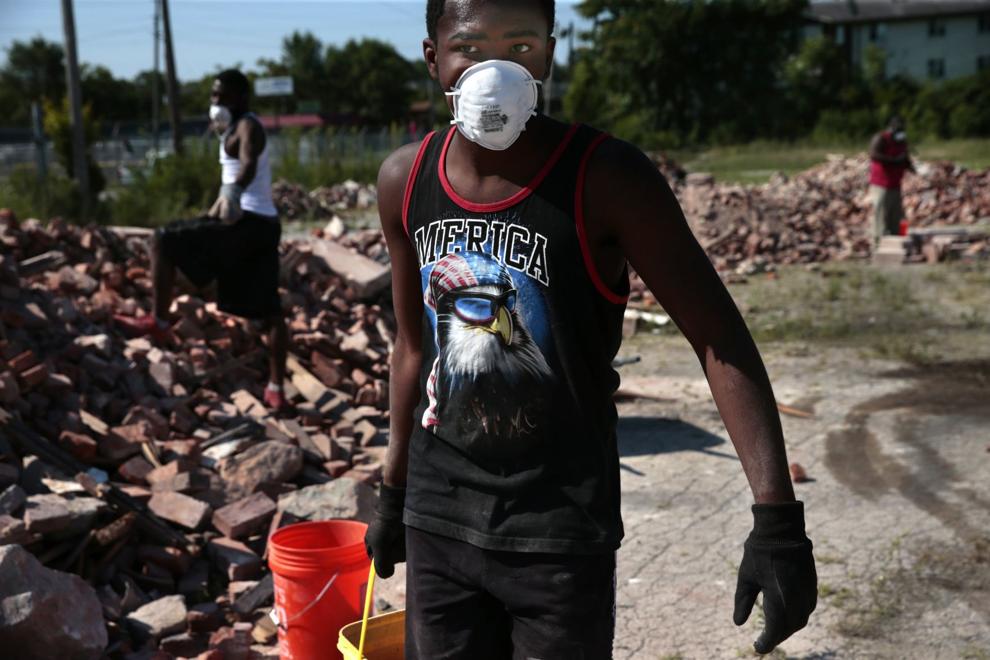 Selling parcels the city already owns — some of which have sat dormant for decades — is trickier. The reality is that no one has expressed interest in more than 40 percent of the city-owned lots or buildings, Costello said.
"Not a phone call, not an offer, anything. No one wants it," she said.
That hasn't stopped aldermen, though, nor candidates for citywide office from pushing the LRA to more aggressively reduce its holdings.
The Board of Aldermen this month passed a resolution directing the St. Louis Development Corp. to develop a $1 home purchase program, an idea loosely modeled on a similar initiative in Kansas City.
Sponsoring Alderman John Collins-Muhammad estimates that 80 percent of his job is responding to constituents on issues that stem from vacant buildings or lots in the 21st Ward: tall grass, illegal dumping and people illegally moving into abandoned property.
Selling homes for $1 would encourage more people to move to north St. Louis, and the city would save money with fewer properties to maintain, he argues.
The idea of selling vacant homes for $1 isn't new. In 1976, then-28th Ward Alderman Vincent C. Schoemehl Jr., who would go on to be mayor of St. Louis, introduced his own resolution to do just that.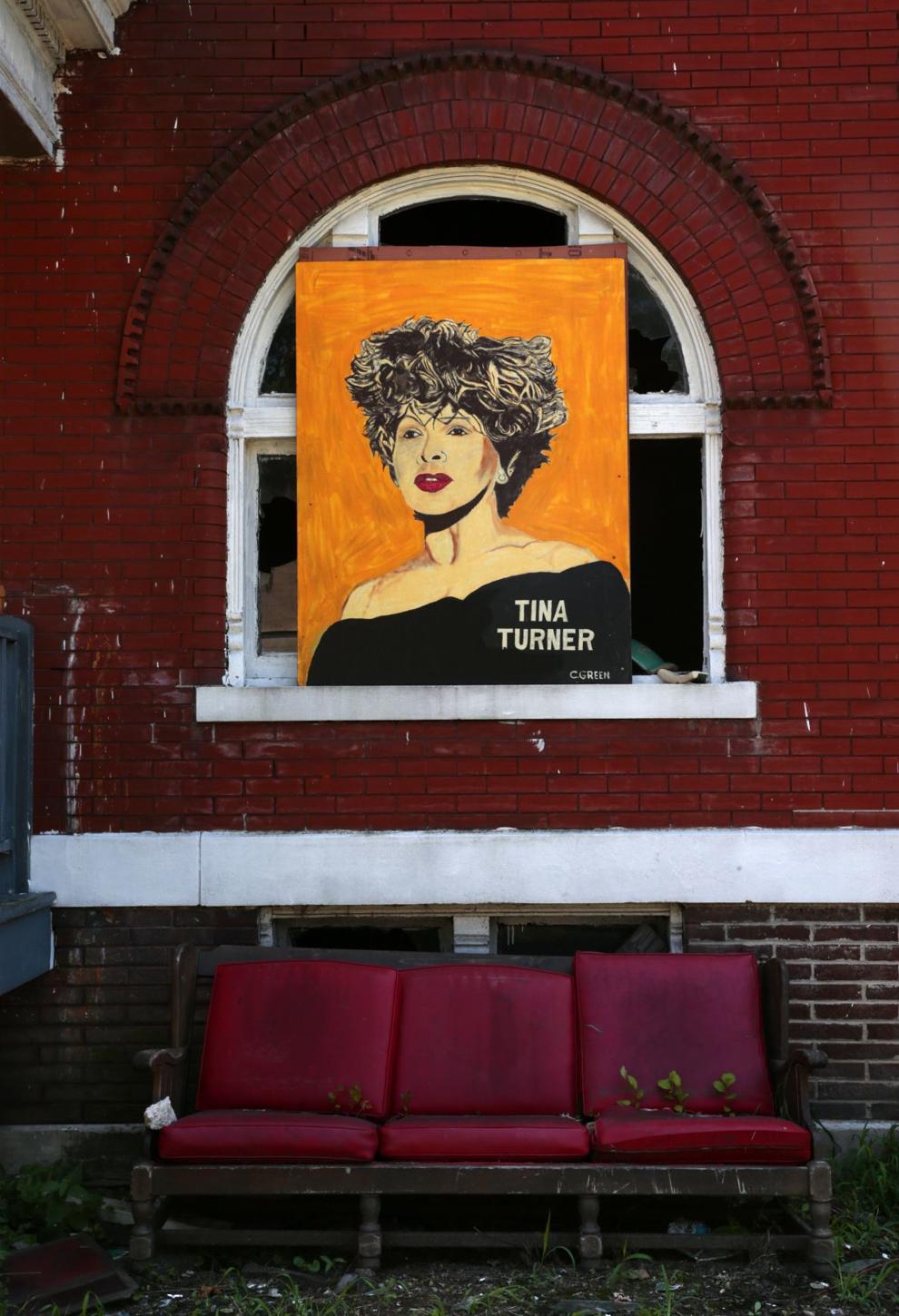 The roadblock then and now is that the LRA is governed by state statute, and a provision in that law states the land bank cannot sell its properties at less than two-thirds of the estimated value without written permission from two of the three offices that appoint LRA board members: the mayor, the comptroller and the School Board. Sometimes, the land bank will sell for less if a property has been in the inventory for a very long time, but it's difficult to get signatures from the appointing authorities, Costello said.
Some aldermen also fear such a program would yield more residents buying up homes at a rock-bottom rate but finding themselves ill-equipped for the renovations, or unable to secure financing at the bank.
"A lot of times those properties have sat for so long, and what it's going to cost to fix, they'll have to go to a lender to get it repaired," said 27th Ward Alderman Pam Boyd. If people snatch up $1 homes but later can't get a loan, the city will just have to take over the property again, she said.
For an agency reliant on sales income, $1 buildings won't pay the bills. It can cost hundreds of dollars just to get a property into LRA's inventory, before factoring in annual maintenance and insurance. In the alternative, demolishing a building costs the agency about $12,000. Without any return on that investment, Costello said, the LRA may be rendered unable to operate or perform basic maintenance on its inventory, such as grass cutting and boarding up empty homes.
Adding staff
In 2017, LRA sold 551 parcels for a total of $1.2 million. Not every offer was accepted. Some offers are rejected because the LRA is holding onto property for future development, but more often, Costello says, it's because a prospective buyer has problems with other properties, or because they have almost no money.
Those interested in acquiring LRA property are expected to show they have some seed money to get started. No one is expected to have the full amount needed to fix up the property in order to buy it. If they imposed that requirement, "we would never sell one property," Costello said.
If owners haven't paid taxes for three years, and if a property isn't sold at public tax sales, the LRA takes control.
Land banks in other cities can pick and choose which properties they take into their inventory, and may only select ones they know they can rehab or sell. The municipalities themselves are responsible for the properties no one wants.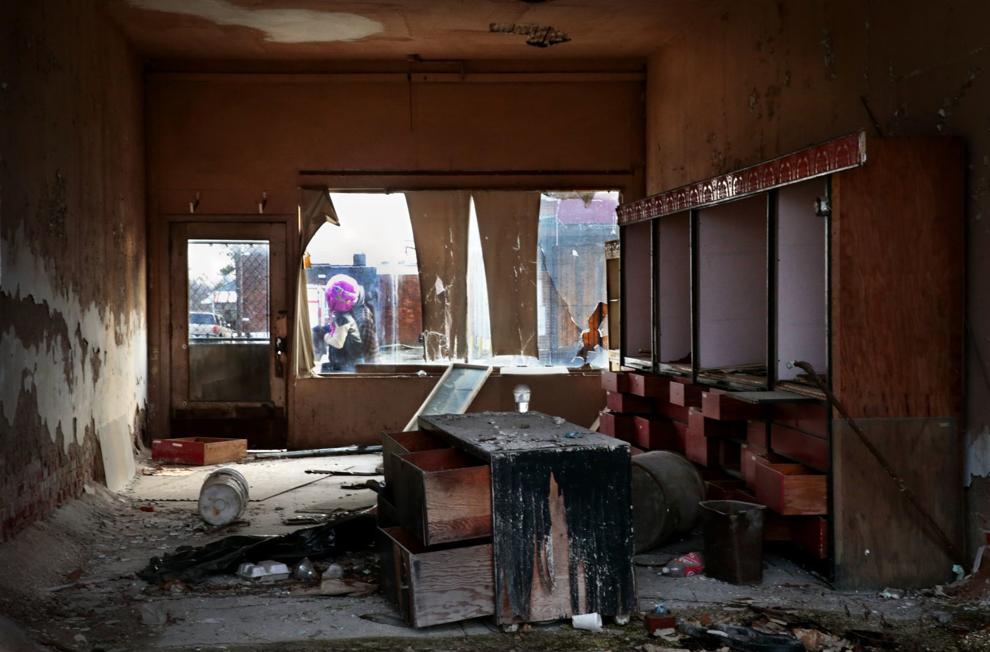 But LRA was formed to relieve St. Louis of that burden, Costello said. They don't have the option to be selective. They take what no one else wants. The best property is bought by investors at the tax foreclosure sale. The LRA takes the rest.
That makes the LRA's job of returning abandoned land to productive ownership all the more challenging. Yet it is underresourced compared to similar agencies.
In 2017, the Environmental Protection Agency commissioned a study of the LRA by the firm Asakura Robinson, which found an extremely large land-banked inventory for a city of roughly 300,000 people. While LRA has about 12,000 properties, Pittsburgh and New Orleans, two cities of comparable size, have about 7,000 and 2,000 publicly owned vacant properties, respectively. And with just 10 administrative staffers to handle all those properties, LRA had fewer people and a smaller budget than comparable land banks.
The study recommended doubling the number of LRA employees, performing a comprehensive analysis of its inventory and adopting a better system for categorizing properties.
The city should also lobby the state for reforms to reduce waiting periods before tax-delinquent vacant properties can be taken and sold by streamlining the process, according to the report. It also needs to clarify how it takes title to property, because concerns over clear title and proper notice to former owners can make title insurers, and thus lenders, hesitant to deal with LRA properties.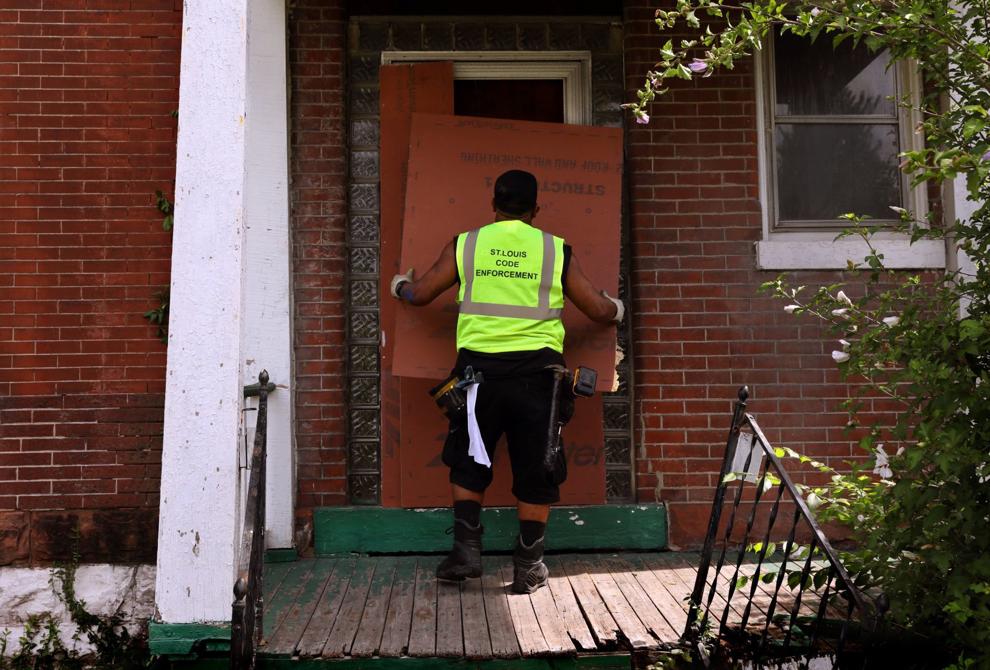 As for adding staff, LRA has made two administrative hires. Costello isn't sure more are needed — her staff is able to process the roughly 75 offers that come in a month. More staff to market properties could help boost demand, she said. But what would be more helpful is 10 more maintenance workers to help with the upkeep of publicly-owned property, she said.
"I think there's a hundred things that lead to the property being foreclosed on. I don't think LRA is the problem, it's the solution," Costello said. "I really think unless there's a lot of fixes everywhere, there's not going to be a fix for the LRA inventory. We're not ever going to be at zero."
Janelle O'Dea of the Post-Dispatch contributed to this report.
This story is part of the "Tipping Point" series of special reports that examine critical challenges facing St. Louis neighborhoods.
Next Sunday: Nonprofits, businesses pitch in.