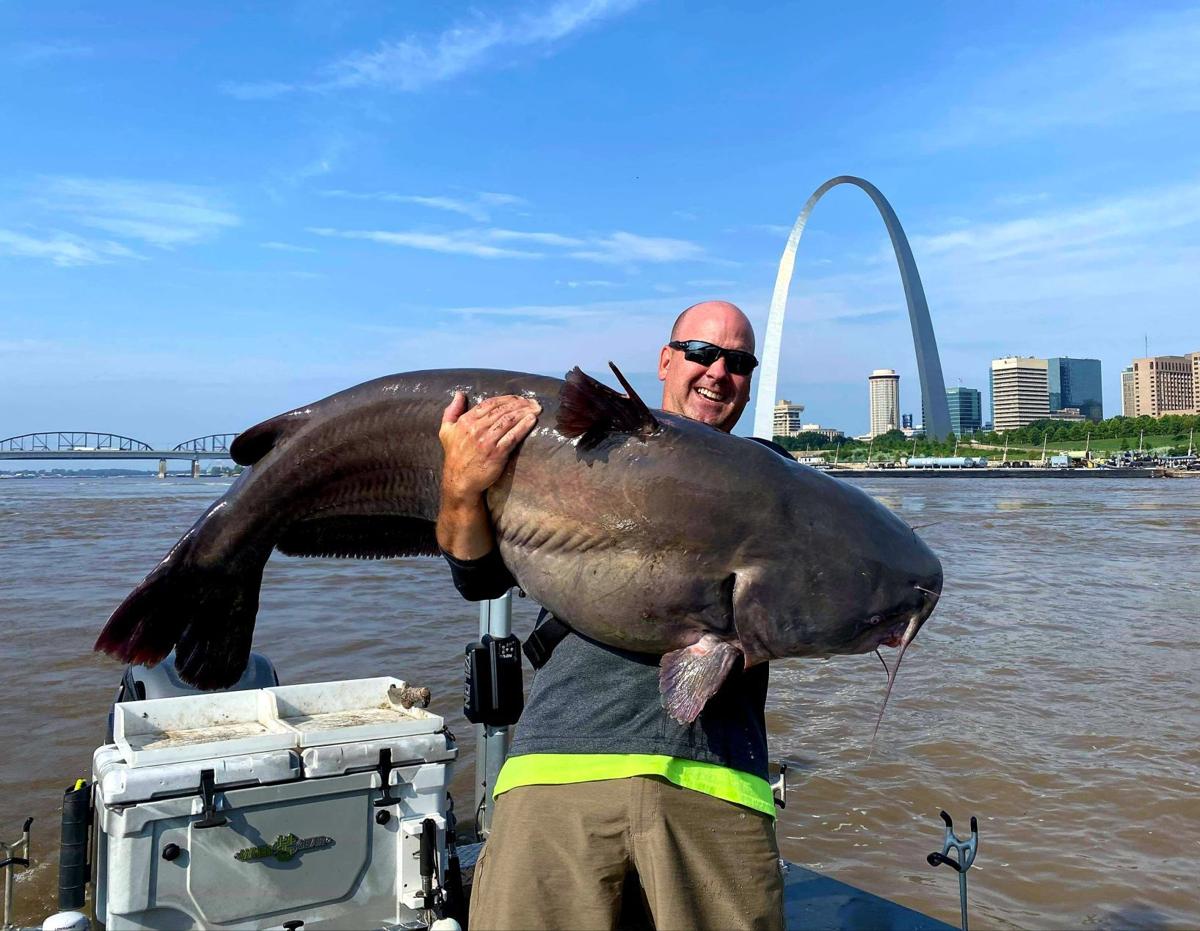 ST. LOUIS − While the St. Louis Regional Chamber hunts for a new president to promote the area, perhaps Wade Kaminski should be considered.
"It's a pretty magical place around here," he said of St. Louis on Sunday.
Only he already has a job fixing navigational aids on the runways at St. Louis Lambert International Airport. And he's busy dodging barges and bouncing bait off the bottom of the Missouri and Mississippi rivers every weekend.
One of his favorite spots to fish is across from downtown St. Louis.
On Friday morning, he posed for a picture in front of the Arch, while holding a "monster cat," a 112-pound blue catfish that he hauled into a boat with the same name.
The fish was so heavy that he and his friend, Jake Derhake, didn't have a scale onboard that was big enough to weigh it. They dropped the fish into a 100-gallon live well and called around by cellphone for help.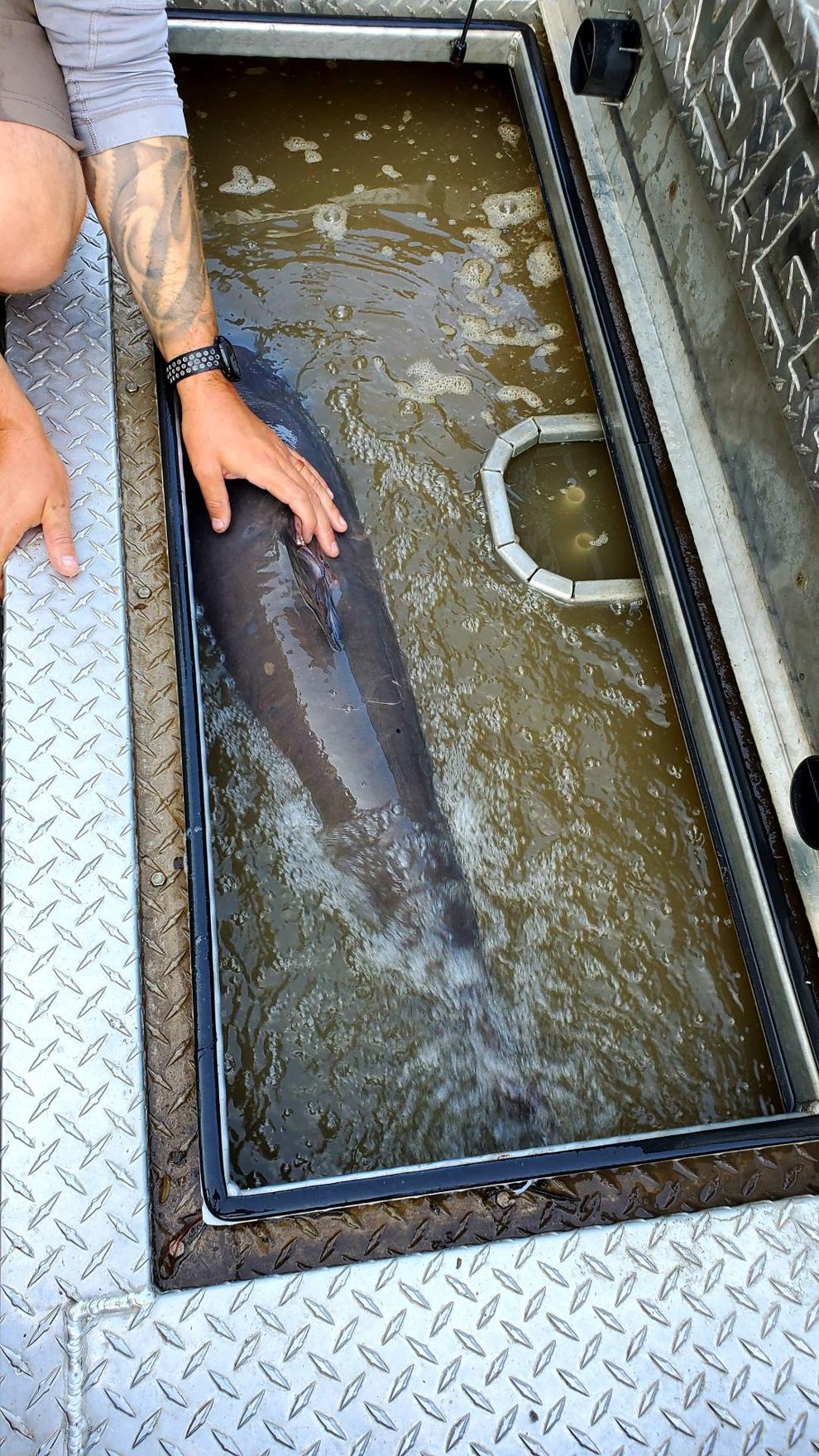 "Since we were there, there is no better photo opportunity than getting the Arch in the background," said Kaminski, 45, whose story was first reported by KSDK, Channel 5.
Cameron Mank, the fishing guide who loaned the scale, said he and his customers on board that morning were in awe of Kaminski's fish, which needed to be weighed in a sling because of its size. 
"I was the one who actually confirmed it for them at 112 (pounds)," said Mank, 35.
Mank's boss, Jason Schneiderhahn, owner of STL Catfishing, said he also witnessed the fish and the photographing of it.
"We've all caught 60-, 70-, 80-pound fish, but to get over 100 pounds is a feat within itself," said Schneiderhahn. "There are good fish in this river. There are 130- and 140-pound fish out there."
Kaminski has sponsors, but he's not considered a professional. Few, if any, are who catfish.
He fished as a child growing up in Warrenton. It wasn't until after he served in the Army six years, mainly fixing satellite equipment, and moved to St. Charles that he started taking it seriously.
Since 2013, he said, he's been fishing pretty much every weekend unless there was too much ice on the water. He's single. His technical eye and access to good equipment seem to give him an edge.
On Friday, he and Derhake, also of St. Charles, were in a $75,000 boat built just for catfishing on big rivers. It has a 350-horsepower outboard motor, the oxygen fed live well and two electronic fish finder machines and monitors worth about $8,000. They each used $400 rods and reels equipped with 80-pound test braided line.
As bait, they threw out chunks of skipjack herring on a hook. In the spring, they caught a bunch of the baitfish near Melvin Price Locks and Dam. By end of the summer, their freezer stock will be empty.
"It's a wonderful bait to use," Kaminski said. "It has a lot of good oils in it. It holds together well on the hook."
Catfish like smelly baits, typically found near the bottom. He hooked the "monster cat" on a 3-inch by 2-inch chunk of the skipjack in about 30 feet of water. With the boat drifting downstream, he didn't have to fight the current. Still, it took about eight minutes to catch.
"My main concern was how good the hook was in the fish's mouth," he said.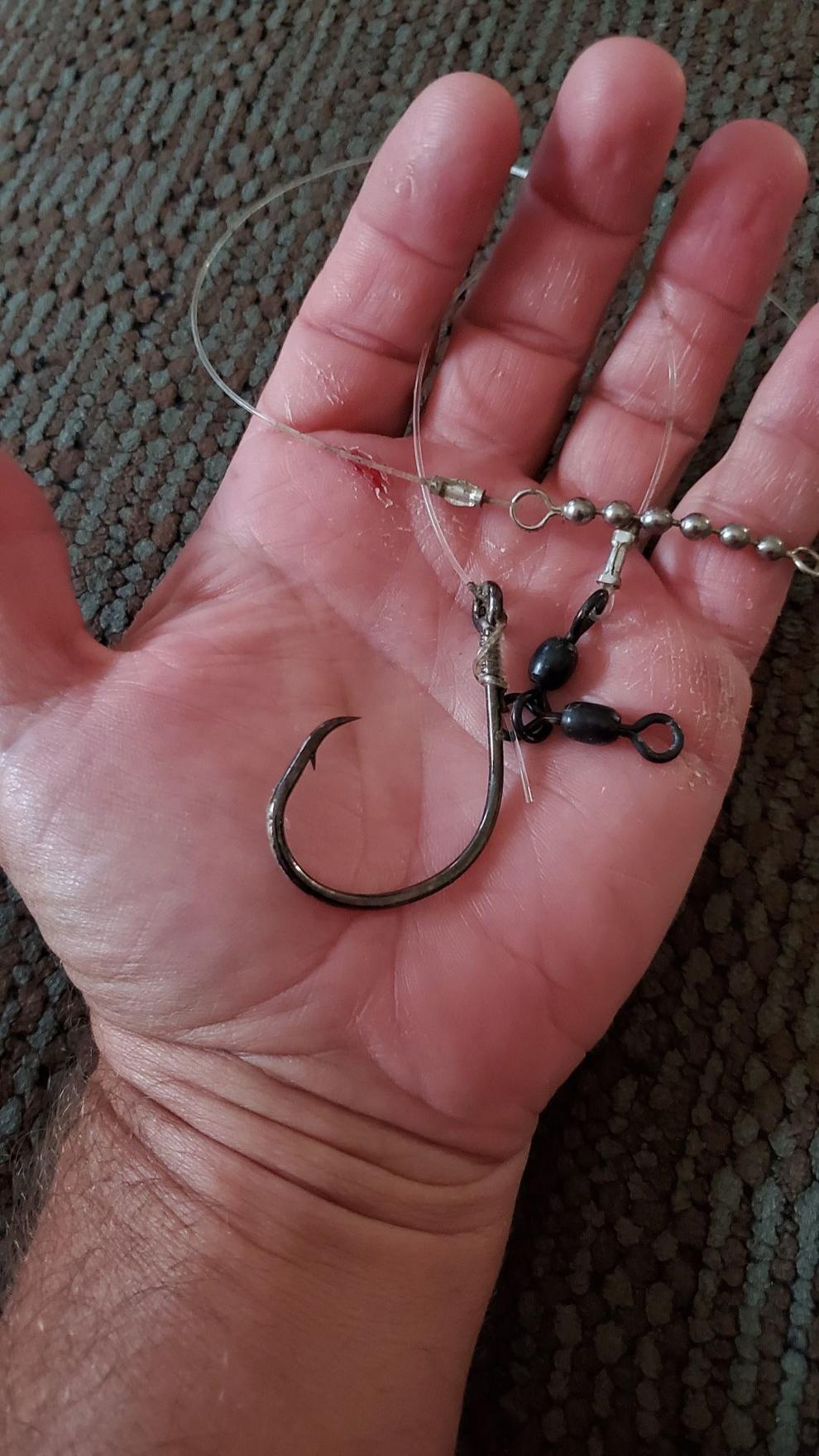 Once the fish surfaced, Derhake netted it at the rear of the boat and brought it aboard.
Kaminski won't disclose the location on the river.
"It was in the St. Louis area," he said. "I am not going to say exactly where."
There is a fishing tournament coming up in September called the Alton Catfish Classic. They were looking for places to fish that might be overlooked.
And where he caught the fish was also close to where it was released.
Kaminski said he doesn't keep fish that weigh more than 10 pounds. He wants to see more people enjoy catching fish in St. Louis like he did on Friday.
When pressed, he said the fish was released somewhere downstream from the Eads Bridge. On the fish finders, he watched it swim away and find a spot back on the bottom.