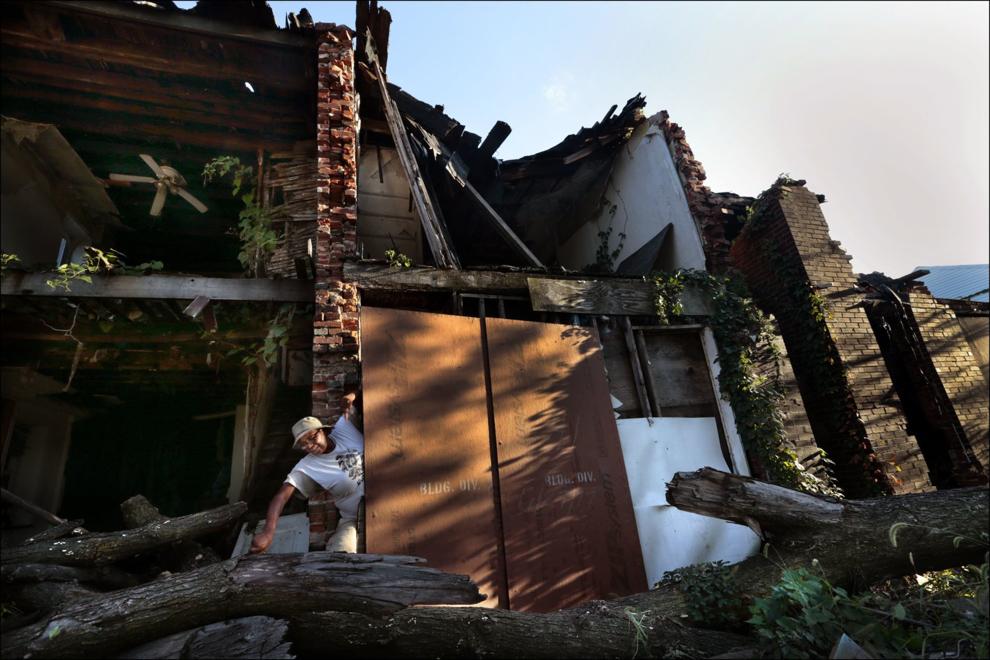 ST. LOUIS  •  There are so many abandoned houses to pick from and as many reasons why people occupy them. Jimmy Johnson said his was strategically situated between the north riverfront salvage yards and a large apartment complex that throws out a lot of junk.
Johnson earned $15 on a recent day from cutting the metal out of a shaggy recliner and other finds. He spent $2.50 of that on a pair of cold and flu tablets at the convenience store. The money could have bought more beer, but he wasn't feeling well, and the temperature was dropping fast.
"I really need to see a doctor or something to get back on track," Johnson, 58, said from a home that looked like a forgotten shipwreck.
Attempts to secure the two-family brick row house, built in 1892, couldn't keep up with decay. The living room was open-air because the brick wall caved in. The floors and roof were full of holes. Tires were piled in the basement. A 30-foot tree jutted out from the second story at a 45-degree angle.
And yet Johnson found refuge here in a closet, a protective womb of sorts in the broken house that shielded him from the wind and falling debris but not the roar of traffic on nearby Interstate 70.
Right outside the closet door, he propped up the ceiling with a long four-by-four to allow escape, should the building finally collapse.
"I am hoping all this will be resolved one day, and I will put this behind me," he said before settling down for the night.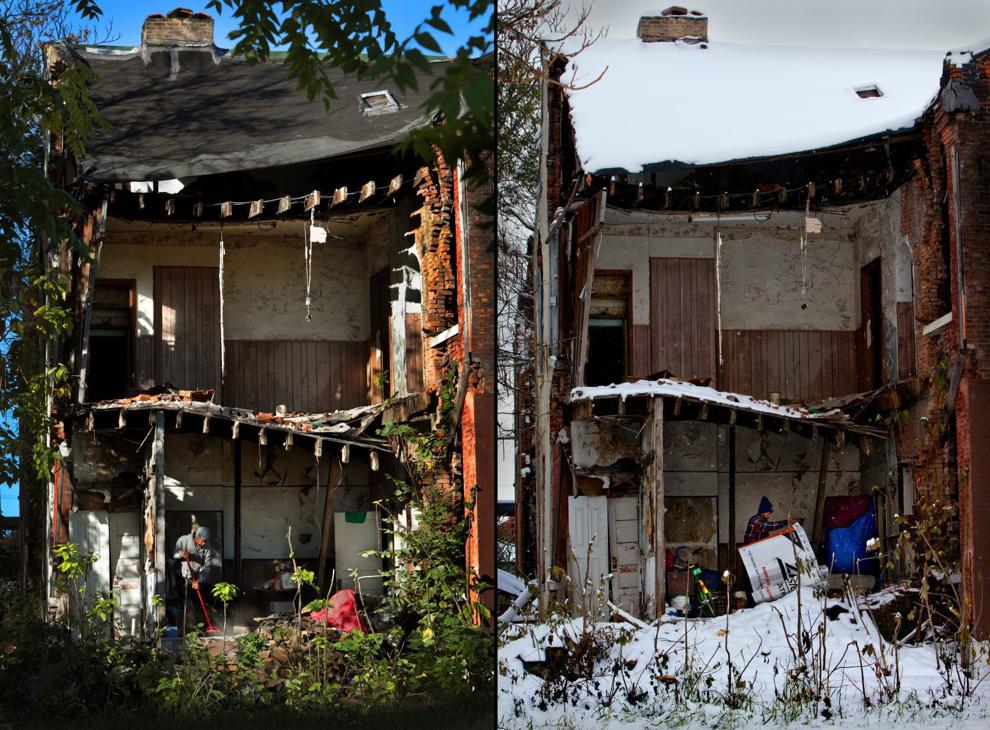 No candles lit, it was pitch dark in the closet, which was big enough for a bed and a few belongings. Johnson planned to regain heat under thick covers. If that didn't work, maybe he'd look up one of his relatives to stay with for the night, then start anew the next day.
But he'd have to get very cold for that to happen. He doesn't want to put people out.
"In order to receive your blessing, you need to wait your turn," Johnson said, often invoking the divine.
He waited for that blessing in one of at least 7,000 vacant buildings in St. Louis and one of 12,000 properties owned by the city's bloated land bank. Many of the structures seem beyond repair. So do the people who flock to them for shelter.
How many Jimmy Johnsons are holed up in these abandoned buildings isn't known. The annual homeless census doesn't capture them all and land bank officials suggest the number is small, at least in city-owned buildings.
But they're there — if you look.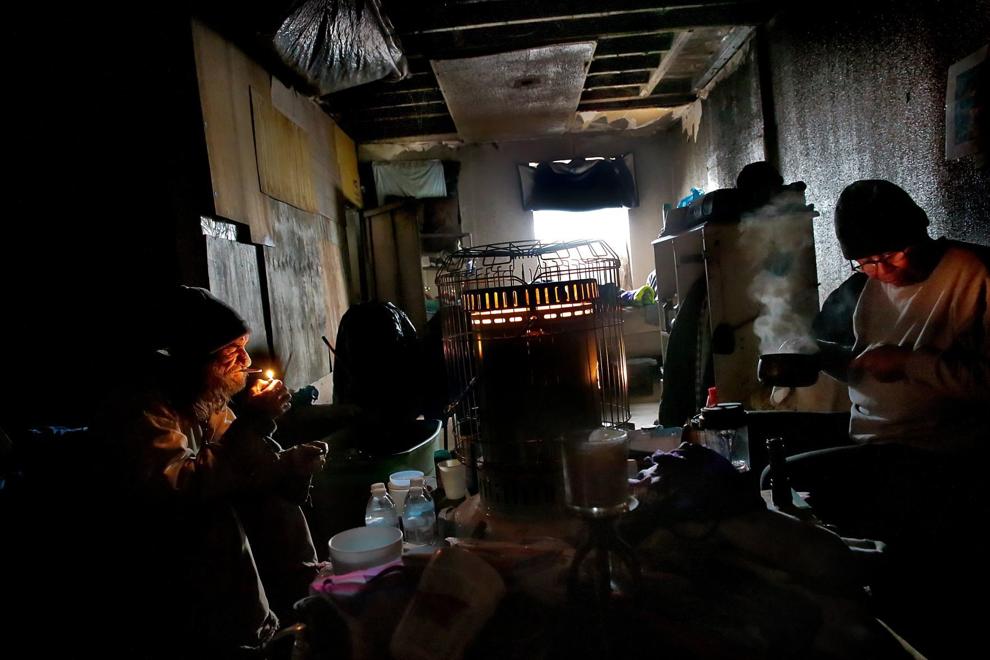 While Mayor Lyda Krewson's administration champions more demolitions, occupants of the abandoned buildings speak to a chronically homeless population that St. Louis hasn't been able to reach. Even when you tear things down, entrenched criminal histories, neglected mental illness, untreated trauma and out-of-control addiction remain — on the run from one neglected place to the next.
The dwellings tend to be hot spots for quick crimes. But to longer-term occupants, these are places for camaraderie and solitude that offer an alternative to societal rule and judgment.
Liberty is the motto. Milwaukee's Best Ice — strong and cheap — is the unofficial drink.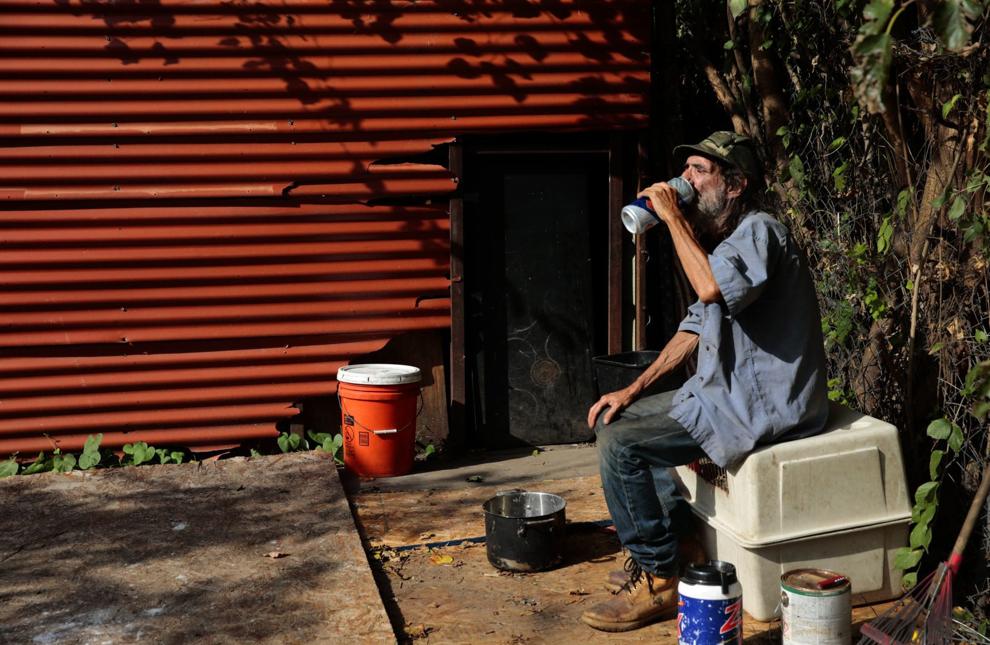 "I don't like programs to go through," said Edward McGehee, 58, a veteran of the streets, staying in a tiny old shed. "I live the way I want to. If I come in drunk, fine. If I come in high, fine."
Ronnie Cox, 54, preferred to stay in an enormous old Catholic church. He slept on a wooden pew in the back, below the choir loft, to avoid falling debris in the vast nave.
"I talk to God when I am in there," he said. "Most of the people I talk to can't relate to what I am talking about, the situation I am in."
He folded his blankets on a recent morning, left the church at daybreak to help restore a house built in 1904.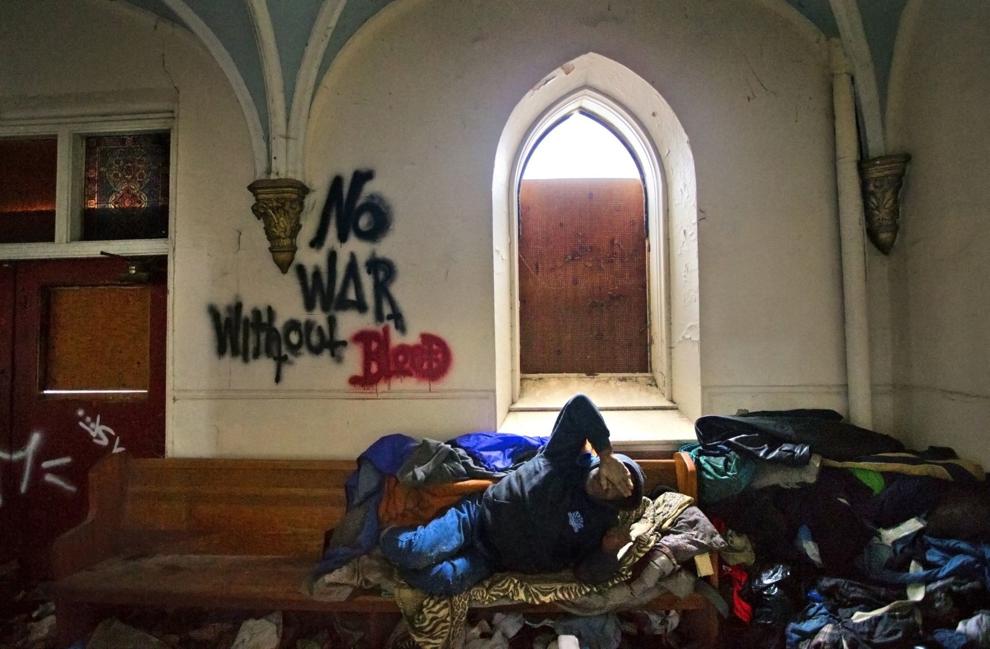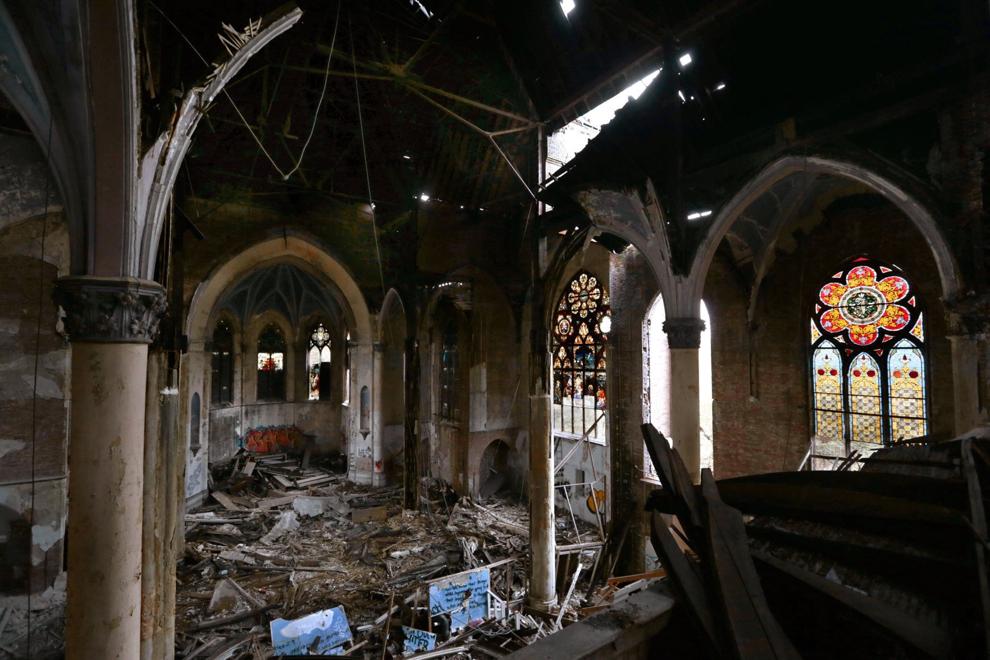 'Ain't them pretty'
Johnson decided to stay put through the night. He opened the closet door the following morning to a dusting of light snow and wind in the face.
"It's going to be another nasty day, I can tell," he said.
He broke wood molding and placed the pieces in a metal box with other trash. Once a fire was going, he sipped beer and cooked shrimp-flavored ramen noodles for breakfast.
He said the living arrangement was temporary. He'd been there nearly a year. Before that, he stayed next door until two men set that house ablaze. Vacant buildings account for more than 40 percent of the city's fire calls.
"People do strange things that wake up the devil," Johnson explained.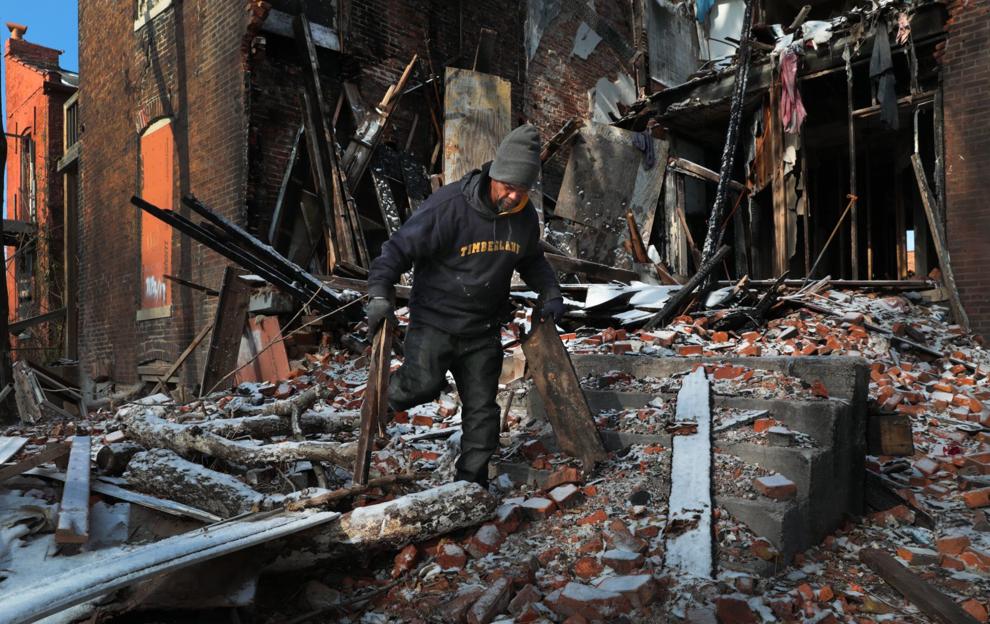 It wasn't enough to scare him away. Johnson said he clung to a belief instilled in him as a young boy by his parents: When times get tough, do whatever you can to hold on. Beer helps cover feelings of doubt, he said, but once the alcohol wears off he finds himself in the same place.
There are moments of joy. He flashed his fingers through the flames and smiled.
"Oh, man, heat!" he said.
Random eye candy from I-70 fueled his excitement, especially recreational vehicles and trucks.
"Ain't them pretty," he said of a big rig hauling a trailer full of new motorboats. "I could have been the guy who put them together."
He stared into the fire again.
"I got a little heat," he said. "I am getting by."
Midnight and Bebe
Violence struck earlier in the fall, when Bobbie Lee "Midnight" Barrow was gunned down 10 blocks away. He was 63. He lived in a group of privately owned abandoned homes for about nine years.
Though he was found dead in the area, he'd once said in an online video interview that he had been forced out in 2017.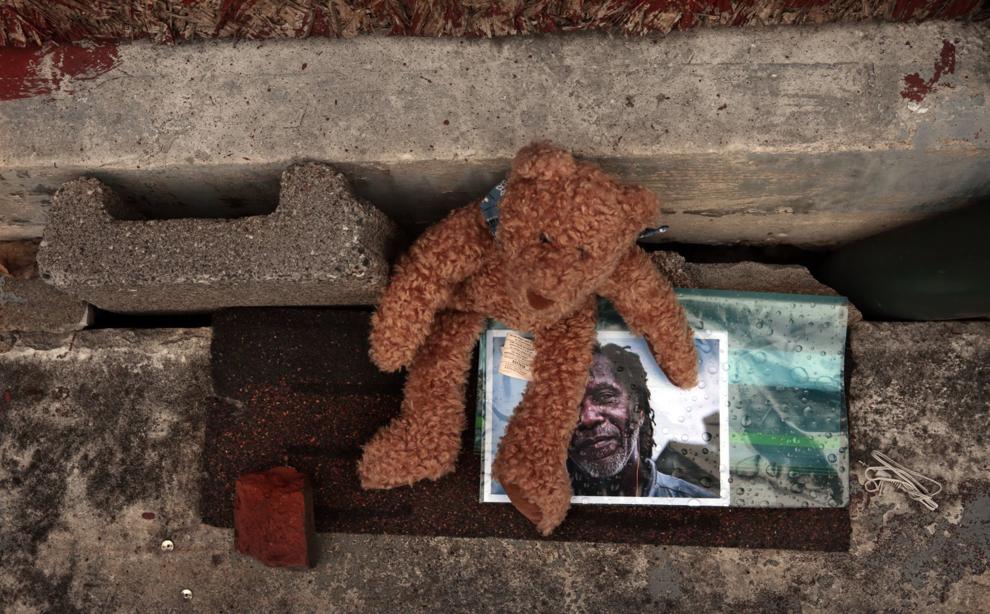 "America has its policies where they keep making poor people," Barrow says in the video. "The rich keep getting filthy rich. You have some people in this country that have three homes. … I just wanted a vacant building. … This was home, you know what I mean? I protected it, just like anybody would do their home."
Police said no one has been charged in his death.
Barrow left behind grandchildren and children, including some who didn't know him well but mourned him. At his funeral, he was remembered as somebody who listened to the news, didn't care what others thought and suffered from depression.
"The city was a better place when he walked its streets," Phil Berwick, an artist who hires homeless people for a tree-cutting ministry, told the crowd of 60 people.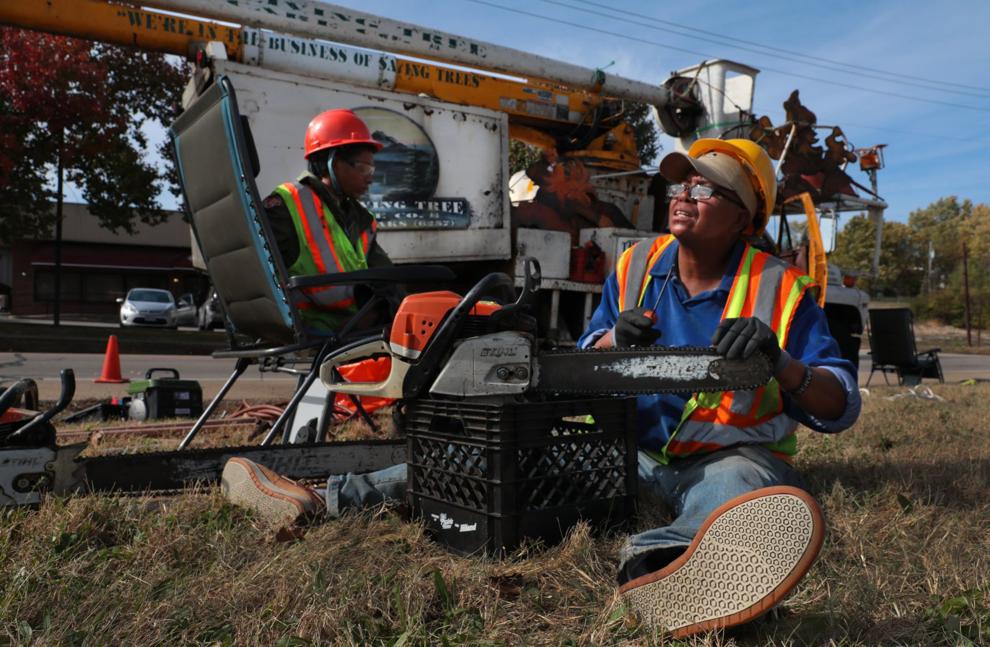 After the funeral, he and a small group came back to where Barrow lived to gather some of his belongings for family. Barrow seemed to have stayed above the garage, near a decrepit porch and leaning staircase. There was a lot of trash. A few cats.
"OK, Sweet Pea, where are your babies at?" Bebe McBride asked one of them. "You are showing what kind of mother you are."
McBride, 55, stayed in another vacant home and used to visit Barrow. She found a new pair of black work boots that he had previously tried to sell her for $20.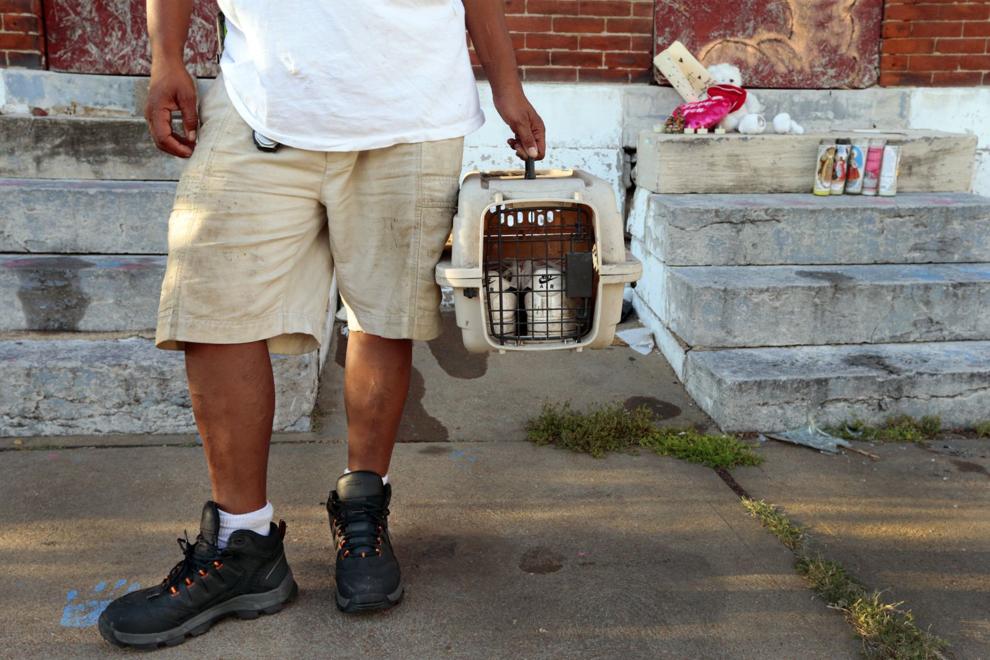 "I never thought I'd come over here to receive them this way," she said, trying the boots on. "Thank you, Midnight. I love you."
She thanked him again for a cat cage, then walked to a row of town houses that were bombed out by neglect and fire.
McBride pulled back a piece of plywood, went up a set of stairs, then down another to her secluded lair. She said her spouse and children lived somewhere else.
"When you are drunk, you forget everything you agreed to when you are sober," McBride said.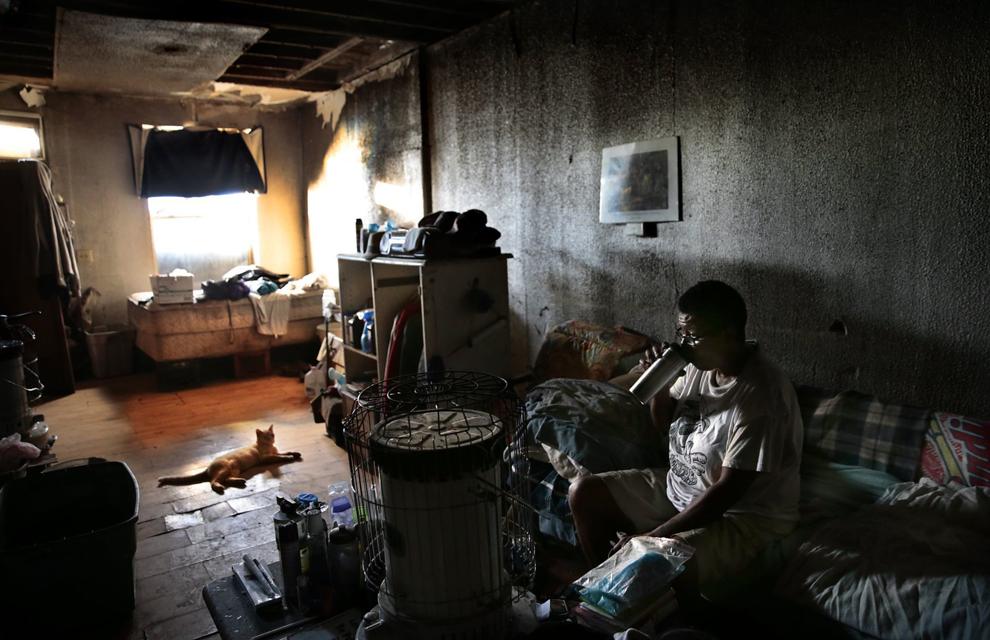 So now she comes to the abandoned home to get blitzed.
Renting an apartment would mean too many rules to follow.
"I just want to do what I want to do," she said.
Where the misfits fit
A tiny woman scurried through a hole in the door of an automotive shop that hadn't fixed a car in years. She was angry. She didn't want to talk about why she lived in a tent community set up inside the cavernous building.
Instead, she later returned outside to drop off a handwritten note that said she came from an abusive family and living in a homeless shelter had triggered "many instabilities in my mind due to my traumatic past."
"But here ... I am free of that," she wrote of the building, owned by developer Paul McKee's NorthSide Regeneration. "I feel safer than I have for a long time. Not simply because I am in a 'vaco,' but because of the people I have found here. Misfits, like me.
"Here … I have Space. I have Air; Sun; Moon; Earth; Butterflies. I have friends … And no judgment from the busy streets trying to figure out what I 'have.'"
A few weeks later, her tent caught fire. She wasn't harmed, nor was a stack of books.
Tim Farr, 37, a neighbor, said the woman read the books over the phone to children. He didn't know for sure who the children were. He said he didn't ask personal questions, only listened if residents wanted to share.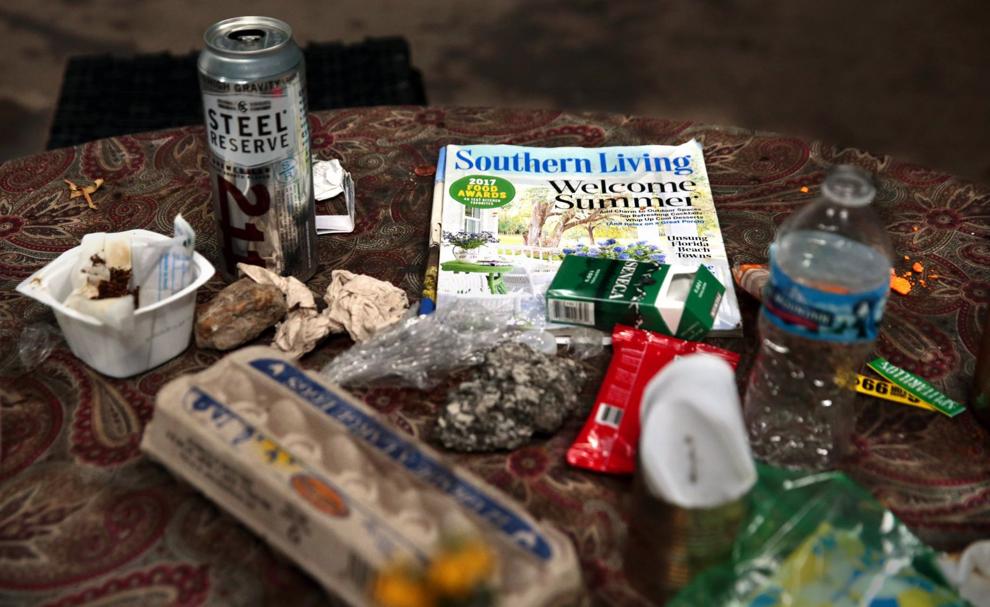 Farr was the leader of a small group of people he described as the "inner circle." They shared a gas generator to power cellphones and appliances. They washed themselves with water collected in a large rubber trash can that was replenished through a hole in a broken skylight.
A blue tarp covered a makeshift bathroom. An overturned utility spool served as a wooden table. Resting on it were an empty beer can with yellow flowers inside and a copy of Southern Living Magazine.
Farr, who had two children in Ohio, said he stayed in St. Louis because of ongoing criminal cases. Traditional shelter programs didn't work out.
"I don't have nowhere else to go," he said.
He recently worked feeding production lines at Procter & Gamble that made Febreze air fresheners and dishwashing liquid. That, and other temp jobs, fell through.
On a recent Friday, it took Farr an hour and a half by bus and train to get to his main gig at a Hazelwood strip mall, where special offers and slogans were painted on the windows, such as "FALL RED CARPET PROMOS" and "Donate Plasma Save Lives."
The busy room at Octapharma Plasma had the feel of an airport terminal. Farr checked in at one of the five kiosks, then waited in line. At about $30 a pop, he planned to come back in two days.
"Can I just get a step?" he said of forward momentum.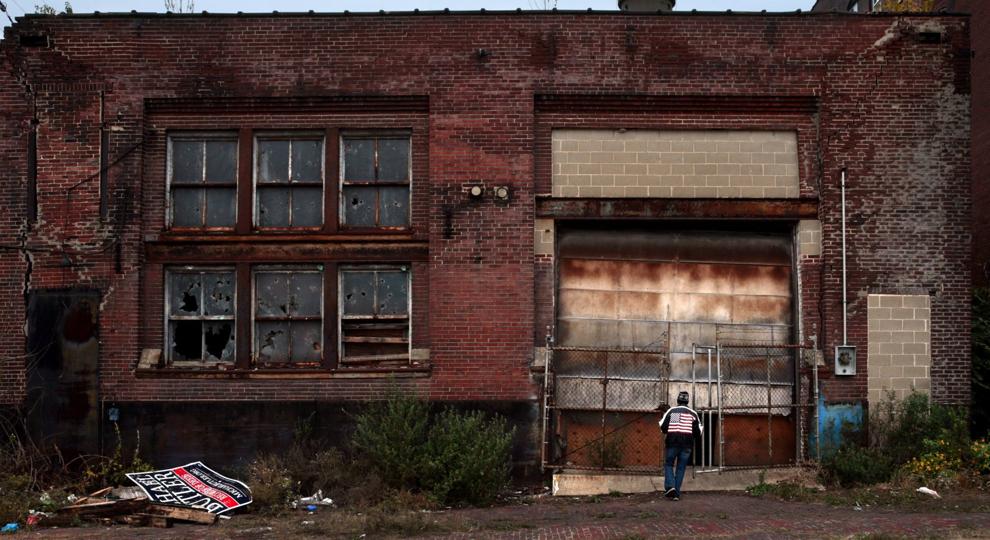 'Looking to die'
Nearly 100 people packed the latest 22nd Ward meeting, and they were angry. They shouted frustrations at a panel of public officials about open-air drug markets, prostitution and neglected properties.
There were recently 1,013 vacant buildings and the equivalent of 127 football fields worth of vacant lots in the ward, city forestry division records show.
"That's sad!" a woman yelled from the audience about the situation.
Charles Rogers' block on Hamilton Avenue illustrated their grievances. He'd seen so much disinvestment happen over generations that the brick structures, many of them in ruins, were the only thing that resembled what the neighborhood used to look like.
"When crack came to town, everything went to hell in a handbasket," Rogers said.
This year, the city demolished a historic group of buildings at the corner of Martin Luther King Drive and Hamilton Avenue. They were storefronts with residences on top that had been damaged by fire.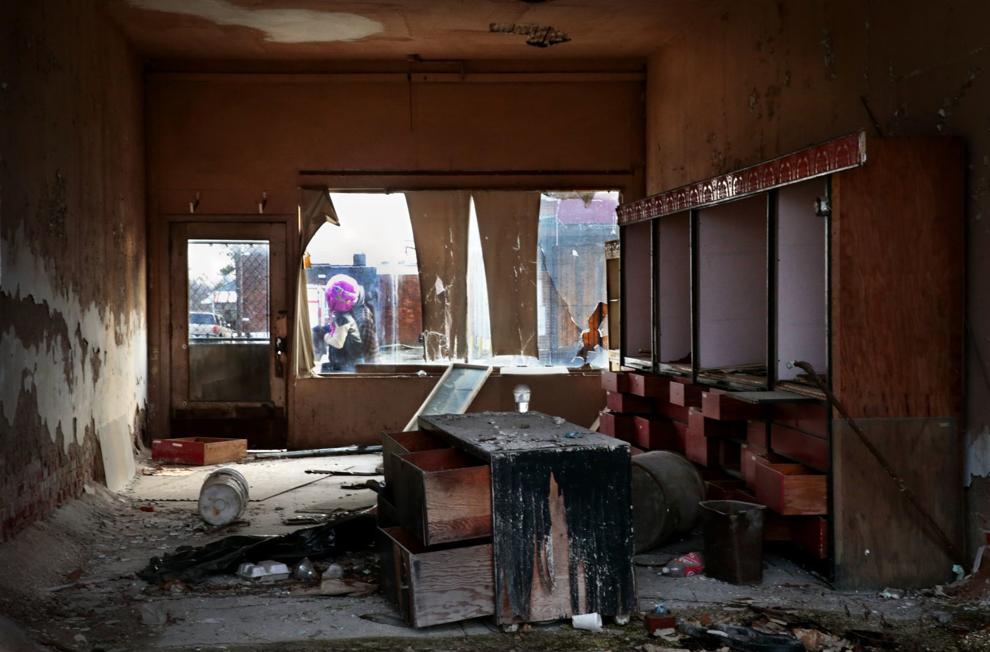 Facing imminent demolition, Rogers said, squatters fled down Hamilton to another abandoned property, owned by the city.
"All they want to do is get high," he said.
A few blocks away on a different day, Monte Connelly stood in line at a Better Family Life community outreach tent that offered food, clothing and emergency medicine to treat overdoses.
"Right now, I am trying not to let pride get in the way," said Connelly, 55.
He was addicted to heroin.
"Am I looking to die? I guess. But I am not like, 'Hey, baby, shoot me,'" Connelly said, nudging a prostitute beside him on the shoulder. "I am chasing something that is physically hurting me."
He said he's been doing drugs since he was 18.
"Mentally, I have not had a break since I started," he said.
Raised in the area, he sometimes ducks into one of the many vacant houses.
"Anywhere I can find a spot," he said.
A vacant residence in the 5800 block of Theodosia Avenue that's privately owned was a favorite. It stood by itself, open to the elements, amid a swath of overgrown lots left from long-ago demolitions in the 22nd Ward.
In other neighborhoods where vacant residences are less obvious, they still pose challenges.
A family of Liberian immigrants in south St. Louis said they would hear odd noises late at night coming from the frame home next door in the 4700 block of Adkins Avenue, across from St. John the Baptist Catholic Church.
The house caught fire in May, and a man they didn't know was rushed to the hospital, where he later died. The victim was Billy Eugene Martin, 66, a Vietnam veteran with drug problems and a lengthy criminal history.
Officials later determined that the accidental fire was caused by careless smoking in close proximity to an "excessive amount" of combustible material, mainly painting supplies. An AK-47 was found in the burned area.
"My heart bleeds for people who need a place to stay, but you have to look at this both ways," said 13th Ward Alderman Beth Murphy. "They need to get the help they need to get and can't be living in these unsafe homes."
A series looking at the consequences of decades of disinvestment in St. Louis. See all related stories at stltoday.com/tippingpoint
Teetering on the edge
Virginia Shelton, an advocate for the homeless, resisted believing people choose to live this way.
"They might be hopeless and worn out and resigned to it," she said. "Once you are homeless for so long, you can't really picture yourself moving into an apartment or something like that. The leap is too big. You would have to work with somebody for a long time."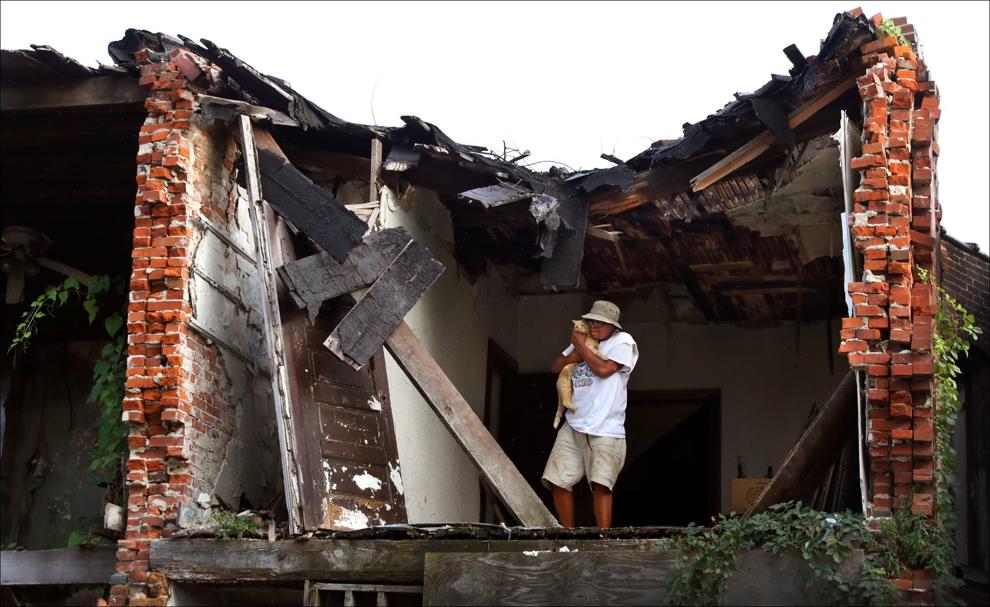 Kandie Cronice illustrates the obstacles well.
At 52, she still gets choked up talking about sexual abuse she endured as a child that set her up for a lifetime of alienation from her parents. She has eight children and four grandchildren. She's been shot and has done prison time.
Weighed down by alcoholism, she uses a walker and adult diapers.
"I made it," she said. "I survived under bridges, in vacant houses, in areas where dumpsters are supposed to be."
Cronice even used to stay in the vacant home that Johnson occupied near I-70. She couldn't believe the closet floor hadn't caved in. She fled the hideout not because of structural insecurities, but to avoid an abusive man who used to stay there.
"I woke up to a ball bat to my face," she said.
Cronice has been getting more help these days. Ray Redlich, a minister at New Life Evangelistic Center, checks on her a lot and assisted in her recent baptism. She's been attending meetings at Places for People, a nonprofit organization that helped her get up to date on medication and into an apartment this summer.
She said she fought to cut beer consumption from eight 32-ounce cans of Milwaukee's Best Ice a day to two 12-ounce cans. Cronice, weighing about 110 pounds, said she needs some alcohol to sleep through the night.
"I am encouraged to see progress," said Redlich, 66. "It's slow but, I believe, real."
A syringe recently lay in the parking lot. Residents bolstered the heat with open ovens. In Cronice's unit, bathroom ceiling tiles fell. She had a fresh bruise on her chin and a much larger bruise on her hip that she said happened from falling down the front stairs — in her sleep.
"I am not liking what I got," said Cronice, wondering how her apartment passed inspection.
Her mood teetered on a steep ledge, at one point angry, the next grateful.
"Even though I have problems here, I am glad I am locked in," she said. "I have four walls, a roof and a building, where I don't have to freeze."
But she got worked up talking about the sacrifices she has made to be sober. She said she had threatened to give up. Go back to the life where day is day and night is night.
"I am doing what you want me to do, but what I want you to do ain't getting done," she said of her living conditions. "You think your authority is better than mine? I have no rights. I should have as much rights as you."
It wouldn't be the first apartment she had lost.
Photos: Living in the city's broken buildings, the invisible homeless
Decaying "dollhouse" offers closet for sleep, little else
Decaying "dollhouse" offers closet for sleep, little else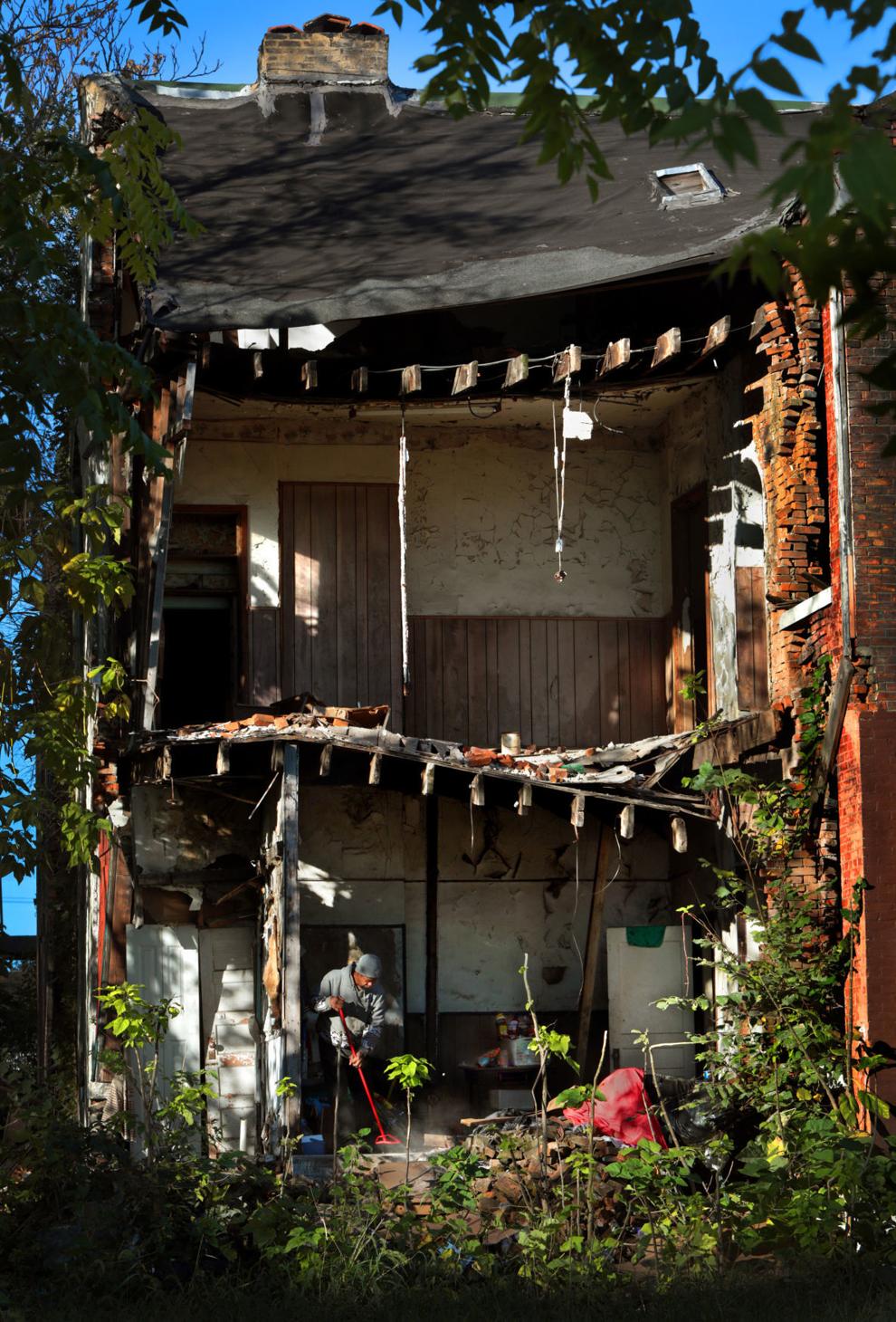 Decaying "dollhouse" offers closet for sleep, little else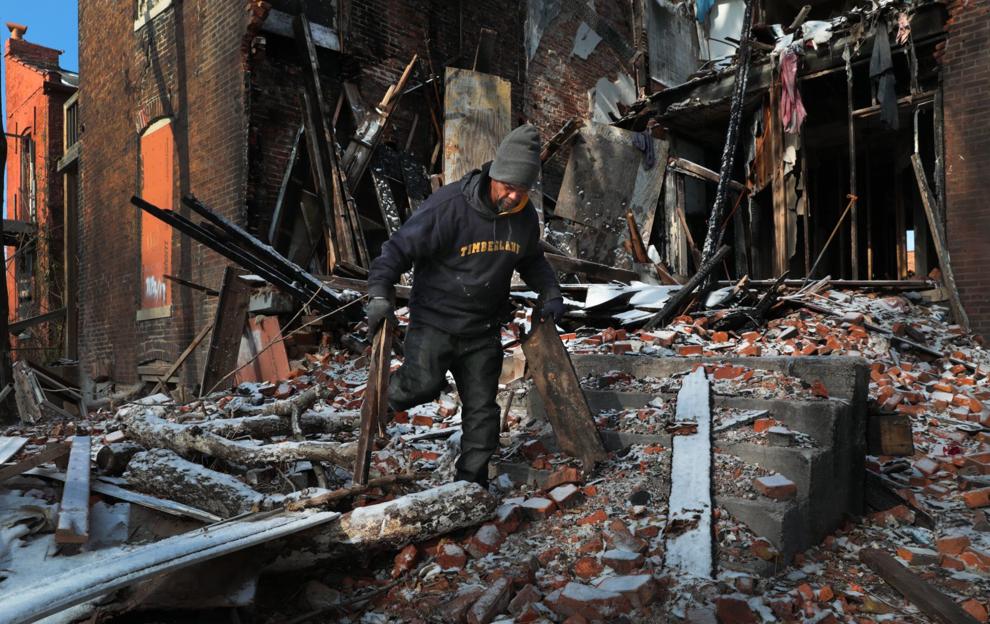 Decaying "dollhouse" offers closet for sleep, little else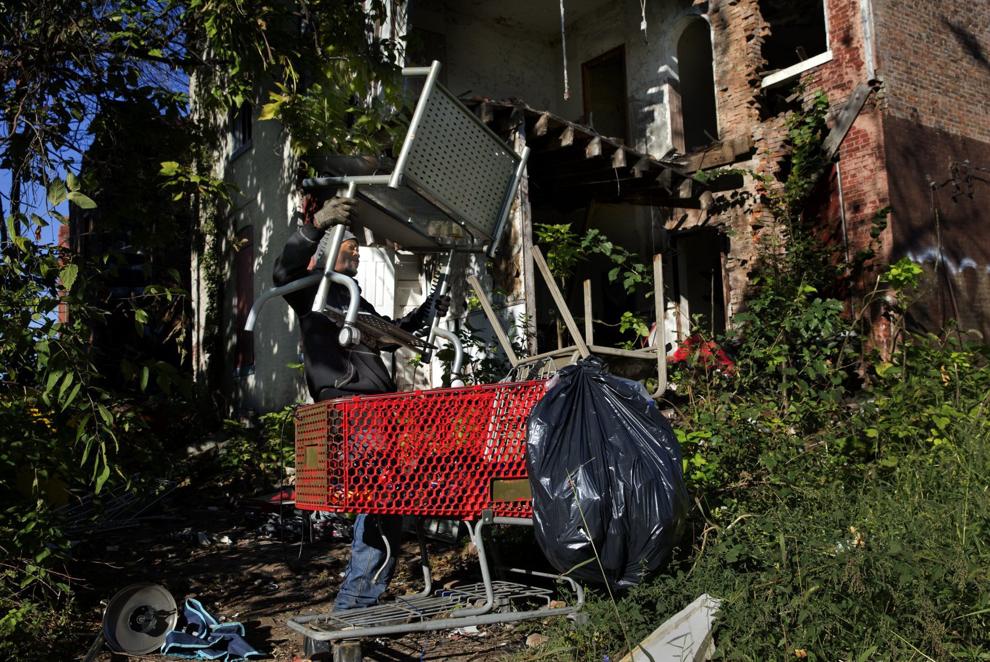 "I lay my head here to talk to God."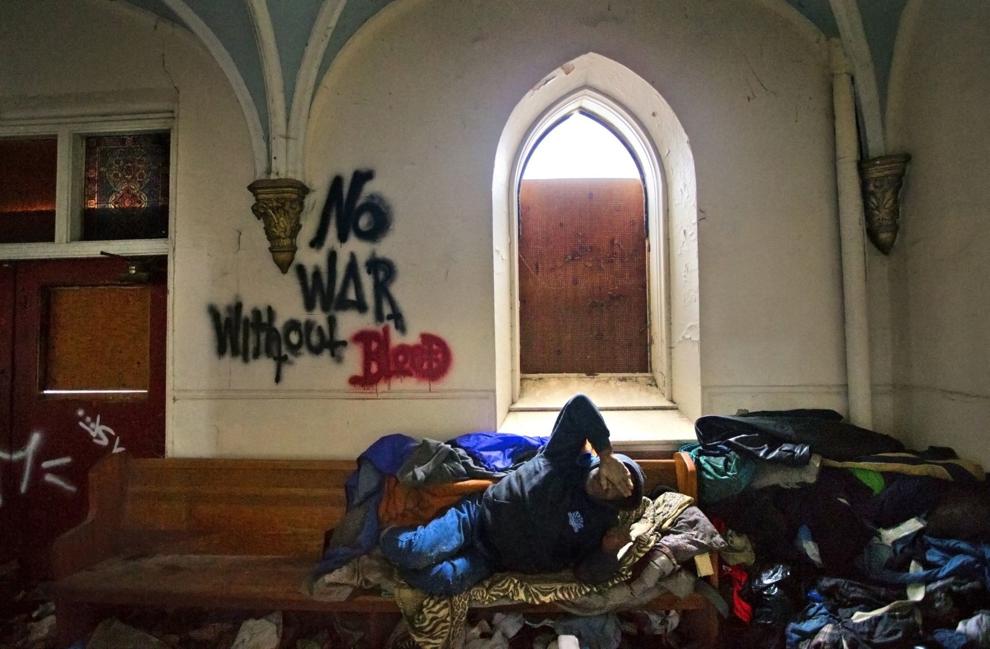 "This is my haven. This is where I put my head."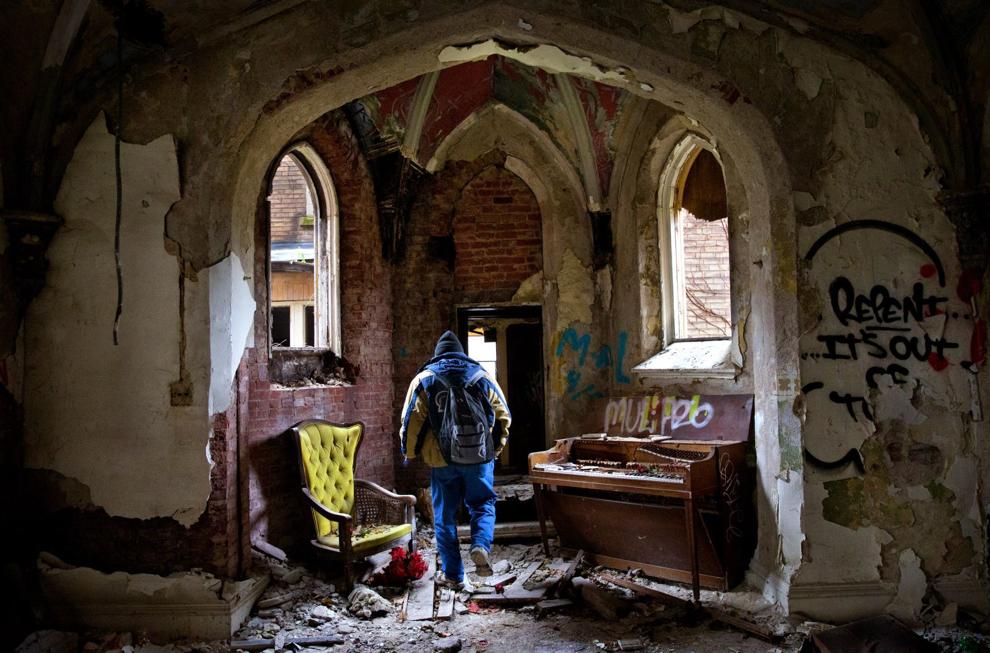 "I haven't given up on me, so you can't either."
Tents rise under roof of shuttered auto repair shop
Tents rise under roof of shuttered auto repair shop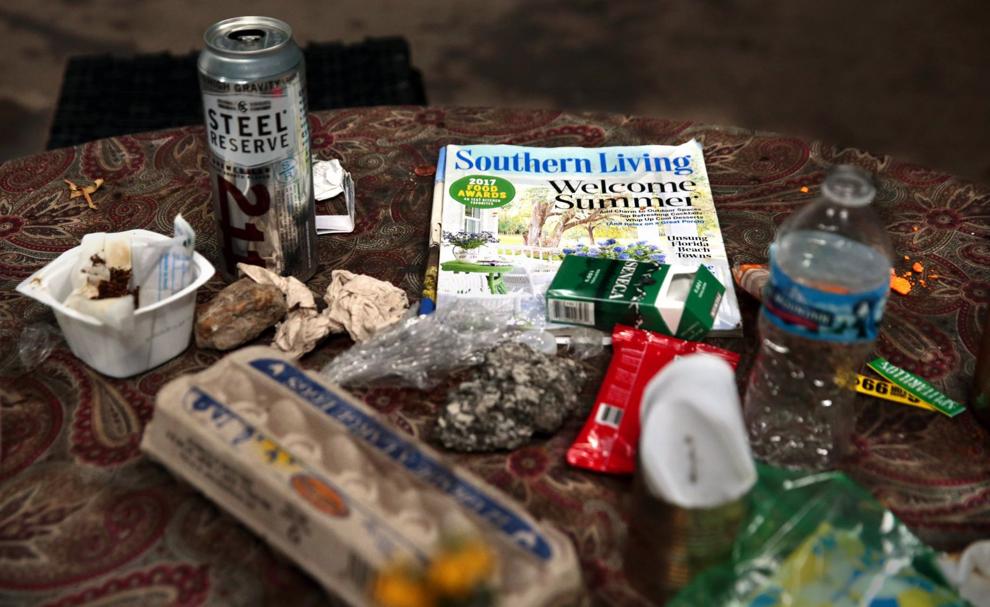 Tents rise under roof of shuttered auto repair shop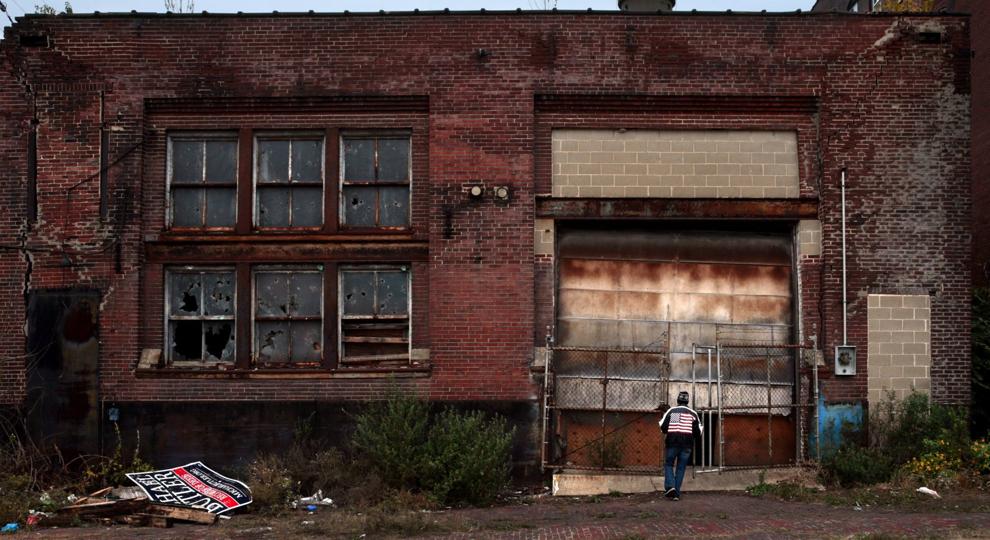 Crumbling walls of vacant homes reveal lives unseen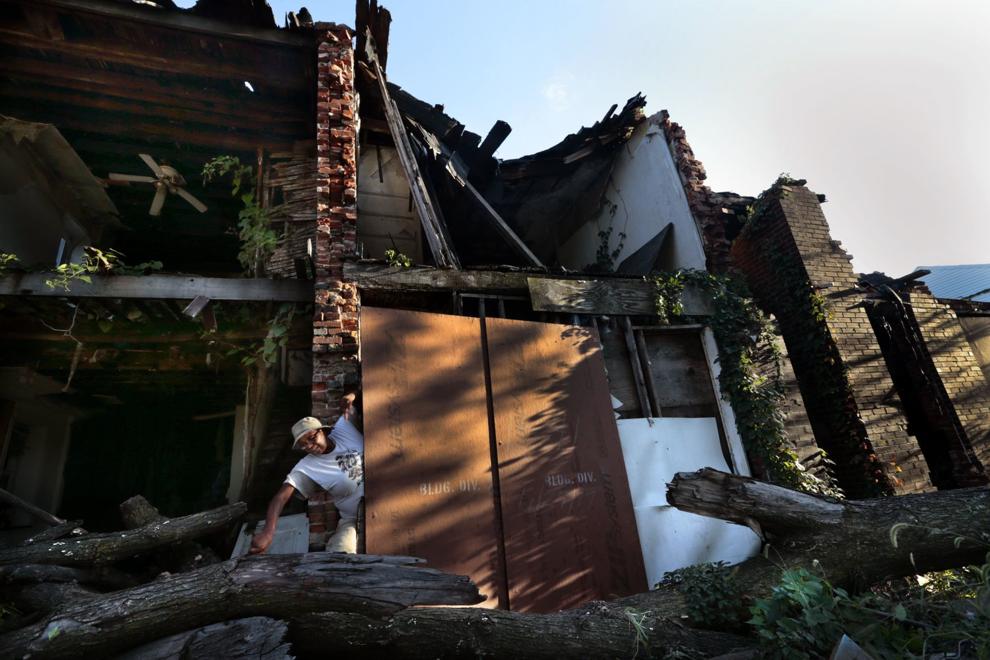 Crumbling walls of vacant homes reveal lives unseen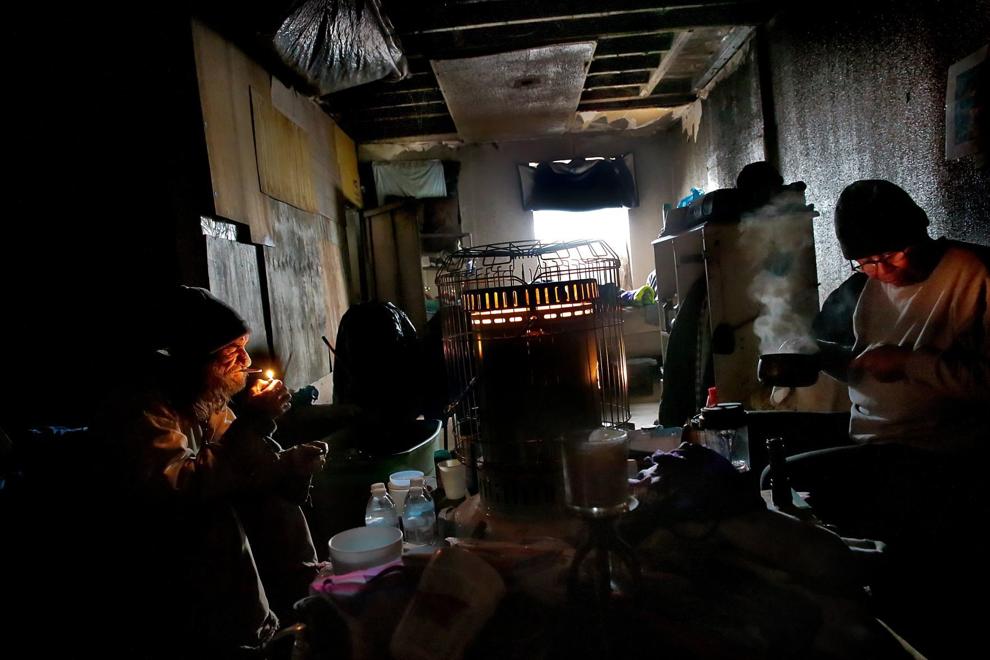 Crumbling walls of vacant homes reveal lives unseen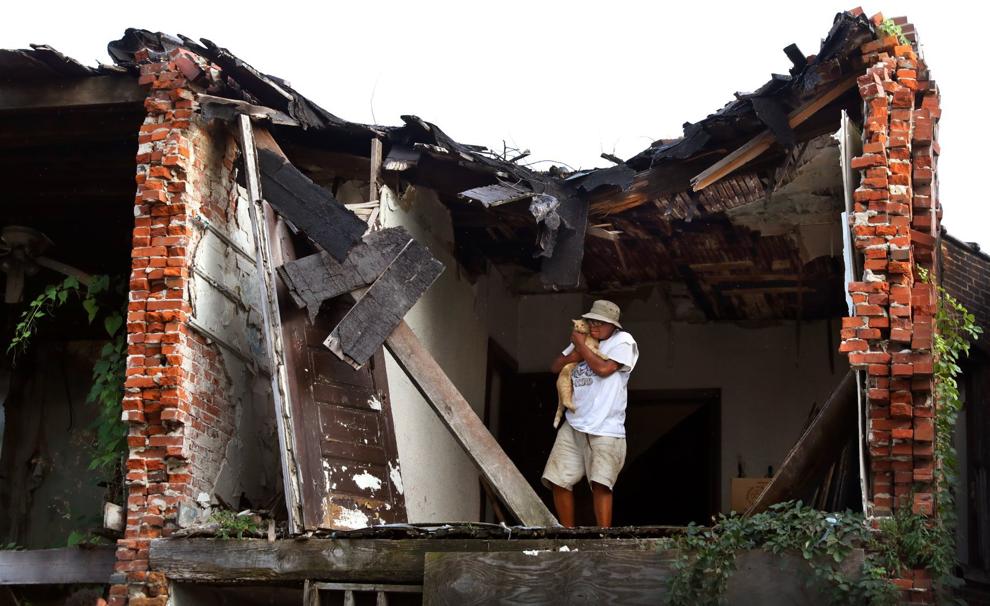 Crumbling walls of vacant homes reveal lives unseen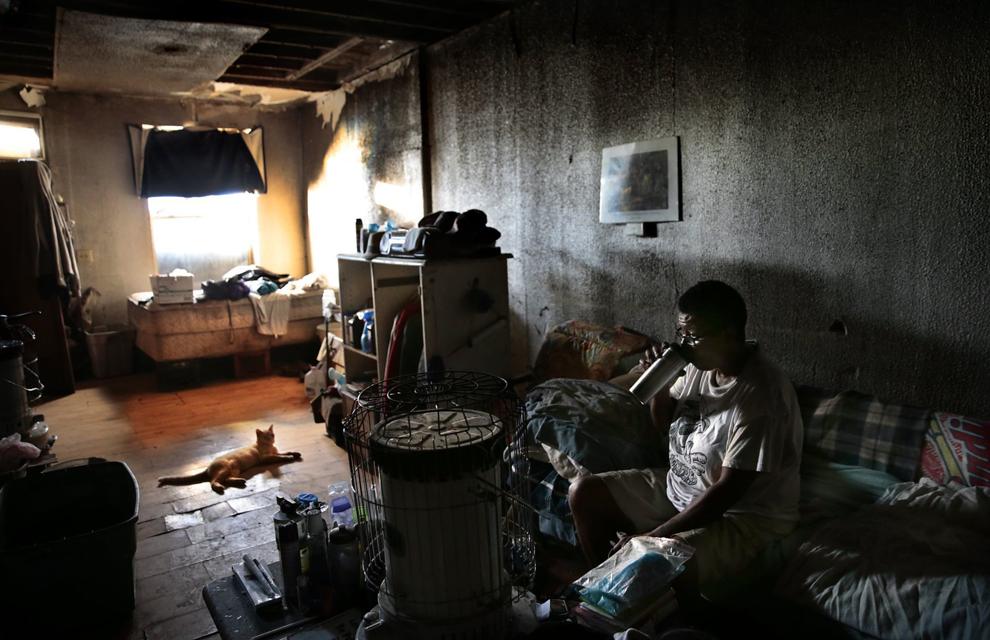 Tree-cutting minister to the homeless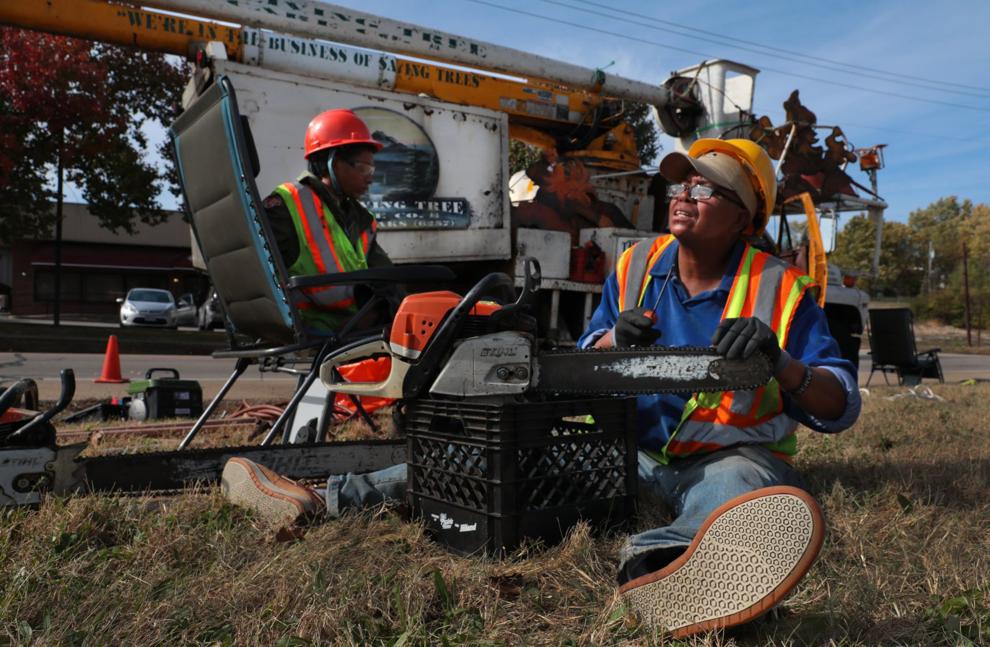 Tree-cutting minister to the homeless
Life in the shadows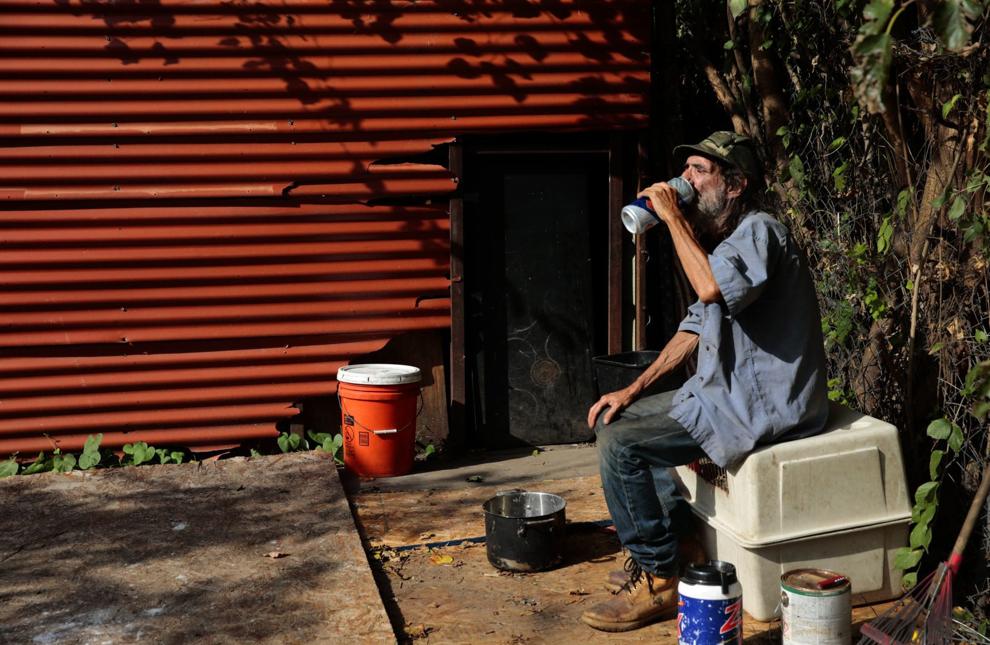 Life in the shadows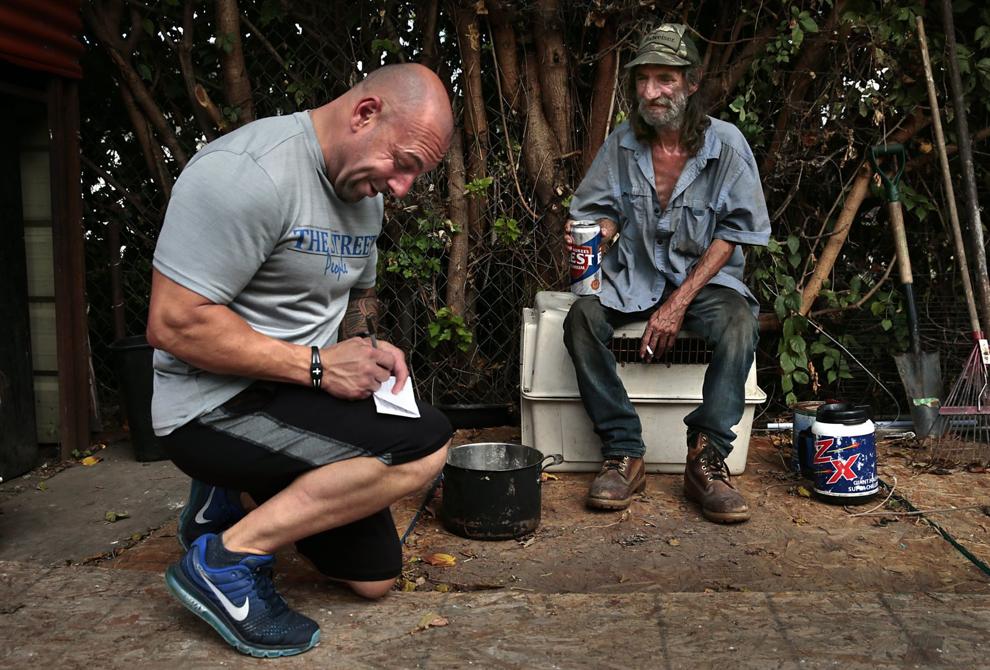 Baptism by water