ST. LOUIS — On a recent morning, Larry Adams watched while handlers dressed in skirts and sensible flats paraded eight immaculate corgis around a dog show ring.
It was a familiar scene for Adams, who has become a big shot in the world of small, squat dogs after 40 years of showing, breeding and judging corgis and other breeds in the competitive dog show circuit.
But this week the 67-year-old hairstylist from Maplewood has made it to the big show as one of 33 judges at the Westminster Kennel Club dog show running Saturday to Tuesday in New York City.
In the 144th year for the prestigious event at Madison Square Garden, Adams will be tasked with picking the finest dogs in eight terrier breeds and five herding breeds — including, of course, corgis. It will be his first time as a judge at Westminster.
But on a morning a few weeks before the big event, Adams was a spectator at a much smaller show hosted by the St. Charles Missouri Kennel Club in Gray Summit.
After the judges at the show picked the Winner's Bitch — the name for females in the dog show world, while males are called, well, dogs — Adams walked around the show saying hello to friends.
"This is where the magic happens," he said over the whir of blow dryers as he walked past rows of dogs being meticulously groomed atop folding tables.
Adams stopped for a few minutes to say hello to a 4-month-old corgi puppy named Halston, the great-grandson of his dog Lucca.
Lucca is one of two of Adams' dogs that have ranked among the top 10 Pembroke Welsh corgis for producing lines of champions.
"That is something I'm very proud of," he said, patting the puppy's head. Judging at Westminster this weekend will be another of Adams' proudest moments in the dog show world.
Getting hooked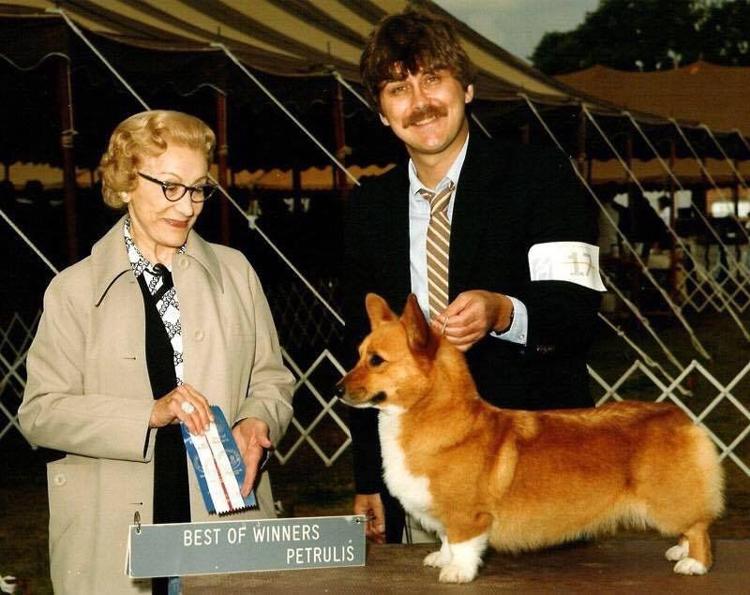 Adams grew up in Dupo, but lived most of his adult life in St. Louis where he was a salon artistic director at the Famous Barr department store downtown.
He became an expert in the "wedge" haircut after studying under Yusuke Suga, who cut figure skater Dorothy Hamill's hair.
Adams later owned salons in the Central West End and Webster Groves and is still styling hair today at Boulevard Hair Co. in Webster Groves.
All those styling skills come in handy on the dog show circuit, Adams said.
"I figured out some human styling products are great on a dog's coat," he said. "You'd be surprised."
Adams' got his first show dog in the late 1970s, a Pembroke Welsh corgi named Jones.
"She won her first-ever show," he said. "So I was hooked."
Adams then began breeding corgis, getting better each year at matching the standards for the breed set by the Pembroke Welsh Corgi Club of America that define how the dogs are scored in shows.
Pembroke Welsh corgis, for example, should have a short, thick coat, a free and smooth gait, and should be low and heavy-boned, according to the standard. "Outlook bold, but kindly," the standard says. "Expression intelligent and interested. Never shy nor vicious."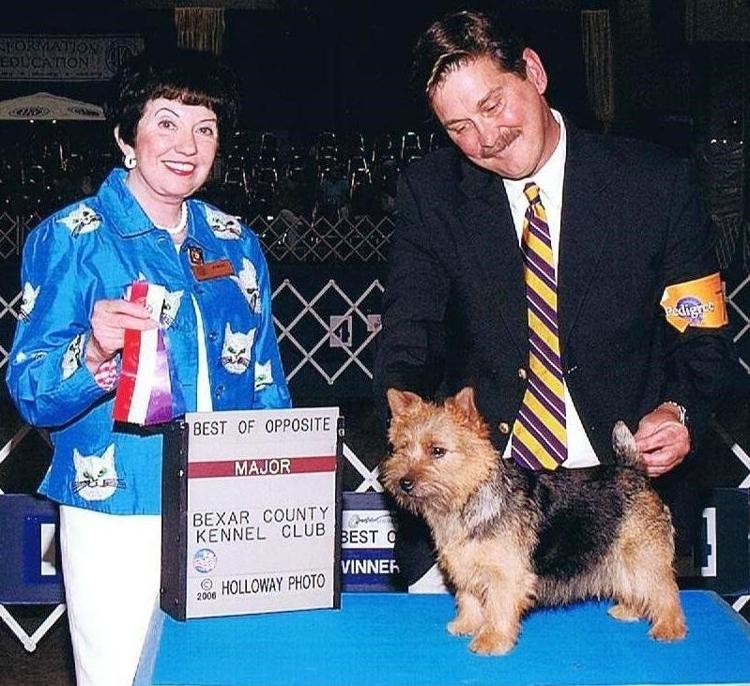 Adams soon branched out, also breeding Norwich terriers, which need to be "spirited and stocky"; Skye terriers, "a dog of style, elegance and dignity"; and German shepherds, which the standard describes as a "strong, agile, well muscled animal, alert and full of life."
Adams traveled the country showing the dogs and soon met friends along the way like Ann Viklund, who oversees Purina's representation at dog shows.
"I watched him become a nationally known corgi breeder," said Viklund, who co-bred a Norwich terrier with Adams and has been his friend (and hair client) for some 20 years.
When their co-bred dog became a champion in only a few shows, Viklund remembers Adams sending her a video of the dog running down the driveway set to the Bette Midler song "You are My Hero."
"We've had a lot of great memories," she said laughing.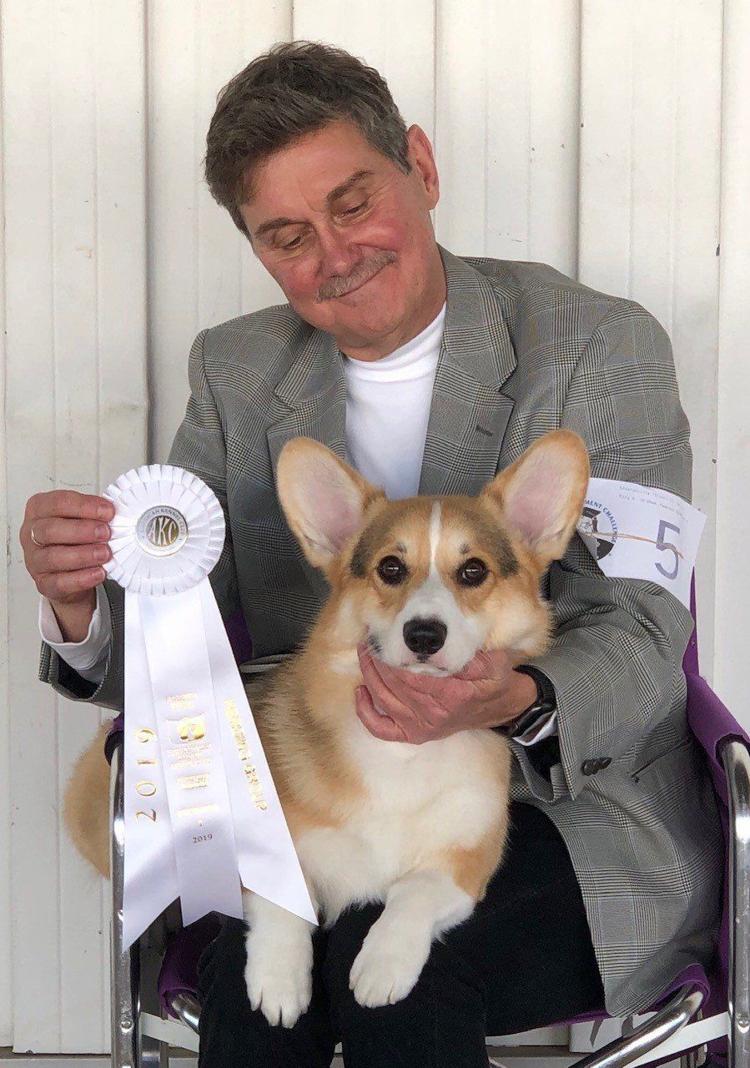 Becoming a judge
Adams eventually qualified to become a dog show judge in 1997 through the complex process of the American Kennel Club.
Judges must have had a certain number of dogs become champions and bred enough litters to qualify. Next they have to master the standard for every breed they want to judge. They then need to take a seminar, pass a written test and be observed as a provisional judge by a representative from the kennel club for several shows.
Adams is qualified to judge dozens of breeds and now has his technique down.
"With corgis, I start at the head, check ear placement, pigment around the eye, length of rib, length of loins and shoulder blade first," he said, adding that he also judges movement. "If you have a correctly assembled dog it will appear that all four feet are off the ground at the same time."
Though the standards are detailed — aimed at finding the best dogs for breeding — it's also a subjective sport, Adams said.
"What it boils down to is it's all about that sparkle," he said. "You can see the dog wants to grab that win."
Today, Adams still lives with three dogs: Tinker, a 14-year-old Norwich terrier, and two corgis, Stella and her daughter Ellie, whom he still shows when he's not judging.
"At the end of the day these are family pets," Adams said. "They sleep with me. They stare at me while I'm making dinner because I give them a treat of mini carrots every night."
The way to Westminster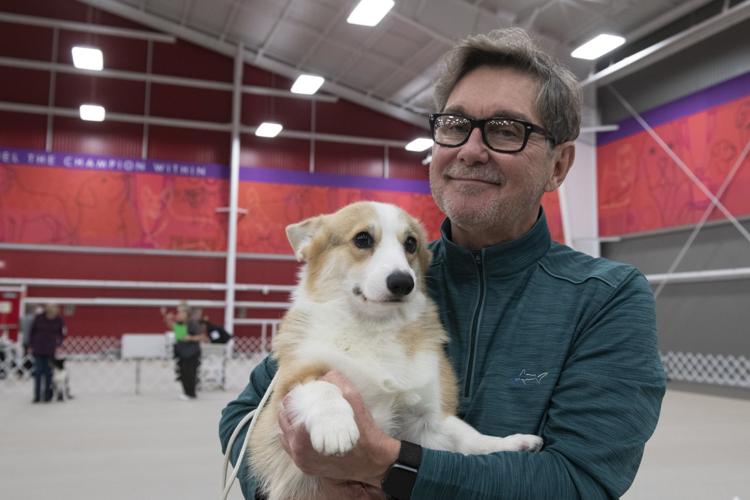 About a year ago, Adams got a letter from the Westminster Kennel Club.
"I didn't think anything of it at first," he said. "I had to read it three times to realize they were asking me to be a judge."
Adams had to keep the news to himself for almost a year until the club announced his selection.
"I was so honored," he said. "At Westminster, you get to judge the cream of the crop."
Adams will be judging herding and terrier breeds both Sunday and Monday morning, which will be livestreamed on the Westminster website. The Best in Group judging and Best in Show will be broadcast live on national television on Fox Sports 1 on Monday and Tuesday night.
The first of the 13 breeds Adams will judge? Pembroke Welsh corgis.
"I see that as a sign," he said. "I know corgis inside and out so it's just fitting I'll be starting with them."
For the other breeds, Adams packed the breed standards in his briefcase before leaving for New York to freshen up on every detail before the big show.