ST. LOUIS • The Edward Jones Dome is running out of money.
The $24 million annual payments that cover stadium upkeep and pay off construction debt are scheduled to end over the next decade. Meanwhile, costs to keep toilets flushing, escalators rising and scoreboards blinking continue to grow.
In just six years, the St. Louis Regional Convention and Sports Complex Authority will have burned through its $16 million savings, according to authority estimates. And if spending continues at that pace, in 15 years the Dome will be nearly $62 million in the hole.
Officials for St. Louis, St. Louis County and Missouri, who together pay off Dome debt and send it $4 million for yearly maintenance, are now searching for dollars.
"I'm going to tell you, they don't know how they're going to do it," said Brian McMurtry, executive director of the Dome authority. "But they want to know what it's going to take."
In a letter prepared for the three sponsors, McMurtry suggested continuing the $4 million annual upkeep payments, at a minimum. But that won't be enough, he noted. To fund Dome maintenance for the next 15 years, government leaders will need to consider sending the Dome an additional $40 million in cash, or selling $40 million in new bonds.
McMurtry even suggested putting a few items on the city's bond issue list for a public vote as early as this November.
Maintenance of the Dome, unlike at its sister facilities, falls almost entirely on the backs of the public. Busch Stadium is a private ballpark, funded largely by the St. Louis Cardinals. The Scottrade Center, too, was built with $135 million from local companies, and is maintained by the owners of the St. Louis Blues.
But among public stadiums, this kind of conundrum is not unusual, said University of Chicago economist Allen Sanderson. "Estimates of revenues tend to be overstated and costs played down, or at least pushed off to the future," he said. "You've got this combination, on the city side, of public officials worried about the near future, not the long term, and these sports franchises that have an enormous amount of market power. And that's a bad combination for taxpayers."
Moreover, planning the future of the Dome is hampered by an additional problem:
It is unclear exactly who will use it.
The facility's primary tenant is the St. Louis Rams football team. Last year, city, county and state officials rejected a Rams proposal to turn the 20-year-old Dome into a glass-and-steel showpiece, complete with end-zone party platforms, new entrances and a football-field-sized sliding roof. The $700 million price tag, officials said, was too expensive and too unpopular.
That left the Rams with no long-term lease. Owner Stan Kroenke has done little since to quash public fears that the Rams could leave for another city as soon as next year.
It also left the Dome with an uncertain future. "We can't come up with a long-term solution until we know what the relationship is going to be with the Rams," said Jim Shrewsbury, a former city aldermanic president and current chairman of the Dome authority board.
For instance, he said, if Kroenke wants any public money for a new stadium here, officials will likely turn to the Dome authority to help with public financing. And any bonds sold to fund a new stadium would, almost as a necessity, also fund the Jones Dome.
But the St. Louis Convention & Visitors Commission also uses the Dome — it books millions of dollars in conventions every year, many of which use the Dome as additional event space.
So leaders feel they have little choice but to keep the Dome updated.
"We want the America's Center to be competitive and attractive," said CVC Chairman Andy Leonard. "We don't want it to become an outdated facility."
A run-down stadium means fewer conventions, fewer football fans, less money spent downtown and, correspondingly, fewer tax dollars to spend attracting other conventions, he said.
Jeff Rainford, chief of staff to Mayor Francis Slay, cautioned against overreacting.
"This is like anything else," Rainford said. "Your house is going to need a new roof 10 years from now. Are you sitting here now thinking the world's going to end because you need a new roof? It's not like you're going to stop getting Starbucks and put it in a fund for a new roof. This is long-term stuff."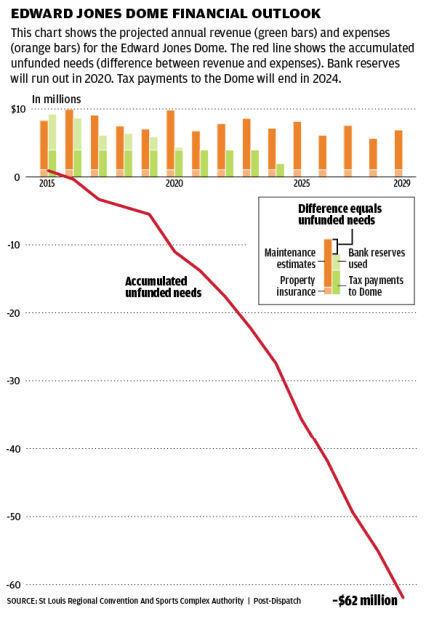 The Dome authority sold bonds in 1991 to build the $300 million stadium, which opened in 1995. The sponsors agreed to a 30-year payment plan. The state would send the Dome authority $10 million a year toward debt repayment, plus $2 million for upkeep. The city and county each would pay half of that.
At first that was enough — the Dome authority was even banking the excess. In 2011, it had $30 million in reserves.
But the Dome is aging, and maintenance budgets aren't stretching like they used to, said McMurtry, the executive director. He now estimates $5 million to $9 million will be needed annually for the next 15 years.
The Dome authority just approved a $7 million maintenance and renovation budget for 2015, including a $65,000 freight door replacement, a $100,000 bleacher repair, a new $1.4 million Wi-Fi system, and a $1.6 million for continued work on the speaker system.
The sponsors could opt not to replace some of the niceties, perhaps. But other items, McMurtry said, aren't an option. Half of the roof needs replacing. That'll cost at least $2.5 million.
McMurtry's memo went to Leonard; Rainford; St. Louis County Executive Charlie Dooley's senior advisor, Mike Jones; and Gov. Jay Nixon's local director, Brian May.
Jones said the county is committed: "The reality is we're going to have to continue to upgrade it," he said. May did not return calls seeking comment.
And Leonard said he's reached out to the Rams. They want a nice facility, too, for as long as they're going to be here. "Somebody's got to break the ice," he said. "I'm trying to."
Kevin Demoff, the Rams chief operating officer, said the team has helped fund improvements in the past, and is open to such discussions now.
The Dome's first 20 years are over, Leonard said. Now's the time to start talking about the next 20.
"The issue is," he said, "if everyone's got a tight budget, what do we do?"