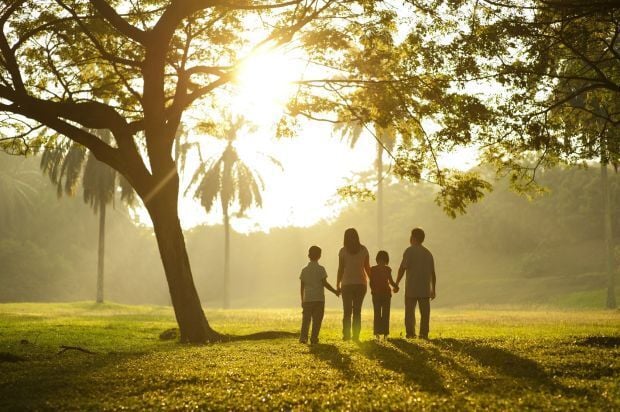 Flesh and blood sometimes stretch only so far in families torn apart by child abuse, addiction and poverty.
That was true for one St. Louis family some three years ago, when a mother abusing drugs abandoned her five children for the streets. The children first went into foster care. Then their grandmother stepped-up and took them in — all but one.
The one she decided she could not keep was a baby girl. Just three months old. The grandmother tried, but she couldn't juggle an infant in diapers with so many other children. The baby was at risk of being moved around to unknown foster families and separated from the family.
But there was a close friend of the family interested in the child. So close, she called one member of the baby's family her Auntie, even though they shared no blood ties. Her name was Rechelle Darden. She was only 22, but she loved children.
Darden first started taking the baby on weekends to help out. But the relationship with the infant grew deep. Darden became the baby's licensed foster parent and she has cared for her since. More than two years later, she's given the child a home, her own room, toys, affection and regular contact with her siblings, her grandmother and her extended family.
Now, a new Missouri law will give Darden the chance to take her relationship with the child one step further.
Missouri family courts may now opt to define distant relatives, half relatives and close family friends as the child's "fictive kin." It's a designation that allows the courts to regard Darden as a close blood relative to the child. That can clear the way to make her a legal guardian and provide her with important financial supports for the child.
Guardianship is not an adoption. In Darden's case, the family court has not opted to terminate the birth mother's parental rights. But the guardianship arrangement described in the new law could quickly release the child from expensive, often highly disruptive foster care placements and keep her connection to both Darden and her birth family permanent.
"It's exciting because many times kids who don't have any family that is appropriate, but they have someone they consider family through church or school," said Sharol Ard, a foster care case manager with the agency Great Circle. "It provides safety and security for the child, while also giving them a way out of foster care."
Until the law went into effect last month, the guardianship designation for foster children applied only to close blood-related kin such as grandparents and aunts and uncles. Those relatives qualify for Medicaid benefits for the child, a child care subsidy to enable them to keep working, and a monthly subsidy of about $200. But more distant relatives, step-relatives and close friends were not legally defined as kin.
Yet those kinship benefits are critical for family and friends who want to provide a permanent home outside the foster care system to abandoned or neglected children, said David Gaither, a social worker and kinship specialist with Great Circle who is working with Darden and the little girl, whom the Post-Dispatch cannot name under state privacy laws.
"Taking on a new child — sometimes more than one — it's a burden," he said. "The support is designed to help people afford to take care for children that they care about and still put food on the table and take care of the necessities."
Until now, the only option for those who did not qualify as legal kin was to become a licensed foster parent for the child. That also comes with supports. But there are many barriers to becoming a foster parent. And foster parents must cope with intense court and social worker intervention. Everyday matters such as a sleepover with a friend or an out-of-town vacation need caseworker approval.
The narrow definition of kin had also hindered the ability to place foster children with willing distant relatives, said Melanie Scheetz of the Foster and Adoptive Care Coalition, who first proposed the revision to the law.
Foster and Adoptive Care's intense 30 Days to Family program locates dozens of extended family members or step-relatives of children who have just entered foster care. They typically find a few willing to step up for the child. But under the previously narrow definition of kin, the family or former step-parent had to go through a lengthy, not always successful, process to become licensed foster parents.
Scheetz proposed broadening the law to Sen. John Lamping, R-Ladue, the father of three adopted children. Lamping said the idea was a no-brainer because it kept children with extended family and it shortened a child's stay in foster care.
Both Scheetz and Lamping cited national research suggesting care by a relative who provides strong connections to family members results in vastly better outcomes compared to children who remain in foster care without permanent family connections.
"The idea is to take down more barriers," Scheetz said. "We want to get more kids back with family."
The legislation sailed through the House and the Senate.
Scheetz said it helped that the law has long-term cost-savings for taxpayers. That's because kinship care can more easily lead to legal guardianship and a faster exit of the child from foster care. Foster care conservatively costs taxpayers more than $10,000 a year per child in court and case management.
The little girl's caseworkers at Great Circle are optimistic about her future. Last month she toddled happily around Darden's north St. Louis County house, offering a tour of her room and bright hand-stamps to each of her visitors.
"She's just opening up and excited about life and a little bundle of joy," Gaither said.