ST. LOUIS — Hospital leaders and state officials are preparing to distribute COVID-19 vaccines in Missouri, and they expect that the first vaccinations are days away.
Department of Health and Senior Services Director Dr. Randall Williams told reporters on Friday that he believes the first COVID-19 vaccinations in Missouri will begin on Dec. 17. If the vaccines produced by Pfizer and Moderna both win emergency use authorization, the state expects to receive 340,000 total doses by the end of 2020, Williams said, and 2 million doses by the end of February.
The U.S. Food and Drug Administration on Friday night approved emergency use of Pfizer's COVID-19 vaccine. The FDA will evaluate the Moderna vaccine on Dec. 17.
While progress with vaccines has been a source of optimism for many, officials advised that pandemic precautions will be necessary for months to come.
Dr. Alex Garza, who leads the St. Louis Metropolitan Pandemic Task Force, called the vaccines a "ray of hope," but cautioned that hospitals here are still seeing extremely high numbers of coronavirus patients.
"Vaccinations are a way that we can begin to end this pandemic," Garza said. "But at the moment we really have to stay focused on getting through those next few months until we can get enough people vaccinated."
Williams said that even those who have had COVID-19 or receive vaccinations should continue using hand sanitizer, wearing masks and avoiding large crowds. Estimates for herd immunity have varied, but Williams said 70% of the population may need to be vaccinated before the state reaches that point.
The first group to receive the vaccinations will include health care workers, long-term care facility staff, and nursing home residents. The federal government has contracted with Walgreens and CVS to administer the vaccinations in long-term care facilities.
Illinois Gov. J.B. Pritzker said during a briefing Friday that federal officials say the vaccine would be shipped within 24 hours of approval and that "Illinois is prepared to quickly get this vaccine to our frontline health care workers."
Pritzker said it may be April before the vaccine is available to the general public. He praised some of the state's 650,000 health care workers by name, saying they have "kept so many alive during this pandemic."
Illinois Public Health Director Dr. Ngozi Ezike said every regional hospital will get some vaccine to distribute in the first week.
The Pfizer vaccine requires low-temperature storage, and in preparation, St. Louis and St. Louis County have both acquired ultra-cold freezers. Bayer has agreed to loan two such freezers to St. Louis County.
The freezers can reach temperatures of minus 80 degrees Celsius, and are normally used to store delicate plant samples, or substrates for experiments, said Darren Wallis, vice president of communications for Bayer Crop Sciences North America.
The freezers are 7 feet tall, 3 feet wide and come from the company's Chesterfield campus, which serves as Bayer's global research and development center for crop science. Wallis said Bayer will continue to loan the freezers for as long as the county needs them.
The Pfizer and Moderna vaccines each require two doses. Garza said during a briefing Friday that most experts believe that individuals gain significant immunity about four weeks after the second dose, but data collection on that topic is continuing. Individuals get some level of protection after they receive the first dose of vaccine, he said, but still "absolutely need" the second dose.
While Missouri's coronavirus infection rates have flattened or even declined slightly in recent weeks, the state is still adding new cases faster than it did during spring or summer. And health experts fear the state may see a surge as a result of Thanksgiving travel and gatherings.
Garza said that while hospital admissions have increased slightly over the past few days, it is difficult to say whether the region is beginning to see a post-Thanksgiving increase of coronavirus cases.
The task force reported that hospitals here are operating at 82% of staffed bed capacity, and 90% of staffed intensive care unit capacity. It also reported that 134 new COVID-19 patients were admitted to BJC HealthCare, Mercy, SSM Health and St. Luke's Hospital facilities in the area, up from 110 the day before.
There has been a slight uptick in coronavirus patients statewide in recent days, with the Missouri Department of Health and Senior Services on Friday reporting 2,795 hospitalized COVID-19 patients statewide, up from 2,641 the day before. The state's COVID-19 hospitalization numbers have only surpassed 2,800 on five occasions.
The state also reported 3,900 new cases of COVID-19 on Friday, up from 3,858 the day before, and 31 more deaths due to the virus.
Illinois officials on Friday reported 9,420 new cases of the coronavirus and 190 deaths related to the disease, bringing the total to 832,951 cases and 14,050 deaths since the pandemic started.
Those deaths include four men in Madison County, ranging in age from their 60s to their 90s and one woman and three men in St. Clair County, ranging in age from their 60s to their 80s.
Officials said 5,141 patients were in the hospital, including 1,081 in the ICU and 635 on ventilators.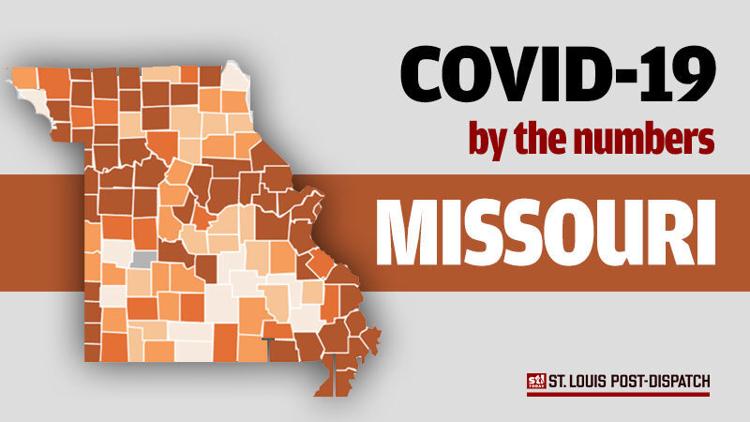 NOTE: Missouri updated its data dashboard on Sept. 28 to delete duplicate cases. This resulted in a decrease of total cases which caused the daily count to reflect a negative number.
Note from St. Louis Metropolitan Pandemic Task Force regarding the numbers for July 20: There was a delay in reporting some test results leading to the increase in reported hospital admissions.
Note from Missouri Department of Health and Senior Services: Note: Due to an abrupt change in data measures and the reporting platform issued by the White House on Monday, July 13, and effective Wednesday, July 15, Missouri Hospital Association (MHA) and the State of Missouri were unable to access hospitalization data during the transition. .