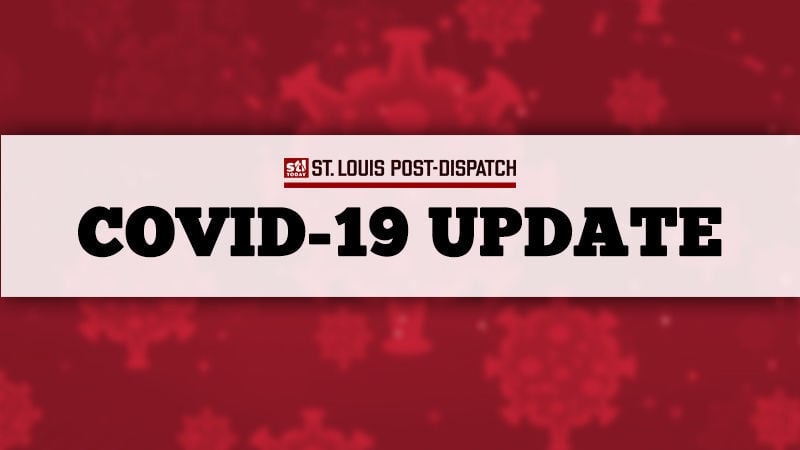 ST. LOUIS — As Missouri topped its daily high for new COVID-19 cases Tuesday for the ninth time this month, St. Louis County Executive Sam Page voiced concern over delays in testing results reaching patients and health officials.
Missouri added 1,773 new cases and 12 deaths from the virus Tuesday, 121 more cases than the previous high set four days earlier.
The Missouri Department of Health and Senior Services attributed daily spikes in part to delays in entering cases to state databases and backlogs of testing at national labs that have become overwhelmed.
In the past two weeks, the state redirected more than 40 staff members and hired more than 60 temporary employees to help with the volume of work, department spokeswoman Lisa Cox said.
St. Louis County also addressed reporting delays Tuesday, sending a warning letter to Total Access Urgent Care that alleged the company "repeatedly failed to comply" with a county rapid reporting order enacted in April.
The order requires labs and providers to report positive test results to the county within six hours and negative results within 24 hours.
County Executive Sam Page said in a news conference Tuesday that an urgent care company, later identified as Total Access, had dumped a backlog of 17,700 test results over three days to the county this week.
Because of the volume, the county was unable to publish a complete count of new cases Tuesday as staff worked to check for duplicates and other issues.
Page told reporters at a news conference Tuesday that he was concerned about both the county and individuals lacking up-to-date data to help steer decisions if test results are not delivered more quickly.
Some patients are waiting five to seven days, and sometimes more, to get test results, Page said. Page recommended this week that people waiting for test results self-isolate, but acknowledged Tuesday that it would be difficult for many.
"What are people supposed to do while they wait? What about their jobs? What about their families?" Page said. "It's just unacceptable."
Matt Bruckel, founder of Total Access Urgent Care, said Tuesday that he did not hear about concerns from the county about a dump of data until receiving the warning letter Tuesday evening.
"We've never ever been asked previously to report negative results," Bruckel said after getting the letter. "Those aren't helpful."
Bruckel said his company tests about 1,500 people for COVID-19 a day, and the volume can be overwhelming.
"We are aggressively testing community members in five different counties to provide a service that no one else is performing to this level," he said, adding that he thinks a six-hour window to inform the county of positive results is not realistic given the volume, timing and logistics of testing.
"We've been bending over backward to report," he said.
Bruckel said Total Access Urgent Care recently changed lab companies for COVID-19 tests after a national lab, Quest Diagnostics, was sometimes taking more than 14 days to turn around results.
The company changed its primary lab company a few weeks ago and, Bruckel said, patients are now typically getting results within two to three days.
Page said the county is also working to improve its own processes by hiring three new employees to help the county notify patients of results more quickly and has been helping the state with its data entry in their "antiquated system," he said.
Missouri has reported 44,823 confirmed cases and 1,213 COVID-19 deaths since the start of the pandemic.
On Tuesday, Missouri ranked 15th in the U.S. for the rate of new cases per 100,000 people in the last seven days, according to an analysis by the New York Times. Florida, Louisiana and Mississippi topped the list, and Illinois, which includes St. Louis suburbs, ranked 32nd with 78 cases per 100,000 people, compared with 143 in Missouri.
The state's rate of new cases on Tuesday prompted Chicago to add Missouri to its list of 22 states with travel restrictions. Beginning Friday, Chicago will require people traveling from Missouri to quarantine for two weeks, except for essential workers who must travel over state lines. Those who do not follow the order could face fines, according to Chicago officials.
Missouri was added earlier this month to a similar joint quarantine list for New York, New Jersey and Connecticut.
A mask protest
Jefferson County Health Department debates mandatory masks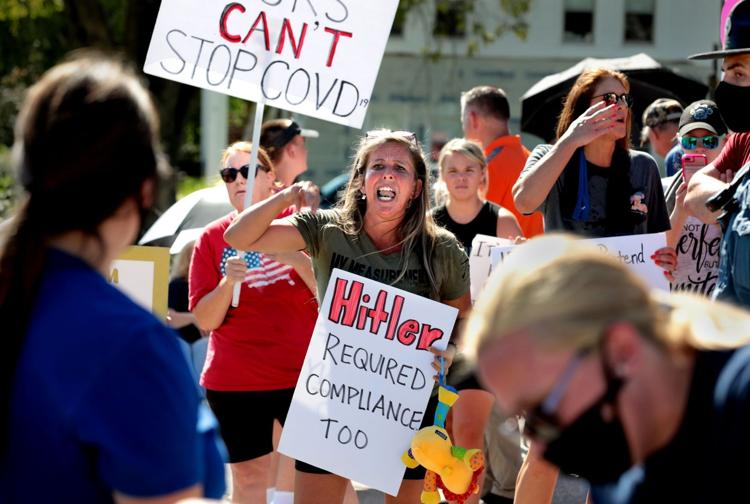 Jefferson County Health Department debates mandatory masks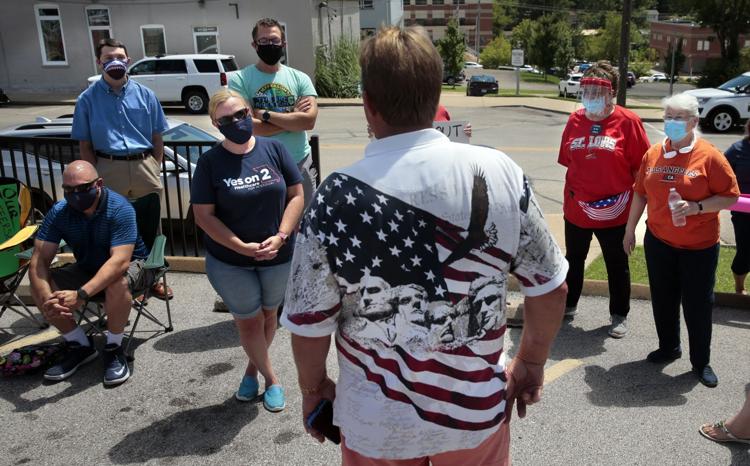 Debate over masks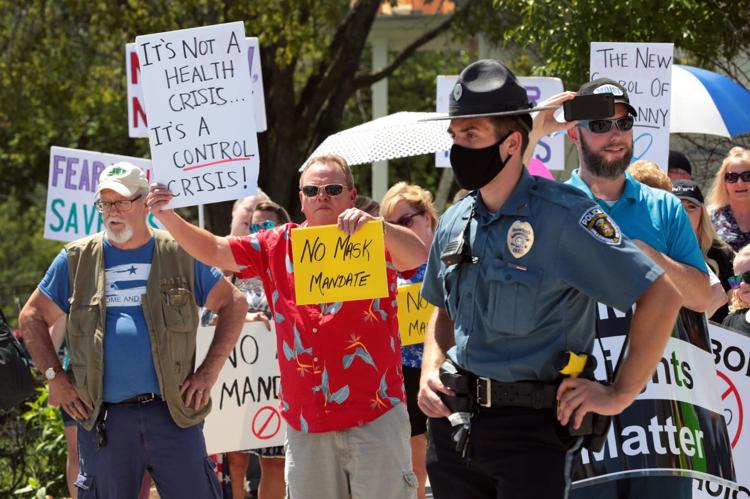 Jefferson County Health Department debates mandatory masks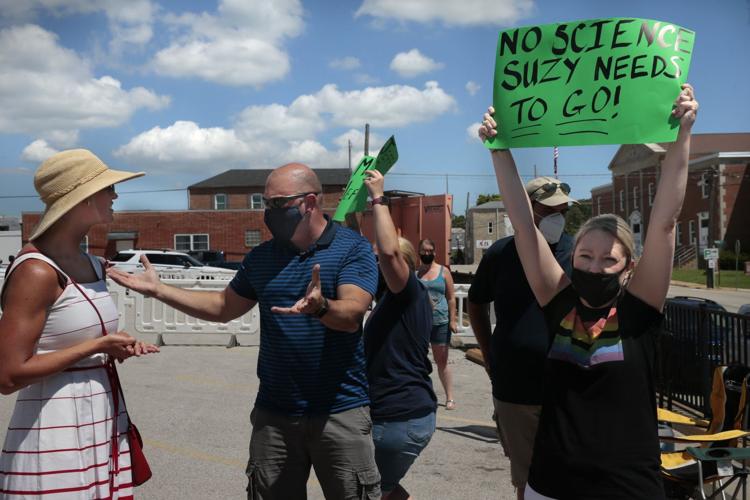 Jefferson County Health Department debates mandatory masks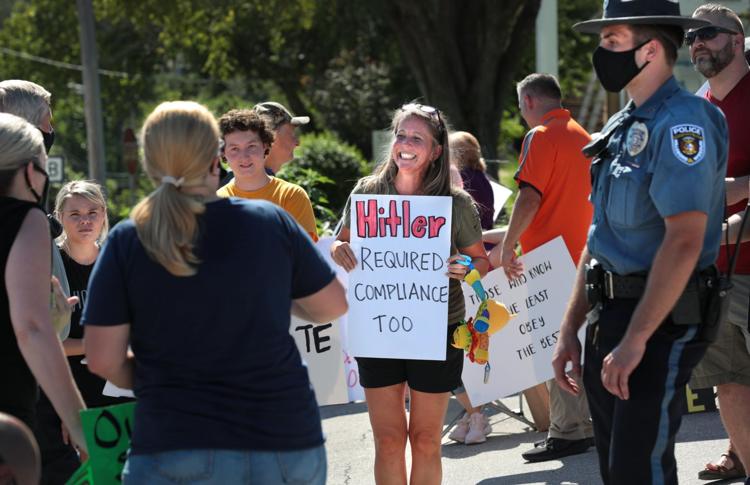 Jefferson County Health Department debates mandatory masks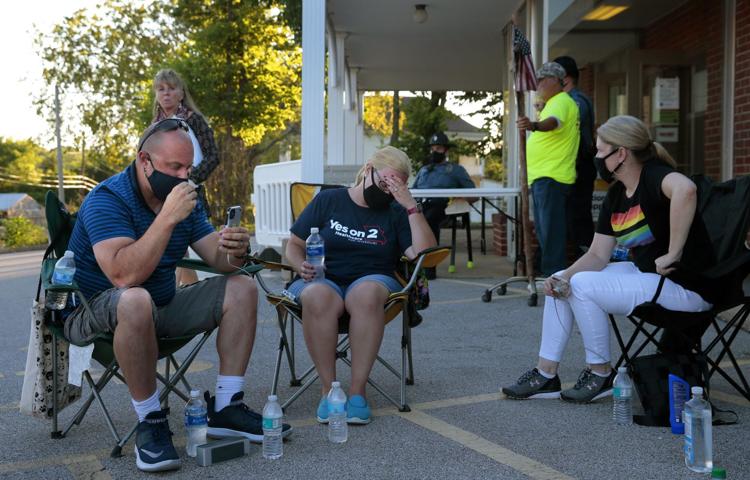 After dueling protests and a meeting lasting more than four hours with a revolving cast of residents voicing opinions, the Jefferson County Health Department board declined to vote on a county mask requirement Tuesday. Instead, the board discussed working on improving its public information campaign to emphasize the importance of masks to businesses and community members.
Before the meeting Tuesday in Hillsboro, police stood between two shouting groups in the parking lot of the health department as protesters gathered.
On one side, almost 40 people stood without masks, many holding signs that read "No mask mandate" and "No law, no masks" and shouting their opposition to what they saw as government overreach.
Across the parking lot, another 20 shouted in favor of masks.
"I wear a mask to protect others," said Jessica Shepherd, 40, of Herculaneum. "I'm tired of these people yelling at me and telling me I'm living in fear when the only thing I fear is potentially giving a virus to someone else unknowingly that might kill them."
Masks have been recommended by the U.S. Centers for Disease Control and Prevention and healthcare professionals as an important way to stem the spread of the virus. Mask requirements are in place in St. Louis and St. Louis County, while St. Charles County and Jefferson County have released recommendations that people wear masks.
"I say no mask mandate," said protester Samantha Wood, 27, of Franklin County. "You have the choice to wear a mask, I have the choice to not wear a mask. It's my body, my choice. My health is my responsibility. I don't expect anybody else to take responsibility for my health."
The protest was the second within a week, as tensions in the Jefferson County board have risen with the arrival of a newly elected member and mask-skeptic Suzy Davis.
Davis refused to wear a mask inside board meetings on Tuesday as well as last week, where face coverings were required. Davis operates the Rocking J Ranch wedding venue in High Ridge and was elected to the board June 2.
Board Chairman Dennis Diehl released a public statement criticizing Davis this week.
Diehl said Davis "made numerous false or misleading statements on Facebook and other media."
"Since her election, she has persistently led what I can only describe as an effort to assassinate the character of the JCHD Director and of the Department itself," Diehl wrote, adding that Davis has been treating meetings as a campaign event for future elected office.
Diehl said Tuesday that Davis contributed to sharing false information that the county would enact fines and criminal penalties if people do not wear a mask if a mandate is enacted. Davis rejected this.
"I did not give out any misinformation," she said, adding: "I believe we should be able to build our own immunities and trust our system, and I also believe the positive numbers are not indicative of what is actually going on."
Jefferson County by Tuesday had reported 1,211 virus cases and 25 deaths since the pandemic began. The seven-day average of new daily cases in the county rose to 48 Monday, up from around 10 at the end of June.
These maps and charts show the spread of COVID-19 in Missouri and Illinois.
"Calculated" = Post-Dispatch methodology. NUMERATOR: Number of new "Lab Confirmed Cases" per day via Missouri COVID-19 Dashboard; DENOMINATOR: Number of new 'PCR Tested Individuals' per day via Missouri COVID-19 Dashboard. We record new numbers for each day and calculate the average for the past seven days.

"MO DHSS reported" =
The % as reported on the Missouri COVID-19 Dashboard. This number was first published to the dashboard on July 25, 2020. The Missouri Department of Health and Senior Services uses numbers from "the most recent 7-day period that we feel our data is mostly complete," according to Lisa Cox, Communications Director for the department. The data is "listed on the date that the person was actually tested, initially. Then when interviews have happened and contact tracing is done, many times we have more information provided to us for that case. If symptom onset date is a new piece of information gathered, the testing date reverts to symptom onset date. This data is always changing for this reason," according to Cox. For more information on why numbers may differ, CLICK HERE.

NOTE: No new testing data was available via Missouri COVID-19 Dashboard on July 10, 2020. We have interpolated the available data to estimate that number.
Concerned about COVID-19?
Sign up now to get the most recent coronavirus headlines and other important local and national news sent to your email inbox daily.