BELLEVILLE — One boy carried a football to the packed funeral. Another sported padded white pants.
Many wore colorful photo T-shirts with banner slogans such as "#RunningtoHeaven" and "Long Live Jaylon McKenzie."
At 14, Jaylon was so fast and smooth that Sports Illustrated had already immortalized him in the Metro East by predicting he'd be a dominant player in the National Football League some day. The standout was shot at a party late May 4 in Venice after an eighth grade dance and died shortly after.
Friends said Jaylon and a 15-year-old girl who survived were hit by stray bullets when a fight broke out. Neighbors near the scene who had a bullet go through their front bedroom wall said it sounded like automatic weapons were involved.
Venice police and Illinois State Police haven't publicized any arrests and weren't able to provide an update on the case Friday and Saturday.
"I am still wrapping my head around it," said Xavier McClendon, 14, a 230-pound lineman who played on the East St. Louis Jr. Flyers football team with Jaylon. "He had a bright future ahead of him and somebody took it away. Jaylon was ridiculous. He was one of those athletes who could do it all."
Xavier was among 1,000 people who packed an auditorium here Saturday afternoon at Scottish Rite Masonic Bodies for Jaylon's funeral. A few hundred more were turned away because there wasn't enough space.
Inside, family, friends, coaches and pastors shared stories about how Jaylon was a natural leader and entertainer whose calm demeanor and athletic talents elevated both him and the teams he played on — be it in football, basketball or track.
"We are praying for all of those who were affected by this incident," the Rev. Richard Gunner told the standing-room-only crowd.
But he called the gathering a celebration of life.
"Somebody might ask how can you celebrate today," Gunner said, adding: "We are pleased to have known Jaylon McKenzie. We enjoy his life. We enjoy his legacy."
Pamela Hughes, 41, a family friend from East St. Louis, used the podium to call for an end to shootings.
"Let's stop this gun violence, let's stop this senseless killing," she said.
Many of the people in attendance grew up — or are growing up — around violence that has been going on for generations of disinvestment in the region. Some shed tears Saturday and others appeared to be numb.
"You have to be immune to it because it's like so much and there's really nothing you can do about it," Kerwin Williams Jr., 13, said in an interview at the funeral about violence.
Kerwin, a lineman, played football with Jaylon. He said another of their teammates committed suicide at the beginning of last season.
Asked what he wanted to do when he grew up, Kerwin said: "I want to do anything that would make my dad proud."
He thought that meant playing in the NFL. His father, Kerwin Williams Sr., was shot dead in late 2017. He was 35 and the son of Kinnis Williams, who was the East St. Louis school board president at the time.
Roderick Roy, 50, a union laborer, described Jaylon as "an amazing young man" who used to play basketball with his son.
"He never got a chance to be a teenager," said Roy.
When Roy was growing up in East St. Louis, he said, it was an obstacle for many men to make it past 21. He said the deaths of Jaylon and others have dropped that even lower.
"Kids aren't seeing 15 or 16 anymore," he said.
Gerald Johnson, president of Serenity Memorial Funeral and Cremation Service, said in an interview that the company handles about 1,000 deaths a year on both sides of the Mississippi River and as many as a fourth of them involve homicides.
As more of them involve youths, he said, Serenity added grief and loss counseling, "observing that there was a huge need for it."
Serenity representatives said Ezekiel Elliott, who grew up in the area and plays for the Dallas Cowboys, paid for the funeral service, which was set up like a sporting event starring Jaylon. Two other NFL players also pitched in to help, including Adoree' Jackson.
The Sports Illustrated article last November that featured Jaylon and other promising young athletes noted that he drew national attention for catching five passes for 161 yards and two touchdowns in the NFL's 8th Grade All-American Game in Canton, Ohio, last August. Jaylon told the magazine that he wanted to "follow in the footsteps" of Jackson to the NFL.
Also from Belleville, Jackson plays cornerback for the Tennessee Titans. He attended the packed funeral. He said from the podium that he was impressed by the community coming together to give Jaylon such a good send-off and encouraged them to continue supporting each other.
"Keep your heads up," he said. "Stay positive."
Funeral for Jaylon McKenzie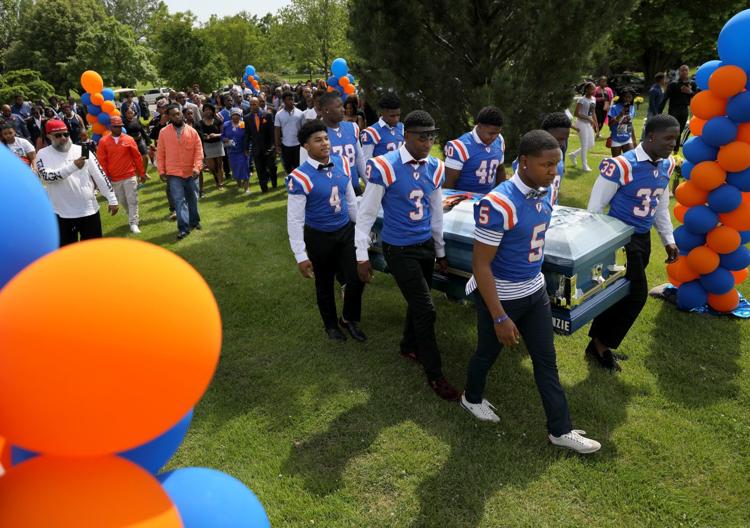 Funeral for Jaylon McKenzie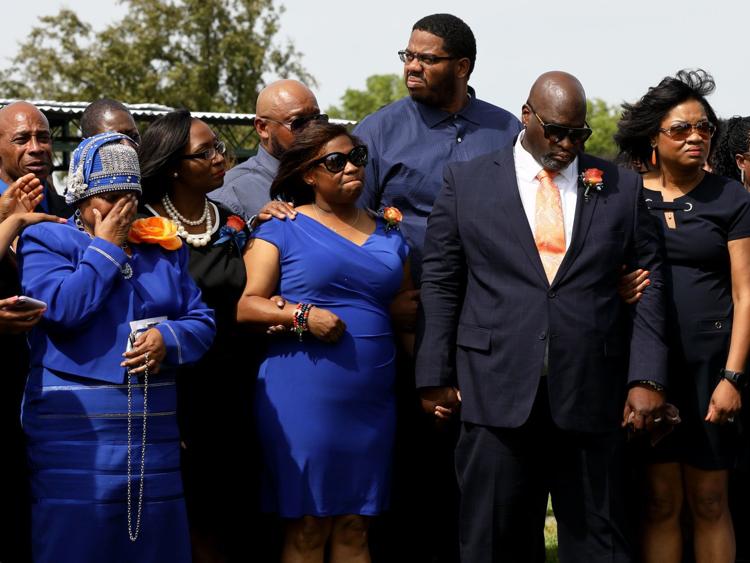 Funeral for Jaylon McKenzie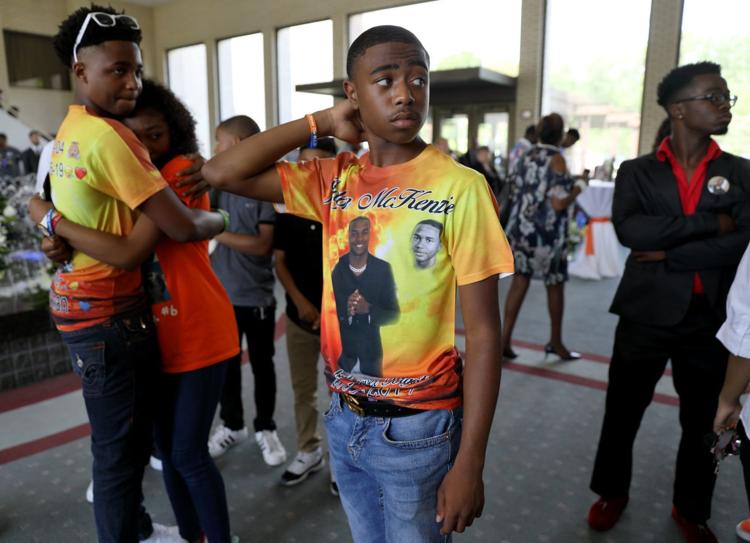 Funeral for Jaylon McKenzie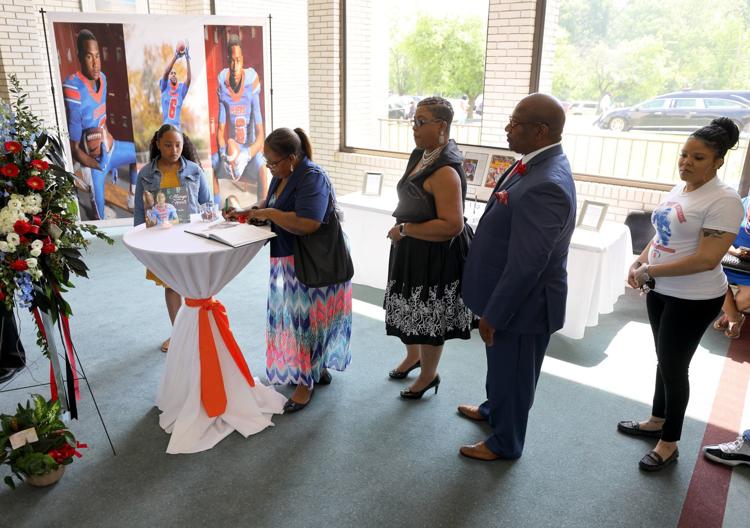 Funeral for Jaylon McKenzie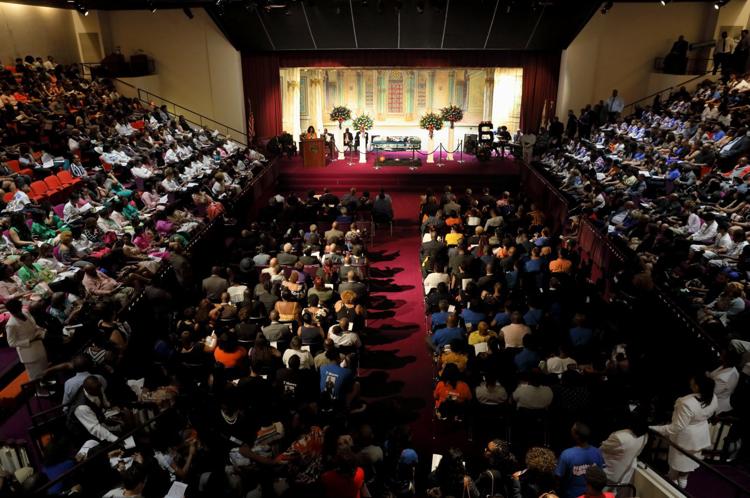 Funeral for Jaylon McKenzie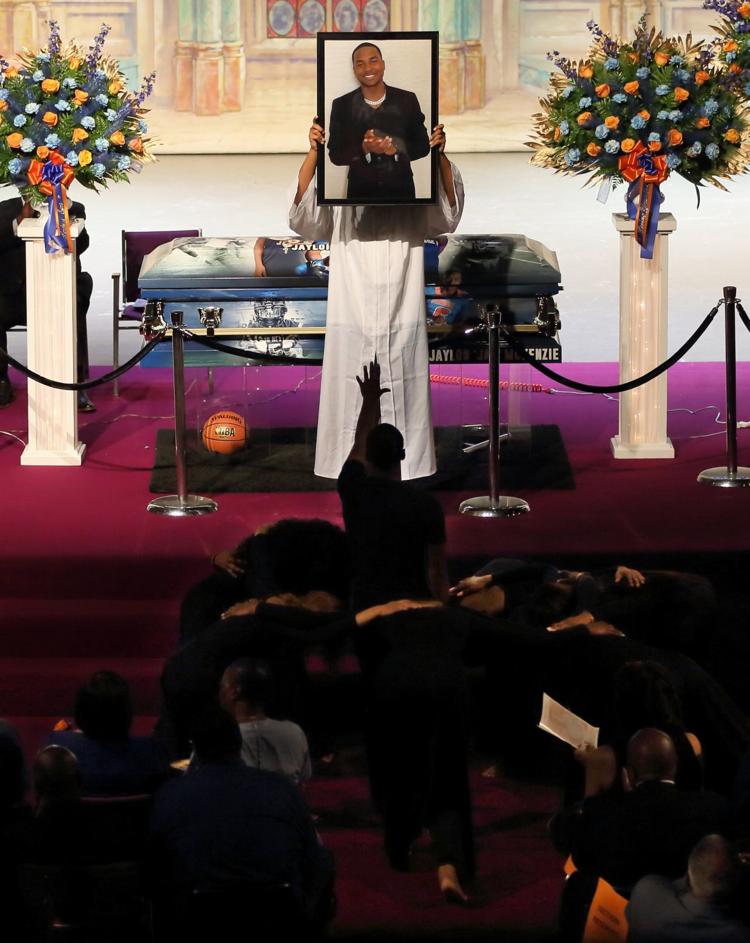 Funeral for Jaylon McKenzie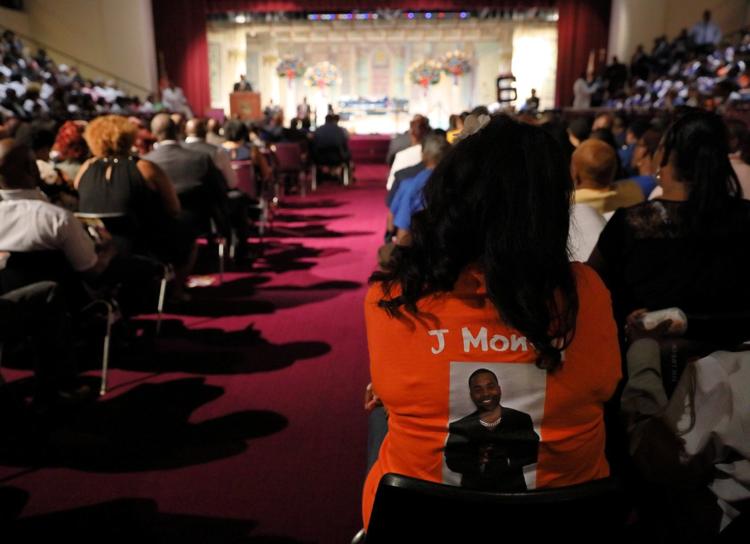 Funeral for Jaylon McKenzie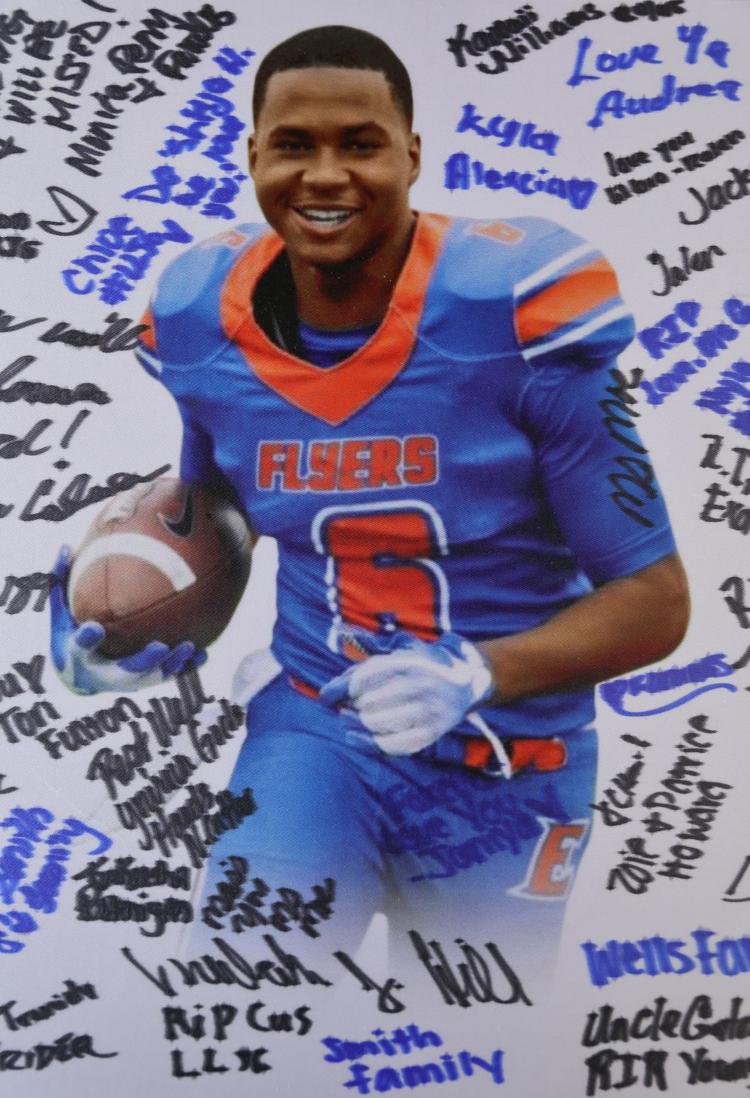 Funeral for Jaylon McKenzie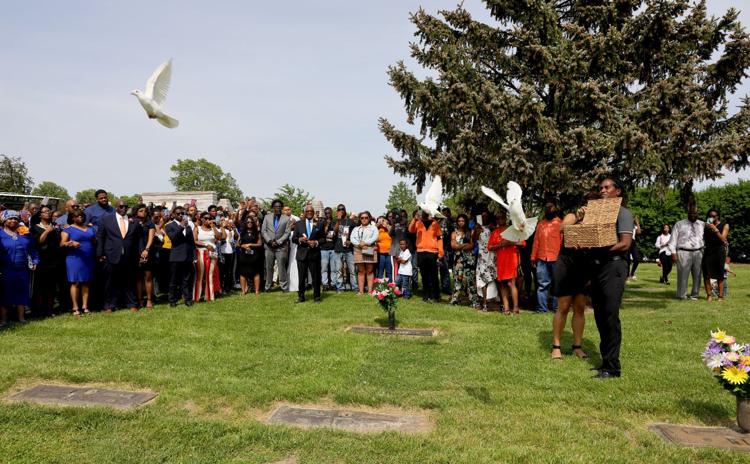 Funeral for Jaylon McKenzie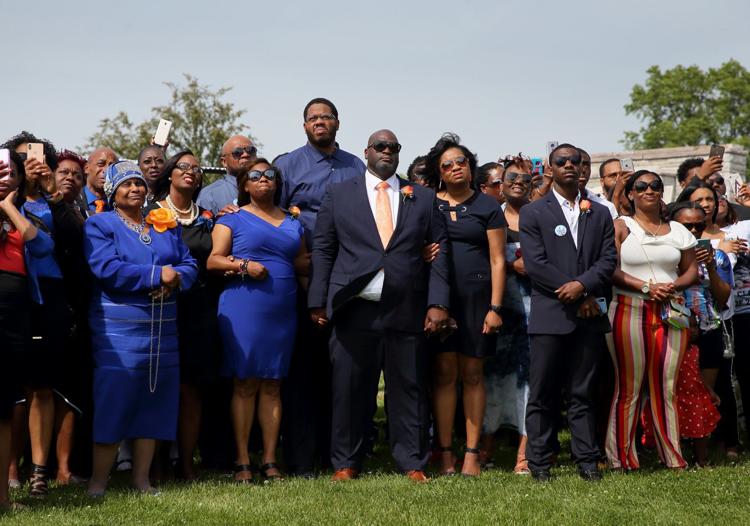 Funeral for Jaylon McKenzie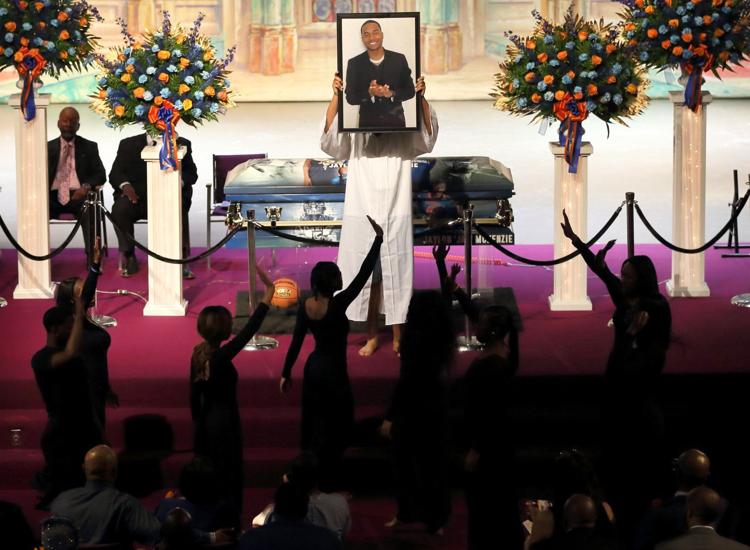 Funeral for Jaylon McKenzie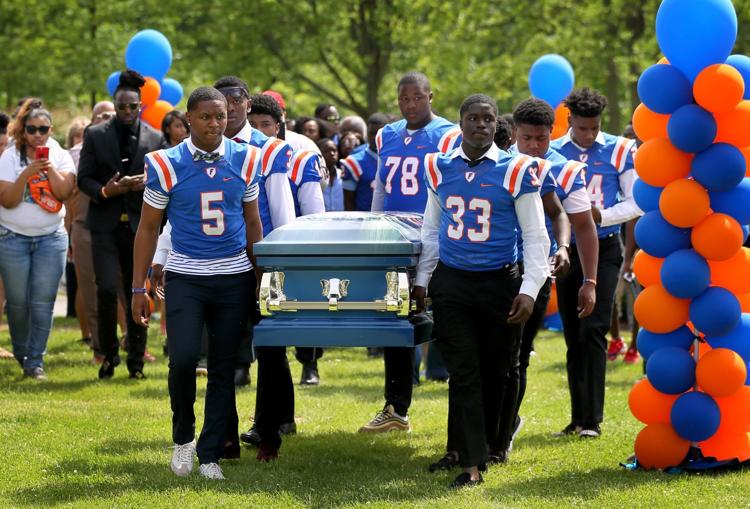 Funeral for Jaylon McKenzie