ST. LOUIS — Muslim residents in the area gathered on Saturday to march from one mosque to another in support of the Black Lives Matter movement.
Between 75 and 100 people marched a mile and a half from Masjid Bilal, 3843 West Pine Street, to Masjid Al-Mu'minun, 1435 North Grand Boulevard.
The march was organized by the Muslims of Greater St. Louis. Marilyn Aleem-Shamikh, one of the march's organizers, said various Muslim communities were planning individual protests here and there, and the group wanted to bring them all together. 
Muslims of Greater St. Louis wanted to highlight the issue of police brutality, Aleem-Shamikh said, and she hopes to see the Muslim community continue to unite around this cause and others, such as feeding the homeless here.
Asif Umar, imam of Daar-Ul-Islam mosque in Manchester, was one of the speakers featured before the march began. He talked about America living with a pandemic — not COVID-19, but one that started 400 years ago — "the pandemic of police brutality," Umar said. "And there's still no vaccine." 
"We cannot give up this fight," he said. 
Umar Lee, 45, is a fixture at St. Louis Black Lives Matter protests — when he's in town, anyway. Lee splits his time between St. Louis and a home in Texas. But Saturday's march took on special meaning for Lee, who's been a practicing Muslim since 1992. 
"Muslims stand for justice — as our prophet Muhammad did," Lee said. "We stand in solidarity with Black lives."
Marissa Putnam, 27, and her sister, Teresa Adams, 53, both white, were out marching with the group. One of Putnam's friends helped organize the march. Both said they felt a push recently to educate themselves about racism. 
"And I think just showing up shows support," Putnam said. "To be here, standing next to them, and listening."
Azfar Malik, 66, who's lived in St. Louis for nearly four decades, attended the march with his wife, Maheen, 62. They've also been to protests in west county in the past few weeks.
"It's important citizens be treated equally," Malik said. "Irrespective of their race, color or religion." 
Charles Bryson, director of the St. Louis Civil Rights Enforcement Agency, joined the march on Saturday, which began around 11 a.m. St. Louis Police rode in front and behind the group, blocking traffic when necessary. 
Bryson said he invited Adil Imdad to be on the agency's board to make sure the Muslim community was represented. It's important that this movement, Bryson said, brings all groups together around a common cause. 
"It's not just about Black people by themselves," Bryson said. "But when you gather steam, you have to involve everybody. It makes the movement larger, and stronger, with everyone." 
On Saturday, high temperatures exceeded 90 degrees. A protester and volunteer walked behind the group with a wheelbarrow full of water bottles. Most participants were wearing masks, but few were following social distancing.
Photos: Muslims march mosque-to-mosque for justice
Muslims march mosque-to-mosque through Grand Center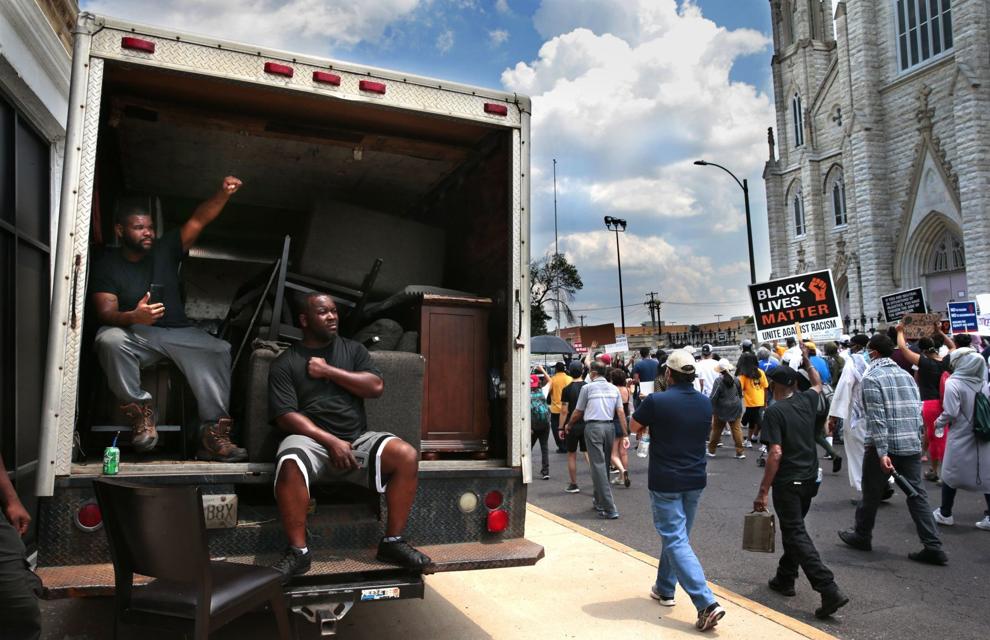 Muslims march mosque-to-mosque through Grand Center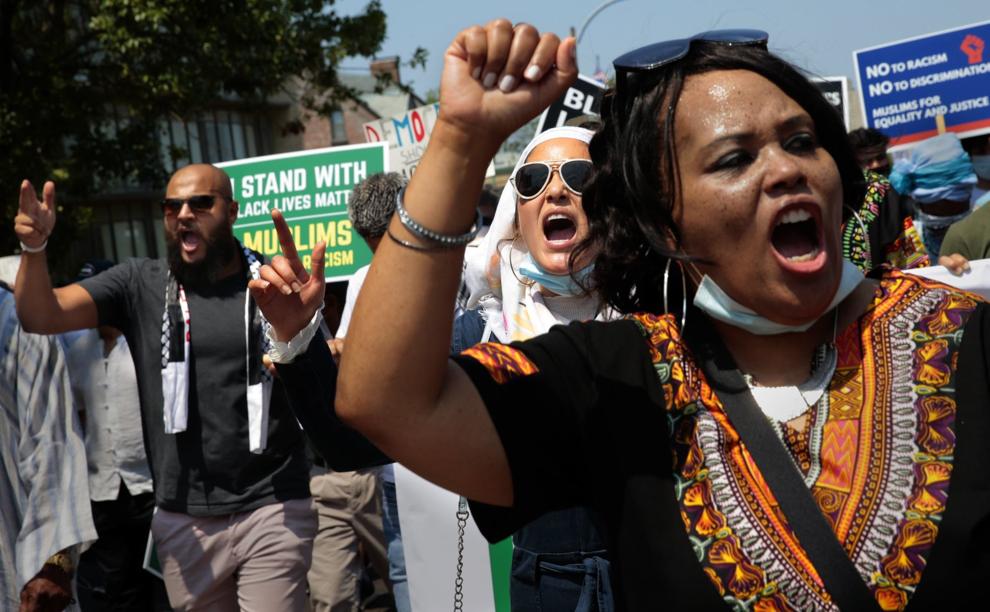 Muslims march mosque-to-mosque through Grand Center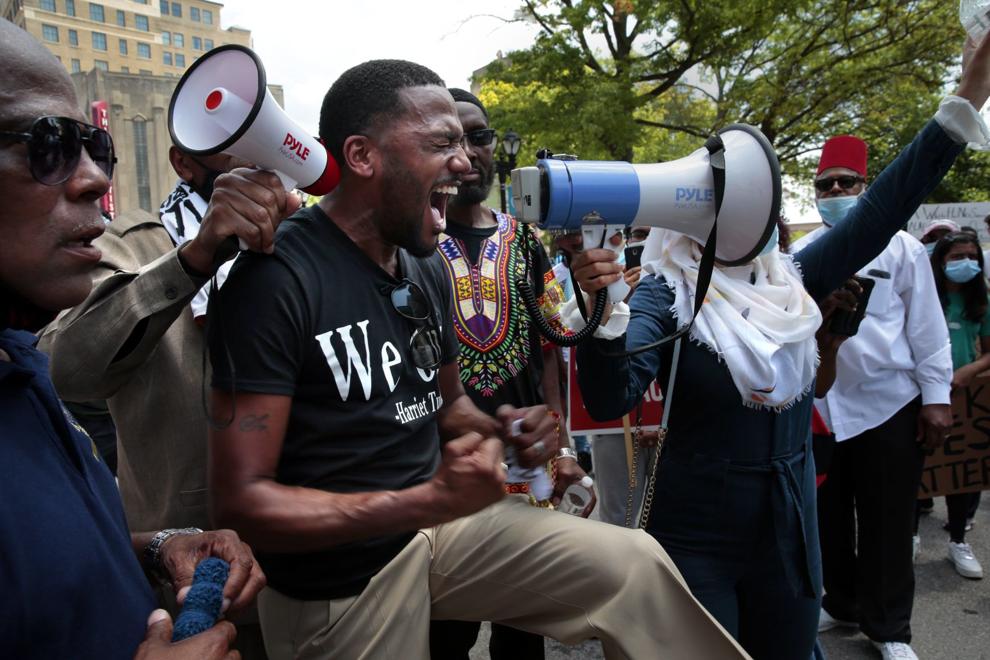 Muslims march mosque-to-mosque through Grand Center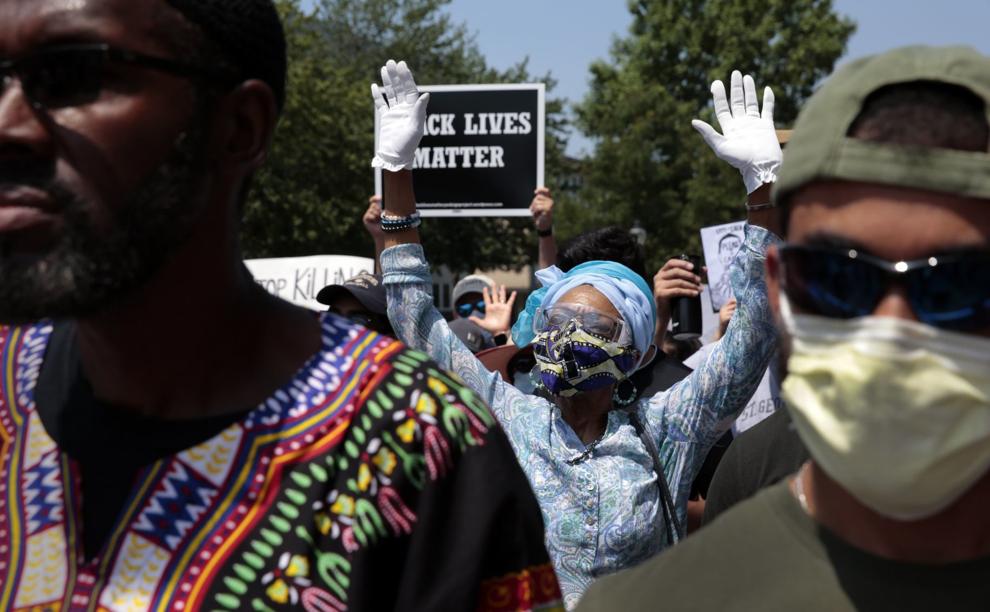 Muslims march mosque-to-mosque through Grand Center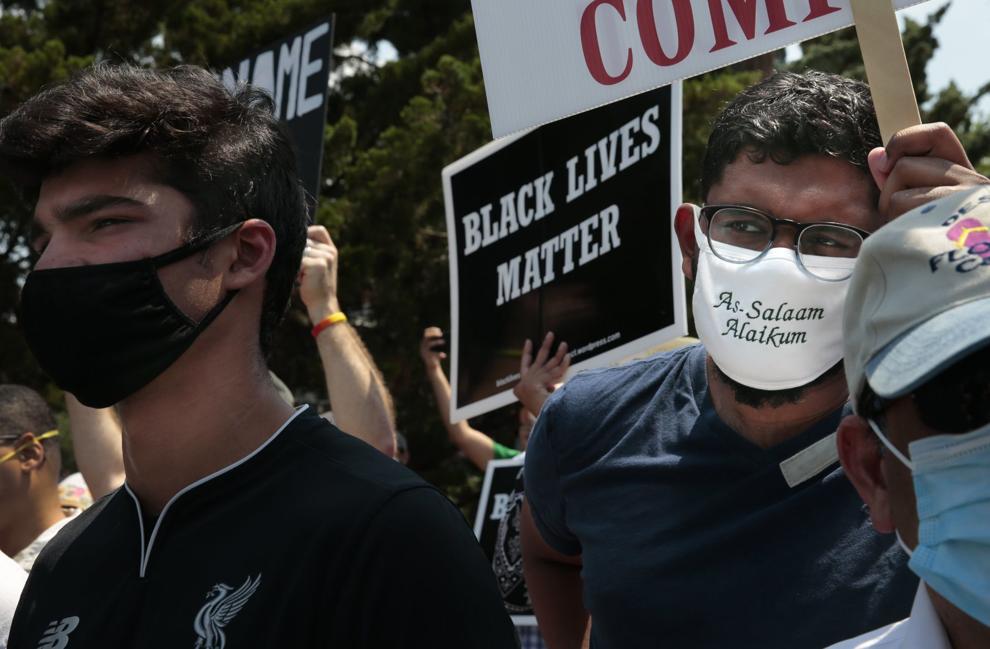 Muslims march mosque-to-mosque through Grand Center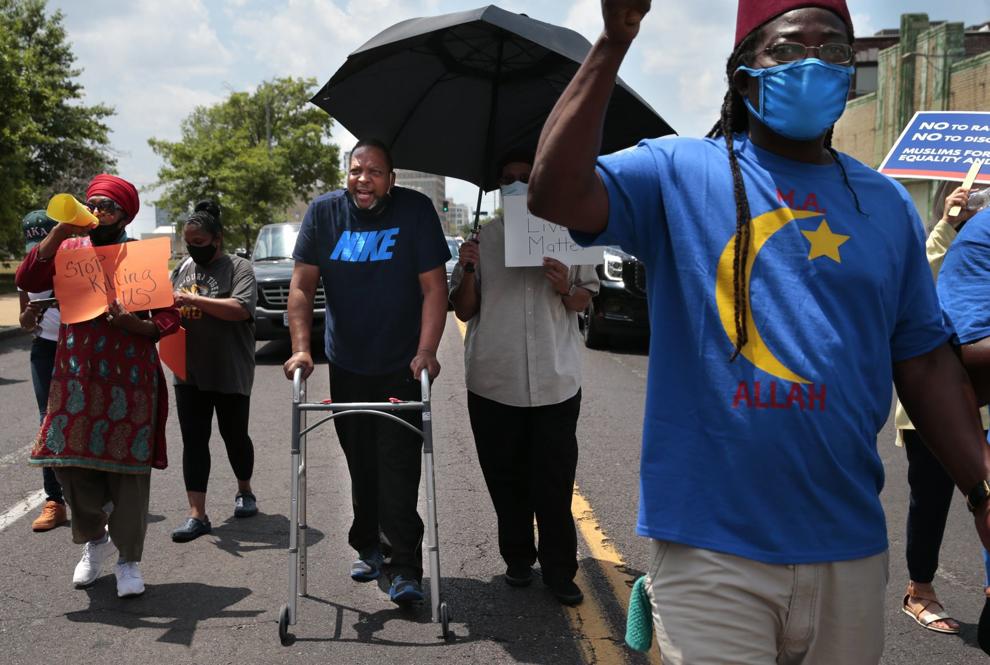 Muslims march mosque-to-mosque through Grand Center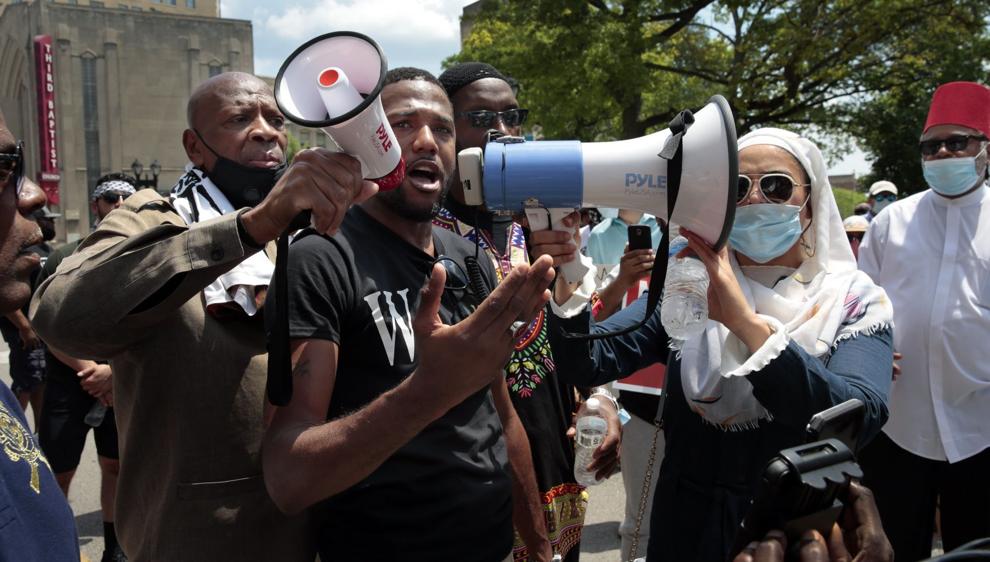 Muslims march mosque-to-mosque through Grand Center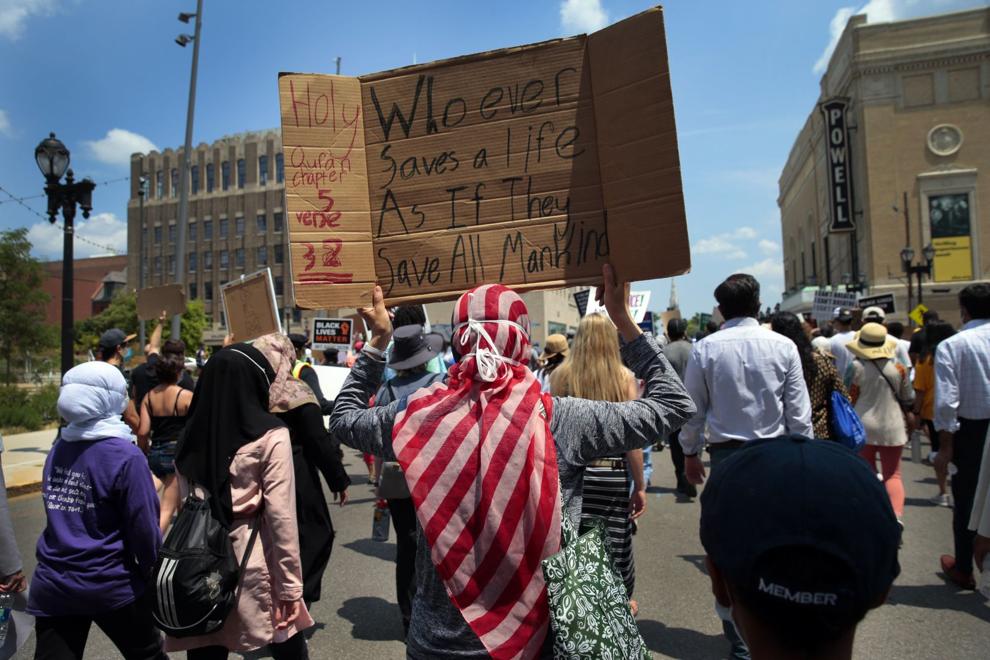 Muslims march mosque-to-mosque through Grand Center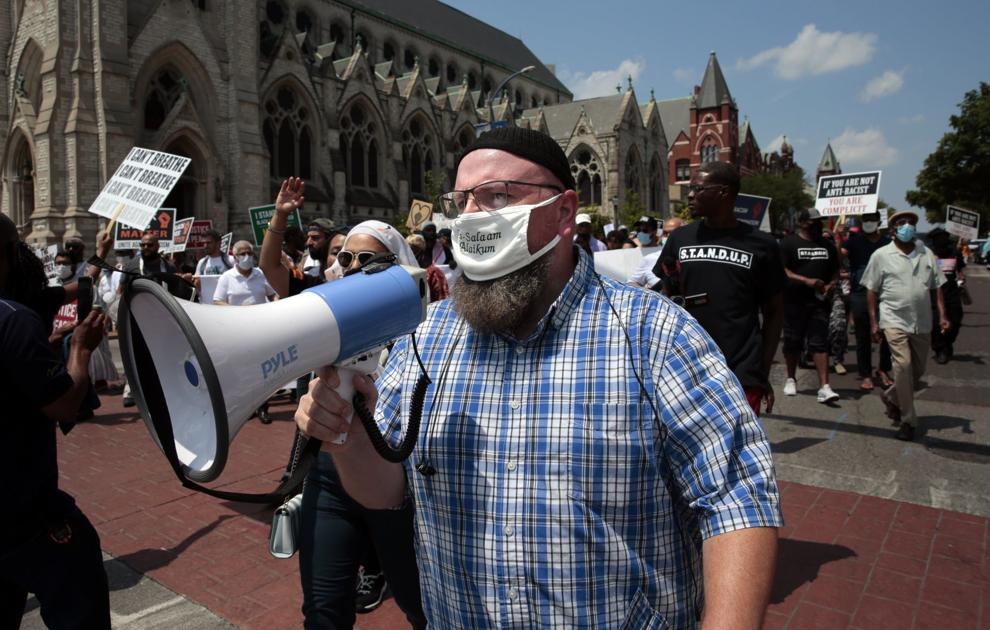 Muslims march mosque to mosque through Grand Center