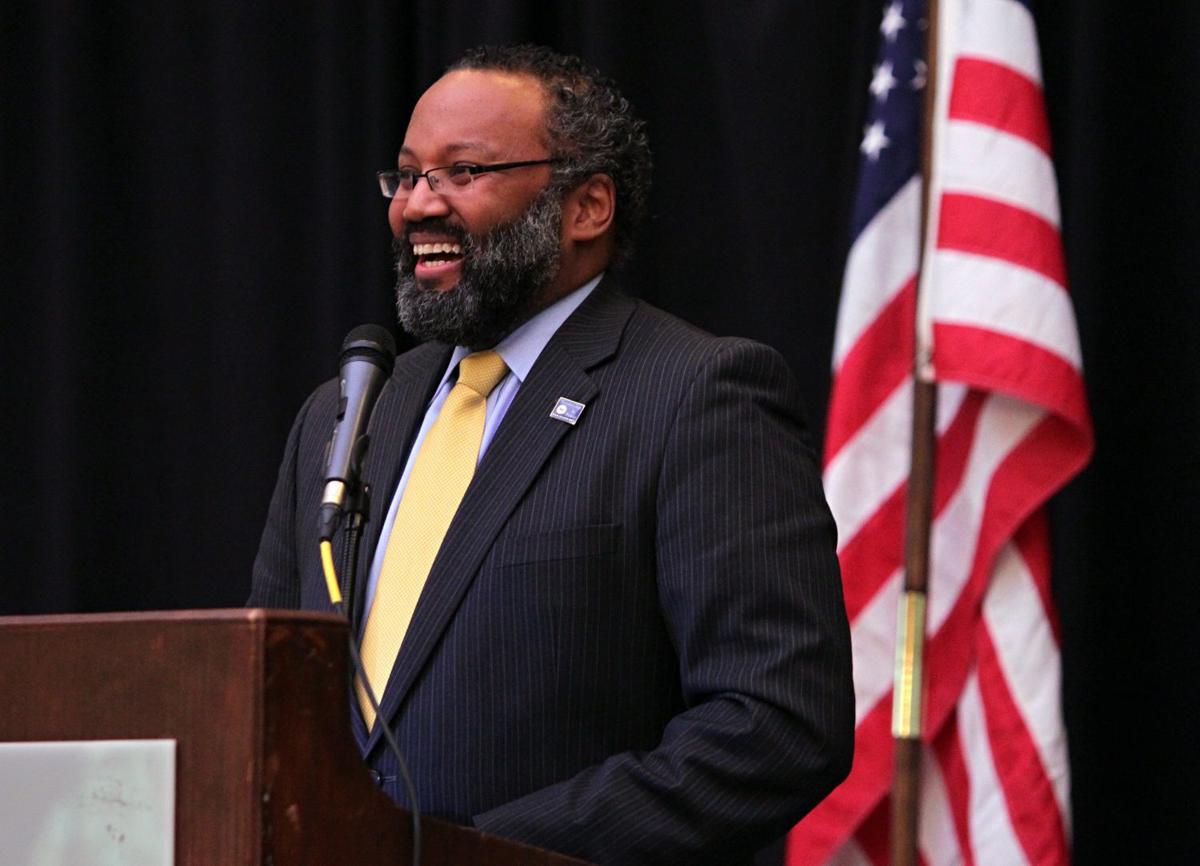 ST. LOUIS • The head of the city's tourism and convention agency said hotels have lost business because of a travel advisory issued by the national NAACP last month and that her industry is "being used as a weapon" politically.
"We have been notified by a number of area hotels that they have lost meeting groups that were in contract phase," said Kathleen "Kitty" Ratcliffe, president of Explore St. Louis, in a statement Monday. "We've also been working with a number of organizations that are already contracted to help them address any concerns that they have had expressed from their attendees."
The statement did not specify how much business was lost as a result, and Ratcliffe was not immediately available to address questions regarding her statement. A spokesman for Explore St. Louis, Anthony Paraino, said: "We do not have permission from the hotels or the groups to give their information to the press."
The NAACP travel advisory issued last month came at the urging of Rod Chapel, head of the Missouri NAACP, after state legislators passed a bill making it harder for employees to make a case for workplace discrimination.
The advisory was the first of its kind from the country's oldest and largest civil rights organization and set off a round of media interviews nationwide for Chapel and other NAACP leaders.
It also brought Missouri back into the spotlight as a state struggling with racial issues, from Ferguson in the summer of 2014 to the University of Missouri's Columbia campus the following year. But it was not until Senate Bill 43 came along that Chapel urged the national NAACP to take action in the form of a travel advisory, putting the rest of the country on notice of Missouri's ongoing struggles.
"I didn't feel like we had any other choice," Chapel told the Post-Dispatch prior to Ratcliffe's statement. "We tried to talk with legislators. That didn't work. Talk with the executive branch. That didn't work. Offer amendments (to the bill), and that didn't work. There was no other recourse but to tell people that if coming here, be careful and know what you are coming into."
The state NAACP will hold a rally Tuesday in opposition to the new law. The event will begin at 6 p.m. at Union Memorial United Methodist Church in St. Louis.
While the advisory has made a big splash, grabbing headlines and radio and TV time, it's unclear what kind of lasting effect it will have. It expires on Aug. 28, the same day the new law takes effect.
Daniel P. Mehan, CEO of the Missouri Chamber of Commerce, which supported the legislation, said that while his office has no data to know exactly what kind of impact the NAACP statement will have on the state, "it is concerning that the travel advisory is partially based on legislation that does not have anything to do with travel. A piece of employment law legislation, which aligns Missouri law with federal standards, should not cause anyone to be concerned about traveling to Missouri. Employment law standards in the majority of other states are similar or even stricter than Missouri's new law."
When Gov. Eric Greitens signed the bill June 30, the governor said in a release that the law brings Missouri in line with 38 other states and the federal government.
Jerry Hunter, an attorney with Bryan Cave and former director of the Missouri Department of Labor, said the new law "has nothing to do with travel."
He points out that in a Missouri Supreme Court decision in 2007, the standard of proof regarding discrimination was changed from "motivating factor" to "contributing factor." The new law changes the standard back to how it was before and reflects national standards used by the Equal Employment Opportunity Commission, Hunter said.
"If Rod had called and asked my opinion (on the law), I'd have given him the history," said Hunter, who is African-American. He pointed out that Chapel also is a former director of the state Labor Department. "If you want to debate whether it should be contributing or motivating factor, I don't have a problem with that. Let's sit down and have a discussion. There could be legitimate views on both sides."
However, Hunter said, when Chapel and others start labeling the legislation as "Jim Crow or Bull Connor, using those kinds of provocative terms, people won't focus on what the real issue is. It defeats the whole purpose of the discussion."
Cut off in the Capitol
The travel advisory was first approved in June by the state NAACP before the bill was passed and signed into law. Some who oppose the advisory are calling it Chapel's shot across the bow after he was cut off during testimony against the legislation four months earlier.
During testimony in Jefferson City, Chapel criticized the measure, the heart of it requiring plaintiffs to meet a higher standard of proof in discrimination suits. He said supporters, which included the University of Missouri system, were "united in expanding discrimination."
The comments frustrated Republican committee chairman Bill Lant of Pineville, who told Chapel to keep his comments focused on the bill. Chapel continued, calling the legislation "nothing but Jim Crow." Lant shut off Chapel's microphone. The Republican leadership later apologized and Chapel finished testifying at another hearing.
Chapel said he has heard the arguments that a travel advisory could bring economic harm to people of color in Missouri if tourism and other revenue declines as a result. But he said the support he is getting for the decision has been overwhelming. This month, the heads of the Legislative Black Caucus and Missouri Faith Voices, a nonpartisan group representing various faiths, released a joint statement backing the NAACP's decision.
The St. Louis County NAACP initially balked at the position of the national office, arguing the advisory would cause economic harm to African-Americans working in the hospitality industry and that Missouri should not be singled out when three-fourths of the states have the same standards in place. But two days later, after talking with Chapel, the county chapter changed course.
"After additional study and consultation with our state conference, the St. Louis County NAACP wholeheartedly supports the travel advisory issued by our national conference," said chapter president Esther Haywood in a news release.
Schools react
Mun Choi, president of the University of Missouri system, issued a statement on Aug. 7 expressing disappointment in the travel advisory, saying that all campuses "have made remarkable progress" toward "creating a community that values the diversity of background, experiences, perspectives and thought."
The bill's sponsor, Rep. Kevin Austin, R-Springfield, said the measure would align Missouri with federal standards. That alignment is why the University of Missouri supports the measure, former system spokesman John Fougere said at the time.
Washington University Chancellor Mark S. Wrighton weighed in last week.
"To our university community — especially the students and family members who will be traveling to campus — know that we will do everything we can to make your experience here fulfilling, rewarding and enriching," Wrighton said in a university blog post.
Wrighton's comments came after Joseph Sklansky, an assistant vice chancellor and associate general counsel for Washington University, testified in a bill hearing that the measure would correct overreach from a decade-old court decision that changed criteria for workplace discrimination lawsuits. Sklansky was a member of the school's former Coordinating Council for Diversity Initiatives, which dealt with past employment discrimination lawsuits on behalf of Washington University.
Sklansky told the committee he was there on his own behalf. A school spokesman later said Sklansky took a vacation day to attend the hearing.
Ratcliffe, of Explore St. Louis, said in her statement that any organization should be able to share its concern about a piece of legislation. "However, we are discouraged that the travel industry is being used as a weapon against politicians for their policies," she said. "Ultimately, it is not the politicians who suffer from these actions, but it is the hard working men and women of our state's hospitality industry that will bear the impact and outcome."