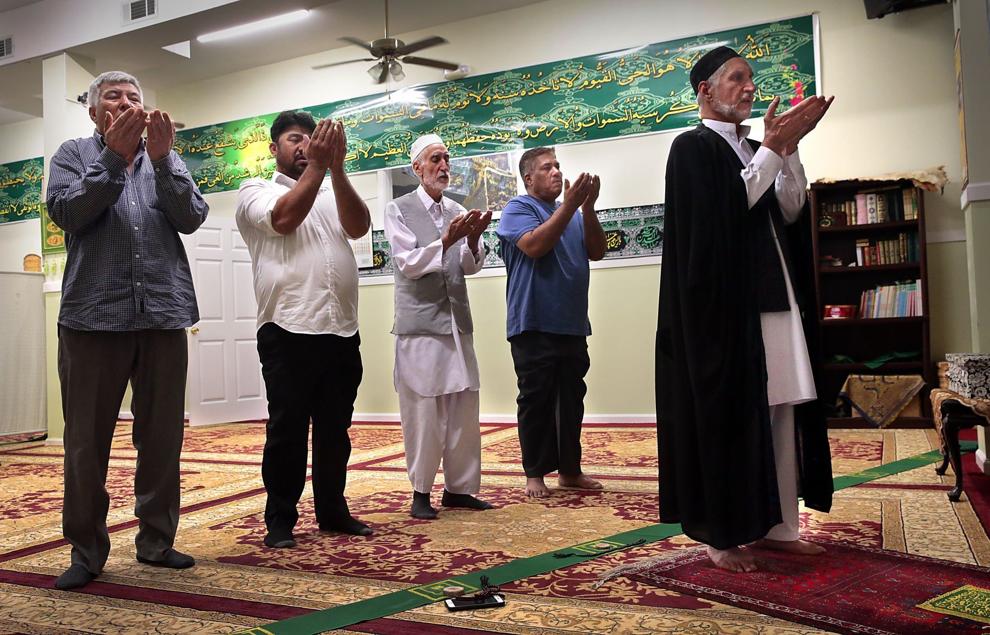 ST. LOUIS — Other than choosing to leave Afghanistan for safety concerns, a former politician named Ahmad has many decisions made for him these days. Such is life in the United States refugee resettlement program, a system weighed down by rules and high demand.
But one big choice was left for him:
Where would you like to live with your pregnant wife and three children?
Out of 19 options nationwide, he chose St. Louis.
"I selected this city because it's an agricultural city," said Ahmad, who allowed part of his name in print because he still has family in Afghanistan. "I want to do a good business in this area, and St. Louis is a mixed culture."
Ahmad, 40, is in the vanguard of some 1,500 Afghan refugees expected to arrive in the St. Louis region in the coming year, possibly more. Their experience will be different than those before because there are many more than usual. By the end of December, hundreds will need homes, health care, schools, food, jobs and guidance.
Natives of the St. Louis region grapple with concentrated crime, poverty and housing. The wave of Afghan refugees will likely be hit harder, said resettlement experts and people still trying to gain a foothold for their families several years after arrival.
Refugees with the greatest means tend to get out of global conflicts first. Those arriving now risked their lives by being on the American payroll during the 20-year war in Afghanistan.
Ahmad said he was a veterinarian involved in national politics. He said he worked with the U.S. government on various agricultural projects. Four years ago, he abandoned the countryside because of threats. He took his family to Kabul, where they started the process of getting special immigrant visas.
On Aug. 14, they boarded a flight before the mad rush for the airport made headlines. Five days later, with stops in Qatar and Virginia, they arrived safely in St. Louis. For the next year, they are living in Clayton, in a donated apartment.
"It's been good," Ahmad said during a recent medical checkup at Affinia Healthcare, 3930 South Broadway. "Busy, but good."
He landed a job at a pharmaceutical company warehouse that pays $18 an hour. He wasn't sure how he was going to get to work on the first day.
"Without a car, you are nothing in the U.S.," he said.
Afghans, by all accounts, have been through a lot. They are resilient and hardworking, but the refugees will need to learn how to navigate a new way of life. At least starting out, they will have to learn how to be poor.
Refugees typically flock to one side of town, which can be helpful for providing wraparound services. It's not going to be that way this time around. Afghan families are big. There isn't enough affordable, quality housing.
"They are going to be scattered all over," said Arrey Obenson, executive director of the International Institute, which has been resettling refugees here since 1979.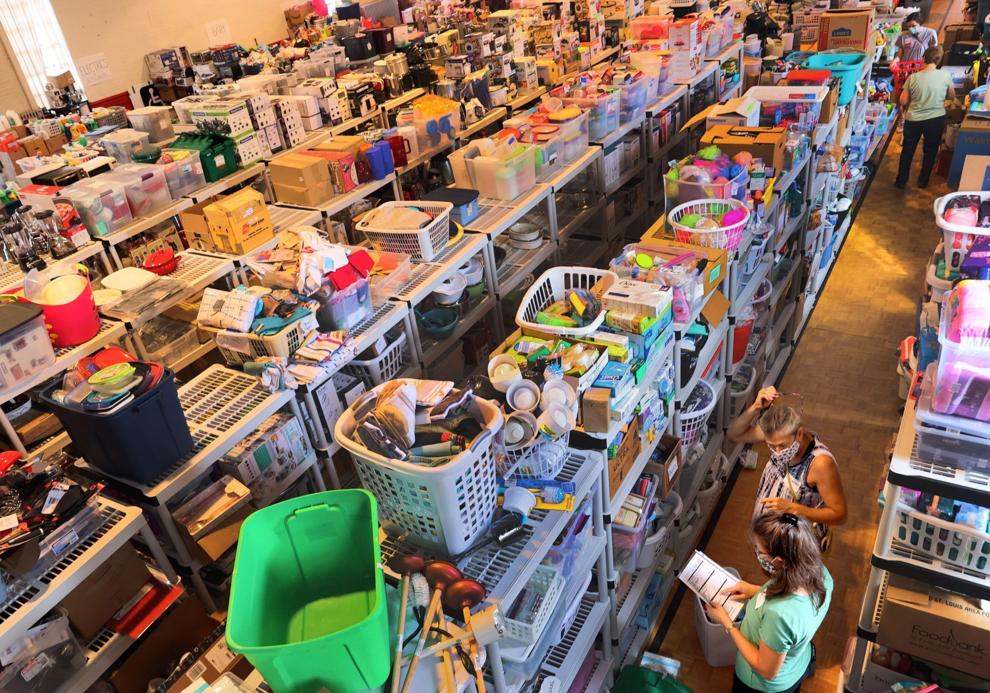 The institute is on the hunt for about 280 three- and four-bedroom apartments and 40 smaller rental units within 100 miles of St. Louis. Housing stipends typically last a few months. Case management can go on for years.
Time will tell if placements are sustainable. Rents tend to be higher in the broader region, which also isn't as accustomed to walking side by side with immigrants and refugees, social workers said. Public transportation can be a challenge or nonexistent in areas.
While there are more employment opportunities than usual, the COVID-19 pandemic limits resources typically available to help ease culture shock and other struggles. About 1,000 of the refugees are expected to arrive with special immigrant visas. Another 500 or so will be humanitarian parolees, who will take longer to enter the workforce.
"Aside from basic needs, like housing and transportation, I really think that behavioral health services are going to be huge and not just in the short term," said Jason Baker, executive director of Bilingual International Assistant Services, a south St. Louis-based nonprofit that provides mental health and social services for the immigrant and refugee population. "The kind of trauma that some of these individuals and families have been through doesn't always lend itself to easy integration into suburban American life. Ongoing services are going to be essential for this experiment to work out."
So far, Obenson said, the local response to the crisis in Afghanistan has been "phenomenal." In-kind donations had to be paused at International Institute headquarters, 3401 Arsenal Street, to give volunteers time to organize the inundation of items and pursue off-site storage. They still seek monetary donations, grocery gift cards and Metro bus passes.
"Our job as a community is more than just a welcome, it should be working with this community in such a way they can achieve their greatest potential within this community," Obenson said.
Many of the refugees are still expected to end up in south St. Louis. That's where most of the Afghan mosques, markets and programs are for the existing Afghan community.
That's where the bakery is that makes an Afghan staple.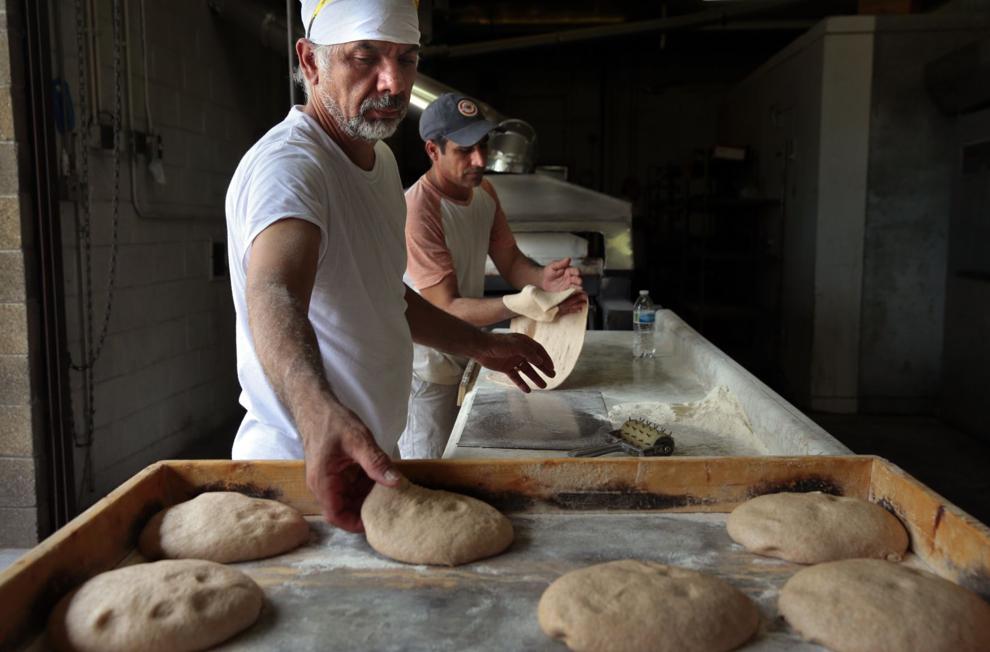 "All the families have to get the bread," said Shabir Bayat, 33, who runs Import Motors, 3700 Chippewa Street, with a few other Afghan-Americans he met in St. Louis.
There, too, is assistance. Stories and lessons learned, spoken in Pashtu and Dari by those further along on the same path of the new arrivals.
'The golden place'
Haroon Safi and his large family are living in their fourth rental since they moved to south St. Louis in 2014, courtesy of a special immigrant visa.
Safi said the first place, on Minnesota Avenue, was "kind of a little terrible" because of drugs and security concerns. The next was infested with bedbugs. The landlord didn't tell them that the third had been foreclosed.
The fourth home has worked out. It's a little tight for him, his wife and seven children, but the rent is $600, an amount within budget. He works as a construction surveillance technician. He said he's been approved for a $250,000 home loan.
"If I am spending 250, it needs to be 1,800 square feet," he said. "I want a finished basement for the kids, so they have more space. I'd love to move to a nice neighborhood where the better schools are. Parkway. Affton. Bayless. Those are good school districts. The family comes first. I want my kids to grow up and be successful people, so they don't have to struggle like I did."
Safi grew up in a nation at war. As toys, he played with discarded bullets and shell casings. He and his pals talked about booms from occasional bombings. His father, a former teacher who later became a police officer, always stressed the importance of school. Safi ended up working his way through college being a translator for coalition forces. His dream of becoming a prosecutor was never realized. Life on U.S. payroll was hard work but good financially for him and his extended family.
Back in Afghanistan, they all lived close. Each month, he gave money to help pay for feasts that were prepared and eaten communally. Here in south St. Louis, they are on their own. Even Safi has changed some diapers and gone to the grocery store.
"The golden place for Afghans is Aldi," he said.
Now his oldest child is in eighth grade. The race is on to move to St. Louis County. He said a lot of Afghans have good memories of starting out at Nahed Chapman New American Academy in the city, but they can't stay there long. It's just for the start of their journey to learn English.
"From there it starts everything," Safi said. "I just want an average life for my family. Good school district. A peaceful life."
Nahed Chapman Principal Nicole Conaway said children at the kindergarten-eighth grade school form bonds because everyone starts out at or below the same level in English proficiency. Some grew up in refugee camps. One student's father recently was killed by a gang in Central America. Some don't speak any English.
"You come here and you know nothing, but the girl next to you is in the exact situation," Conaway said. "You find community."
While the time at Nahed Chapman is capped at two years, she said, there are other St. Louis public schools that have supports in place for students during their struggle to learn English. She said the services for students learning English in the city are better than anywhere in the region. Regardless of where the Afghan refugees end up, Conaway encouraged residents to "walk with them."
"If you have a family that moves into your neighborhood, go and introduce yourself, offer to take them to the grocery store or to help navigate the school system," she said. "Answer any questions they might have about living in St. Louis and being part of American culture."
The traditional route
Many will find footing within the existing Afghan community.
For Syed Abdali, who showed up in St. Louis in 1999 with a wife and infant twin girls, his lucky break came at a Eid al-Fitr feast that marked the end of fasting during the Muslim holy month of Ramadan.
"I found a lot of Afghan people here," he said.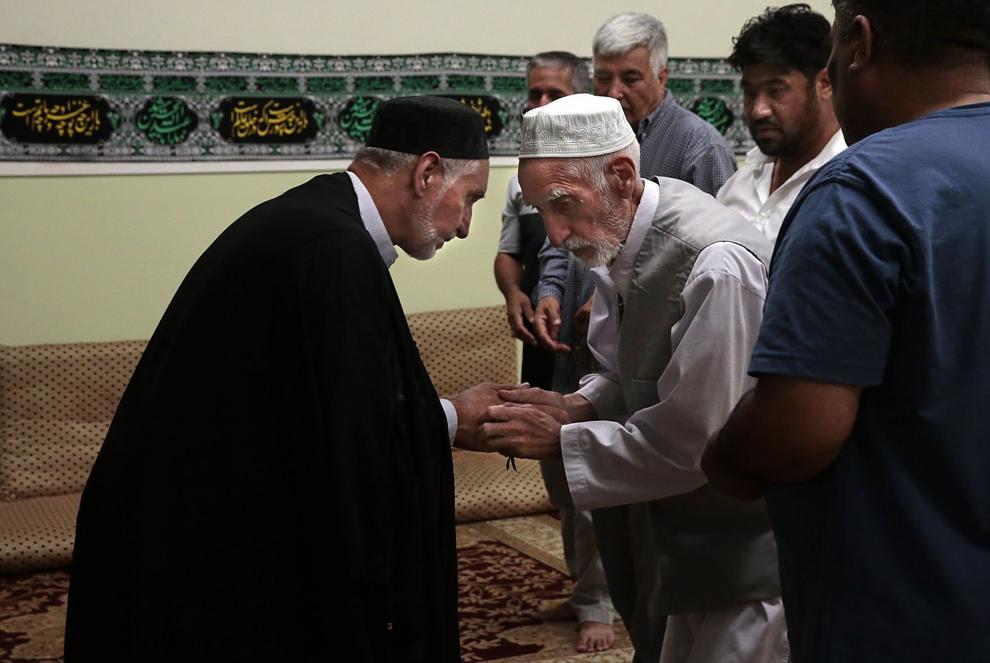 Soon, he was riding from St. Louis to Wentzville with one of them, who helped Abdali get his first job — cleaning and filling propane tanks.
"When you decide to work, it doesn't matter the work," he said.
The propane tank job led to another, assembling beds. He worked at a St. Louis Lambert International Airport gift shop from 2001 to 2020. He was laid off during the pandemic. Now he helps prepare food with his cousin at Garbanzo Mediterranean Fresh, a restaurant in Clayton.
All this time, Abdali and his family have stayed in south St. Louis. He is the imam at Resalat Community Center, a Shia mosque at 3418 Meramec Street that he helped found in 2008. There, at sunset, other Afghans meet to pray. They have been gathering household items and other resources for the new refugees.
"You have to be close to your community, your people," Abdali said. "Doing ceremonies, parties."
As for his twin daughters, one ended up graduating from St. Louis University; the other is at Fontbonne. A son, Mojeeb, was born here. He's a graduate of Gateway STEM, a public magnet high school, and is studying information technology at Ranken Technical College.
"Nothing bad happened to us to the point we had to move to the suburbs," said Mojeeb, 18. "Everywhere you live has challenges. You just have to think of ways to make it better."
Crossing the River Des Peres
Ayad Obaid and his wife, Jehan, gave south St. Louis a shot. They started out living there in 2015, in a two-bedroom apartment.
"One day, I found a bullet in my car," said Ayad, 36. "It came through the back windshield."
Still, he went to St. Louis Community College and learned to speak English well. After their third child was born, he gave up on his own schooling before graduating. He makes ink for a small company and is an Uber driver on Friday and Saturday nights.
He has high hopes for his wife, who got a driver's license, and children.
Last year, they crossed the River Des Peres and bought a house in south St. Louis County. They recently attended English Language Family Night at Bayless Elementary School. Several translators were on hand. Half the families in the district speak a language at home other than English. In all, about 30 countries are represented, ranging from Bosnia to Vietnam.
"I am happy here," said Jehan, originally from Iraq. "I am safe."
Kelly Klocke, federal programs coordinator and an assistant principal at Bayless, said word of mouth travels fast.
"Families talk to other families and tell them to come here," she said. "We are usually their second stop."
She said many of the teachers are certified to work with students and parents who don't speak English.
"Just because the student doesn't know English, doesn't mean the student isn't capable of learning complex topics," she said. "It's important that students learn grade-level content as they are learning how to speak English. And to socialize with their peers."
Piece of the puzzle
When Fahima Band Ali attended school in Kabul, she wore a headscarf. The idea of a bomb attack was always in the back of her mind.
"I will never go back there, especially as a woman and a student," said Band Ali, 20. "I am the most vulnerable."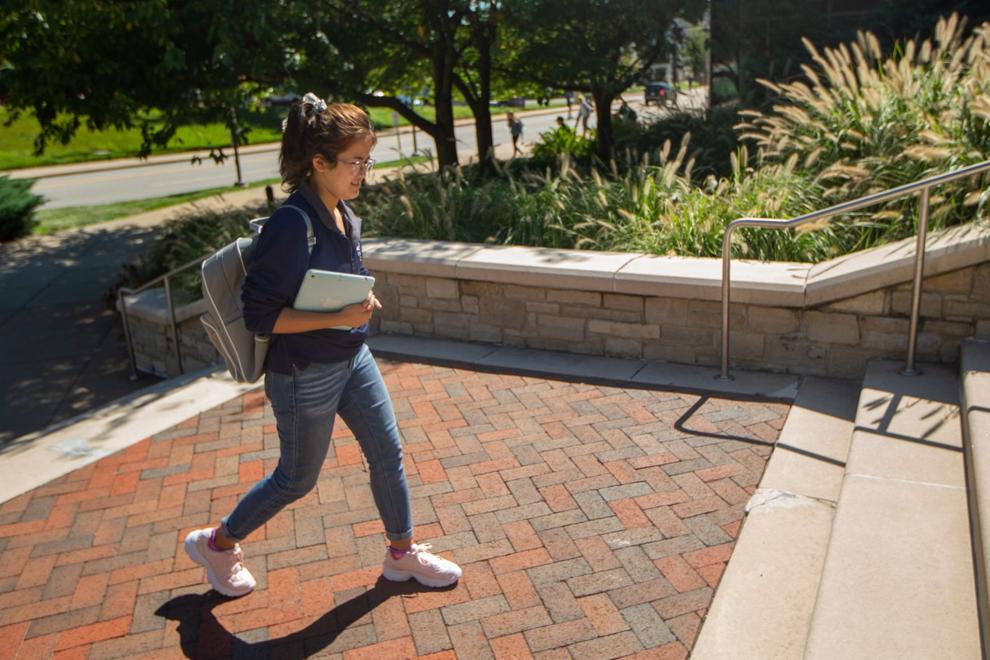 Her brother was the first in her family to immigrate to St. Louis, then her parents. Band Ali and her sisters arrived in 2017. The youngest is a senior at Affton High School. Two are studying nursing at the University of Missouri-St. Louis. Band Ali, a sophomore at Webster University, is pursuing a degree in political science.
Her situation speaks to the cultural challenges Afghan families face as they walk between two worlds — old and new.
Band Ali, always excited to explore new things, is involved in student government and the debate team, which will likely travel more out of state once pandemic restrictions loosen. Meanwhile, she's helping raise money for the new Afghan refugees, an effort that led to a visit with the university president and a few interviews with reporters.
She wants her parents to be proud of her, but she said they only seem to want her to come home by a certain time at night.
"They think I should be under their supervision 24/7," said Band Ali, wearing jeans and a T-shirt. "It is something they can never accept. The whole mindset is a girl can't make their own decisions. They escaped the Taliban. Why are they sticking up for their ideology?"
She said her mother stays at home and her father is grateful for a job working the 10 p.m. to 7 a.m. shift at a convenience store.
"It's a lot harder for them to have the life they want to have," she said. "The challenges are unlimited."
She said her parents haven't learned English, and tend to be isolated from the broader Afghan community.
"Living here has kind of broken them," she said. "Here, they feel like a piece of the puzzle that doesn't fit."
Photos: Previous Afghan immigrants find community in St. Louis
More Afghan refugees could settle in St. Louis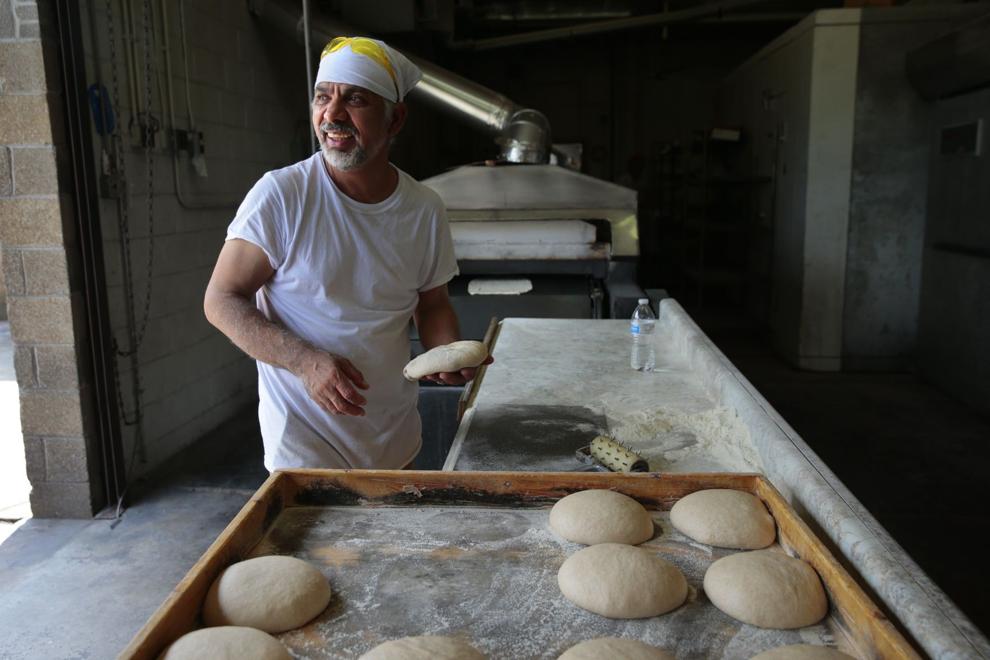 More Afghan refugees could settle in St. Louis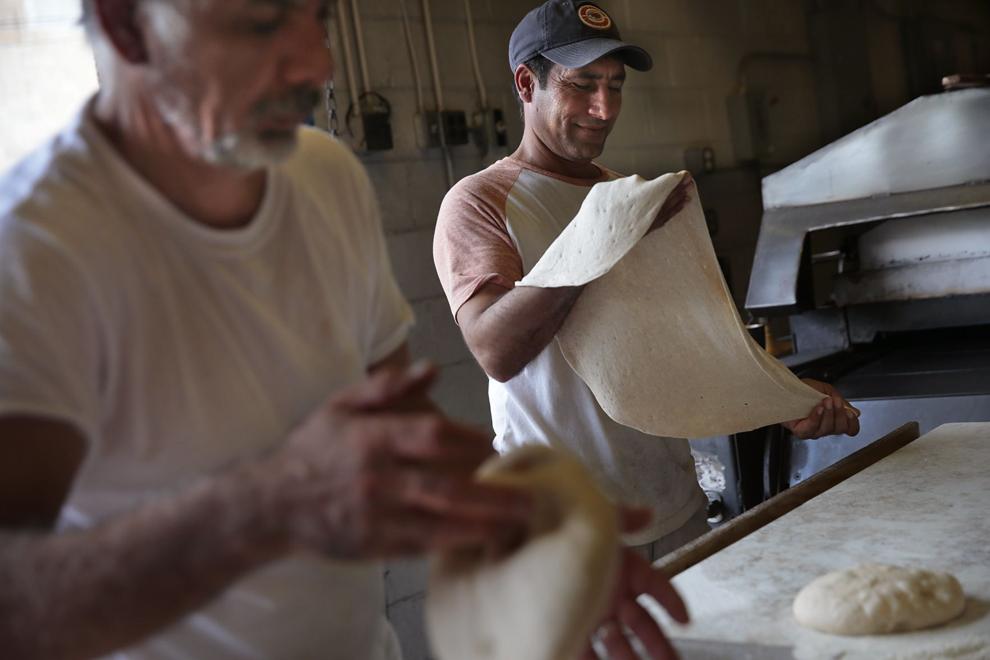 A place for prayer in Dutchtown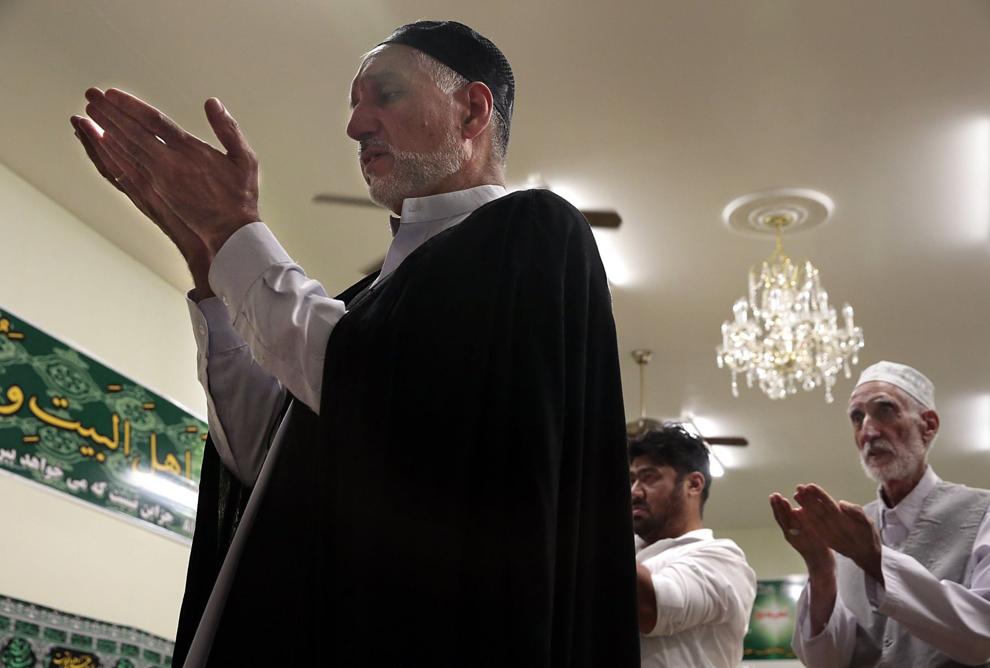 A place for prayer in Dutchtown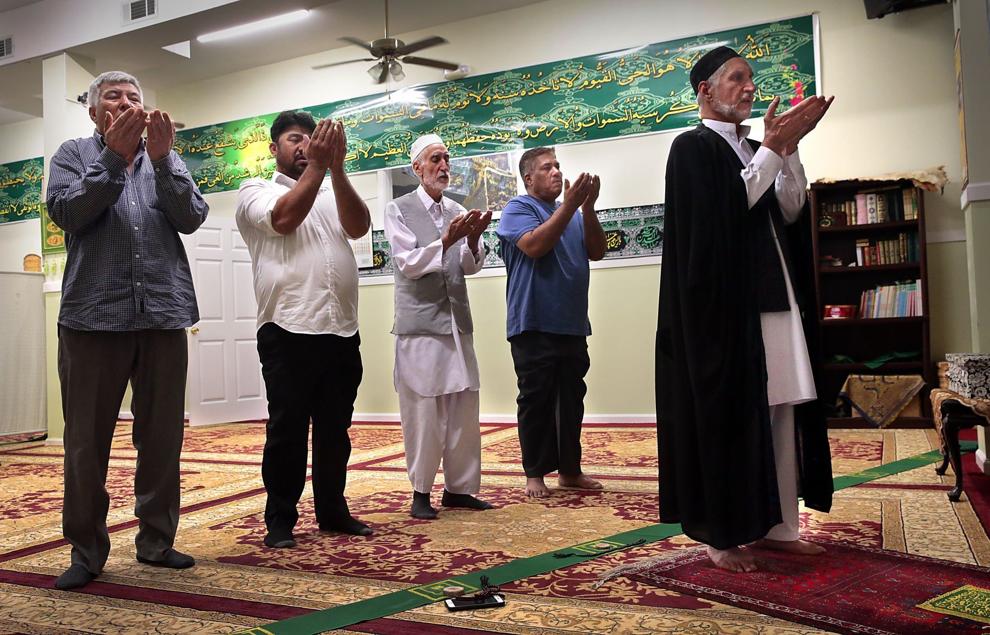 A place for prayer in Dutchtown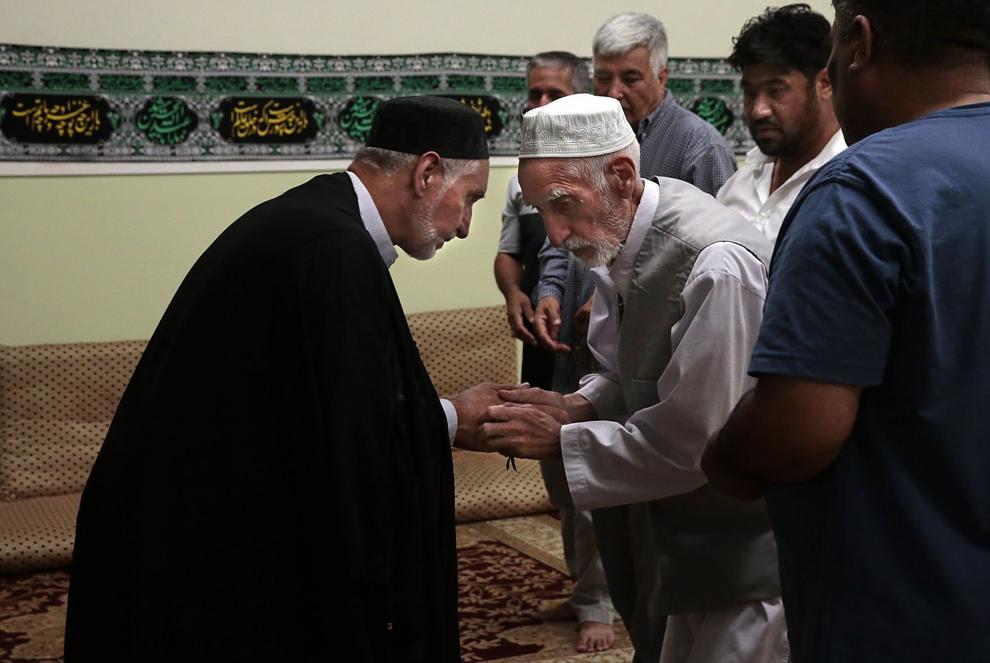 Watch now: International Institute prepares for influx of Afghan refugees
International Institute preps for wave of Afghan refugees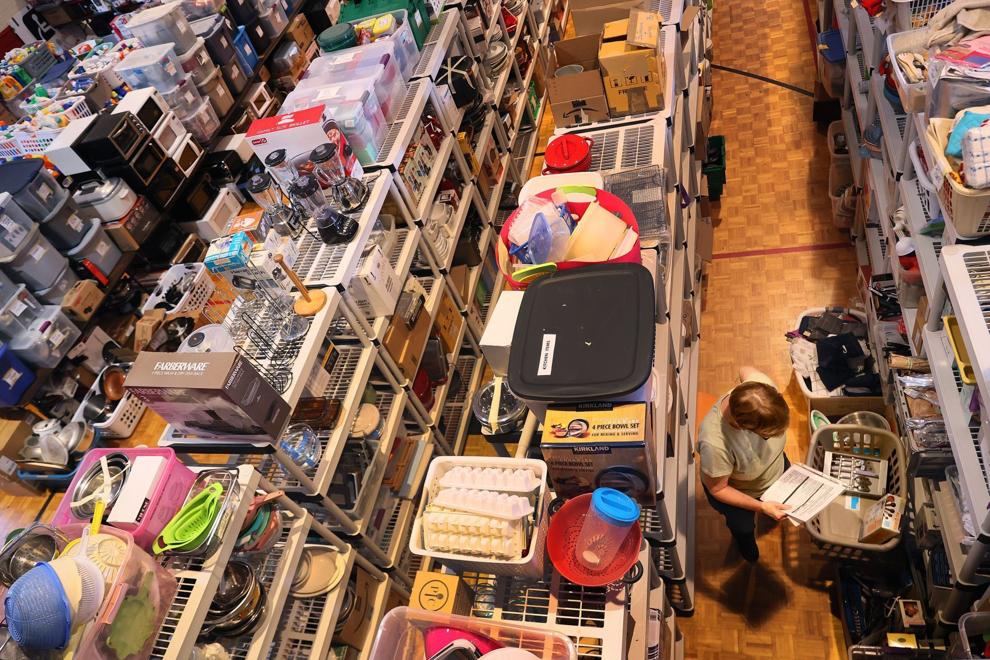 International Institute preps for wave of Afghan refugees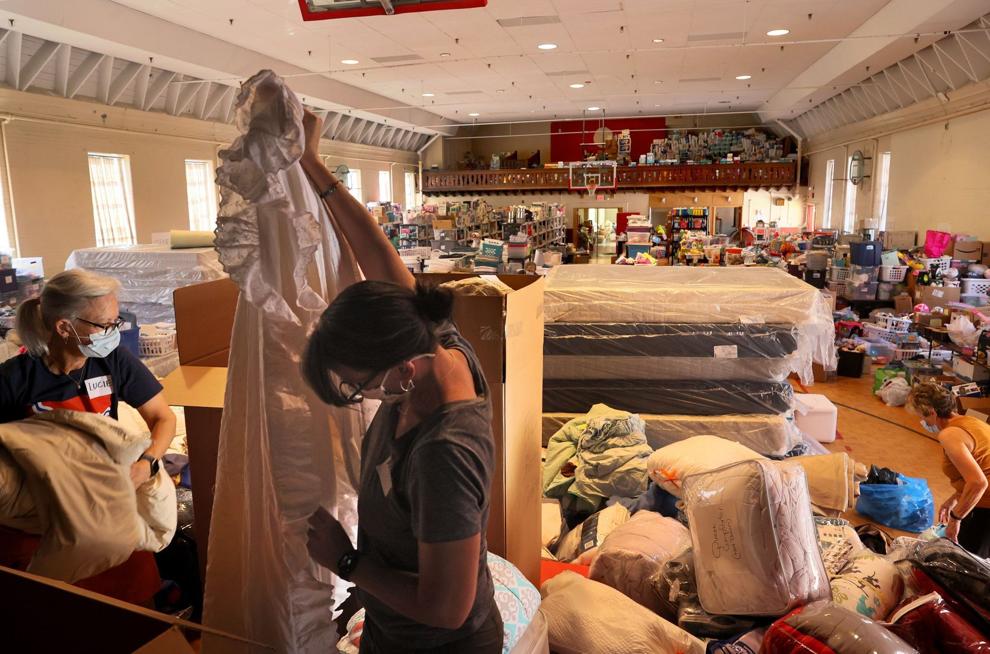 International Institute preps for wave of Afghan refugees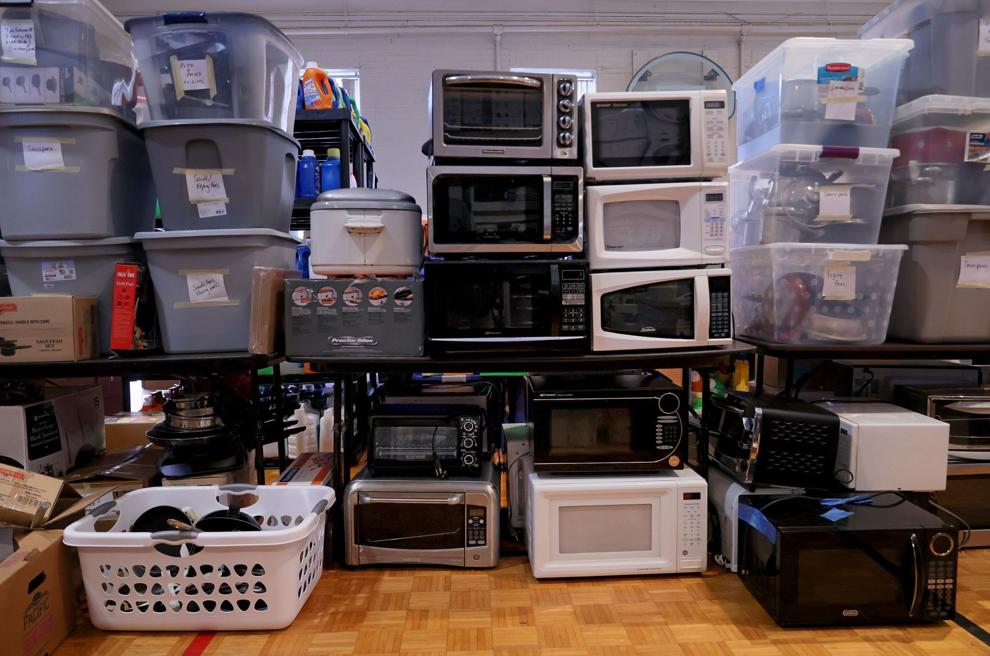 International Institute preps for wave of Afghan refugees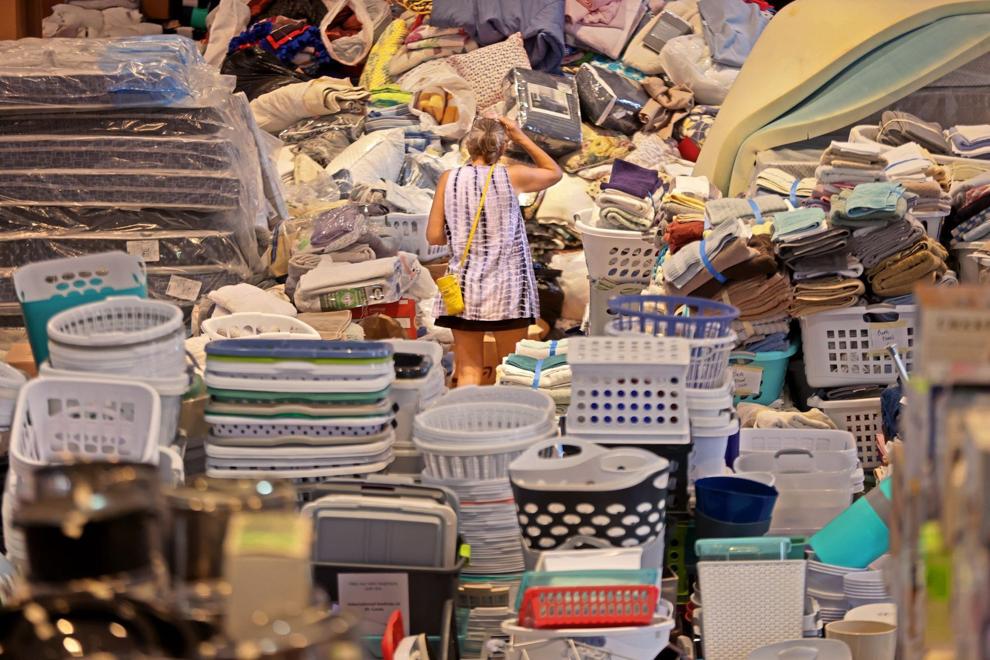 International Institute preps for wave of Afghan refugees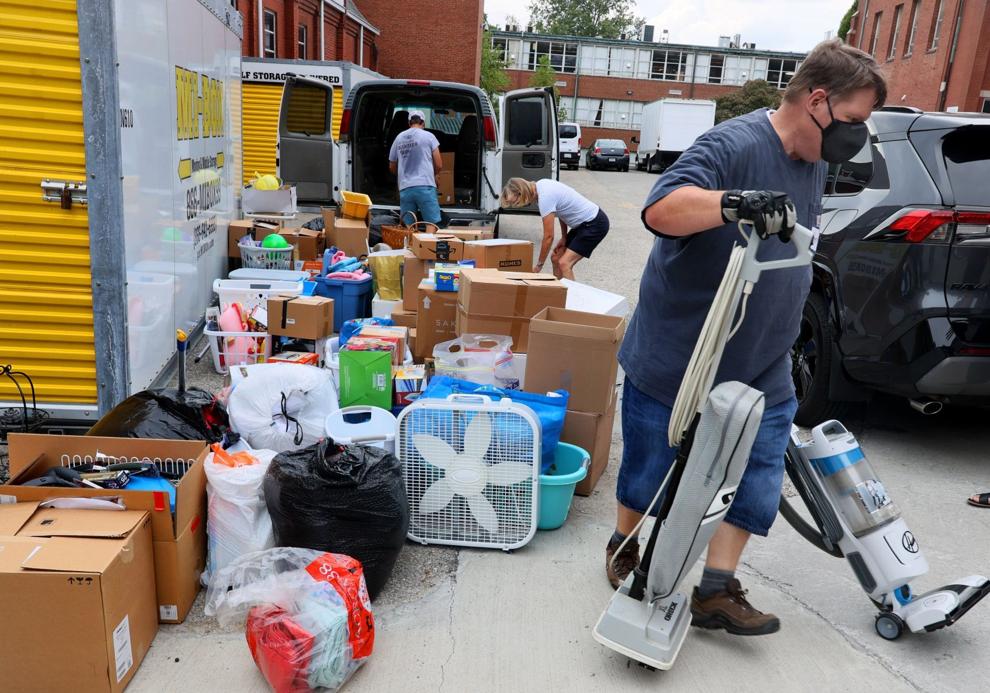 International Institute preps for wave of Afghan refugees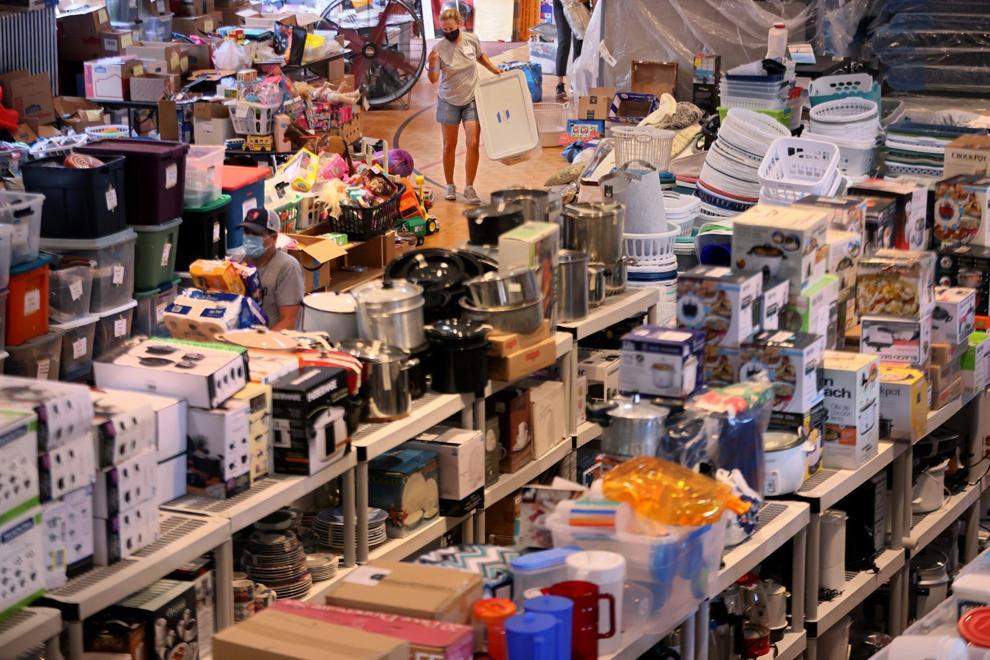 International Institute preps for wave of Afghan refugees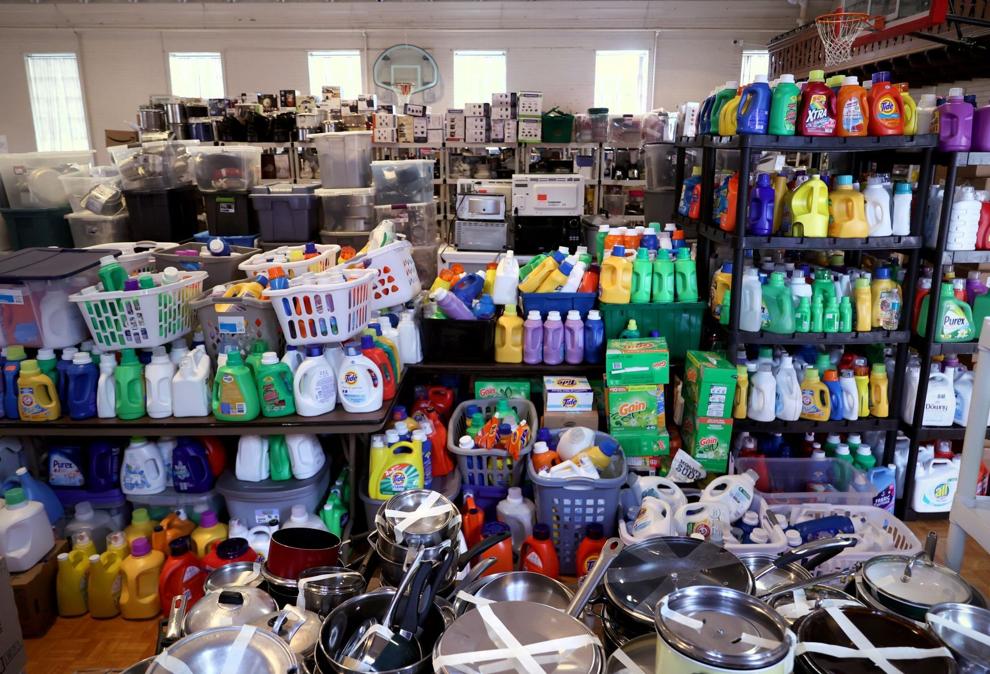 International Institute preps for wave of Afghan refugees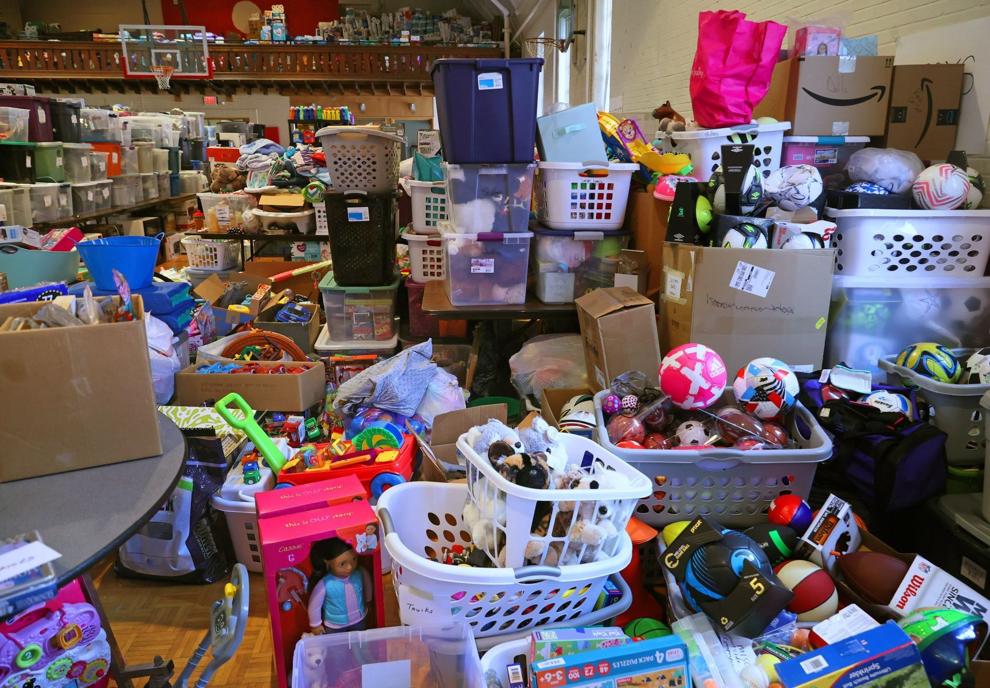 International Institute preps for wave of Afghan refugees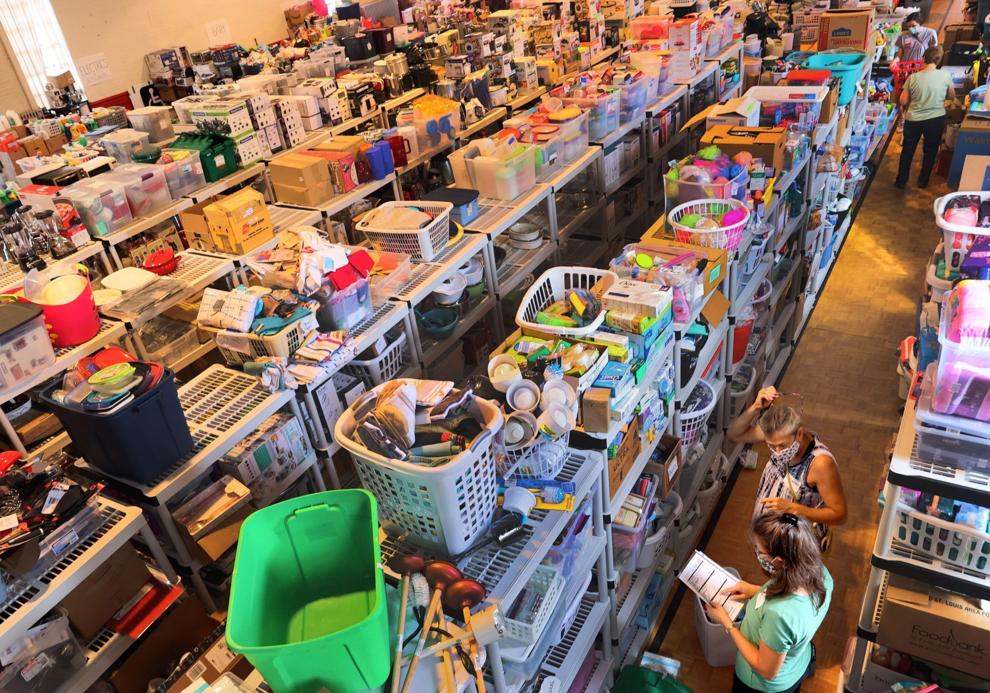 International Institute preps for wave of Afghan refugees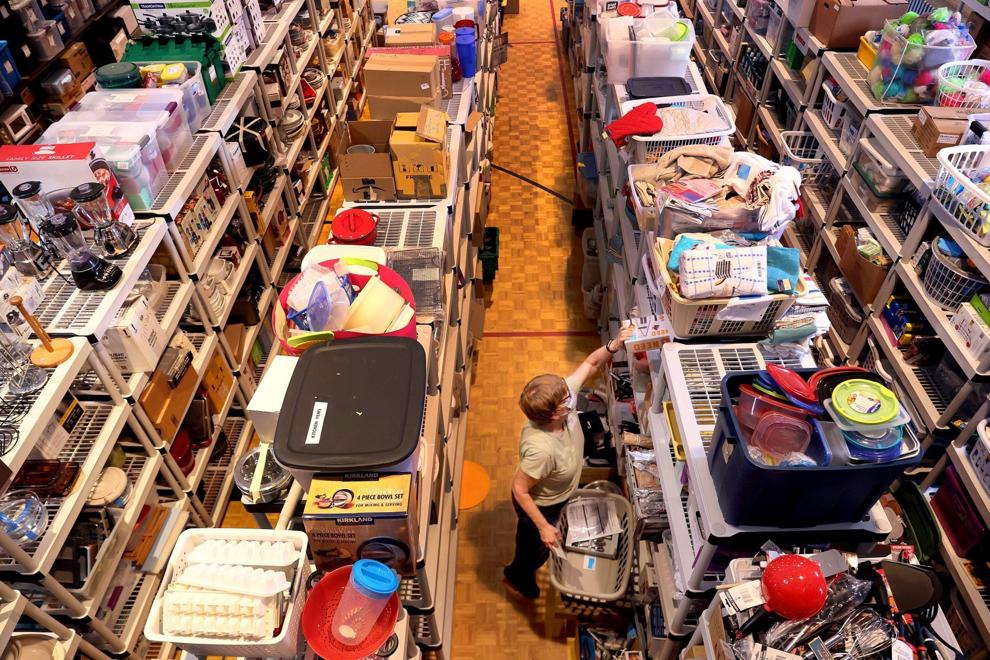 International Institute preps for wave of Afghan refugees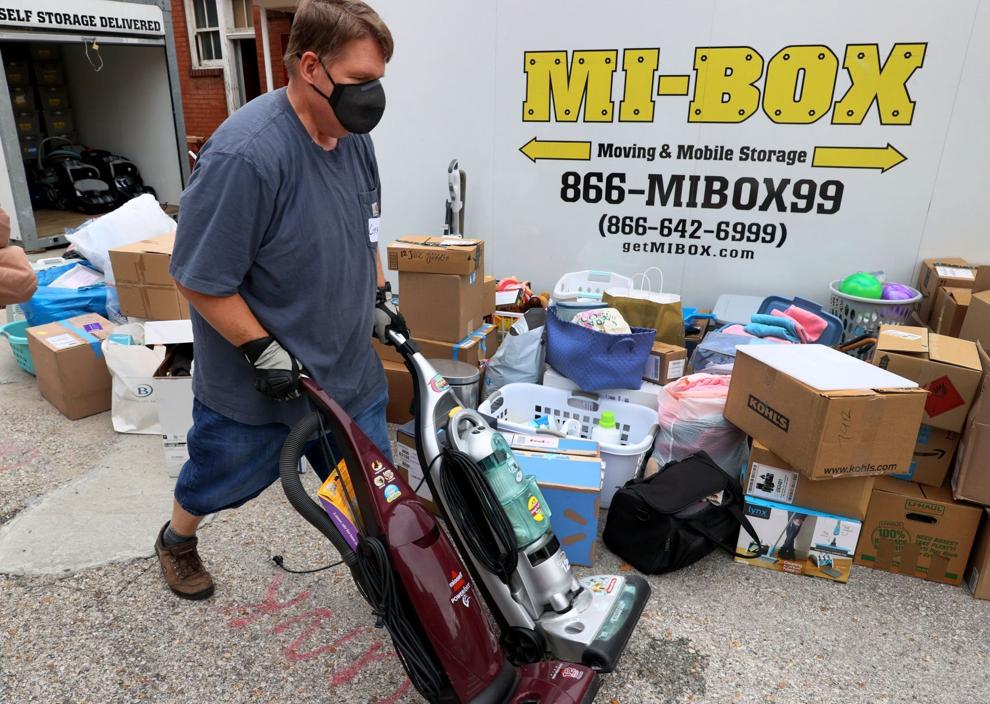 Fahima Band Ali at Webster University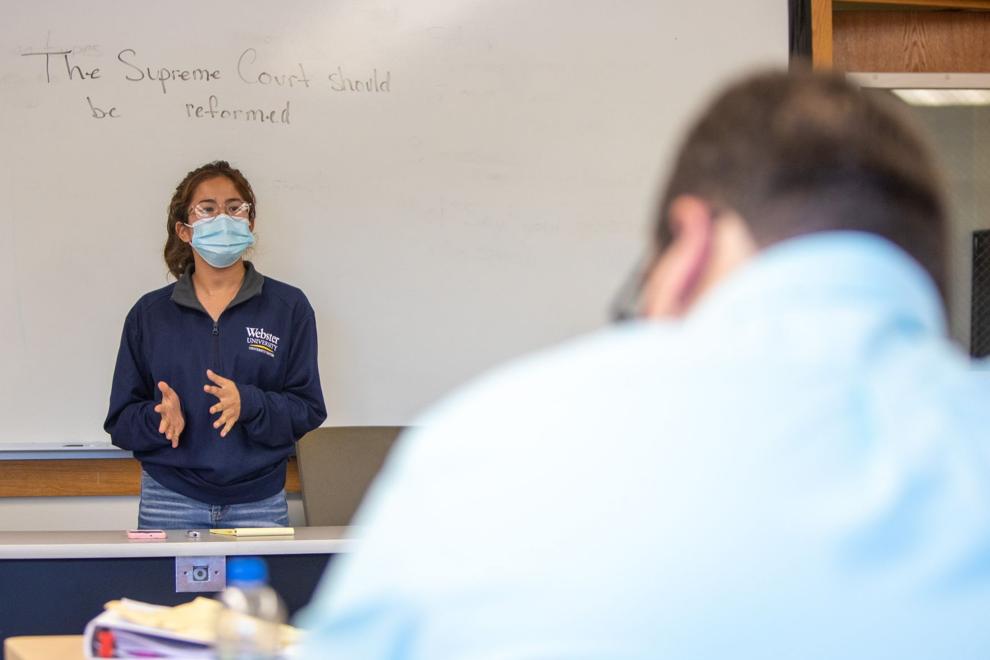 Fahima Band Ali at Webster University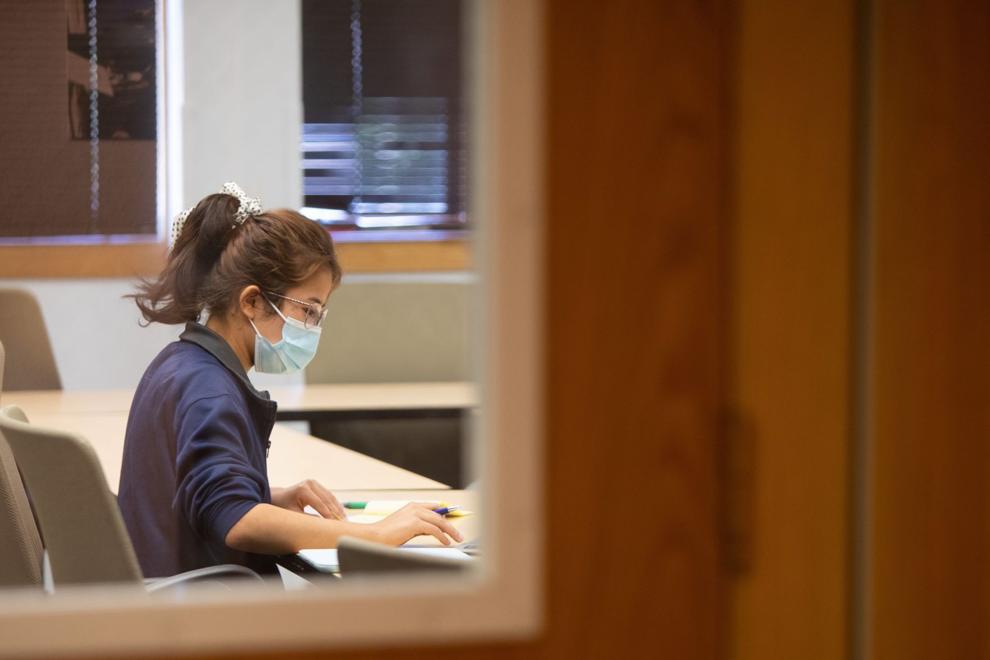 Fahima Band Ali at Webster University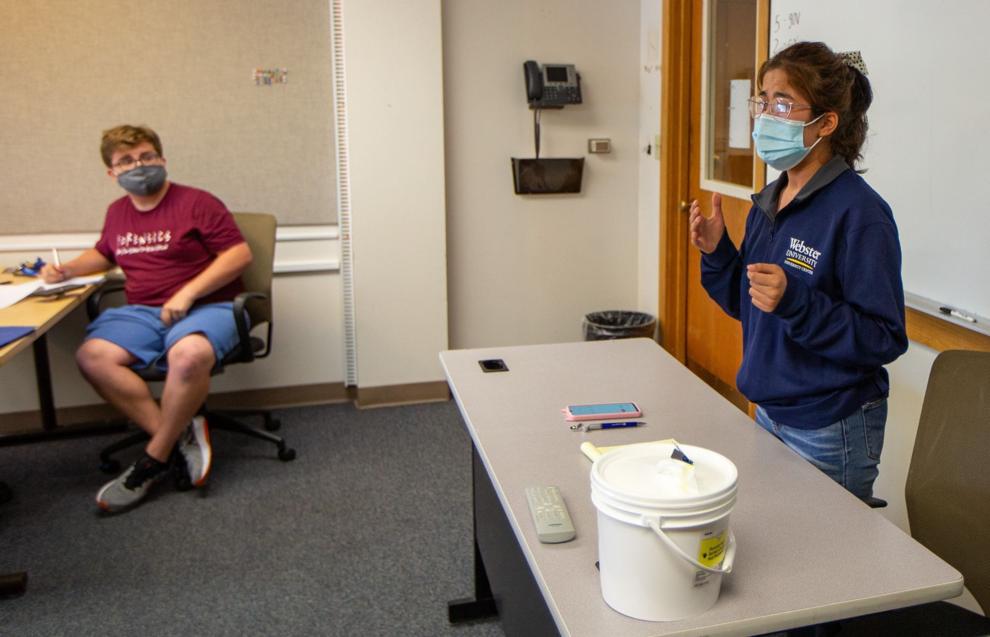 Fahima Band Ali at Webster University