More than 2,000 downtown streetlights will get colorful light strips with "smart technology" as part of an effort to brand downtown and improve public safety.
The $4 million project also will replace old halogen bulbs in so-called "cobra head streetlights" with the light-emitting diode bulbs. The project, led by the nonprofit group Downtown STL, is tentatively expected to be completed by the end of 2017.
The new technology also includes software that can detect the sound of a gunshot and notify officials, Downtown STL Chief Executive Missy Kelley said.
The first phase will begin this year when another $100,000 is raised to complete the $400,000 budget for lighting 140 fixtures on Market Street from the Mississippi River west to Jefferson Avenue. That cost also includes developing the software that will be used to control all of the new lighting.
Kelley said those lights should be installed and turned on by the end of December, when a more aggressive fundraising campaign will kick off. The project is being marketed with the social media hashtag #LightMySTL.
With the river and Jefferson Avenue as the eastern and western boundaries, the new lights eventually are expected to be in place from Chouteau Avenue on the south to Cass Avenue on the north. A combined 2,347 downtown light fixtures will be transformed through the project.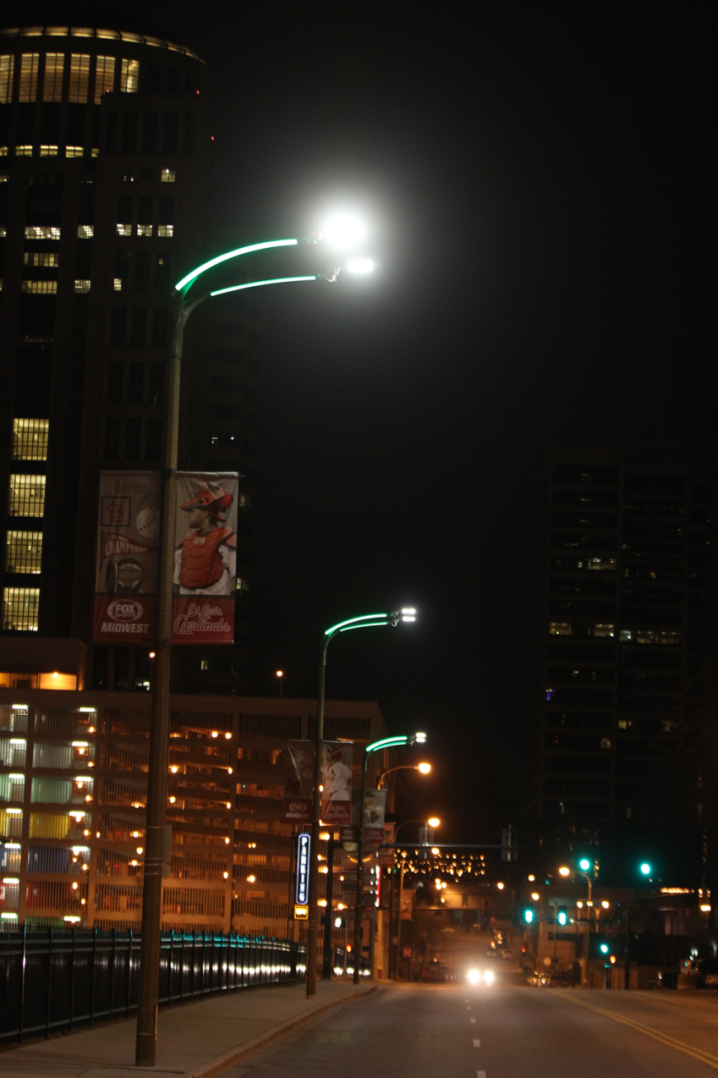 Kelley said raising $4 million and adding the features to thousands of streetlights by the end of 2017 is aggressive "only from a fundraising timeline." Installing the new features won't be as time consuming.
The lights will look similar to roughly 200 light fixtures around the campus of St. Louis University sporting blue light strips to reflect the school colors. But Kelley said the downtown fixtures will be able to change color depending on what's being promoted, such as red for a Cardinals game or blue for the St. Louis Blues, by just entering the information on a computer.
"We can change the light color whenever we want to do that," she said.
The lights and software are being designed by LED Craft, a Maryland Heights-based company.
Kelley said cities across the country have been replacing halogen streetlights with LEDs because they're brighter and can last up to a decade, eight or nine years longer than most sodium halogen bulbs. They chose cobra head streetlights because they can light both a street and the sidewalk with their two-pronged fixtures.