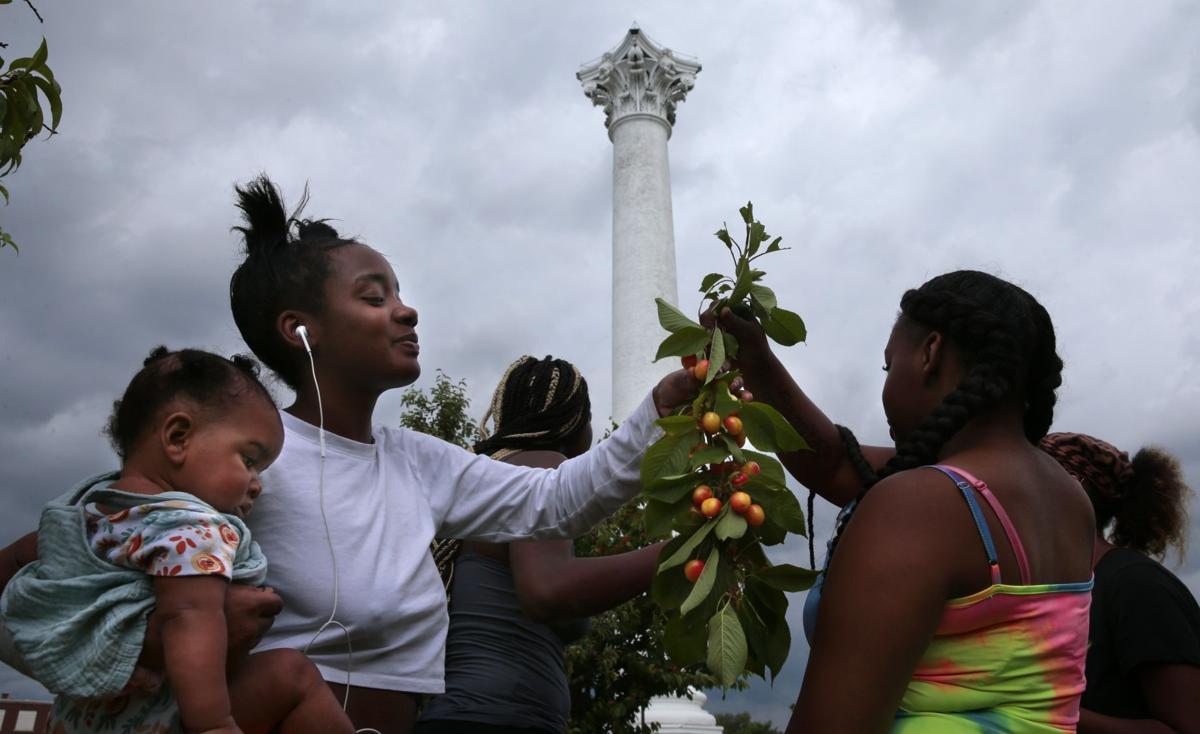 ST. LOUIS — Peace Park, at the base of the iconic Grand Avenue water tower, has for years been a green refuge for residents of College Hill, a north side neighborhood that has struggled with poverty, vacancy and crime for decades.
It isn't, however, an official city park. Pieced together in the 1980s by neighborhood activist Otis Woodard, it's a collection of lots owned by a nonprofit and the St. Louis Land Reutilization Authority that has filled a gap in one of the only city neighborhoods without a public park.
Soon, the unofficial park will have a new owner, a community land trust that backers say will have the resources and staff to both maintain and develop Peace Park into a neighborhood destination with more than a few picnic benches and trees.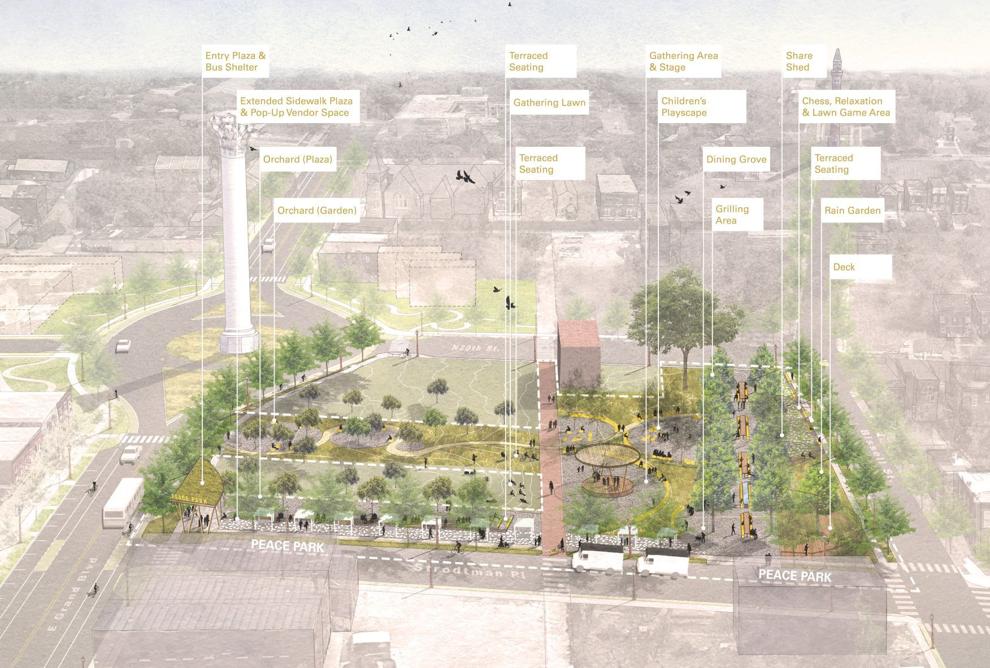 St. Louis is on the cusp of creating a new community land trust, seeded with a $1 million funding pledge from the Missouri Department of Conservation over four years and a $1 million match from private foundations and public sources. It is beginning a search to hire an executive director and will later add more positions, including a land maintenance director and a neighborhood outreach coordinator.
The effort has quietly been underway for several years as the Green City Coalition. Born out of vacant building demolitions to add public green space absorbing rain runoff for a Metropolitan St. Louis Sewer District program, the city and state Department of Conservation collaboration evolved to begin managing and improving other spaces. Often, that's vacant lots owned by the LRA, the city's land bank and owner of last resort for abandoned properties. But the group also has funding to acquire private land and has built neighborhood coalitions to help manage and plan for the spaces.
The city, MSD and the Missouri Department of Conservation expect to demolish 200 properties by the end of the year.
Already, the Green City Coalition is managing about 150 vacant properties, comprising about 20 acres, in four north side neighborhoods: College Hill, Baden, Wells-Goodfellow and Walnut Park. In addition to Peace Park, it has six other projects. In Walnut Park, it's added a row of cleaned-up LRA properties to expand the boundaries of Carter Park. In Wells-Goodfellow, coalition partners have spent some $750,000 digging out foundations and demolished buildings to clean the soil of new green space created by vacant building teardowns. It also helped plant a small orchard near St. Louis and Belt avenues.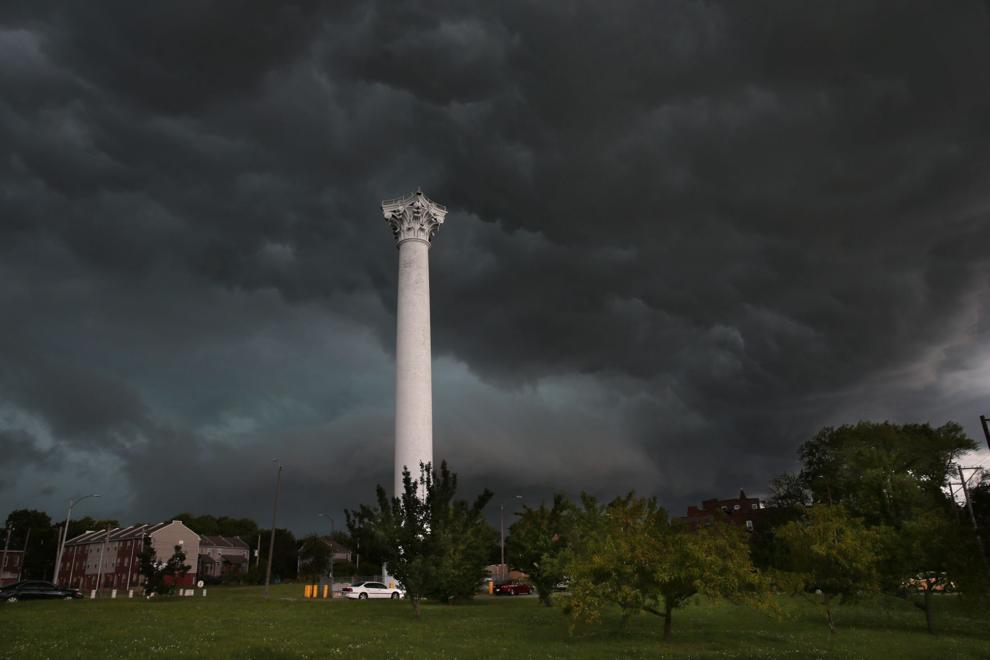 On Thursday, the board of the St. Louis Development Corp., which has housed the staff members of the Green City Coalition while plans and funding for the new land trust were built, signed off on an agreement accepting the state funding.
"This is a really bold, bold plan," said SLDC board member Sean Spencer.
Soon, the 150 or so LRA properties that Green City Coalition has worked on will be deeded over to the new land trust, and, eventually, the coalition itself will be absorbed into the trust.
"This agreement finally gives us a vehicle to move forward," Laura Ginn, the SLDC vacancy strategist who led the Green City Coalition and is spearheading the community land trust effort, said in an interview from Peace Park Thursday.
Ginn said as many as 300 or so LRA properties could be transferred to the land trust in future years, reducing the maintenance burden on the overstretched LRA responsible for thousands of abandoned properties. It will also try to acquire private property when it can. One privately owned house remains in Peace Park, for instance, and Ginn and her staff are working to track down the owner to buy it.
Reducing its inventory is going to take changes in state law, additional staff. 
The new SLDC agreement includes a partnership with Build Missouri Health, an affiliate of the Missouri Foundation for Health, which will oversee financial administration of the land trust while it gets up and running. Missouri Foundation for Health Chief Financial Officer Jill Nowak said the organization offered its expertise administering and disbursing grant funding to the fledgling land trust, which aligns with its health mission.
"We know part of the social determinants of health is housing and the neighborhoods you live in and the ability to access beautiful outdoor spaces," Nowak said.
Many community land trusts are used to control land appreciation so neighborhoods remain affordable for longtime residents as they're redeveloped. That function isn't the immediate goal here.
"We're trying to use a community land trust to address disinvestment and vacancy," said Zach Kassman, who works on vacancy at SLDC. "That's not the most common model for a community land trust."
As the new community land trust staffs up, it will move away from solely green space management and take its cues from residents of the neighborhoods where it is active. Two-thirds of its board members will be from the neighborhoods where the land trust works, with the rest funders and subject matter experts.
A program approved by voters in 2017 is finally humming to life and could put $40 million into vacant buildings owned by the St. Louis land bank. 
"We started with a very green-space-heavy focus and acknowledge that we need to really do more and do better, and have grown to add other partners and really think of these places as nodes of strength, nodes of place-based development," Ginn said.
Small-scale housing development could eventually be on the horizon. In College Hill, neighbors want help to facilitate some nearby commercial development after construction of new Peace Park amenities, such as a pavilion, begins later this year.
"The community land trust does not have an agenda," said Jennifer Drake, a consultant with Drake Strategy Partners hired to work with the group on the effort about two years ago. "The community land trust is a vehicle."