ST. LOUIS • After months of deliberation, the formation of a citizen advisory committee and a series of forums to gather public feedback, St. Louis leaders opted to hire a new police chief from within their own ranks: John Hayden, a 30-year veteran of the St. Louis Police Department.
Hayden, 55 and a St. Louis native, has been commander of the North Patrol Division since September 2015, meaning he's often been the face of the department at crime scenes in the city's highest-crime area.
He replaces interim chief Lt. Col. Lawrence O'Toole, 59, effective immediately. O'Toole was appointed in April after then-Police Chief Sam Dotson abruptly retired on Mayor Lyda Krewson's first day in office.
Hayden's salary will be $153,000 annually.
O'Toole will stay on and again serve as the assistant chief of police, said Koran Addo, a spokesman for Krewson. His salary will increase from $108,000 to $115,000, a decision made by Public Safety Director Jimmie Edwards to make sure O'Toole stayed on to complete certain projects and initiatives, Addo said.
Announcing Hayden's promotion on Thursday, Krewson acknowledged the criticism of a months-long, national search to permanently replace Dotson. The search marked the first time in modern history that St. Louis considered external candidates for top cop. The department had been under state control before 2013, and Missouri law forbade hiring a chief from outside of the department.
"Many of you thought we were taking too long to find a new chief," Krewson said. "Our thought has always been, we'll take as long as it takes to get it right. And today, we got it right."
Edwards, the director of public safety, made the final decision, with input from the mayor.
O'Toole's inclusion on the list of finalists rankled St. Louis activists. Many of them called for O'Toole to be fired after his remark that city police "owned the night" during the early days of demonstrations over the September acquittal of Jason Stockley, a former St. Louis officer who was tried for murder in the on-duty shooting death of a drug suspect in 2012.
The fact that O'Toole didn't get the top job is a relief, said state Rep. Bruce Franks Jr., a city Democrat who has been a fixture at protests.
"I think if the city wanted to go in the direction of having a chief internally, I think they made the best possible choice they could have made. Now, it's just time to see what Chief Hayden does," said Franks, who added that he'd heard from many in the community who felt it was important to hire a police chief who knew and understood St. Louis.
St. Louis Circuit Attorney Kim Gardner said Hayden's selection was the result of an exhaustive process, with his qualifications setting him apart from candidates from throughout the country.
"I am pleased with the selection and look forward to working with Chief Hayden in a joint effort to reduce crime in our city," she said in a statement.
Hayden joined the department in the Fourth District and served in the Vice and Narcotics Division, Detective Unit, the Internal Affairs Division and the Police Academy. He also served as an aide to former Chief Joe Mokwa.
Hayden has a bachelor's degree in mathematics from Washington University, where he played college football, and a master's degree in management from Fontbonne University.
At a public forum with his fellow finalists this month, Hayden said he's been married to his wife for 28 years, and has three daughters.
Rebuilding trust, fighting crime



In his new position, Hayden will oversee a department of 1,300 sworn officers and 400 civilian employees, and a yearly budget of $170 million.
He'll also grapple with a homicide total for the year that reached 204 late the night before he was named. That's higher than any year in the last two decades and matches the total for 1995, the last time the number of murders topped 200. The city's population was nearly 20 percent higher then than it is now.
And he'll be tasked with leading a department currently under investigation and facing lawsuits over tactics used by law enforcement to contain protests in recent months. On Thursday, Hayden vowed to get neighborhood input along with input from protesters to develop a response plan to demonstrations.
"There were some things we thought worked well during the protests, and there were some things that obviously didn't work as well as we would have liked," he said. He didn't go into specifics.
His first steps, however, will be sitting down with command staff to address violent crime, which will include a discussion of crime prevention and putting more resources into areas with the most challenging crimes, he said.
Hayden said he wants to focus on community policing to rebuild public trust in the department, particularly among black residents. He says when residents know and trust officers, they are more willing to step forward when needed to help solve crimes.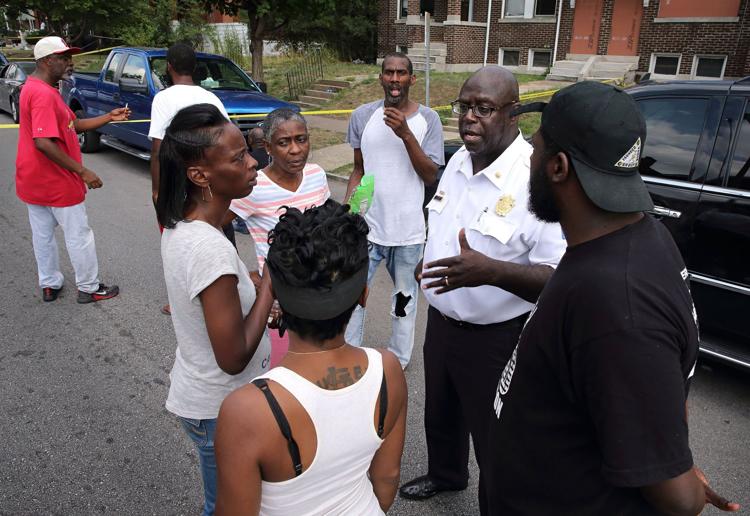 "We talk about community-oriented policing," Hayden said. "I believe in leading by example. I'll be in a lot of those neighborhoods that often … in fact, I'll start in the neighborhoods that don't have the level of trust that they deserve."
Hayden said at a public forum this month that he supported an outside agency investigating officer-involved shootings and highlighted his time running the department's Internal Affairs Division.
"I've held a lot of officers accountable for misconduct and unfortunately in some instances they even had to go to prison," he said. "So I'm no stranger to holding people accountable. I hold myself accountable as well."
The board of the Ethical Society of Police, which represents city police officers of color, released a statement supporting the appointment of Hayden, who was the union's top choice among the six finalists. The Ethical Society has been critical of the department's leaders.
From their new chief, members of the Ethical Society hope to see a fair application of the rules and regulations for officers, said the organization's general counsel, Anthony Gray.
"The organization is confident at this point that they will receive that, and that's all anyone wants as an officer, and an employee of the department, is fair and equitable treatment," Gray said. "We're looking forward to a new day in policing."
Hayden's selection was also praised by Ed Clark, president of the St. Louis Police Officers Association, which represents more than 1,100 city police officers.
"The rank-and-file holds Chief Hayden in high regard and he has consistently shown a great deal of respect for our members and the union," Clark said. "This is a man we know we can work with. We also know that his selection will go a long way in restoring the community's trust in the police department."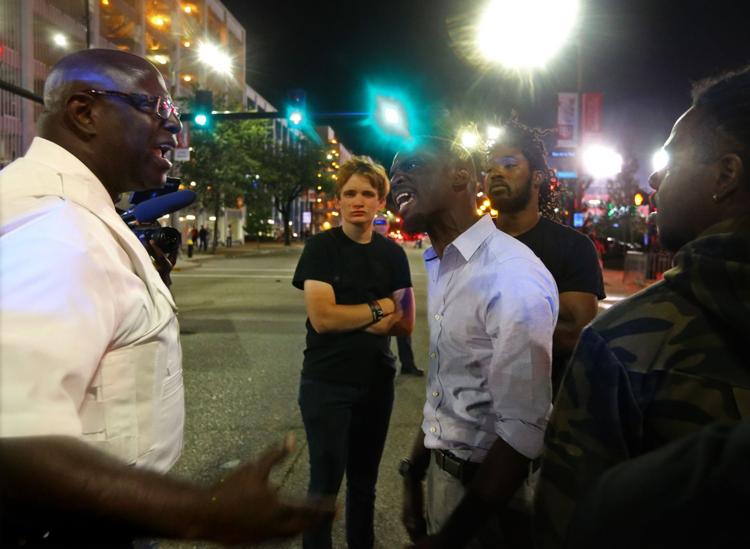 Franks, meanwhile, was encouraged by Hayden's pledge to reach out to the people who have been protesting for months.
"Being able to do that, and come to the table with the folks who are out there, that's where it starts," he said.
Others had some lingering questions.
"His response on community policing I thought was somewhat tepid," said John Chasnoff, co-chair of the Coalition Against Police Crimes and Repression. "It's great to build trust in the community, and that's an important part of law enforcement, but what I heard from him was you want to do that so you can get further information so that you can arrest more people.
"I think that true community policing moves away from this arrest and incarcerate model that we've been stuck in so long, that's only led to mass incarceration and the disruption of our communities," Chasnoff added.
Despite the potential "baggage" that comes with an internal candidate, Chasnoff said Hayden had a reputation for being a fair and decent officer.
"He's going to be held accountable just like everybody else," Franks said. "But this is kind of like a fresh start. So we'll see."
Joel Currier of the Post-Dispatch contributed to this report.
Be the first to know
Get local news delivered to your inbox!