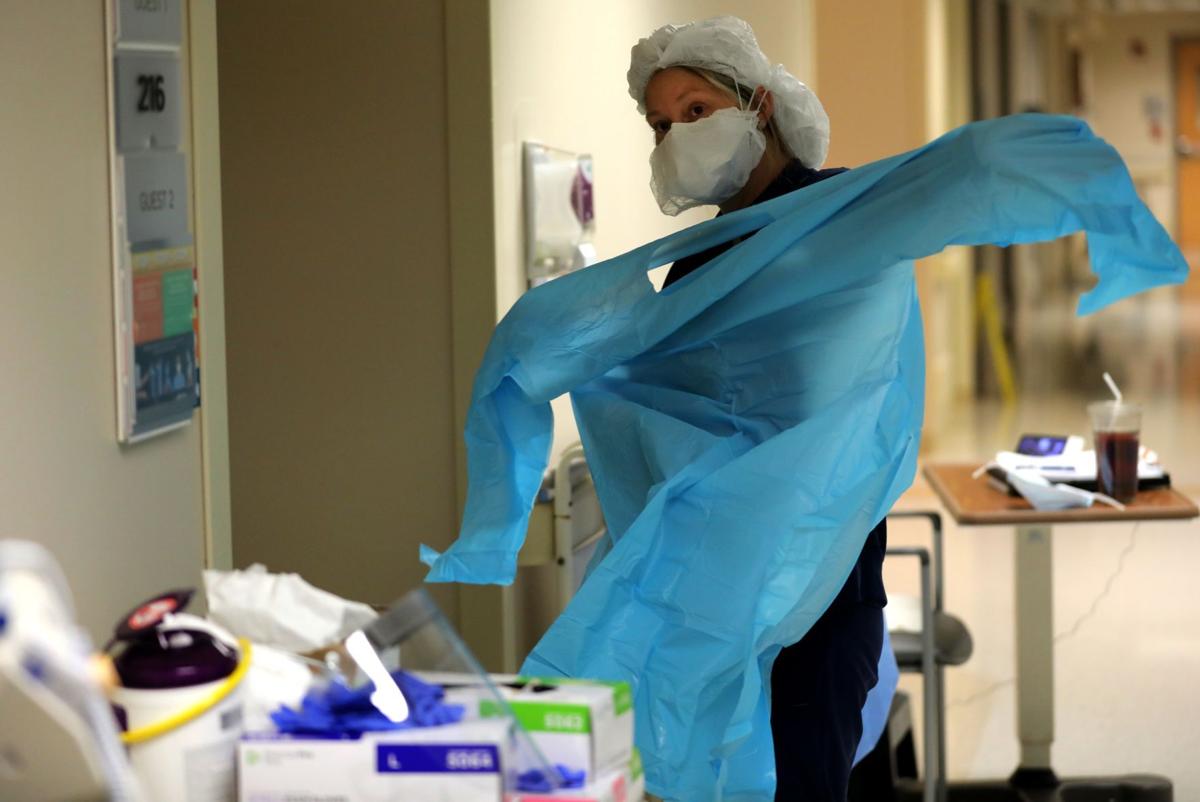 ST. LOUIS — The St. Louis Metropolitan Pandemic Task Force on Wednesday reported a record number of COVID-19 admissions to area hospitals, as cases continued to rise statewide.
Local COVID-19 admissions were relatively steady in late summer and early fall. But over the past four weeks, they have climbed dramatically.
The task force reported 72 new COVID-19 patients admitted to BJC HealthCare, Mercy, SSM Health and St. Luke's facilities in the metro area, the highest number since tracking began in early April. The previous record was set on April 8, with 69 new admissions.
"In September, we were concerned when our admissions totals climbed over 40. Seeing totals like this is heartbreaking," task force leader Dr. Alex Garza said in a statement Wednesday.
The task force said in a news release that hospitals in the region are operating at near capacity, and some are over capacity.
"We have a lot of sick people in our care, and they don't just have COVID-19," Garza said. "But we can prevent the number of patients sick with the virus if we all just wear a mask, social distance, stay away from large gatherings and wash our hands."
Health care systems here are, on average, at 85% capacity, and intensive care units are at 75% capacity, and growing, according to the task force.
At a briefing Wednesday, St. Louis Mayor Lyda Krewson called the hospitalization numbers "very worrisome."
"Nobody wants to put additional restrictions on if it can be helped," Krewson said. "We're asking people to modify their own personal behavior."
Krewson said contact tracing is showing many new cases coming from gatherings of family members, neighbors and close friends.
"What restriction could we put in place that would prevent people from getting together with their neighbors, their small group of friends, or their family?" Krewson said.
The city's COVID-19 trajectory, after declining in late summer, has nearly doubled over the course of October. On Wednesday the city had a seven-day average of 60 new cases, up from 33 on Oct. 1.
It was unclear whether the rising hospitalization numbers would prompt St. Louis County Executive Sam Page to impose tighter restrictions under the state of emergency he put in place more than seven months ago. In a tweet sent Wednesday evening, Page called the COVID-19 numbers "alarming," adding they reinforced the need for public health orders "including wearing masks, social distancing and limiting gatherings."
The most recent COVID-19 numbers are alarming and reinforce the need for public health orders including wearing masks, social distancing and limiting gatherings. Any talk of relaxing restrictions cannot be seriously considered. This pandemic is raging. Please do your part.

— County Executive Sam Page (@DrSamPage) October 28, 2020
Statewide, Missouri reported a total of 1,446 people hospitalized due to the virus. The seven-day average was 1,480, up from 1,156 on Oct. 1.
"Unfortunately we're trending in the wrong direction," said Missouri Hospital Association spokesman Dave Dillon. Residents must take precautions, he said, to decrease the spread of COVID-19 and preserve ICU and general bed capacity.
But, he added, while the new coronavirus numbers are rising, residents should not delay seeking necessary care for other ailments. Hospitals now have more resources — like personal protective equipment and better treatments for COVID-19 — than when elective procedures were paused in the spring, and will be able to provide for patients, Dillon said.
Missouri reported 1,915 new cases on Wednesday, reaching a total of 174,632. The state also reported 32 new deaths, reaching a total of 2,870.
Illinois reported 6,110 new COVID-19 cases on Wednesday, the second-highest number ever reported. The highest was on Saturday, when the state reported 6,161 cases.
Illinois Gov. J.B. Pritzker announced Wednesday morning that a ban on indoor dining and other restrictions will take effect on Saturday in Region 9, in the northeast corner of the state.
On Wednesday, tighter restrictions went into effect in seven counties in the Metro East, and by Saturday, eight of the state's 11 regions will be under heightened restrictions.
Restrictions are prompted when a region has a positivity rate of 8% or higher for three consecutive days, or when there is concern for hospital capacity. As of Wednesday, all but one of the state's regions had average positivity rates of 8% or above. The exception — a large swath of 20 counties that make up Region 2 — stood at 7.7%.
The state reported 2,861 patients hospitalized with COVID-19, the highest number since June 4.
Jeremy Kohler of the Post-Dispatch contributed to this report.
These maps and charts show the spread of COVID-19 in Missouri and Illinois.
Daily updates on the latest news in the St. Louis business community.