ST. CHARLES COUNTY • A dispute between backyard neighbors that began 2½ years ago and grew into a national story not even Dr. Phil could get his head around landed in a courtroom last week, where it ended — at least temporarily — with little fanfare.
Three cases were before the judge, all against Maritha Hunter-Butler and her now-wife, Melanie Anthony. The couple moved into The Manors at Glen Brook subdivision in May 2015 with Hunter-Butler's three sons and four dogs.
Two months after moving to the cul-de-sac of Brook Manor Court in an unincorporated part of west St. Charles County, Hunter-Butler was charged with punching one of her new neighbors in the face. Three months later, Anthony was charged with sexual misconduct. Prosecutors claim Anthony "exposed her genitals to her neighbors under circumstances in which she knew such conduct was likely to cause affront or alarm."
Last week, during a bench trial presided over by Associate Circuit Judge Elizabeth Swann, the case against Anthony was dismissed and Hunter-Butler was found not guilty of assault.
Hunter-Butler, however, was found guilty of filing a false police report. She alleged that Jim Scudder, the same neighbor who complained of Anthony exposing herself, was peering into the women's windows and watching one of the sons. Hunter-Butler was fined $250.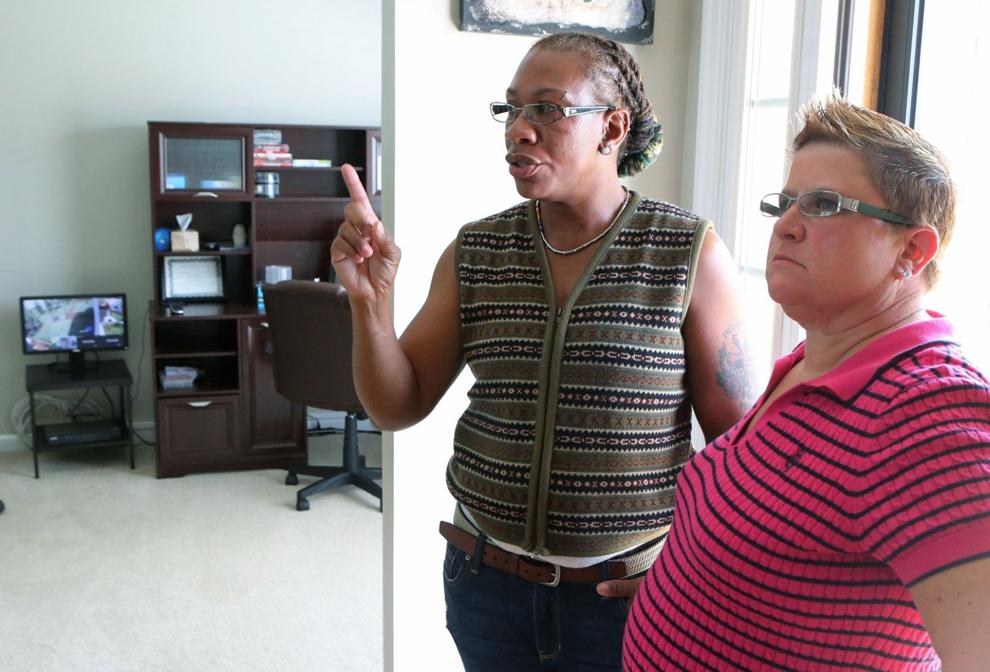 It was Jim Scudder's wife, Rebecca, who claimed that Hunter-Butler struck her in the face in the assault case. A St. Charles County police officer who took the assault report said at the time: "I immediately observed that she had a bloody nose, a severely swollen lip, and a bruise to the bridge of her nose."
Rebecca Scudder, 56, also told the officer, Jacob Mendez, that she had consumed a vodka cocktail prior to her encounter with Hunter-Butler, which, according to the police report, happened at the backyard property line about 7:30 p.m. Mendez arrived roughly 90 minutes after the alleged altercation, responding to a call made from the Scudder home.
"During my contact with Rebecca, I did observe that she was uneasy on her feet and she appeared to be using objects such as chairs to stabilize herself," Mendez said. "I also observed that Rebecca's eyes were glassy and bloodshot; however I was unable to determine if it was due to consumption of alcohol or from crying."
Rebecca Scudder also told Mendez she was fearful of Hunter-Butler because she is a convicted felon. In 2005, Hunter-Butler was charged in a murder-for-hire scheme, asking a cousin to kill her ex-husband. Instead, the cousin went to police. Hunter-Butler was sentenced to six years, serving about half that time.
Jim Scudder, 47, told the Post-Dispatch that his wife had not lied about being assaulted. Rather, prosecutors were unable to prove their case, he said.
"Am I happy with it? No, I'm not happy," Scudder said. Especially since Hunter-Butler was found guilty of filing a false police report, he said.
"If they convict her of lying, why would they believe anything in her police statements?" Scudder said, regarding his wife's assault case. In that case, Hunter-Butler told police she had not been home at the time Rebecca Scudder said the alleged incident took place.
"However, when I asked her where she was she could not provide a response," Mendez said in his report.
As for Anthony's sexual misconduct case, Scudder said: "The statute says that you have to see genitalia. I wouldn't say that I saw genitalia. I only said that I saw the buttocks. So ultimately the charge was dropped. Again, we aren't liars."
'Dr. Phil' show
The case of the battling neighbors has led to a litany of name-calling. Hunter-Butler, 42, said she and Anthony, 43, had been taunted by their neighbors because they were a lesbian couple in an interracial relationship. During the heart of the brush-up more than two years ago, one of Hunter-Butler's sons invited Umar Lee, a Ferguson protester, to the neighborhood where he went door-to-door shooting video of residents while questioning them about racism in the subdivision.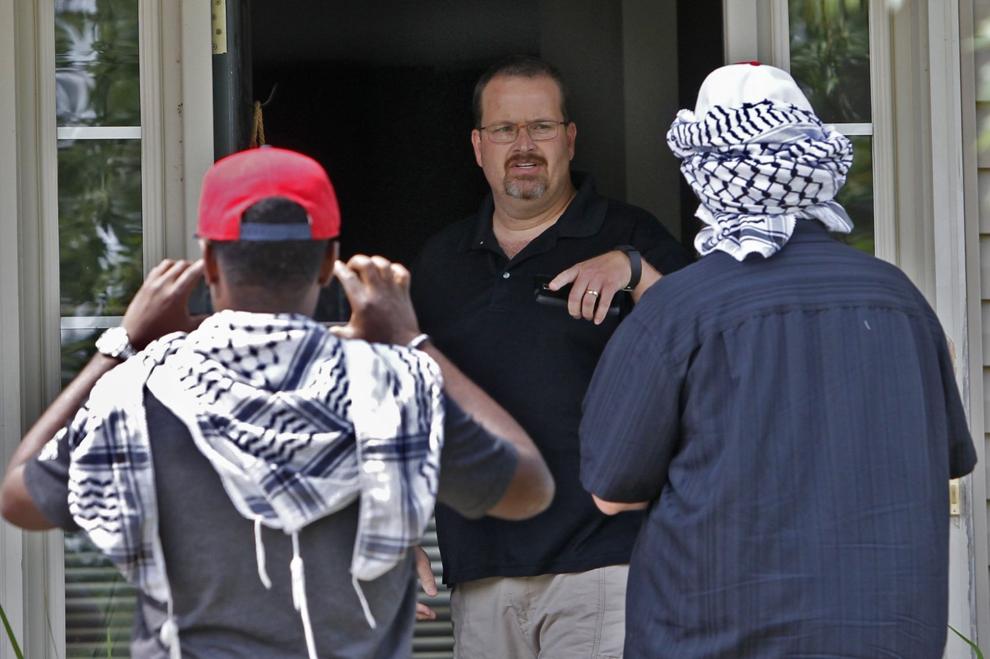 Jim Scudder vehemently denies that race or sexual orientation had anything to do with why he disliked his neighbors.
"They have painted us to be racist and intolerant. That's ridiculous. That is not who we are," Scudder said. While testifying in court, Scudder said, he was straight up on his thoughts on Hunter-Butler.
"You are a bad neighbor and a bad person. I sat on the stand and said it. This is an awful, awful person."
Hunter-Butler referred to an anonymous police report made four days after her family moved from St. Louis into their new home in St. Charles County to show that her race was indeed a factor in neighbor behavior toward her and her family.
The caller reported several black male subjects "walking down the street with dogs and a couple of them are snapping pics of homes. Caller (advises) that this is an all-white neighborhood and they do not belong." After a police check, a notation was put into the report: "If caller calls back, (advise) them that a black family lives in the neighborhood."
While the legal squabble made its way through the court system for more than two years, the neighborhood fight continued, including an appearance in February 2016 on the "Dr. Phil" show. On the program, Hunter-Butler and Anthony argue with another set of neighbors, who lived next to the Scudders but have since moved from the subdivision. The neighbors told Dr. Phil they would try to work out their differences.
More recently, on July 9, shortly after 1 a.m., a police officer was dispatched to the Scudder house. Jim Scudder showed the officer broken windows on the rear of his home as well as several BBs on the deck. Scudder told the officer that police had already been to his house that day for an incident between him and his neighbors. Scudder alleged that someone from Hunter-Butler's property threw fireworks into his yard and were blasting loud music. A police supervisor, called to the scene at the urging of Hunter-Butler, found two homemade explosive devices near the fence line.
Hunter-Butler denied any knowledge of the property damage to the Scudder home. She, her wife and a friend who was visiting that evening were told by Officer Scott Ginnever to ignore Scudder.
In turn, "Scudder was advised to ignore his problem neighbor," Ginnever wrote in his report.
Another summons
On the evening of Nov. 27, the same day as the bench trial, two police officers came to Hunter-Butler's home and tucked a citation into the storm door. Jim Scudder had called police to say his neighbors were shining their laser Christmas lights onto his deck, a disturbing-the-peace violation.
"He was pissed about what happened (in court)," Hunter-Butler said. "It's like he's starting up again." Since the charges were filed, Hunter-Butler and Anthony have married and use Hunter as their surname.
Like so many neighborhood spats around the country, this one has spilled onto Nextdoor, the social media site neighborhood groups use to share concerns.
In a posting on Tuesday, the day after court, Scudder implored his backyard neighbors to turn off their holiday lights and said pointing the lasers at his house was a violation of the subdivision indentures. He invited any neighbor in the subdivision to stop by his house and see the nuisance firsthand.
Any neighbor "with the exception of any resident of 718 Brook Manor Court."
Neighbors fighting in St. Charles County
Maritha Hunter-Butler, who is black, said she had an "inkling" that she might have a problem when she moved into a St. Charles county neighborhood in May. But she said she had no idea she would be visited by the police "more than twenty times" in the past three months. Hunter-Butler and her neighbors immediately were at odds over her four dogs. The heated arguments have escalated, and Hunter-Butler was charged this month with assault for allegedly punching one neighbor. Hunter-Butler is now asking for help from activists who see this as a race issue. The police were called once again by neighbor Jim Scudder on Sunday, Aug. 23, 2015, after the activists went to his home to ask him why he was harassing Hunter-Butler.