ST. LOUIS — For the better part of two years, Evie Williamson-Moore knew the back wall of her house, one of seven units in the same Howard Street row house building, was in jeopardy.
Contractors wouldn't touch it. Her insurance claim was denied. Some repair would be needed on the neighboring row house in order to fix the wall. She needed cooperation from the owner of the adjacent unit but could never get in touch with him.
"Trying to get in touch with Paul McKee is like pulling teeth out of a lion's mouth," Williamson-Moore said.
The unit attached to hers is one of hundreds of properties throughout the near north side owned for more than a decade by the St. Charles County developer's NorthSide Regeneration LLC. The banking of property was part of an ambitious redevelopment plan that received over $40 million in state tax credits and several million dollars so far in local tax incentives.
NorthSide has notched some successes, including helping attract the National Geospatial-Intelligence Agency to a site where it owned most of the property. It developed a grocery store and gas station north of downtown. A medical facility at Cass and Jefferson avenues is under construction.
But many of NorthSide's properties have been left vacant and untended, including the row house attached to Williamson-Moore's Jeff-Vander-Lou home.
The back wall collapsed on Monday last week, taking off part of Williamson-Moore's brick exterior. Now, some drywall is all that's between her kitchen and the elements.
It's been no easy task finding a place for Williamson-Moore, her husband, two dogs and five daughters. Some of them stayed in a downtown hotel last week, with a little help from her alderman, Brandon Bosley. They've since moved to an Airbnb. They plan to leave to visit family in North Carolina this weekend. Williamson-Moore isn't sure what they'll do when they get back.
"We're trying to figure out where we're gonna go," she said Tuesday.
Williamson-Moore has no problem with NorthSide's plans. "If redevelopment is coming, redevelopment is coming," she says.
She just wants to be made whole by a property owner whose neglect has upended her life and her own efforts to improve one of the poorest, most abandoned neighborhoods in the city. Most of her siblings have moved to St. Louis County or away from St. Louis entirely. Some thought it was foolish of her to stay with her children in the city. But Williamson-Moore wanted to try and rebuild her neighborhood.
They're not rich. But they're not in crippling poverty. They owned their home nearly outright after buying it for cash in 2013 from an older couple leaving the neighborhood. Williamson-Moore used it for collateral on a business loan from nonprofit lender Justine Petersen to open her dance-class business, Galaxy Studios, in nearby Hyde Park.
Both McKee and an attorney for NorthSide, Steve Stone, said they would respond to Williamson-Moore's assertions, but after the newspaper's deadline.
A new house
In the months leading up to the wall's collapse, Williamson-Moore was approached by another businessman with a familiar name: Raymond McKee, no relation to Paul, he said.
He is Black, like most of the people still living in the neighborhood.
He told her he wanted to buy her house and build a new one for her nearby, in the neighborhood where she wanted to stay. He was assembling the property for an apartment project, he said.
Meanwhile, he also approached another family living in the row house building with a similar deal. They, too, live in a unit connected to a NorthSide Regeneration property. The interior of that unit has fallen in, visible from the outside. Cassandra Hopkins, whose elderly mother lives in the row house connected to the NorthSide property, said squirrels sometimes get in through the shared wall.
Hopkins said she listened to Raymond McKee's pitch at first. But she grew suspicious, particularly after a January groundbreaking he promised for the new house didn't happen.
"He just talked too fast," she said.
Williamson-Moore, meanwhile, went back and forth on a contract for months. A few things gave her pause. For one, there wasn't a firm date on when the new house would be built, according to a copy of the contract. One of the addresses for the new home, 1408 Leffingwell Avenue, doesn't even exist. And while her family waited for the new home to be built, she would have already deeded over title to her row house to Hudson & McKee Real Estate, Raymond McKee's company.
"What he didn't count on was me reading these contracts," she said.
In an interview, Raymond McKee said it was only a draft.
"This was for her to go take to her attorney to review," Raymond McKee said. "They could have offered changes to that contract."
Williamson-Moore kept talking with Raymond McKee. She told him in April about the wall issue. She knew he worked with Paul McKee a little, but it soon became clear he was more involved with the developer than she had initially thought. She was furious when her wall collapsed and felt like Raymond McKee could have done more to get NorthSide to help.
Raymond McKee has a long association with NorthSide. One of his companies was paid tens of thousands of dollars for cutting NorthSide's grass in 2012, back when NorthSide could be reimbursed with tax credits for such work, according to documents submitted to the state.
Few developers can do anything in that area without working with NorthSide Regeneration, Raymond McKee said.
"I've been very upfront and honest that I have an association with Paul," he said.
But he said he had no idea how bad Williamson-Moore's wall was.
"It was never explained how imperative the issue was, and I don't think she knew how imperative it was," he said.
Raymond McKee said he offered Williamson-Moore cash for her home upfront but that she wanted a new house instead.
"They've been back and forth and flip-flopped so many times," he said.
Williamson-Moore said Raymond McKee was clearly pushing her to take the new house rather than the money, saying it would be worth more than the $150,000 he said he could pay for the house.
Her husband always wanted to just take the money, she said. When she finally texted Raymond McKee in early May to say they'd just take the money, he responded that "I will need to talk to my group now because you are changing again," according to the texts.
That group includes NorthSide, Raymond McKee said. He accused her of not being straightforward about her financial issues, including the lien on her house from her business loan.
"The one family I thought I could help the most is the one I should have been watching out for I guess," he said.
But he said Tuesday he would stand by his original offer to purchase her row house for $150,000.
"That's what I offered her, and I will continue to hold that same offer," he said.
Bosley, the ward's alderman, has been serving as a mediator among the parties. He isn't happy with the way NorthSide maintains its properties, and he suspects the company itself isn't satisfied either. But he still holds out hope that its effort assembling large swaths of property will lead to new development.
"I don't have a negative thing to say about Paul," Bosley said. "I just wish he'd cut his grass and maintain his properties a little better."
He said he's met with both McKees and that Williamson-Moore should be compensated for the damage to her home within a month.
"I don't think he's intending to be predatory about it, I truly don't believe that with Raymond," Bosley said. "He's trying to make good, but it's not all on his shoulders. I think Raymond will deliver."
Williamson-Moore, meanwhile, is waiting to see a contract. And she's running it by a lawyer before she signs anything.
Photos: Northside building neglect displaces family
Northside neglect displaces family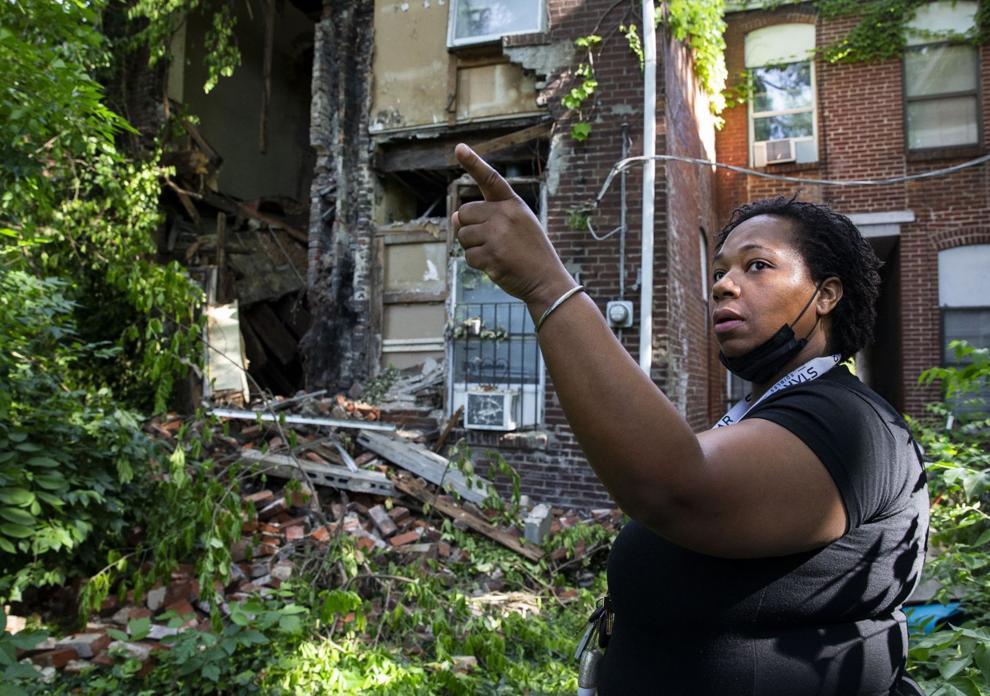 Northside neglect displaces family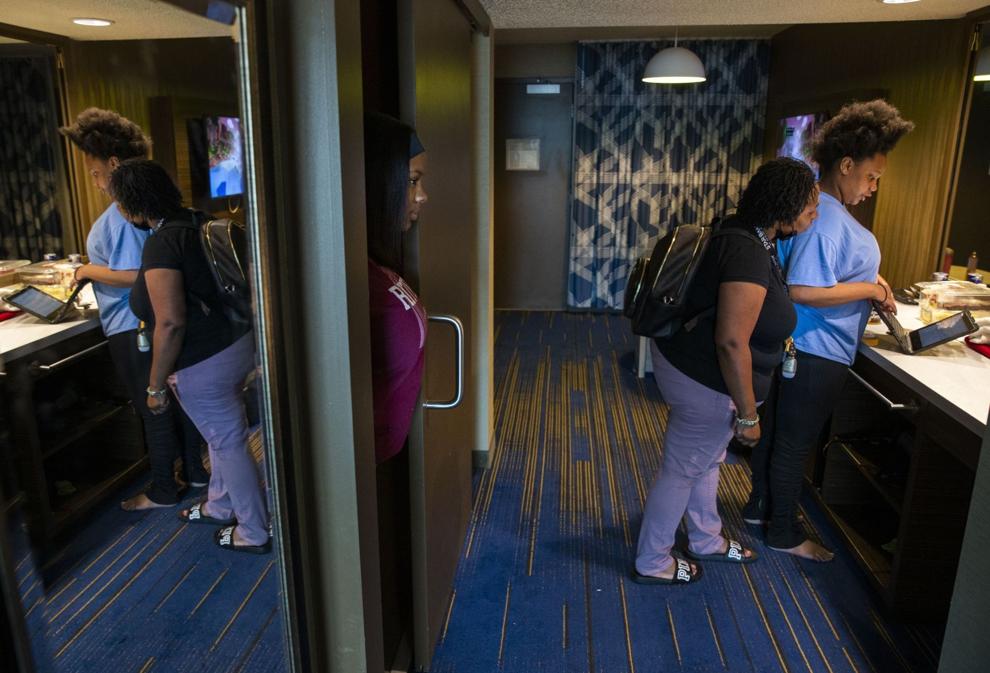 Northside neglect displaces family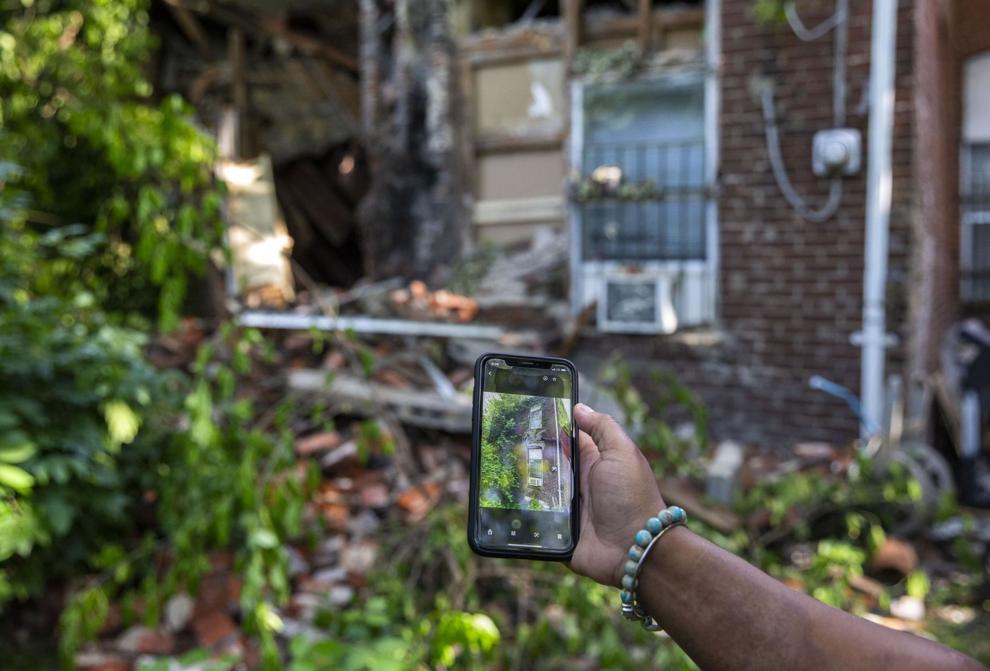 Northside neglect displaces family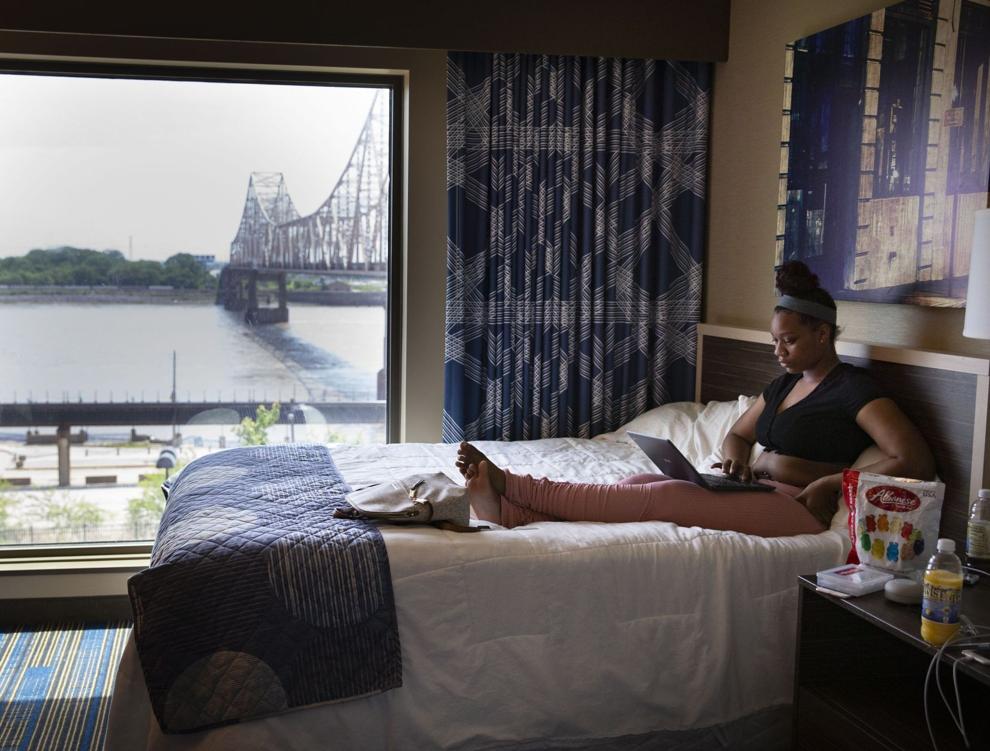 Northside neglect displaces family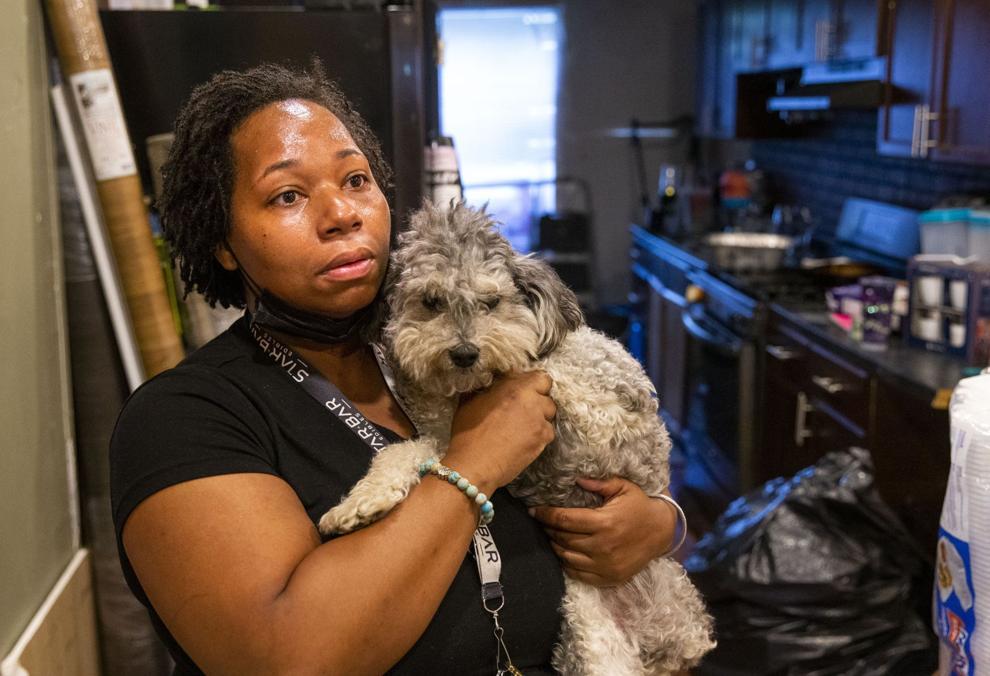 Northside neglect displaces family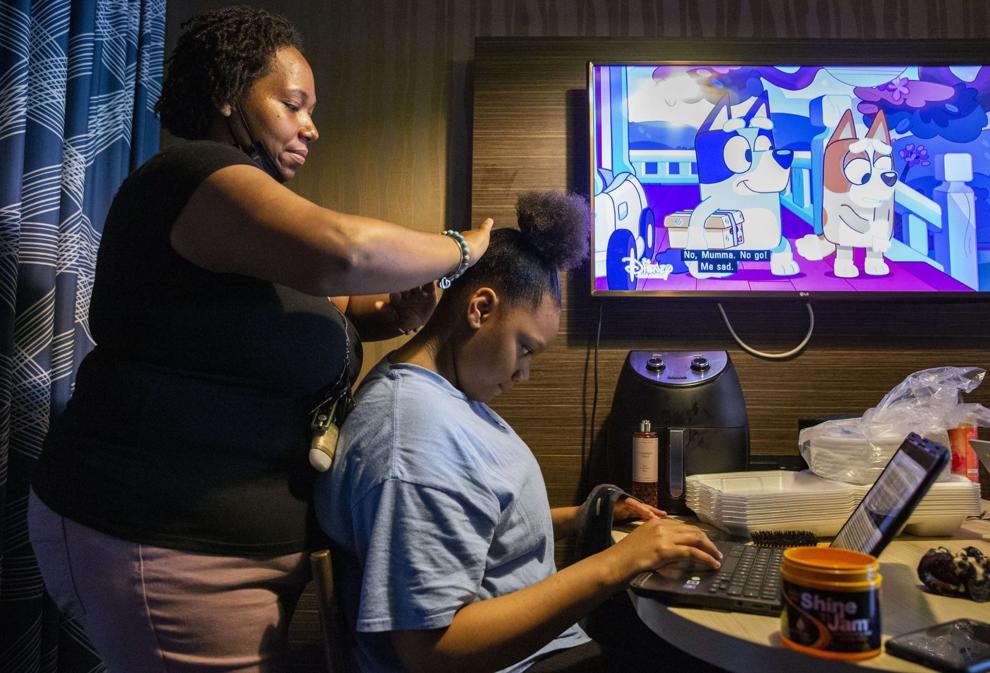 Northside neglect displaces family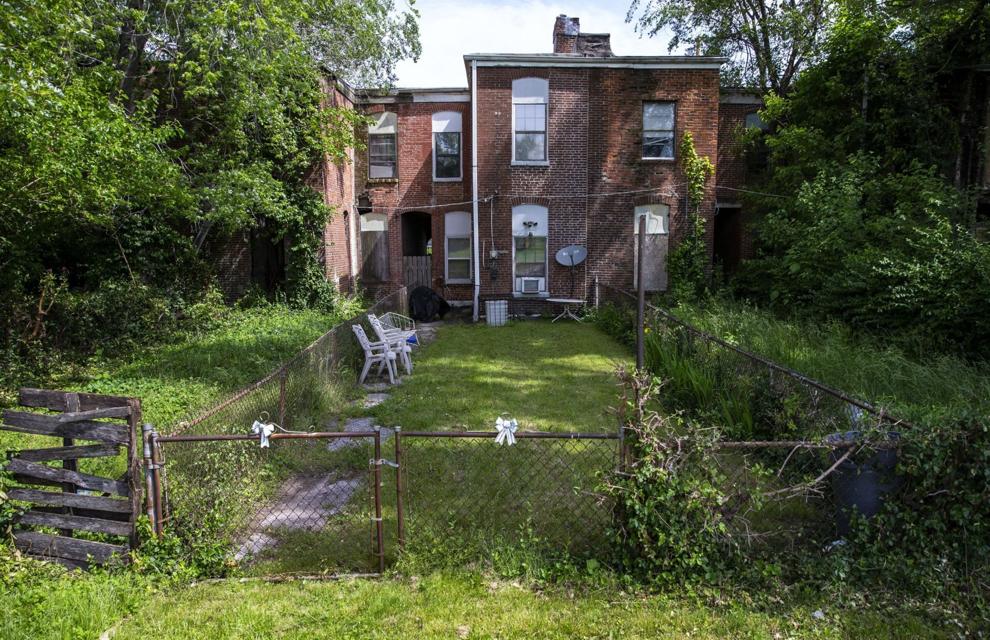 Northside neglect displaces family