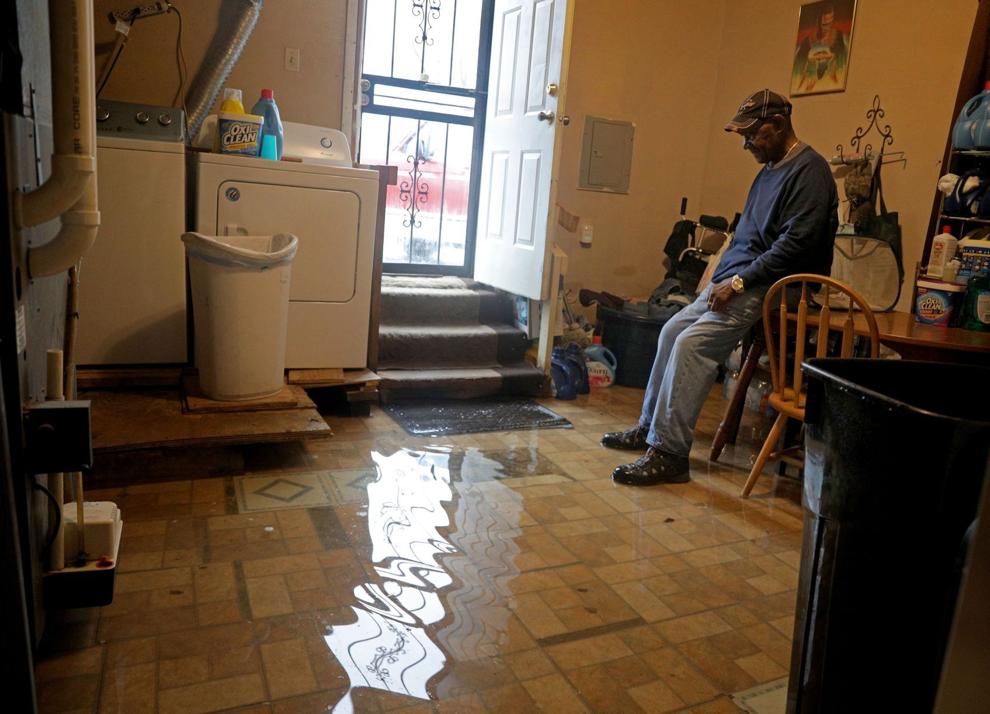 CENTREVILLE — Even with his sump pump and the piles of gravel spread around the base of his home, 74-year-old McArthur Smith found himself once again unable to keep the water out during a few days of intermittent rain last month.
For two days, he used 5-gallon buckets to scoop water off his floors, along with the small lizards that get inside, petrifying him.
Smith's wife, Beverly Cruz, 57, can barely walk because of a back injury from a car accident that was exacerbated last year from a fall on their flooded floor. She has to use a folding chair with a bucket to relieve herself when their toilet won't flush.
Smith said he takes the bucket and dumps the waste in a public restroom at a nearby state park, where he uses the restroom. All Cruz knows is that he puts the bucket in the back of his truck and drives away. She doesn't ask about it.
"I was so embarrassed," she said, "and he said, 'Well, we gotta do what we gotta do.'"
Resident after resident, mostly elderly and Black, shared stories of worsening damage to their homes over the past 20 to 30 years. They tried repeatedly to get local officials to repair broken sewer system pumps, check sewer lines and clear overgrown storm ditches and drainage canals, but were met with finger-pointing among public agencies and temporary fixes.
National media outlets have since arrived in the small town of 5,000 to document their plight. Illinois' two U.S. senators, Tammy Duckworth and Dick Durbin, have visited and called for federal intervention. (Durbin, who was born in nearby East St. Louis, met with local leaders during a return visit Friday morning.)
Illinois Gov. J.B. Pritzker has promised to do what he can.
Many residents, however, are still suffering. Some drainage canals have been cleared, but sewers still overflow and mix with standing water in yards, rotting floors. The residents wash dishes in buckets, rely on donated bottled water and try to overcome the stomach-churning smell with bleach and Pine-Sol.
"They haven't done nothing to our ditches," said Walter Byrd, 64. "Water still comes and fills them up. It stays there. It don't got nowhere to go."
At least state and federal officials appear finally to be paying attention. Illinois Environmental Protection Agency officials are attending residents' monthly virtual meetings and investigating reports of flooding and backups instead of leaving it to local public agencies.
U.S. EPA officials have joined the effort, making visits in January and February and opening an investigation into sewer system complaints and maintenance records.
Last month, the Illinois EPA also awarded Belleville-based HeartLands Conservancy a two-year $1 million watershed grant to make some immediate minor sewer system repairs and to develop a plan to reduce flooding, which has damaged the sewer infrastructure.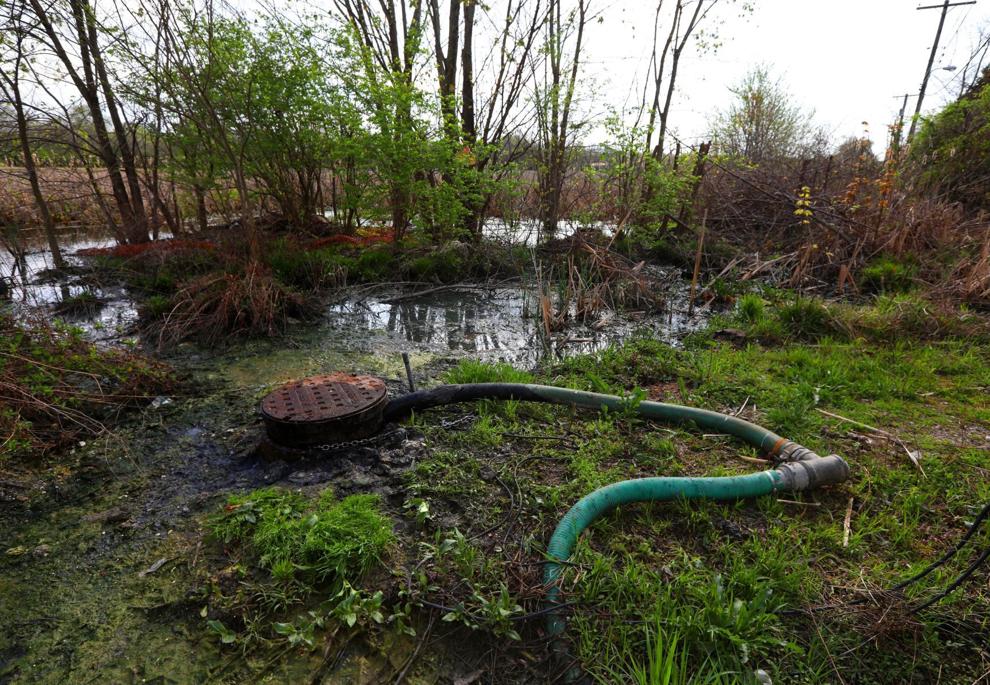 In a series of elections over the past year, the residents of Centreville and neighboring cities of Alorton and Cahokia — which experience many of the same sewer problems — voted to consolidate into one municipality called Cahokia Heights. On Tuesday, voters elected a mayor and aldermen for the new city, which officially launches on May 6. Voters also approved dissolving the sewer utility Commonfields of Cahokia and putting the new Cahokia Heights sewer department in charge.
Curtis McCall Sr., who will be mayor of Cahokia Heights, said the new city of 27,000 residents will be on better financial footing than its predecessors and better able to compete for state and federal grants.
But after years of broken promises, residents remain leery. Many of the officials in the new city government are the same ones who have been in charge for decades — serving as both elected officials, board members and employees for Commonfields and the former cities.
Byrd and other residents have sent a letter to state officials requesting independent oversight if the grant is awarded. "Try to get money here, but do not let them get it," he said. "They will stomp on it and stomp on it and not put anything into our houses."
These improvements, if implemented, are also months away. Smith, a retired construction worker, said his aching body can't continue to clean debris out of trenches on his own, plus haul gravel and carry buckets of water.
The politicians keep telling him things will get better, he said. "But how's it going to be better when no one ain't doing nothing?"
'Feel so bad for my babies'
U.S. EPA inspection reports from recent visits reveal the dire situation facing residents.
Federal inspectors tried to locate all 69 above-ground pump stations that move wastewater through the sewer system that will serve Cahokia Heights. They found that not only were many of them broken but they also were surrounded by sewage and toilet paper that had spilled over. One had sewage bubbling out of the ground nearby.
Fixes included dangling submersible pumps into uncovered manholes by chains and installing above-ground bypass pipes or hoses from one pump station or manhole to another. One hose had experienced a "blowout" when it was run over by a lawnmower, the report stated.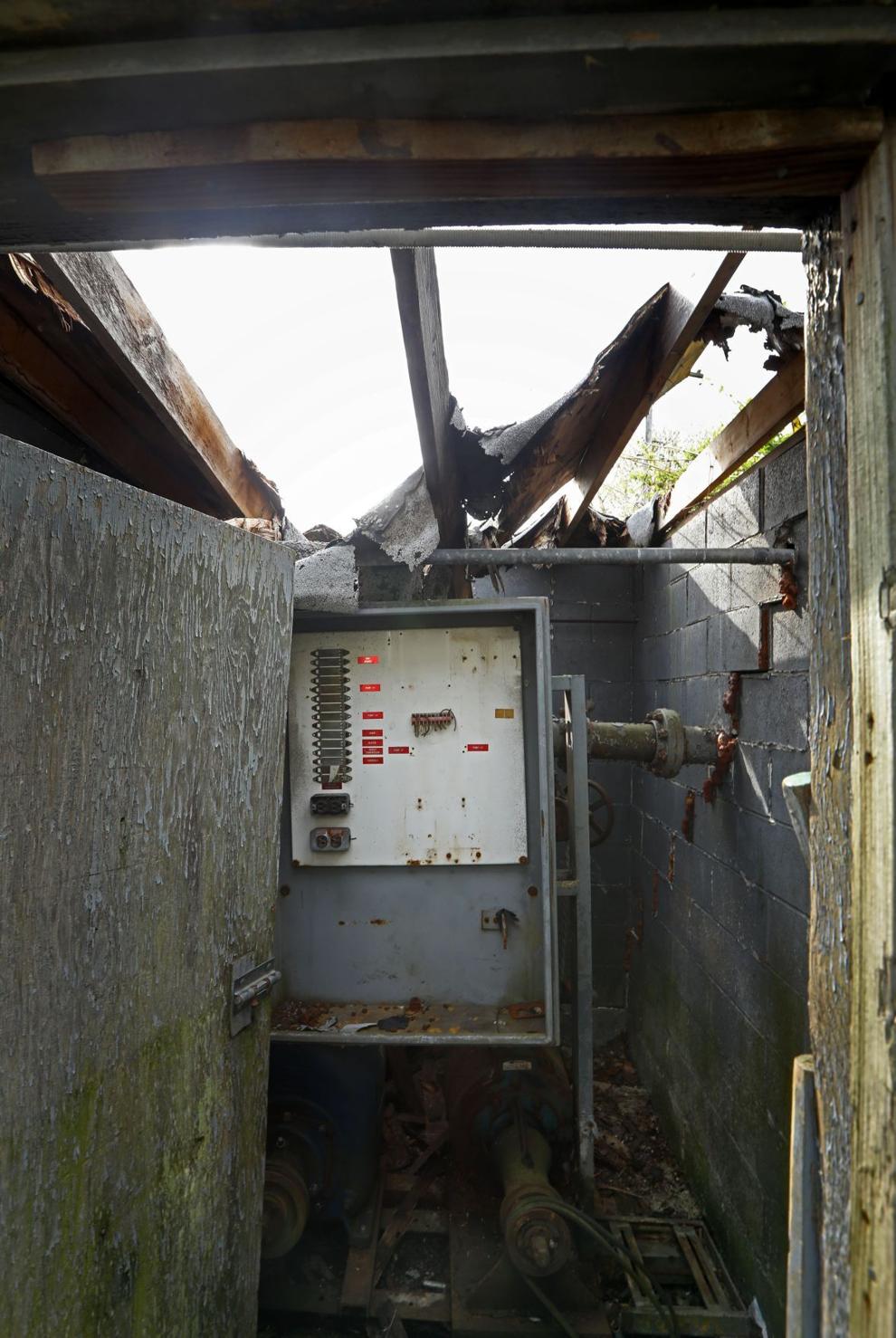 Hidden in a grassy area alongside North 73rd Street, inspectors found a brick-lined uncovered manhole more than 3 feet deep and filled with dirty water and trash.
Another pump station was uphill from a playground for Greystone Apartments, whose manager told inspectors that she had seen it overflow a couple times and head toward the playground.
In one front yard, a sewer line's cleanout pipe can't be capped or else wastewater will back up into homes. It continually spews waste like a fountain, creating a stream that eventually leads to a stormwater drainage canal. The homeowner says it's been like that for 15 years.
In the report, federal inspectors asked Commonfields manager Dennis Traiteur if he had a sufficient staff of skilled sewer technicians. Twenty-seven of the pumps were maintained by Commonfields.
"He stated that he was the only person on staff with sufficient training and experience in sewer operations and maintenance," the report read.
Tyeicha Scott, 38, moved into a home in Cahokia nearly four years ago next to a broken lift station and was never told about the issues. She spent nearly $1,500 replacing her plumbing without knowing it wouldn't make a difference.
She and her fiancé have two young children, ages 4 and 6. They can't use their sinks. They have to buy water for drinking and cooking. Like many residents, she must keep the cap off the cleanout pipe in her backyard so that sewage spills out onto the grass instead of her toilet.
"My backyard be full of nothing but sewage water, and it stink so bad, we can't even stand in the kitchen and cook our meal," Scott said. "I feel so bad for my babies. They are scared if you flush the toilet while they are in the tub because feces going to come up through it."
A U.S. EPA spokeswoman said officials could not comment on their reports because of potential enforcement actions.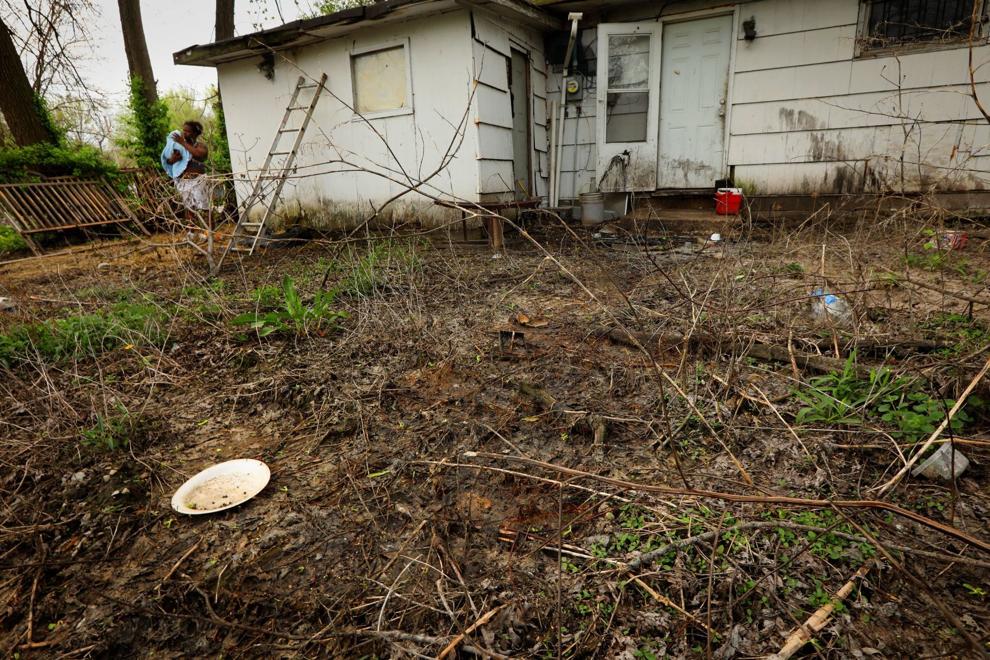 On Feb. 25, the U.S. EPA filed a request for information from Commonfields under the Clean Water Act. The information included description of staff, locations of all the pump stations and copies of complaint records and work orders and sewer overflows since 2016. Any sewer overflows or backups must be immediately reported to Illinois EPA officials.
Similar requests were also filed on March 8 to the cities of Centreville, Alorton and Cahokia, which will now pertain to Cahokia Heights.
Michael Regan has said protecting indigenous and low-income communities and communities of color from being overburdened by pollution is among his top priorities as the agency's administrator.
In an email to the Post-Dispatch, a U.S. EPA spokeswoman stated that the agency is working with the Illinois EPA to identify next steps to ensure compliance with federal environmental laws, which President Joe Biden's administration has committed to address in cities like Centreville that have long been neglected. The statement reads:
"These communities have historically not received the full benefits of our country's vastly improved environmental and public health protections. EPA will live up to the promise of environmental and public health protection made to all people in our country upon the agency's founding over 50 years ago."
'Is that really a solution?'
John Kim, director of the Illinois EPA, said the agency must walk a fine line when it comes to enforcing violations because residents do not want to see higher costs passed on to them.
Typically a complaint can be addressed by talking with local officials, Kim said. If that doesn't work, the agency issues a violation. And if problems still persist, the agency has the state attorney general's office sue the local entity.
"We have a situation where we could hold certain regulated governmental entities responsible for certain types of things, but … if we sue them (and) they don't have the resources to address what we want them to do … they are going to pass those costs on to their users, which is exactly what residents told us they don't want to have happen," Kim said. "Is that really a solution?"
It's a balance the Illinois EPA has dealt with for 20 years, he said, as violations resulted in quick but temporary fixes because of a lack of funds. A "crazy patchwork" of sewer lines "weren't designed the best way they could have been," Kim said.
"What they needed was a responsible city government and responsible public works department to secure a sufficient amount of funding to maintain an operable infrastructure, and they were not able to do that," he said. "The communities that are most in need of financial assistance are often times the communities most poorly situated to qualify to get the financial assistance."
The Illinois EPA is working with other state and federal agencies to find funding resources and grants, he said. Identifying the scope of the problem and necessary overhauls, while they take time, must be the first step.
Kim said he understands residents' concerns about accountability with any new funding. He promised that state agencies will have strict oversight when it comes to approving permit applications and will communicate plans to the public.
"The governor himself has made it clear that state agencies under his control are committed to finding as many resources and as many solutions as possible … and the state will do everything we can to make sure that there is transparency and that there is accountability associated with this because we are very sensitive the citizens' lack of trust on their part," he said.
Kim said he is hopeful the consolidation into Cahokia Heights will help the city qualify for loans and be a "responsible, responsive partner" to work with.
McCall, the new Cahokia Heights mayor, served as chairman of the board for Commonfields for several years and Centreville Township supervisor since 2005. He is one of the defendants in a federal lawsuit two Centreville residents filed in June seeking immediate fixes to the sewer system.
McCall asked residents to give him an opportunity and said he will be able to do more to serve them as mayor.
He is already working with state officials and spearheaded the effort to apply for the $22.9 million grant, he said. "I applied for that grant, that's leadership. I hadn't even taken office yet, and I've put together this proposal."
His administration will not focus on who's to blame for the current problems, McCall said, but accept responsibility for the future.
"I'm going to be on top of it for these people," he said. "I'm going to fight for them, no doubt about it."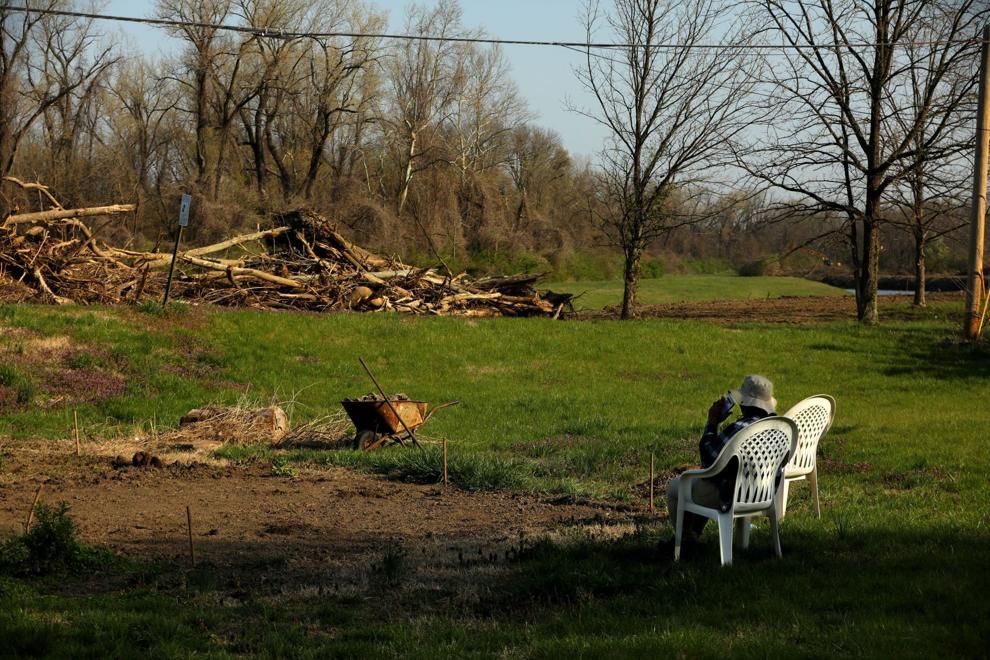 Nelson said it's frustrating that progress has been slow and that it has taken so much work on the part of residents.
"These residents are all mostly retired. They deserve to live in their homes peacefully rather than have to do all those fighting and advocacy," she said.
Public servants and elected officials need to realize the fight will not end until there's change, Nelson said. "I think they underestimate how persistent they are and will be."
Editor's note: The name of Illinois EPA Director John Kim has been corrected.