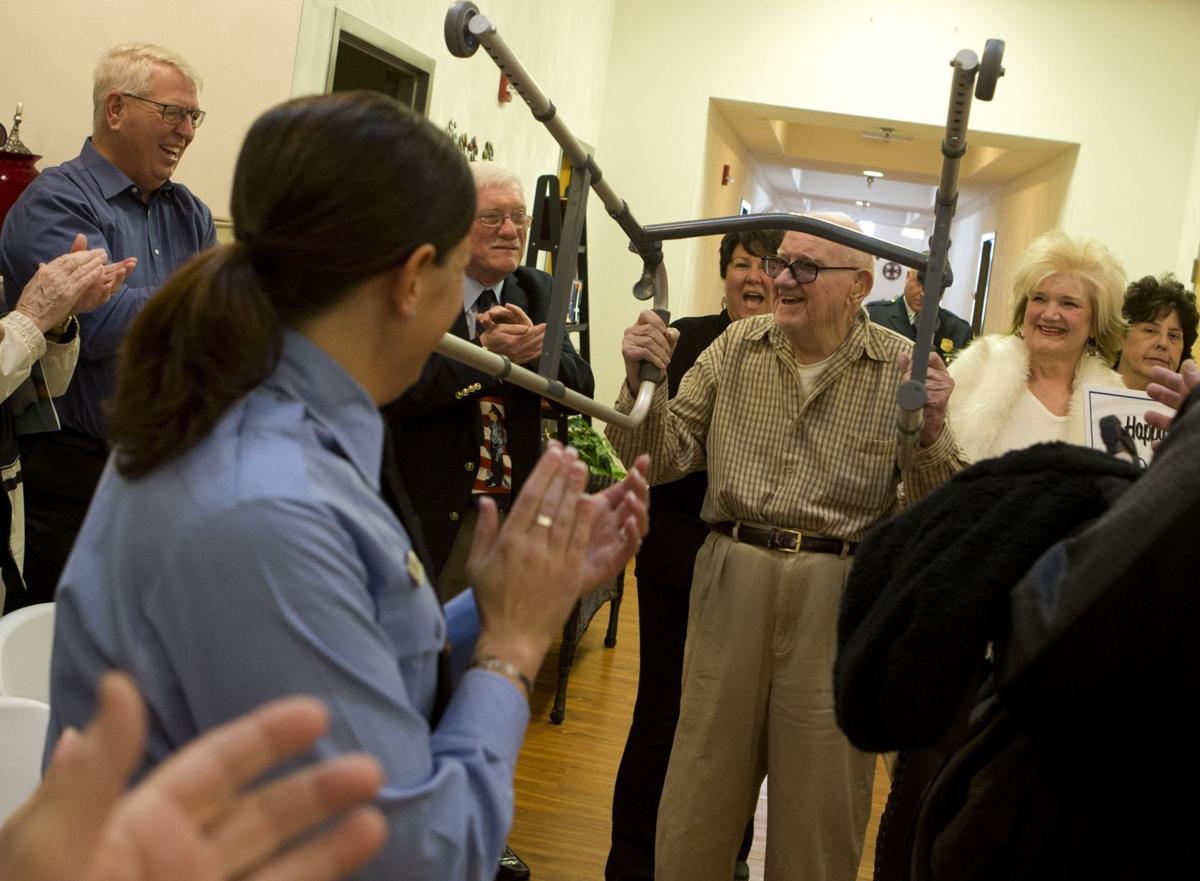 WATERLOO • Retired police officer Edward Hetzer made a big entrance Wednesday.
The now 100-year-old retired patrolman managed to raise his walker above his head to loud applause to a room half-full of law enforcement.
Hetzer, who turned 100 on Dec. 30, is the oldest living St. Louis Metropolitan Police Department retiree, after serving nearly 28 years with the department from May 1948 to September 1975.
Leaders of the department including Chief John Hayden, police retirees and Hetzer's friends and family gathered Wednesday at the Garden Place Assisted Living Facility in Waterloo to celebrate the retired officer's 100 years.
Hetzer stood smiling before the crowd dotted with blue uniforms.
"I won't forget this for a long, long time," he said.
A staple in north St. Louis

Hetzer spent all but a month of his career walking a beat in the city's old Fifth District in north St. Louis.
Though he had opportunities to move up the ladder at the department, he always turned them down to stay in the neighborhood, his children said.
"I think the district was like family for him," said Hetzer's daughter Millie Crook, 68, of Fenton. "He knew everyone there."
Retired St. Louis police Officer Bob Sanneman worked in the Fifth District with Hetzer from 1965 to 1975 and remembered Hetzer as someone who helped train many younger officers in the department.
"Not only was he a good policeman, I remember he liked to enjoy himself and have a good time," Sanneman said.
Hetzer made the Post-Dispatch in February 1965 when he caught a burglar in the act at a cafe in what is today the Jeff-Vander-Lou neighborhood.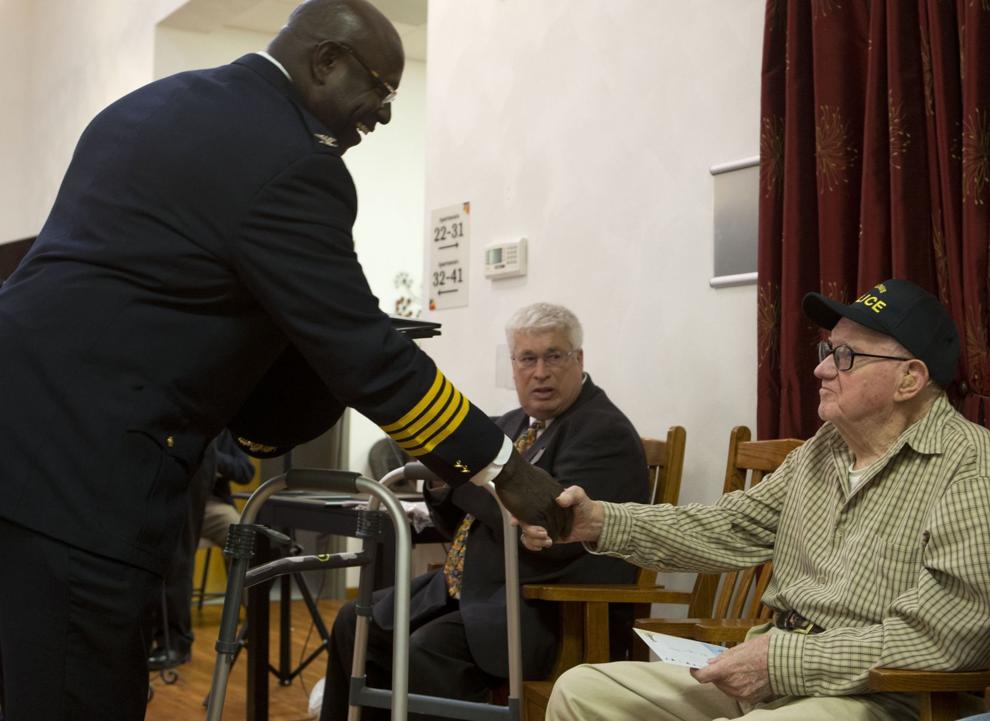 According to the Post-Dispatch at the time, Hetzer spotted the man stepping through a pane of broken glass. The two got in a brief chase and the man left a trail of 24 whiskey bottles in his wake before Hetzer made the arrest.
His son, Jim Hetzer, 65, of the Oakville area, said he was always proud of his father's career and used to pretend he forgot his lunch or homework just so his dad would come to his school in his police uniform.
"Everyone would say: 'Wow is that your dad?' " Jim Hetzer said.
Edward Hetzer grew up and lived in St. Peters for most of his life. Before joining the department, he worked for the Army Air Corps for the last few years of WWII at an army pilot training base in Florida.
Hetzer then worked briefly at the National Personnel Records Center on Page Boulevard before joining the police department in May 1948.
We are humbled & thankful to Retired Officer Edward Hetzer for allowing us honor him on his 100th birthday! Thank you for over 27 years of dedicated service! pic.twitter.com/g7h0oOiww2

— St. Louis, MO Police (@SLMPD) January 31, 2018
Jim Hetzer told the Post-Dispatch that his father says the secret to longevity was a good career with the department, never smoking or drinking heavily, and eating a bowl of vanilla ice cream almost every night.
"It's hard to believe, but he's not on any medications to this day," Jim Hetzer said.
The retired officer was presented with a proclamation in his honor Wednesday and thanked by dozens of current officers with the St. Louis and Waterloo departments.
"Once you are a St. Louis policeman you are always a St. Louis policeman," said Lt. Jerry Foster, who helped organize the event, during the ceremony. "Even if you are 100 years old."