JEFFERSON COUNTY • For St. Louis' famous renegade cattle, freedom is sweet.
It means grazing on 15 acres of rolling hills. It's slimming down on hand-delivered low-calorie hay and then cheating on their diets with treats flavored like apple pie. It's getting petted by a Girl Scout and having their faces printed on the sides of mugs.
The cattle burst through a slaughterhouse door and into local fame one year ago this week. On March 30, 2017, six steers escaped Star Packing Co. in north St. Louis and led police on an hours-long chase through the city.
News helicopters tracked them as they trotted through neighborhoods flanked by police SUVs. SWAT officers responded with rifles as protection. Crowds came out into the street to watch and cheer. And when some of the rogue bovines seemed to be cornered at the Little Sisters of the Poor residence on North Florissant Avenue, one barreled through a fence to break free and led pursuers on a chase of more than a mile.
The crowd named the fence-breaking steer Chico because "he's smooth." One onlooker to his escape that day summed up how many St. Louisans came to feel about the runaway steer.
"He need to go down in history. He earned his stripes," the man told the Post-Dispatch. "Let him stay alive … Let him die as an old one."
Today Chico and most of his fellow escapees are living a life of leisure, though one of the steers, named Spirit, was euthanized because of injuries. The steers were purchased from the slaughterhouse by The Gentle Barn, an animal rescue organization out of California, and they now live on a sanctuary created in their honor near Grubville in Jefferson County, about 40 miles southwest of St. Louis.
On Sunday, the rescue held a party to mark the anniversary of their great escape. Gentle Barn Missouri manager Michelle Robertson addressed the crowd of attendees while standing before the five remaining steers.
"These guys a year ago saw that they had no way out, and they made their own future," Robertson said. "They ran for their lives and they won."
Life as a celebrity steer
The Gentle Barn raised more than $400,000 to give the escapees a home and used the money to open the Jefferson County location in September, on a property that was once used to board horses.
"The outpouring of love and donations made our decision to start a new Gentle Barn in the St. Louis area a reality," said Ellie Laks, founder of The Gentle Barn
The steers live with four chickens, eight turkeys, three pigs and two goats (named Hazel and Baron Von Goat).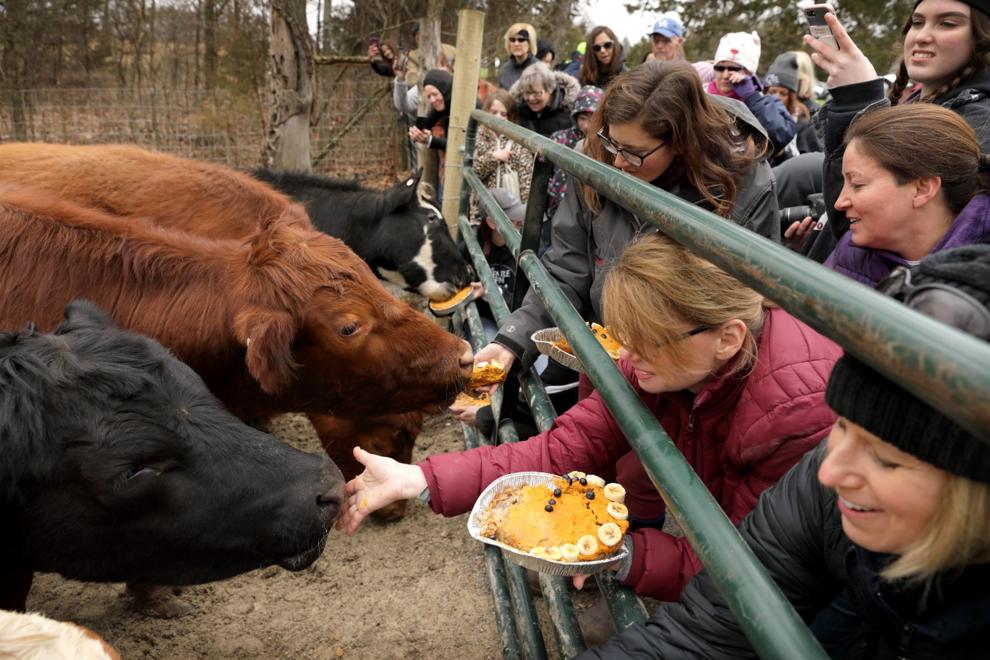 Freedom has helped each steer's personality shine, said Robertson, who fell in love with cattle when she started volunteering with the rescue organization in California eight years ago and even has a tattoo on her forearm of a cow she once befriended.
Robertson cares for the cattle every day and lives on the property, so she has come to know them well.
Their "superstar," Chico, has lived up to his reputation, she said. He remains the leader of the small herd. And, yes, he's still smooth.
"He's the friendliest to visitors, and he's a total lady's man," Robertson said. "We have one female volunteer who comes, and he will just put his head in her lap."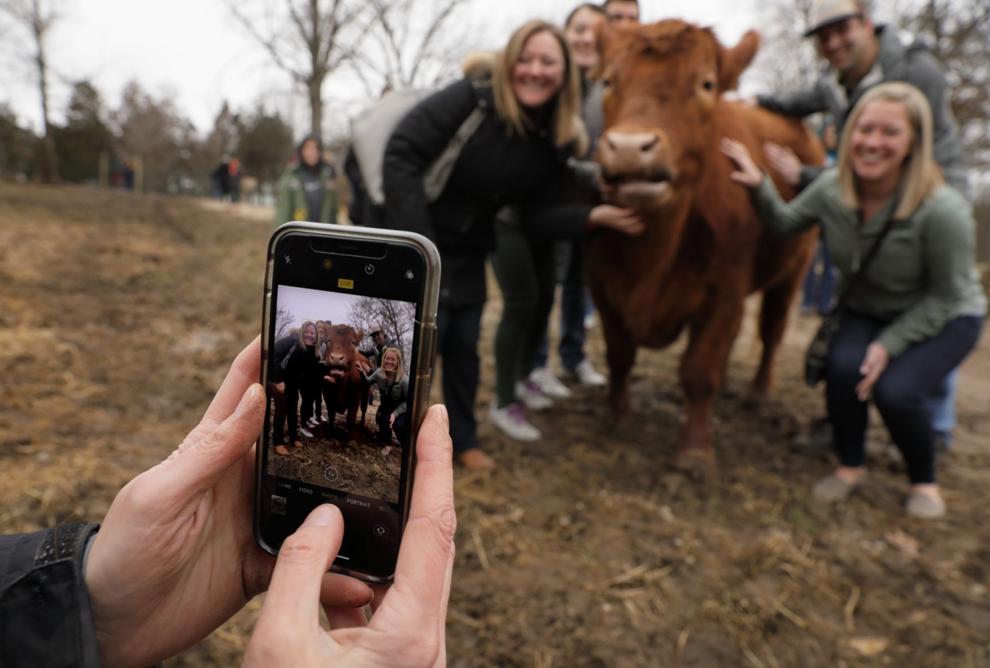 There's also Eddie, whom Robertson describes as the pretty boy with his black-and-white eyelashes. There's nervous Houdini with the white face. And there's the eater, Roo, who runs full speed to meals and even made his own small escape when he slid under a Gentle Barn fence to sample some prime grass on the other side.
Finally there is Johnny Cash, the steer of mystery, with all-black coloring. He keeps to himself and stays away from people.
"I think he's been burned by people before, so he doesn't trust easily," Robertson said.
The Gentle Barn Missouri also remembers Spirit, the steer who died before making it to the rescue. They named a small body of water "Spirit's Pond" and planted three peach trees in his honor.
The escaped steers are now 2 years old and are still growing. They will likely grow to be up to 3,000 pounds and 7 feet high and may live to about 10 years old.
The rescue is open on Sundays to parties and visitors who want to meet the celebrity steers and other animals. Hours are 11 a.m. and 1 p.m.; tickets cost $20 for adults and $10 for children.
To learn more about the life of the escaped steers or The Gentle Barn, go to gentlebarn.org.