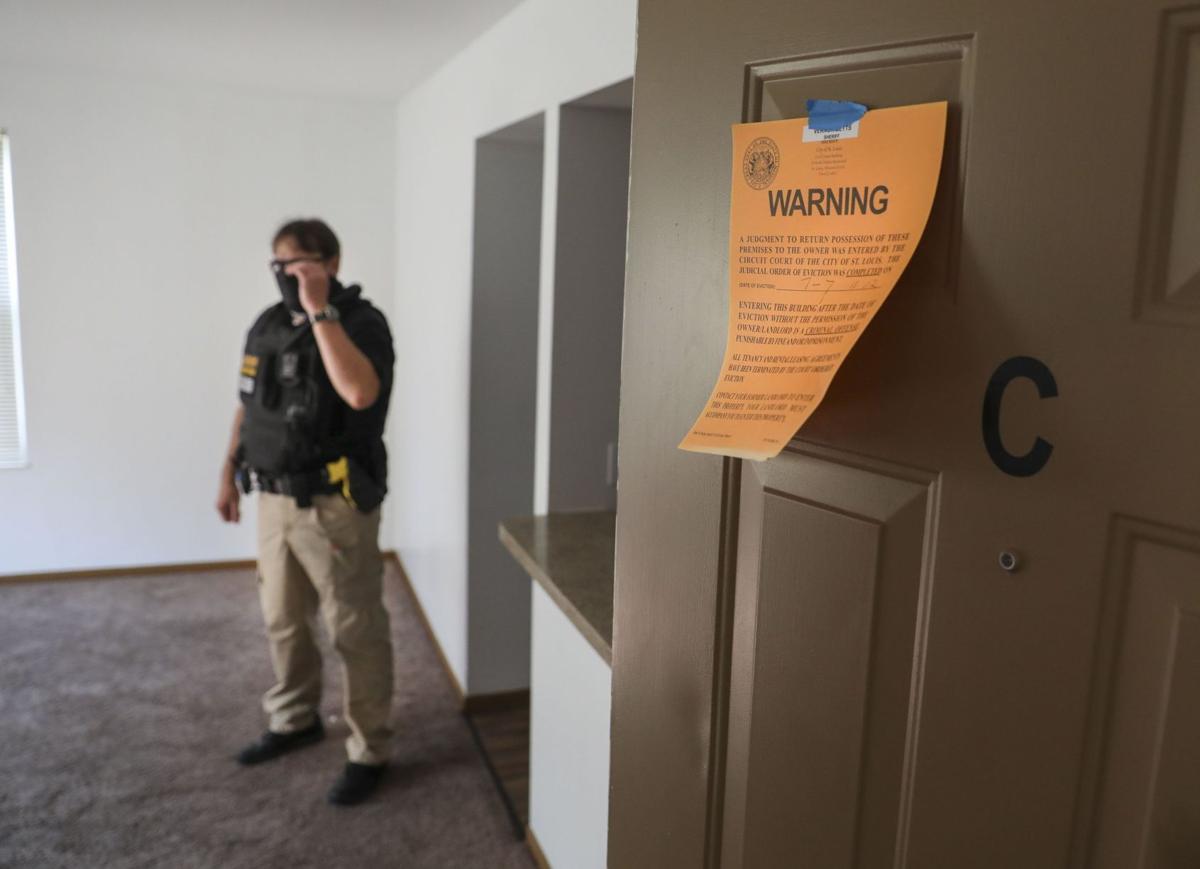 ST. LOUIS — Hundreds of evictions in St. Louis are on hold following another order to extend a moratorium on removing people from their homes who are unable to pay because of hardships created by the pandemic.
St. Louis Circuit Court Judge Michael Stelzer on Wednesday issued a ruling extending the moratorium by a month, which mirrors one that was approved days ago by federal officials.
There are more than 2,500 eviction cases pending in the 22nd Circuit Court, Mayor Tishaura O. Jones said in a statement Wednesday. The court is "following the guidance outlined in the federal moratorium," mayoral spokesman Nick Dunne said.
The federal moratorium is driven by a recommendation from the U.S. Centers for Disease Control and Prevention, but officials with the agency said the latest extension would be the last.
St. Louisans on the cusp of losing their homes have been protected on and off since March 2020 by a court-issued moratorium meant to prevent the spread of the coronavirus. The moratorium has also protected residents amid an economic upheaval that left many unemployed and unable to make ends meet. It's been extended by court order 13 times.
There have been far fewer eviction filings in the first four months of this year than over the same four months in prior years. There have been about 900 such filings this year, according to court spokesman Thom Gross. The city averaged about 5,000 filings over the same span for each of the four years prior to the pandemic.
Residents facing eviction can fill out an "eviction protection declaration" from the CDC and present it in court, which will determine if an eviction can be stayed until July 31. Residents who qualify must have made an effort to obtain financial assistance, show they are unable to pay full rent "due to substantial loss of household income," make "timely partial payments," fall below a certain income threshold, and show that eviction would "likely" render them homeless or force them into a close-quarter living situation.
The U.S. Supreme Court voted 5-4 on Tuesday to keep the CDC's moratorium in place through July 31, though landlords pleaded for the moratorium to be lifted. Across the country, states have used funding from the federal Coronavirus Aid, Relief and Economic Security (CARES) Act to help with rent relief, though not all of it has been given to renters or landlords, according to The Associated Press.
St. Louis Sheriff Vernon Betts said his deputies have been carrying out evictions but explained that they've been for nuisance properties, drug houses and residents who are a threat to the neighborhood.
"We confiscate any kind of weapons," Betts said. "Every other eviction, we take guns off folks."
However, deputies will carry out evictions for nonpayment that were filed before May 29, per the court's order. If a deputy comes to someone's door, that resident can present the CDC form and then has three days to present it in district court. Otherwise, the eviction will go forward.
The city has contracts with seven organizations that can give some amount of rental or utility assistance, city Director of Human Services Valerie Russell said. Residents seeking assistance can go to the city's website or call the United Way's 211 help line.
St. Louis County authorities said they plan to adhere to the CDC's eviction moratorium if residents submit the necessary form in court.
Yusef Scoggin, director of the Office of Family and Community Services, said the county has undertaken an outreach effort to let residents know about available rental assistance. The county has about $29.4 million available in rental and utility assistance.
"The county is currently seeing fewer evictions than it was before the pandemic, but I don't take that as there's less need or (fewer) people who will be in that vulnerable position soon," Scoggin said. "Once the moratorium is lifted, we are concerned about what that will look like."
There are nearly 3,000 evictions that are in some stage of the court process in St. Louis County. Nearly 5,000 county residents have submitted applications for rental assistance, Scoggin said.
St. Charles County officials said evictions are going forward unless a resident "is seeking the protection of the CDC guidance," county spokeswoman Mary Enger said.
"If that person fills out the eviction protection declaration form and presents it to the sheriff, then the eviction is stayed, pending a state circuit judge making the final decision," she said in an email.
Editor's note: This story has been updated to correct the name of the St. Louis court in which eviction notices are heard. It's the 22nd Circuit Court.