ST. LOUIS — Organizers of an expanded bicycle route through the city held an open house Wednesday to explain the plans for a two-lane path stretching 1.4 miles along Tower Grove Avenue and Vandeventer Avenue into the Forest Park Southeast neighborhood of St. Louis.
Planning for the Tower Grove Connector began in 2016, and its construction is scheduled to begin in early 2023.
"The Tower Grove Connector serves as a key entryway from the south part of St. Louis across major highways and railroads," said Taylor March, director of policy at Trailnet, a St. Louis nonprofit that advocates on behalf of bicyclists and pedestrians. "This is one of the only ways to get into the center of the city in a low-stress way."
Wednesday's gathering was held at the Piper Palm House in Tower Grove Park, where organizers collected feedback on the project design from residents and showed off renderings and planning documents.
The connector will narrow sidewalks and traffic lanes to provide separated bike lanes but will avoid removing parking spots where possible. Parking has been a concern among residents, March said. The design keeps 91% of parking on Tower Grove Avenue and 53% on Vandeventer Avenue.
Along with the separated bike lanes, the project will add bike traffic signals, various crosswalks, improved access to sidewalks for disabled people and the repaving of Tower Grove Avenue.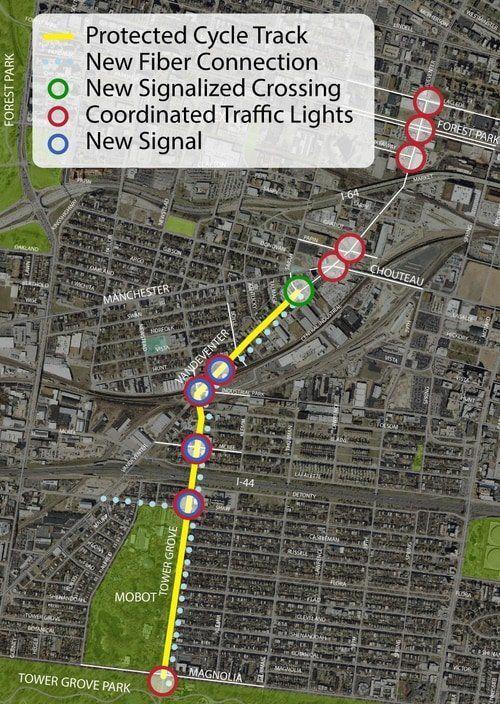 The connector path is already a popular route, March said.
"We did a study on bike routes and Tower Grove is the second-most popular in the entire city, second only to Forest Park," he said. "And what we've seen in other cities is that when you add a protected cycle track, ridership increases."
On-street bike lanes were added to Tower Grove Avenue in 2015, and bicycle traffic doubled following their addition, March said. He expects another similar increase when the connector is completed.
"What we're trying to accomplish with the Tower Grove Connector and our other projects is to cater to people who don't currently ride bikes or they currently aren't comfortable on the bike lanes," he said. "People who would be riding on sidewalks, if they're riding at all."
The project is estimated to cost $9 million, and about $5.6 million has already been funded through federal grants. The remaining money will come from the city and private donations.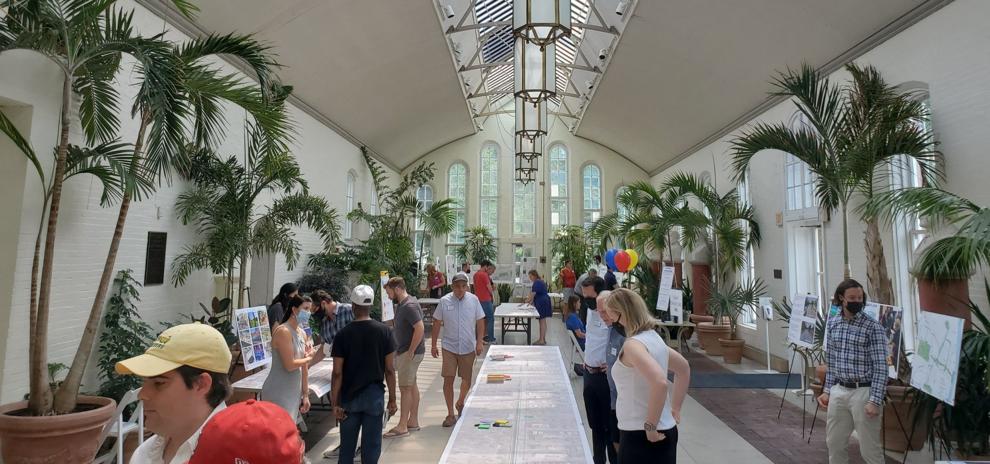 The three aldermen whose wards the connector transects "have all committed some board capital funding, which is incredible. We're really grateful for that," said Sarah Arnosky, vice president of Greater St. Louis Inc.
A second phase of the connector has been proposed but not funded. That section would run from the intersection of Vandeventer Avenue and Sarah Street to the Cortex MetroLink station. That would connect Tower Grove Park with the larger Brickline Greenway project proposed by Great Rivers Greenway in 2017. Organizers intend to complete the extension through Sarah Street when money becomes available, Arnosky said.
March has led Trailnet's efforts to receive community feedback on the connector and other projects. Trailnet's 2018 bike route survey collected more than 4,000 responses to better plan where new routes should be placed, he said.
"It showed us that with a strategic investment of 12 miles of improved infrastructure, we can make St. Louis a great city for biking and connecting people to destinations they want to go," he said.
Editor's note: This story has been updated to correct a reference to the Brickline Greenway project. That project was proposed by Great Rivers Greenway in 2017.