Day turned into night and night turned into Monday again for the people of middle America, and millions who basked in totality underneath the moon and under the sun.
Anti-climactic? Hardly. Over too soon? Probably, for the people who had planned for this day for mere hours, or weeks or — in many cases — years.
Millions of total solar eclipse-watchers donned special glasses, used pinhole viewers or turned to other science tricks to watch the 70-mile-wide lunar parade route.
Predictions of clouds in a few local spots sparked an uneasy morning in places, and crowds jeered, then cheered as clouds blocked, then passed over the sun. On the western side of the state, viewing was a bust for some. In and around St. Joseph, on the western side of MissouriMo., storms and clouds blocked the view for most.
The buildup surpassed massive, en route to monumental. The continental United States hadn't seen a total solar eclipse since 1979, in the northwest; the last one in St. Louis was in 1442.
So people were ready. Oh-so-ready to celebrate.
"My mouth dropped. … My reaction was — it was incredible," said David Fialkoff, 76, of Miami. He flew in to view the eclipse in Festus with his daughter and grandson, who are from Chicago.
He enjoyed swapping stories with strangers in the friendly crowd.
"I think the whole country is coming together for this event," he said. "Maybe this is what we need."
Nationally, the event was underway before noon as Americans gazed in wonder through telescopes, cameras and protective glasses as the moon began blotting out the midday sun. Totality reached cities in the St. Louis area by about 1:15 p.m.
Some cities prepared for months, putting emergency crews on deck and ensuring food, drink and portable restrooms for a crowd. They reported no major issues except for pockets of heavy traffic, mostly after the spectacle ended.
'A wonder of nature'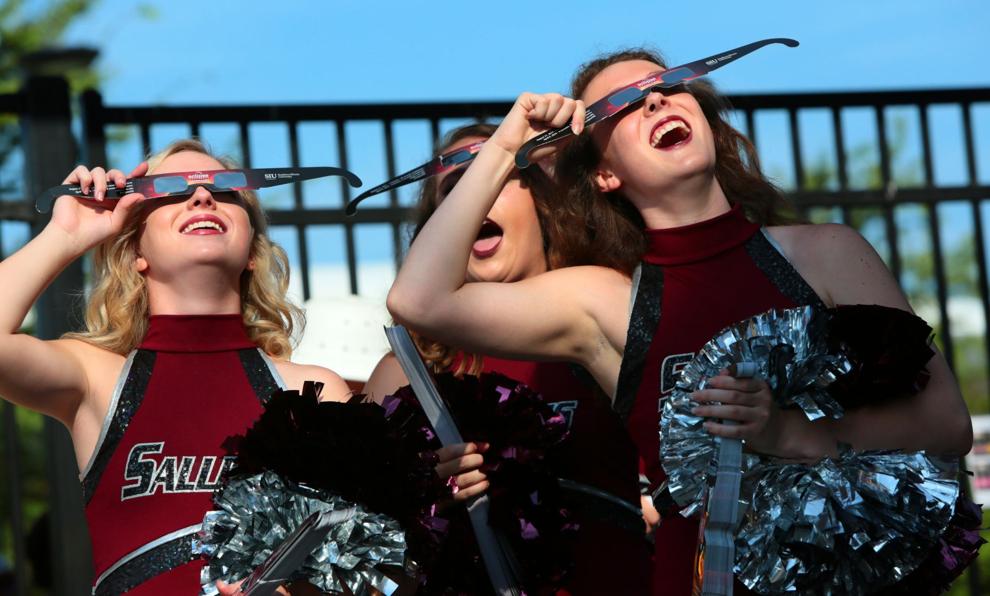 In Carbondale, Ill., — eclipse central on Monday — the 15,000-seat football stadium at Southern Illinois University sold out. People spent from $25 a seat to, gulp, $10,000 for a 20-person suite to get an optimal view. Just outside the stadium, NASA hosted a four-hour live "Eclipse Megacast" that NASA TV, local stations and national networks aired.
Vehicles with license plates from states as far afield as Texas and Delaware parked in Jefferson City, one of seven communities chosen by NASA to broadcast the eclipse.
One of the Jefferson City spectators was Jennifer Pope, who drove the 10 hours from Minneapolis with her children for the eclipse. "It's just a great opportunity to see a wonder of nature," she said.
Gary Kasten was hoping to see it, too, through his $325 telescope he bought to pursue his lifelong love of star-gazing.
"I just hope I can figure out how to use it before the eclipse begins," he said.
There was also a 52-foot rolling trailer museum to give visitors a chance to experience hands-on activities and educational displays including a moon rock artifact returned to Earth by the crew of the Apollo 17 lunar landing mission.
In Festus, Mayor Mike Cage stood in the park signing autographs for festival-goers. He signed eclipse glasses for people from near and far. Very far.
"I was expecting Arkansas, Illinois, maybe Kansas. Not Chile, Taiwan and Poland," Cage said.
Cage said about 3,000 people turned out at the park. "I left my house at 8 this morning, and I was in a traffic jam," he said.
A Canadian couple's trip to Festus was seven years in the making. Mark Humphrey and Hazel Brewer of Guelph, Ontario, drove into St. Louis on Sunday. They booked their holiday as soon as they could, said Humphrey, 45.
Not because of some abiding interest in astronomy — just because they knew they couldn't miss the event.
Though total solar eclipses hit any one spot on earth once every 375 or so years, they happen somewhere on earth once every 18 months.
"It's just fantastic," Humphrey said, projecting an image of the partial eclipse from a pair of binoculars onto a piece of white card stock.
On the drive home, they plan to tour the states some more. "We'll have to get a drink first," he said, marveling at the mid-day, Midwestern heat.
'Just boom!'
Tim Reinbott was amazed by how quickly it happened. He is coordinating research for Mizzou on how the eclipse affects crops and livestock.
"It just happened just — boom! — like that," he said. "You didn't want to take your eyes off it."
People who waited too long got shut out of one crucial component of an eclipse celebration — MoonPies.
Despite what other treat-makers may claim, people know the role of a MoonPie during a solar eclipse. In fact, this may be the MoonPie year: They're celebrating their 100th anniversary.
Angela Mitchell-Phillips waited too long to order from Amazon, which sold out of the solar treats. So she settled for cupcakes with sparkly navy blue frosting from McArthur's Bakery for her eclipse-viewing party in Wildwood.
If you attended a planned public event in the St. Louis area, it's likely that the St. Louis Eclipse Task Force and its head, Don Ficken, planted the idea. They first started meeting in 2014 to educate the community about the eclipse. Where did Ficken watch Monday?
Well, he had planned on watching from his hometown of Festus. The chance for clouds in the forecast led him to change his plans. He and a friend drove all night to a Walmart parking lot in Springfield, Tenn.
So Ficken, three other men from the St. Louis Astronomical Society and 75 or so others watched it unfold. At totality, he lay back on a blanket with a pair of strong binoculars and enjoyed it.
He got 2 minutes, 35 seconds of totality in Tennessee. In Festus, he would have gotten one second more.
"We did the right thing, based on the info we had," he said.
Soon enough, he might call a meeting of the task force to share stories and debrief. But he's excited about the future for another reason. The next total solar eclipse is on April 8, 2024. It won't hit St. Louis, but it will cross southeastern Missouri and Southern Illinois.
Monday was just the beginning, Ficken said.
"Somewhere out of this, there will be a few kids who go into science because they loved what was going on today."
At Edgar Road Elementary School in Webster Groves, children, teachers and parents watched the show from the soccer field. After it was all over, they broke into applause.
And, from the back of the crowd, a child yelled: "Thank you!"
Lisa Brown, Ashley Jost, Kristen Taketa, Jack Suntrup, Colleen Schrappen, Celeste Bott, Doug Moore, Amy Bertrand, Harry Jackson, Kurt Erickson, Amanda St. Amand, Robert Patrick and Aisha Sultan of the Post-Dispatch contributed to this report.
During Monday's eclipse Chief Photographer J.B. Forbes saw many moons.