During the lean years of the recession, Parents as Teachers of Missouri went through an unprecedented challenge when state funding for the home-visiting group was cut by millions.
Lawmakers redirected the organization to use its remaining funding to reach more vulnerable parents and children. Many middle-class families lost free access to home visits from parent-educators.
Though painful, it was a wake-up call for Parents as Teachers, said Cheryle Dyle-Palmer, chief operating officer.
It nudged the international organization to improve how it engages the poor and, often, people of color and to examine better ways to partner with parents dealing with the trauma and the stresses of poverty, neighborhood violence and inequity.
That mission solidified when protests and violence erupted in Ferguson after an unarmed Michael Brown was fatally shot by a Ferguson police officer, Dyle-Palmer said. The events and the ensuing Ferguson Commission report further highlighted the prevalence of trauma experienced by many African-American families. That report called for more trauma-informed approaches to help disenfranchised communities.
On Monday, Parents as Teachers will recognize the lessons of Ferguson and the program's own transformation into one that aims to best understand and serve parents dealing with trauma and inequity. Monday's forum will take place at the Ferguson Community Center, not far from where the protesting took place. The event is part of the program's national conference in downtown St. Louis Monday through Wednesday.
The forum will host 75 Parents as Teachers educators from around the country. They come from places as different as the Watts neighborhood of Los Angeles, where gun violence is common and similar civil unrest has taken place, to rural Macomb, Ill. That region copes with poverty, an influx of crime from outsiders and illegal meth production so prevalent that farmers put locks on their fertilizer tanks to stave off theft.
The intent, said Dyle-Palmer, is to create a national blueprint on how home-visiting programs for parents and young children can best address the impact and challenges of trauma, not only in the families they serve but also among their own educators who frequently live or make visits in the same neighborhoods.
Angela Gardner, for example, is a Parents as Teachers educator with Normandy schools who visited homes within earshot of the rioting and protesting. Parents were deeply upset, and asking how to talk to their young children about every aspect of it — from racism, to policing, to the trauma of tear gas and looting, she said.
"There were also safety concerns," she said. "Parents were afraid to let their kids walk to the bus stop by themselves."
Gardner, who is African-American, said she also experienced extreme stress as her older teenage boys often visited their father who lived in Ferguson and feared interactions with police. She said her sons joined the protests after Brown was killed, and she feared for their safety.
In the past year, she said, Normandy parent educators have taken to Google, mapping houses to develop safety plans for neighborhoods with high crime. She also stays informed about crime and other neighborhood news to make sure she recognizes those stresses with parents during Parents as Teachers visits.
Dyle-Palmer said Parents as Teachers needs to become a national leader on dealing with trauma for other home-visiting groups to replicate. She said home-visiting groups reached children at their youngest and most vulnerable stages of development when trauma and stress in the household can severely hamper development. Partnering with parents to effectively address these challenges can build resilience in families and protect children, she said.
In February the Post-Dispatch published a special report that followed several Ferguson children, parents and grandparents to chronicle the toxic stress and trauma experienced in their lives. It included research indicating that toxic stress and trauma in childhood can lead to adverse health and behavioral outcomes in adulthood, including depression, heart and kidney disease and other chronic illnesses.
During the forum, participants will get a bus tour of Ferguson and St. Louis to understand the region's recent racial tension and historic challenges regarding inequity. Community leaders from such groups as Forward Through Ferguson and For the Sake of All, a Washington University initiative to combat health inequity in the region, will lead talks.
Participants will share their own experiences as educators dealing with trauma to come up with ideas and solutions.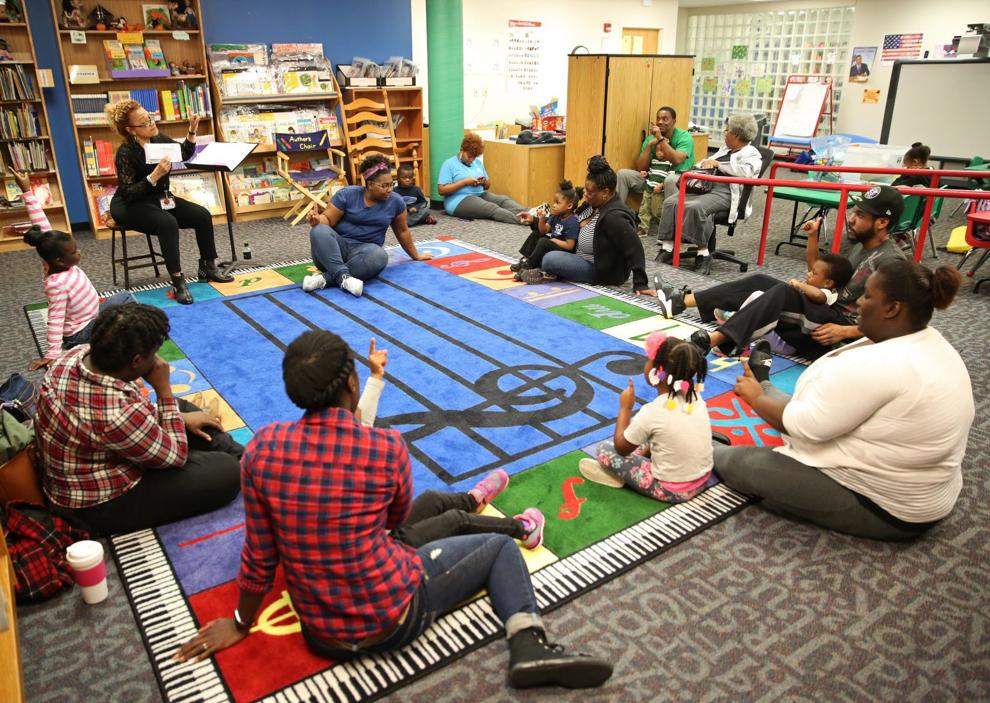 Kate McGruder, a parent educator out of Macomb, home of Western Illinois University, said surrounding rural poverty coupled with the affluence of living in a college town brought a lot of diversity issues to the fore. She's participating because she wants to better understand what happened in Ferguson and ways to prevent such tension from arising in her town.
Ivette Morales, a program supervisor from Los Angeles' El Nido Family Centers, said her agency's clients were poor, African-American and Hispanic and dealing with extreme neighborhood violence.
"We have a lot of trauma, and right now we have a lot of gangs. There's shootings and everyone knows someone who has been a victim," she said. "Some of these moms, and even these little babies, they're going to funerals."
She said she wanted to learn better ways to empower parents not only in their child-rearing, but in their ability to create positive change in their own neighborhoods.
"We can so relate to Ferguson," she said, recalling the Watts Riots of 1965 and later the riots after a jury in 1992 acquitted police officers in the brutal beating arrest of Rodney King. "We're trying to get these families to come out to the bigger community and really take back their community."