At first glance, the white flowering trees lining Interstate 270 and Highway 40 look lovely.
The roadside thicket where the highways meet burst this spring with some of the first blooms in St. Louis. But, conservationists say, the trees are more like a menace in disguise — an unexpected result of decades of neighborhood landscaping that are putting local plants and animals at risk.
They are the often-maligned Callery pear tree species, a group of ornamental trees that include the popular Bradford pear, common in landscaping.
Once considered a near-perfect tree to adorn subdivisions and doctors' office entrances, Bradford pear trees soon revealed their dark side: They tend to collapse within 15 to 20 years, splitting like a peeled banana and taking out property on their way. They stink with an odor sometimes described as old fish. And, most concerning to conservationists, their rapid spread is choking out native plants that can support far more animals and insects than the pear trees, which were brought to the U.S. from China.
Once a staple on municipal lists of suggested trees, the Missouri Department of Conservation recently added Callery pear trees to its list of invasive plants in the state.
This month, conservationists want people around St. Louis to celebrate Arbor Day in an unusual way — by chopping those pear trees down.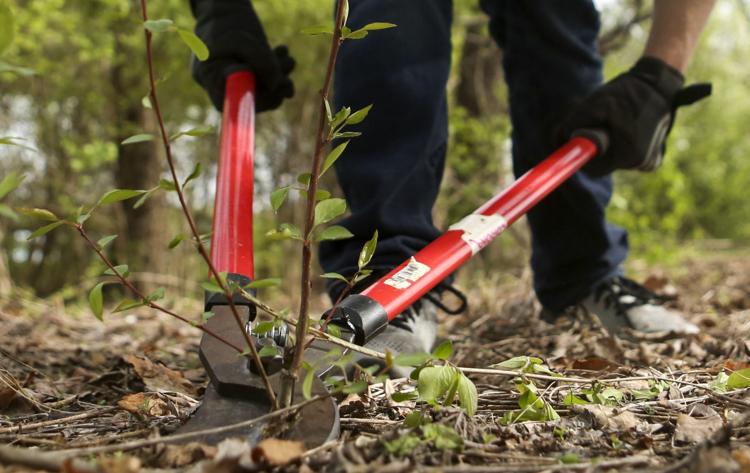 The Missouri Invasive Plant Task Force, a collection of nonprofits, government agencies and academics, started the initiative to rid the area of what they call "the Jekyll and Hyde street tree of suburban America."
Anyone who has a photo showing they've cut down a Callery pear will receive a free three-gallon native tree to replace it. The trees will be given out by nonprofit nursery Forest ReLeaf at 2194 Creve Coeur Mill Road in Creve Coeur Park, from 9 a.m. to 4 p.m. on Arbor Day — April 26.
ReLeaf set aside about 500 native trees for the event, including oaks and dogwoods, and will distribute them while supplies last.
But the "buy-back" program is just the latest among years of efforts to limit the spread of pear trees in the region, including city governments' passing bans and neighborhood associations' tearing up their Callery pears.
"It might seem odd that we're asking people to actually cut down trees," said Carol Davit, chair of the Missouri Invasive Plant Task Force. "But Missouri is much better off without these trees."
From hero to villain
Callery pear trees first arrived in the U.S. as a miracle solution to a big problem, according to Reid Smeda, a professor of weed science at the University of Missouri at Columbia.
In the early 1900s, the U.S. commercial pear industry was in crisis. A disease known as fire blight wiped out more than 86 percent of the annual crop in 1918, launching a search for a related tree resistant to the disease.
The answer came from China. U.S. Department of Agriculture plant explorer Frank Meyer came upon the Callery pear species and brought back 100 pounds of seeds to find the most disease-resistant strain.
They worked like a charm, fending off the disease when grafted with the farmers' pear trees in the U.S.
"There is no question Callery pears saved the pear industry," Smeda said.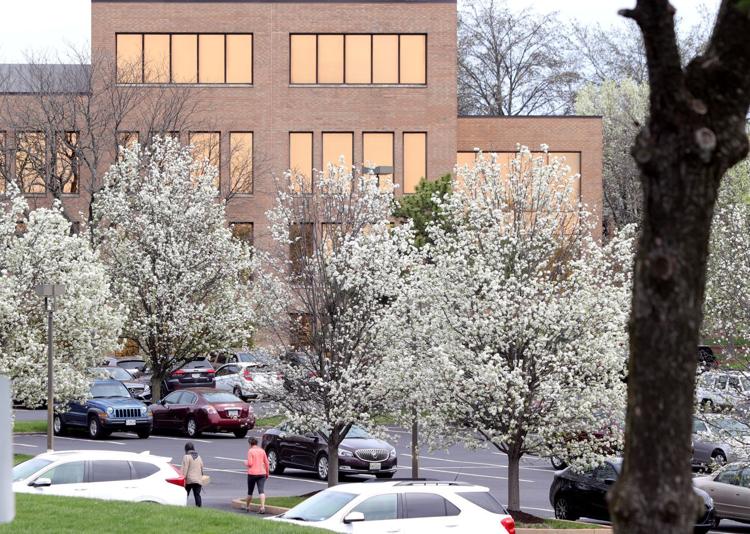 By the 1950s, the USDA began to explore using the Callery pears as an ornamental tree, and developed what would become the most prevalent cultivar, the Bradford pear. After eight years of testing in a neighborhood, the USDA released the tree for commercial sale in 1962.
Landscapers fell in love: The trees grow on just about any type of land. They bloom early in the spring with distinctive white flowers. In the summer they are known for glossy green leaves. In the fall they turn bright orange and crimson. Plus, they are relatively cheap, grow quickly and begin blooming more quickly than native trees.
The tree became one of the most widely planted in the U.S.
At first, horticulturists thought they were sterile, preventing them from spreading. They also seemed devoid of thorns and had only small berries rather than bigger fruits that can fill a yard when they fall.
Nurseries soon began developing new relatives of the Bradford pear tree such as the "Aristocrat" to capitalize on the popularity.
But by the 1990s, the reputation of this once-celebrated tree shifted.
It became clear the Bradford pears had what horticulturists call "weak crotches." The structure of the tree, with all the limbs branching out from the trunk, may look symmetrical, but it often causes Bradford pears to split apart within 15 to 20 years. The tree fails under its own weight.
And the trees often lose limbs during storms. In Missouri, for example, power company Ameren says Bradford pears have been a problem for years, often falling on power lines, according to a company spokesperson. The company's vegetation department recommends against planting the tree.
It also turns out they're not exactly sterile.
A Bradford pear tree can't pollinate with its own kind, but it can cross-pollinate with the many other strains of ornamental pear tree that have come onto the market.
The resulting offspring is a hybrid that is thorny, creates fruit and spreads rapidly.
The hybrid trees have taken over open tracts of land around St. Louis, including along highways across the area, said Danny Moncheski, a community forester around St. Louis with the Missouri Department of Conservation.
When Callery pear trees take over an area, their quick growth chokes out native trees. Plus, their early blooming shades out spring wildflowers and plants including milkweed, which attract insects such as Monarch butterflies.
"For thousands of years, animals and insects in Missouri adapted to feed on the native flora," Moncheski said. "They have no adaptation to feed or live on invasive plants. That's when you get problems — certain songbirds and pollinators like bees on the decline."
Now Callery pears trees are spreading around St. Louis at an alarming speed, according to Donna Coble, Executive Director of ReLeaf, which is helping run the buy-back program this month.
"Once they start spreading it's like whack-a-mole," she said. "They take over."
Local efforts
Some people around St. Louis have already been working to stop the pear tree invasion.
In Lake Saint Louis, for example, the city partnered with the state Department of Conservation to reduce the number of ornamental pear trees in 2011. The department removed 18 of the trees from City Hall and Veterans Memorial Park and then allowed property owners to apply to have city-paid contractors remove them from private property and replace them with native trees.
In total, 107 trees were removed and replaced in the city through the program, according to Moncheski.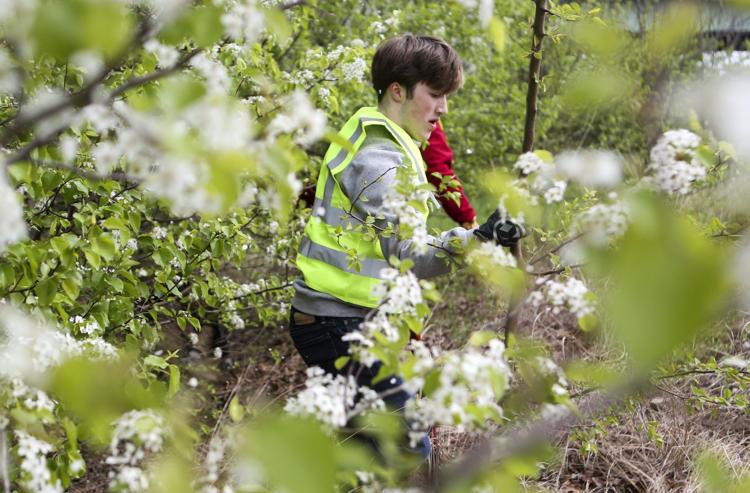 Bradford pears are still in St. Louis city parks and other city property, but St. Louis forestry employees haven't planted the tree in at least five years, said Greg Hayes, director of the city's Department of Parks, Recreation, and Forestry.
And this month's buy-back program is just the latest effort for groups such as ReLeaf, which has been working for years to replace the tree with native species.
But there is still a long way to go. Bradford pears are still one of the most common decorative trees in the region. They are still sold in nurseries and are often planted by developers.
Conservationists cite an Ohio ban as an example of statewide legislation that could stem the spread of the tree. In 2018, the state banned the sale of all invasive plant species, including Callery pear trees.
So far no similar statewide ban has materialized in Missouri, so conservationists are focusing on informing individuals about the harm their trees could be causing.
"We want to get out the message," said Coble, executive director of ReLeaf. "Please stop planting pear trees, whatever you do. If you can remove one, that's even better."
Pear trees in parking lot of medical office building at 522 N. New Ballas Rd. in Creve Coeur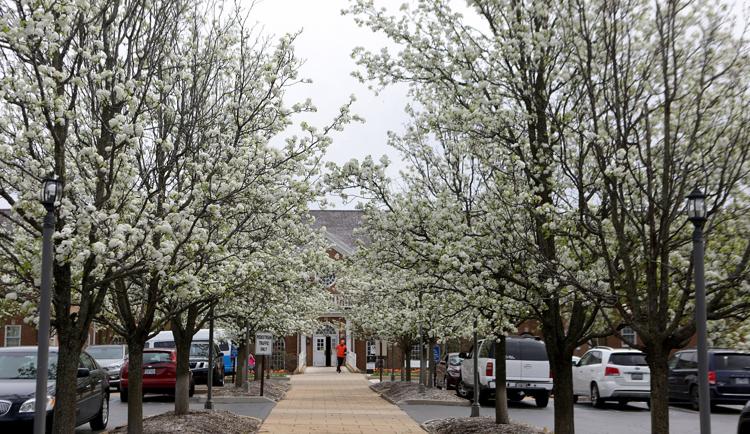 Pear trees in parking lot of medical office building at 522 N. New Ballas Rd. in Creve Coeur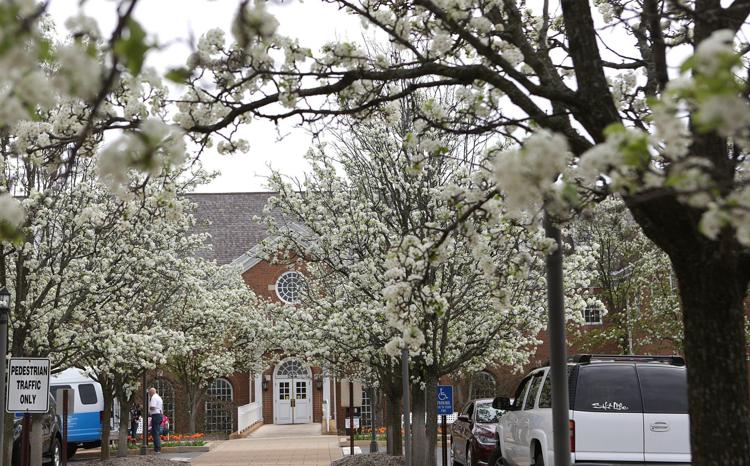 Pear trees in parking lot of medical office building at 522 N. New Ballas Rd. in Creve Coeur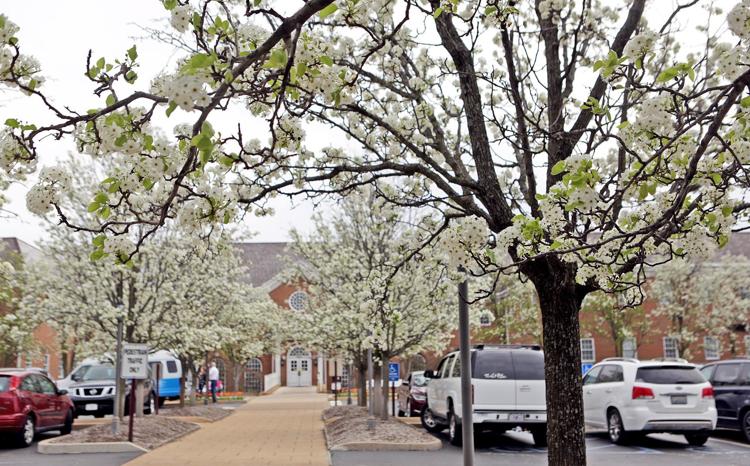 Pear trees grow at the intersection of interstates 270 and 64/40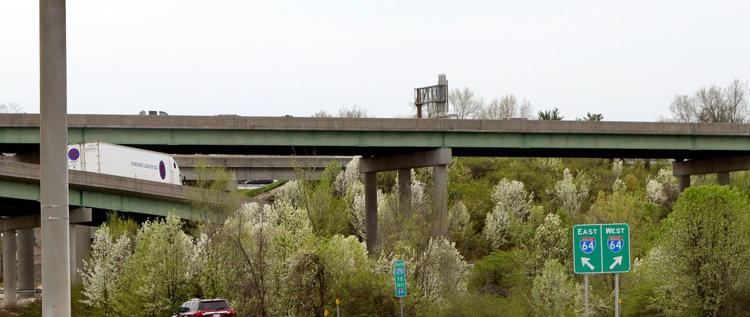 Pear trees in parking lot of office buildings in Creve Coeur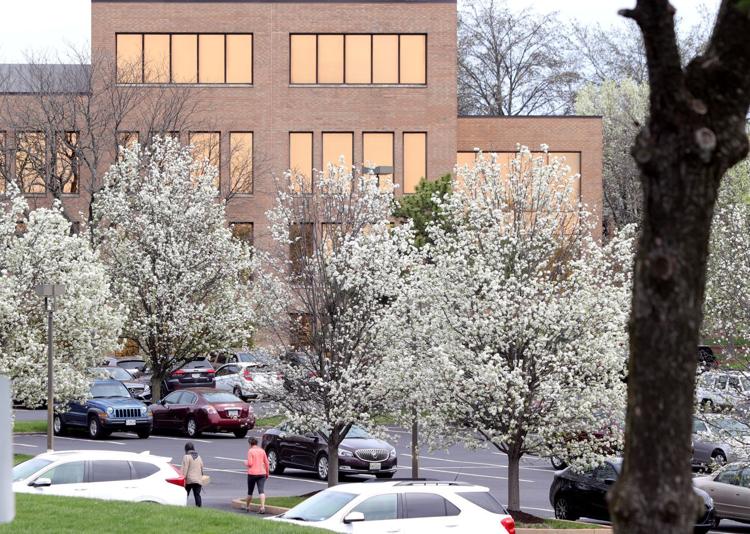 Fall Colors finally start to show in St. Louis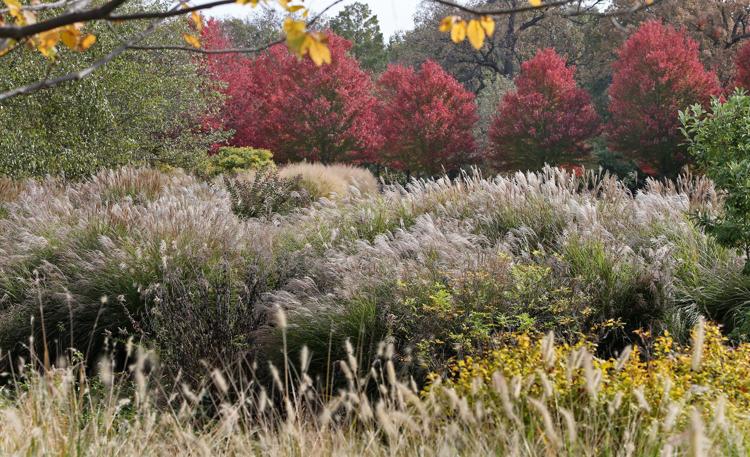 Color of the night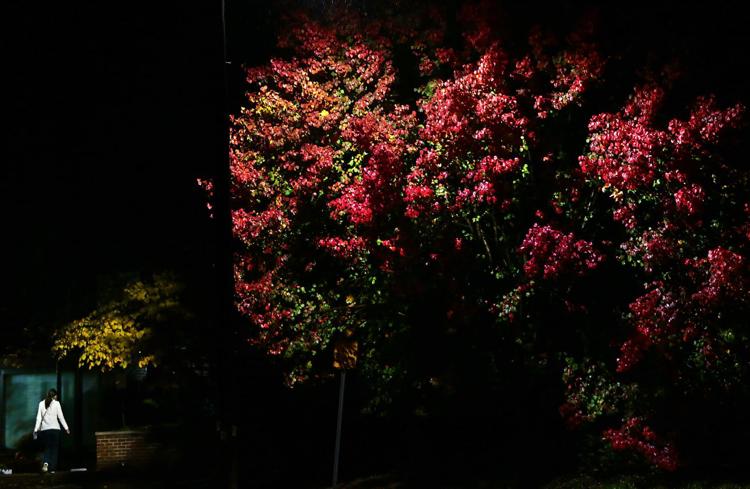 Knocking it down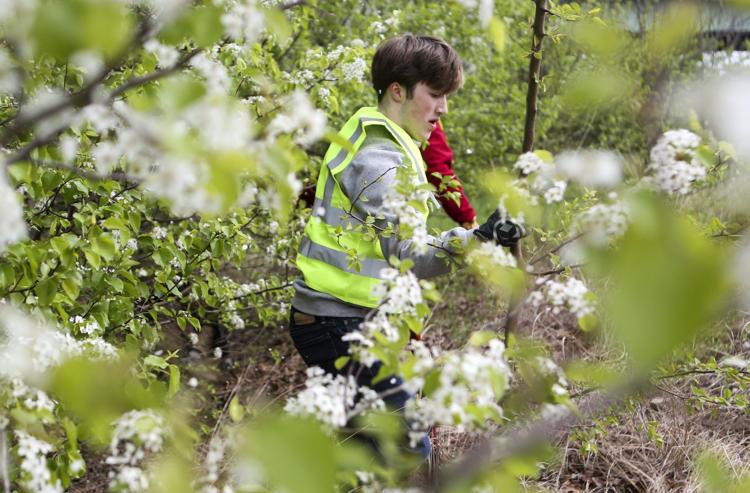 Knocking it down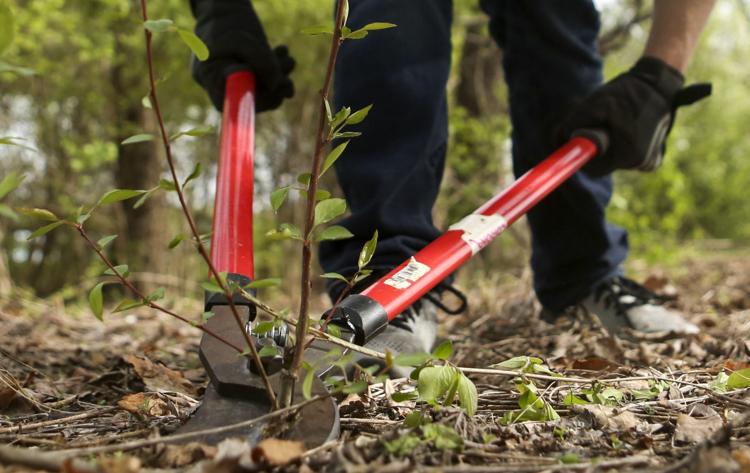 Knocking it down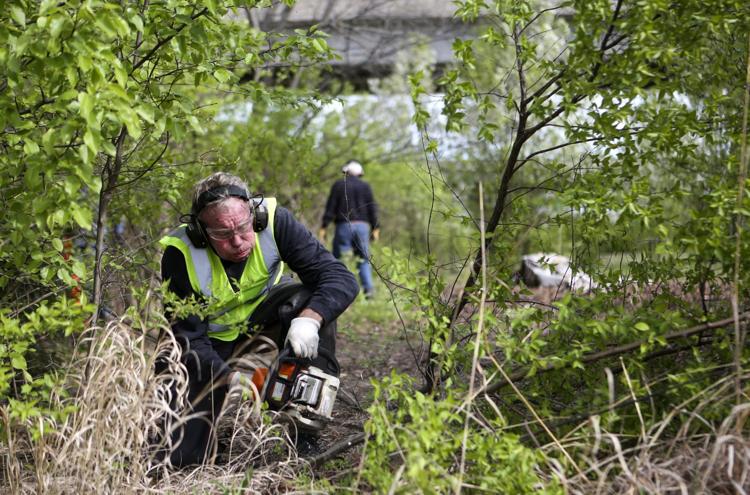 Knocking it down
Knocking it down