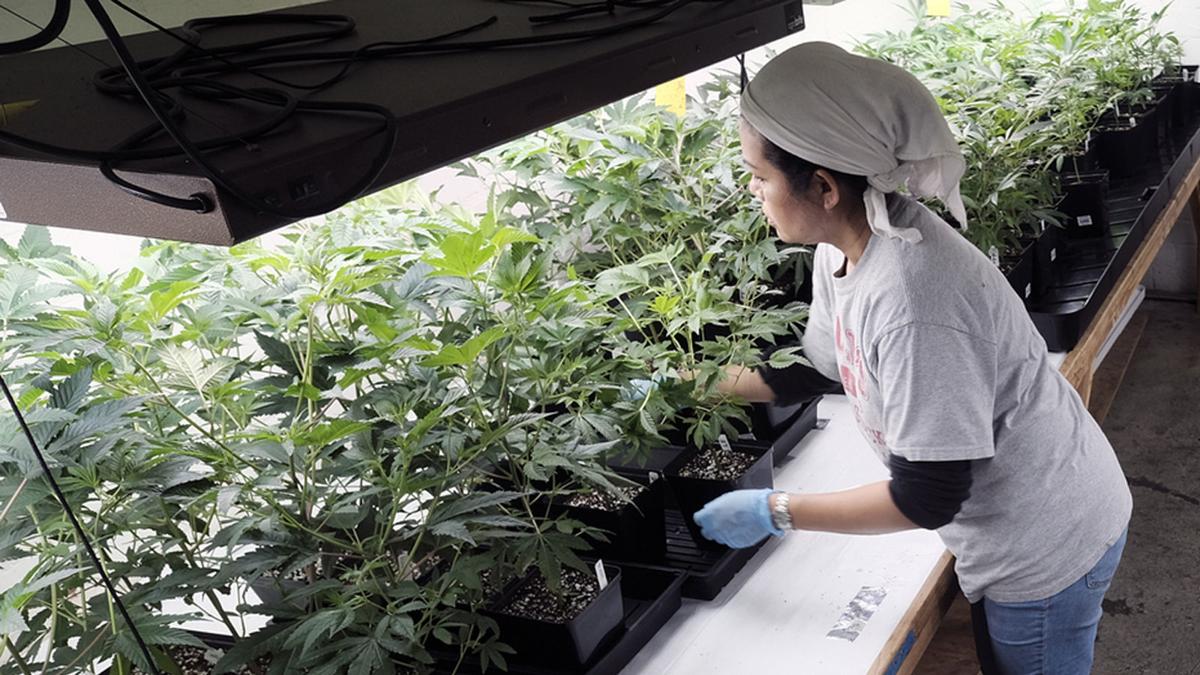 Missouri won't generate enough demand for medical marijuana to support the number of businesses the state is required to license by next year, according to a University of Missouri study provided to state officials.
The 46-page report projects the supply of marijuana will outpace demand as far as 2022, when the state could reach about 26,000 qualified medical marijuana patients. Between 24 and 29 cultivators would suffice to grow enough marijuana for them.
That's fewer than half of the 60 commercial growers state law will require to be licensed by January. The constitutional amendment that voters approved in November also requires the state to license at least 192 dispensaries and 86 facilities that manufacture marijuana-infused products.
Missouri already has more applicants than licenses for each type of facility except manufacturing facilities, for which there were 73 applicants. As of March 28, the state has raked in at least $3.32 million from at least 471 application fees from businesses that want to grow or sell the plant or infused products.
The study projects Missouri will need fewer of each type of facility to meet demand.
But medical marijuana advocates say the study underestimates the number of medical marijuana patients by more than 100,000. They say the study — which uses data from 2015 culled from 19 states with varying medical marijuana programs — is flawed.
The department, which is tasked with regulating medical marijuana, declined to comment on the study's findings other than to say that it was required to license the facilities as prescribed by law.
"The amendment is very clear that there are minimums to spell out," said Lyndall Fraker, the state's director of medical marijuana. "That is what we fully intend to do."
The researchers averaged numbers from 19 states that have legalized medical marijuana to make their projections "with 66 percent confidence." The researchers looked chiefly at Washington, Arizona, Massachusetts and Colorado, which they said offered the most complete data available.
The researchers estimate that about 19,000 residents will qualify as medical marijuana patients in Missouri next year and that the state would need to harvest 5,000 pounds to 7,000 pounds for those patients. That much could be grown by 10 to 14 cultivators.
Missouri is keeping the identities secret of those who have pre-paid application fees to grow and sell marijuana. The Post-Dispatch has sued the state to release the names.
Based on data from Colorado, the number of qualifying patients in Missouri would grow to 22,500 in 2021, when the state would need 18 to 24 cultivators. By 2022, the study projects 26,000 Missouri patients. They could be serviced by 24 to 29 cultivators.
Based on the quantity of medial marijuana sold per dispensary in Washington and Colorado, Missouri will need 115 and 132 dispensaries to meet demand by 2022.
'Flawed Data'
The association estimates at least 122,500 people, or about 2 percent of Missouri's population, would qualify as medical marijuana patients as soon as next year, Cardetti said.
The study relies on old data from states with widely varying medical marijuana programs, Cardetti said. California, for example, doesn't require the state to keep a registry of its patients. Other states cited in the study, such as Alaska, had fewer than 1,000 patients in 2015 because their programs were restrictive, he said.
Oklahoma has a population of about 3.9 million. Missouri has a population of about 6.2 million.
"The notion that after three years, that less than a half of one percent of Missouri's population will be qualified medical marijuana patients just isn't based in reality," he said.
Joseph Haslag, director of the university's Economic and Policy Analysis Research Center and an author of the study, said it is difficult to get comprehensive data on medical marijuana because of how widely states vary in their regulations, how many years their programs have been active, and how closely they track patients and sales.
"Even the states that have been early adopters like Washington or California, they're not easy to get data from," he said.
Medical conditions that qualify patients for marijuana use in Missouri include cancer, epilepsy, glaucoma, intractable migraines unresponsive to other treatment, a chronic medical condition, debilitating psychiatric disorders, immunodeficiency and any terminal illness.
The study noted that in a best-case scenario, Missouri could have about 61,700 qualified medical marijuana patients by 2022, Haslag said. That is based on data from Arizona, which had fuller data than most states and has a program similar to Missouri's, he said.
Even that number wouldn't generate enough demand within the first three years for 60 growers, according to the study.
'No magic number'
Missouri will have to keep close watch to make sure any oversupply of marijuana doesn't find its way into the illegal market, Haslag said.
The fees businesses pay to the state will provide an incentive for them to follow regulations and obey the law, he said. And a seed-to-sale tracking system will play an important role in accounting for the product, as will the state's ability to monitor the industry using real-time data on the price and quantity of marijuana, he said.
Dan Viets, who played a chief role in drafting the medical marijuana law, said he agreed that the state could meet demands with fewer than 60 cultivators. He has told clients whom he's advising that cultivation "may not be as lucrative as some people think," he said.
Viets said the amendment was written to allow for more business competition as a way to drive down prices.
"There is no such thing as an oversupply," Viets said. "Prices should be allowed to fall to what the market determines. That is what is in the best interests of patients."
Many states do not limit the number of cultivation licenses they approve, Viets said. Illinois, which allows up to 22 commercial growers, one in each state police district, is among the most restrictive programs in the country. Oklahoma, which did not place a limit on the number of cannabis business it allows, had licensed more than 2,300 growers as of March 20.
"There is no magic number," Viets said. "We chose the numbers that we thought would be sufficient and would promote competition."
Growing cannabis will be too expensive, too specialized, too restrictive for most Missouri farmers.