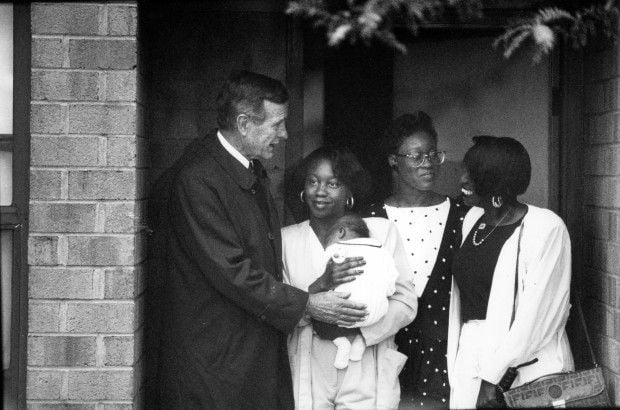 Longtime St. Louis housing and civil rights activist Bertha Gilkey died Sunday (May 25, 2014) in Alabama.
Patricia Riles, the president of the Cochran Tenant Management Association, confirmed that Ms. Gilkey died following a two-year battle with cancer.
Ms. Gilkey, 66, had been living with her daughter in Prattville, Ala.
"She is legendary as far as being an advocate for tenant rights and public housing," said St. Louis Alderman Jeffrey Boyd.
Ms. Gilkey rose to prominence in 1969 when, as a 20-year-old single mother, she orchestrated a nine-month rent strike to protest management and substandard conditions in Pruitt-Igoe and other city public housing projects.
Her work ultimately contributed to the demolition of large public housing projects in favor of "enterprise zone" townhouse developments.
Ms. Gilkey's efforts were recognized by President George Bush and Oprah Winfrey, who presented her with an "Essence Award."
She was also featured on the CBS news magazine, "60 Minutes."
Bush appeared with Ms. Gilkey during a 1991 visit to St. Louis.
"I've got this quote of hers," the president told his audience: 'We don't want to be taken care of; we want to take care of ourselves.' That is, to be treated like human beings, not numbers in a housing project."
Rodney Hubbard Sr. worked alongside Gilkey for about 45 years in tenants' rights and housing issues.
"She was a pioneer for helping underprivileged, low-income people in public housing," Hubbard said Sunday night. "Any battle for low-income people in (St. Louis) public housing, Bertha Gilkey was there. If you wanted a soldier by you, you would definitely want Bertha."
Ms. Gilkey's activism was not without controversy.
She was often at odds with city officials and, in 2002, a federal judge placed her on five years probation and ordered to pay $19,000 in restitution after she entered a guilty plea to embezzling U.S. Department of Housing and Urban Development funds.
According to news accounts, Ms. Gilkey fought back tears as she told the federal judge handling the case that she was "truly sorry" for her actions.
News stories also show that Ms. Gilkey took pride in the personal accomplishments she achieved as a single mother.
Young people, in fact, were often at the forefront of her efforts.
"We have to spend time with our children, hugging them and sitting around the table talking to them,'' Ms. Gilkey said in 1990 to a group dedicated to improving East St. Louis. "We can't blame our kids for their problems. We have to blame ourselves.''
Riles praised Ms. Gilkey for "all the diligent work she has done not only for (St. Louis) but for others around the country in Chicago and Philadelphia."
"It was like a job to her," she said. "That's all she lived for."
Funeral arrangements were not available Sunday.
Margaret Gillerman of the St. Louis Post-Dispatch contributed information for this story.
---
EDITOR'S NOTE: A previous version of this story incorrectly reported Gilkey's age.