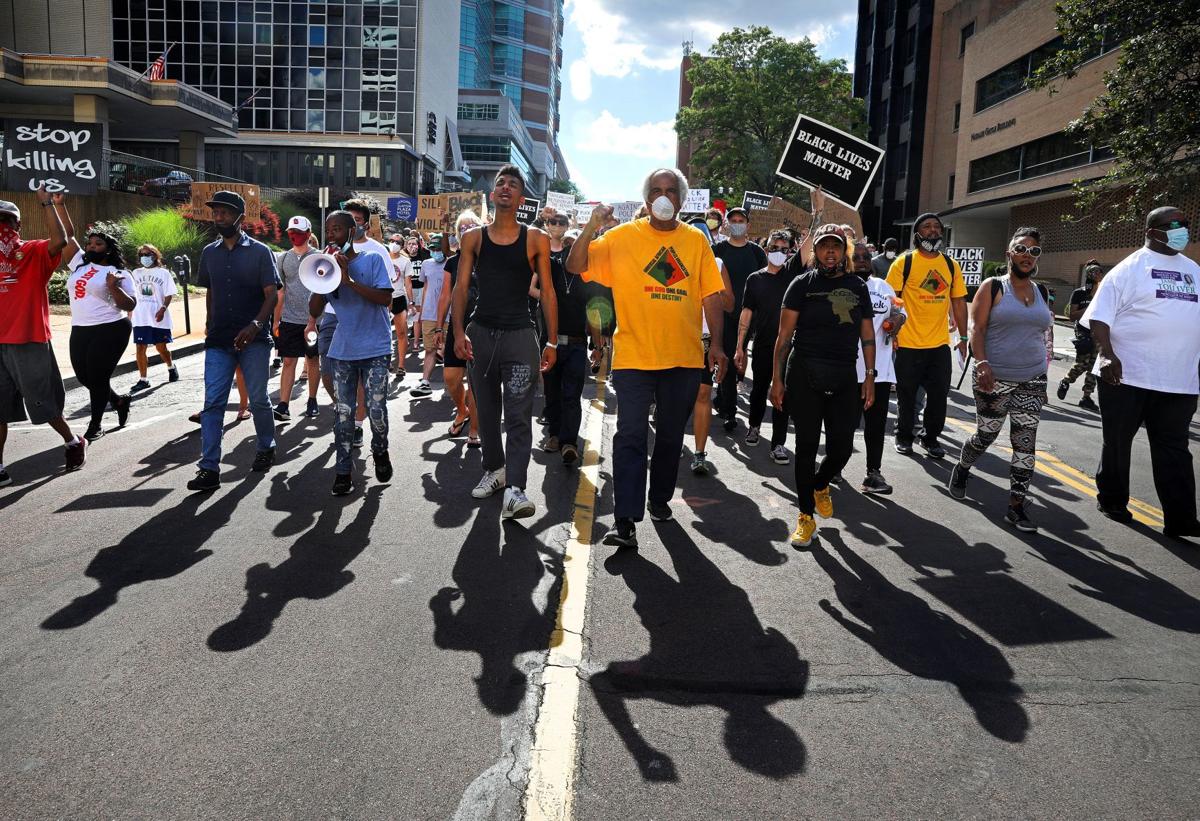 UPDATED to correct name of county justice center
CLAYTON — Protests against systemic racism moved from the Florissant Police Department to the Buzz Westfall Justice Center in Clayton on Wednesday.
The protest, which moved back to Florissant in the evening, followed the Wednesday afternoon announcement by St. Charles County Prosecutor Tim Lohmar that no other officers will face criminal charges in the incident where a Florissant detective appeared to hit a fleeing suspect with an unmarked SUV.
The detective driving the SUV, Joshua L. Smith, was fired and charged with assault. On Wednesday, Lohmar said the other two officers on the scene that night were "cleared of any wrongdoing."
ExpectUs, a group that has organized protests across the region, brought about 100 people of various ages and races to march through the streets of downtown Clayton Wednesday afternoon. Protesters echoed local and national rallying cries following the death of George Floyd, a Black man who died in Minneapolis last month after a police officer knelt on his neck for nearly 8 minutes.
Apartment residents waved, some cars honked, and the group stopped to chant in front of a nearby restaurant while diners looked on.
"Clayton is where the money is for this county. Where there's money, there's power," said Rev. Darryl Gray, who noted the group also chose Clayton because of police Chief Mary Barton's recent denial that systemic racism exists in St. Louis County. Clayton is the county seat.
Bob Case, 71, of University City, noted his experience seeing injustice growing up in Mississippi, as well as Germany, is why he continues to support the movement. "It's the whole thing. Black Lives Matter. I've been on board since Ferguson," he said.
Gray argued Tuesday that police are not using enough funds on adequate training such as de-escalation training and body cameras.
"We're saying, 'If you're not going to spend tax dollars on these things that would give us better accountability and transparency, then you need to reinvest that money into community resources,'" Gray said.
One of the places where Gray and other activists see an opportunity to divert funds is the county jail, which houses about 1,200 inmates and has a budget of more than $25 million. Most of those held at the jail are awaiting trial for nonviolent offenses, according to an analysis from the McArthur Foundation. Last year, five inmates died in the jail.
Two jail inmates also tested positive for coronavirus in recent weeks. The jail previously announced it had reduced its population by about 14% due to the pandemic.
The jail was also a point of contention for the crowd because several people who protested at both Tuesday's and Wednesday's demonstrations said four fellow protesters were arrested at the Tuesday night protest in Florissant. Florissant police did not return multiple calls requesting information about arrests at Tuesday's protest.
Later Wednesday evening, protesters returned to Florissant, where they've battled with police over painting "Black Lives Matter" in large letters on North Lindbergh Boulevard. Protesters painted it again Tuesday night, but it had been painted over by Wednesday afternoon.
Wednesday's protest ended at about 10 p.m.
---
EDITOR'S NOTE: This story has been updated to correctly identify the Buzz Westfall Justice Center in Clayton.
Be the first to know
Get local news delivered to your inbox!