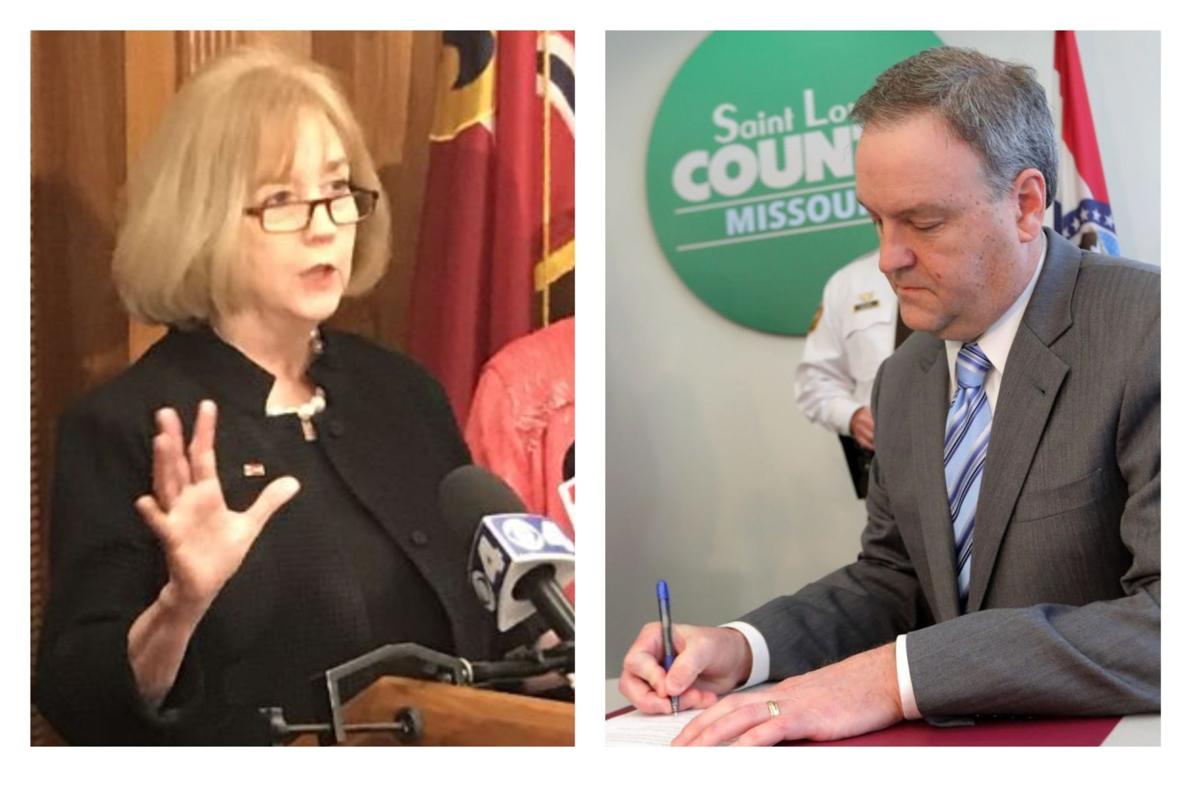 ST. LOUIS — Stay-at-home and other emergency public health orders issued by the city of St. Louis and St. Louis County early in the pandemic likely saved thousands of lives in the region, according to new research led by Washington University School of Medicine in St. Louis.
The study, released Wednesday, showed that a delay of even two weeks in issuing the orders could have increased the number of deaths almost sevenfold in the city and county, the university said in a news release.
"If behavior changes after the hospitals fill up and the impact of the pandemic is obvious, it's already too late to avoid a high number of deaths," said Dr. Elvin Geng, the study's lead author and professor of medicine.
"A pandemic is like a big ship; it takes time to change course. But as the virus ramped up, early social distancing policies in St. Louis mitigated it just before it really exploded."
The study, published in JAMA Network Open, demonstrates the importance of implementing local public health policies during the critical window at the onset of a new epidemic, researchers say.
In March 2020, not long after the first cases of COVID-19 were reported locally, health officials in the city of St. Louis and St. Louis County issued emergency public health orders intended to reduce interactions between people.
With these public health measures, area hospitals experienced a total of 2,246 COVID-19 hospitalizations and 482 deaths attributed to COVID-19 by June 15, 2020.
The researchers analyzed an epidemiological model to examine what was likely to have happened if the epidemic trajectory in St. Louis early in March had continued without the enactment of the policies for another one, two and four weeks.
Had the orders been delayed two weeks, the researchers' modeling indicates that the city and county likely would have seen 3,292 deaths by June 15 — a nearly sevenfold increase over what was actually recorded. Hospitalizations would've risen to an estimated 19,600 — a nearly ninefold increase.
Geng said the orders likely prevented St. Louis area from mirroring the dire situations that unfolded in cities such as New York and Boston early in the pandemic where thousands died and hospitals were overwhelmed.
"Some may argue that because the same thing didn't happen here, it could never have happened here and that, therefore, early social-distancing policies were an overreaction," Geng said. "But our data suggest that a large number of deaths due to the pandemic was indeed possible in St. Louis."
Even a one-week delay in public health measures would have considerably increased hospitalizations and deaths, with an estimated 8,000 hospitalizations and 1,300 deaths by June 15, under the researchers' modeling scenario.
The researchers estimated that before March 15, each person in the city or county with COVID-19 infected an average of almost four other people. For a pandemic to be curbed, each person must infect fewer than one other person.
After the city and county's stay-at-home policies went into effect, the average number of people each resident with COVID-19 infected dropped from almost four to 0.9, the study found.
"These data do not speak to the overall societal costs, which were formidable and painful," Geng said. "The best long-term strategies to mitigate a respiratory epidemic in the absence of a vaccine is a difficult question. Social distancing is only part of the solution. But if such strategies are to be used, implementing them early, during the initial arrival of the virus, might be the best time to deploy such actions."
Washington University researchers performed the analysis with others from BJC HealthCare, St. Louis University, Mercy Health and elsewhere, including senior author Dr. Maya Peterson, of the University of California at Berkeley, and co-author Joshua Schwab, of the University of California at San Francisco.
The modeling program — called Local Epidemic Modeling for Management & Action — is publicly available and the researchers say they hope that other public health officials across the country will be able to use it to inform pandemic responses in their communities. The program can also incorporate local vaccination rates.
Geng said models are not crystal balls, but they can help make projections based on a set of behavioral conditions.
"The model uses real data about the epidemic early on — what actually happened on the ground in St. Louis — to project epidemic course over time under a 'what if' scenario," he said. "These COVID-19 projections suggest that the city and county dodged a bullet with early social distancing measures."
Originally published at 10 a.m. Wednesday, Sept. 1, 2021.