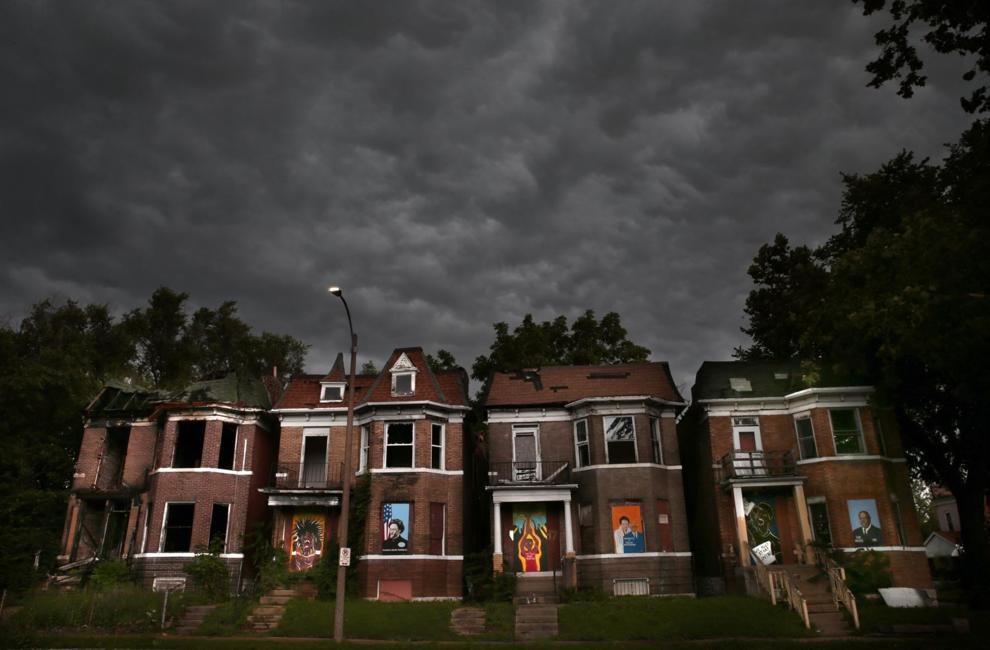 ST. LOUIS — Abandoned homes on Page Boulevard on either side of Bayard Avenue have weeds creeping up their brick exteriors, collapsing roofs and boarded-up windows — a sight too often found along north St. Louis street corners.
But these particular homes will finally be knocked down and removed, thanks to a partnership involving the Urban League, local construction companies and the city.
"I'm excited," longtime Kingsway East resident Joyce Driver said. "I hope we revitalize the north side. We need a shot in the arm."
The Urban League on Wednesday held a news conference to launch its annual Clean Sweep effort, announcing that four ramshackle homes along Page Boulevard and five more along Aldine Place near Kingshighway will be razed. Demolition starts Saturday and will involve more than 200 volunteers who will remove debris, trash and overgrowth. The program is run through the Urban League's Public Safety and Community Response divisions with help from the Regional Business Council.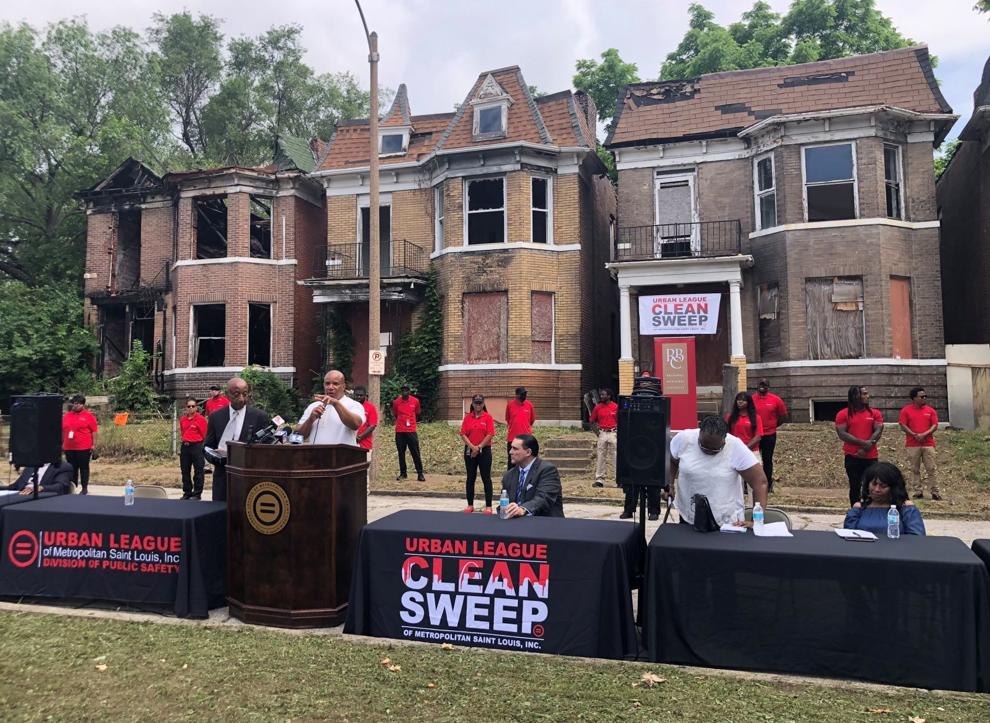 Later in the year the organization will spearhead two more efforts to clear other structures that are among the city's thousands of dilapidated buildings. There were roughly 25,000 abandoned buildings and lots in the city as of 2018, according to a Post-Dispatch report that year.
In September the Clean Sweep program will focus efforts in the Walnut Park neighborhood, and in October the program will target College Hill. Last year's Clean Sweep included the painting of the Grand Water Tower, its first repainting in 50 years.
"When you look at the landscape, these properties compound the community trauma," Urban League St. Louis President Mike McMillan said Wednesday. "They take away from the self-esteem and stability in the neighborhood."
Abandoned homes are incubators for crime and discourage community growth, Ward 18 Alderman Jesse Todd said Wednesday at the news conference. He wants vacant buildings held to the same code standards as occupied ones, and for grants and tax credits to be given to families to fix up neglected properties. The Clean Sweep event, he said, is a step in the right direction.
"This (effort) will have a great impact," Todd said. "This will take care of an eyesore, and help make the neighborhood safer and more beautiful. Then we'll have investors coming in."
Driver remembers when these homes had people living in them, but they've now sat as empty husks for years.
"(The neighborhood) has gone down a lot in the 30-some years I've been here," she said, adding that the abandoned homes, "destroy the aesthetic appeal. … If I were buying a house here I'd say, 'Ooh, I don't want that on the other side of me.'"
This year, in-kind donations amount to $750,000 for Clean Sweep, according to the Urban League. Since the program's inception, it has benefitted from $5 million in in-kind donations. Once the decaying homes are knocked down and cleared out, the city will maintain the empty lots.