The event at Sumner started with a series of speakers on the school's front steps, followed by a procession of cars, or "votercade," that wound through the streets of the Ville neighborhood, honking. The procession ended with a gathering at Tandy Recreation Center, where some participants handed out postcards and encouraged people to send them to members of Congress.
Votercades and rallies were also scheduled Saturday for Swansea; Cape Girardeau; Champaign, Illinois; and Springfield, Missouri.
St. Louis Mayor Tishaura O. Jones, like other speakers, evoked the memory of Lewis, the late civil rights leader and Georgia congressman, by asking the crowd at Sumner, "Who's up for some 'good trouble'?" (Lewis, badly beaten in Selma, Alabama, during a 1965 march for voting rights, frequently urged people to be willing to "get in good trouble" if they hoped to effect change.) Jones noted that she was especially proud to speak in front of Sumner, the first high school for African Americans west of the Mississippi River.
"This nation was founded on keeping us separate while requiring that we work twice as hard to get half as much as our white peers," said Jones, who is the city's first Black female mayor. "To sit at a lunch counter, to work the same stable jobs, to feed our families, to get into the middle class, to send our children to quality schools, and to vote. And yet here we are."
Alderman Dwinderlin Evans said that she was a little bit late to the event because about four blocks away, she spotted two young men doing donuts with their cars in the street.
"I ran across two of our future, I guess you could say, voters," she said. She stopped and asked, "Why are you doing this? You should be getting into some good trouble. They said, 'Well, we didn't have anything to do.' I had to go into my mentoring stage at the moment."
Evans said she gave them her card, promising one man information about earning a GED and another about the possibility of voting despite his run-ins with the law.
"That was some good trouble, and I halted some bad trouble," she said.
Her ward had a 21.6% turnout in the April election.
TraVonne "Von" Walker, 22, of Ferguson, stood in the crowd. He's the student body president of Harris-Stowe State University and also ran the campaign for his mother, Sheila Powell-Walker, who is the president of the Ferguson-Florissant School Board. He said some of his peers say they don't vote and bring up conspiracies or think their vote doesn't matter.
"Grassroots is really how you start everything," he said. "When you see the votes come in, there's really no point to saying your vote doesn't matter."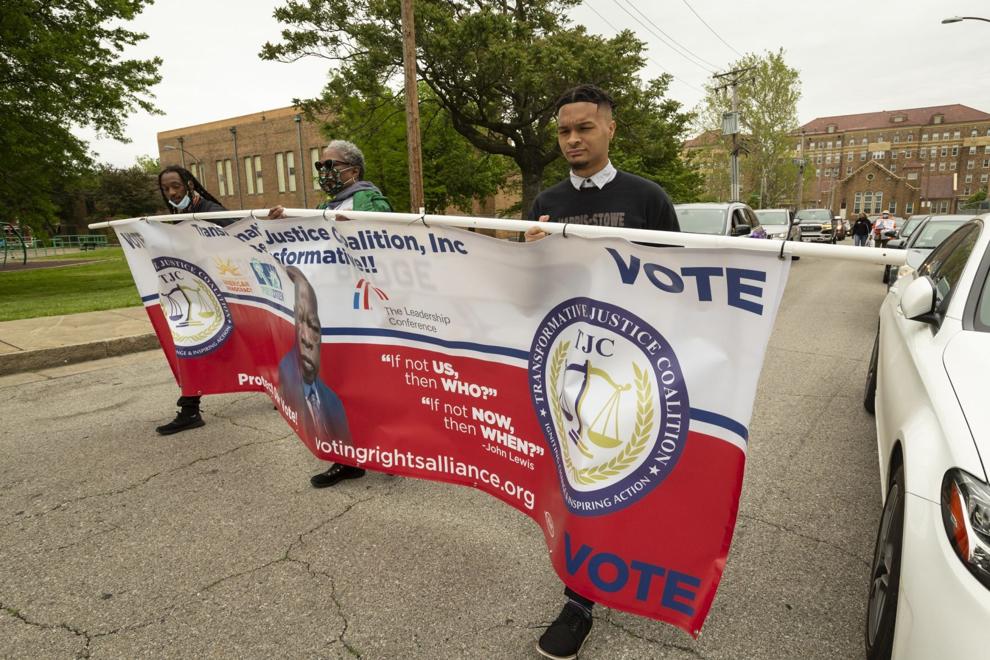 The "good trouble" votercades were launched to spur voter turnout during last year's general election and Georgia's special runoff elections for U.S. Senate.
Among the goals of the federal legislation are making voter registration automatic, restoring full protections of the Voting Rights Act of 1965 and allowing the District of Columbia to become the 51st state.