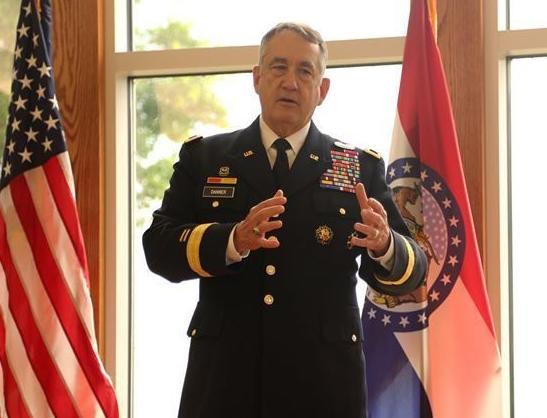 ST. LOUIS — A former Missouri National Guard adjutant general with an extensive career in state politics seeks to open what would be one of the largest commercial medical marijuana operations in the state.
Retired Maj. Gen. Stephen L. Danner heads a business group among the most ambitious of hundreds of competitors for state-issued licenses to grow and sell marijuana, according to a Post-Dispatch review of state records and data from the Department of Health and Senior Services, the agency tasked with regulating the medical marijuana program.
Public documents registering one of the companies, Therapy Harvest Corporation, with the Missouri secretary of state's office in August identify Steve Danner as president of the group, and list a business address that matches a Kansas City law firm where Danner is of counsel.
The records also list as a registering agent Dan Runion, a partner at the same firm. Contact information for Therapy Harvest in the spreadsheet provided by DHSS included a phone number that matches the law firm's, and an email address matching Danner's initials.
Neither Danner nor Runion responded to requests for comment.
Therapy Harvest Corporation is among at least 40 groups that submitted 10 or more license applications for potential businesses, according to data provided by DHSS. Eleven licenses is the maximum any business group will be awarded.
Missouri has raked in a total of more than $13 million in fees from 2,163 marijuana business applications. At least 700 groups are competing for a limited number of licenses to enter an industry expected to top more than $100 million in annual sales by 2025.
The state has said it will issue just 60 licenses to grow marijuana commercially, 86 licenses to make marijuana-infused products and 192 to open dispensaries — 24 dispensaries for each of Missouri's eight congressional districts.
The state has contracted with a company that will use a blind scoring process to assess the applications and issue licenses to the top scorers by the end of the year. But applicants have expressed concern that the licensing process will favor already-established marijuana companies that are flush with cash, or applicants with business and political ties.
Pivot to pot
Danner enlisted in the Army in 1972 and served as a combat engineer. In 1981, he joined the Missouri National Guard as a member of the Judge Advocate General's Corps.
Danner served in the Missouri Senate from 1990 to 1994. He was chief of staff to then-Lt. Gov. Mel Carnahan in 1989 and 1990. He ran, and lost, a campaign for state auditor in 1994. He was appointed adjutant general in 2009 by former Gov. Jay Nixon.
His mother, Pat Danner, is a former U.S. House member and state senator from northwest Missouri.
In his private sector career, Stephen Danner is a lawyer who specializes in real estate.
Therapy Harvest applied for three cultivator licenses, four dispensary licenses and three processing licenses, most of which would be used for two facilities in Kirksville and in Cameron. Each applicant is allowed to own a maximum of five dispensaries and three licenses each for cultivation and processing operations.
Therapy Harvest also applied to operate a dispensary in Kansas City at Split Oak Mall, a property owned by development companies run by Danner's son, Andrew Danner, according to Clay County property records.
Business dealings between the father and son came under scrutiny this year after a nonprofit that Stephen Danner founded won millions in tax credits for low-income housing to be built by a company Andrew Danner runs.
Post-Dispatch columnist Tony Messenger reported on July 29 that the nonprofit Missouri National Guard Foundation partnered with North Star Housing, a company co-run by Andrew Danner, on four occasions to seek tax credits for low-income housing projects in Macon, St. Louis, Poplar Bluff and Cameron. The foundation was accused of using the nonprofit's pitch to help veterans to obtain tax credits for North Star developments.
Earlier this month, Messenger reported that the Missouri attorney general's office is investigating Danner in connection with the nonprofit foundation and the tax credits.
Therapy Harvest plans to issue 30,000 shares of common stock, according to public documents.
Earlier this month, an initiative petition was filed with the Secretary of State's office to allow Missourians to vote in 2020 on legalizing marijuana and setting up a similar licensing program for the recreational market, to be overseen by the state.
The initiative includes a provision creating a 15% tax on non-medical marijuana retail sales, most revenues from which would go to a "Veterans, Infrastructure and Health Fund" with the state treasurer's office. Twelve-fifteenths of the fund would be split three ways: to the Missouri Veterans Commission, to road repairs and construction, and to provide grants to nonprofits serving populations vulnerable to drug-related overdoses, like veterans served by the National Guard Foundation.
The initiative was filed by Deirdre Hirner, a private lawyer in Columbia, Missouri, and former special assistant to Danner when he was adjutant general. Hirner declined to identify a person or group on whose behalf she had submitted the initiative.