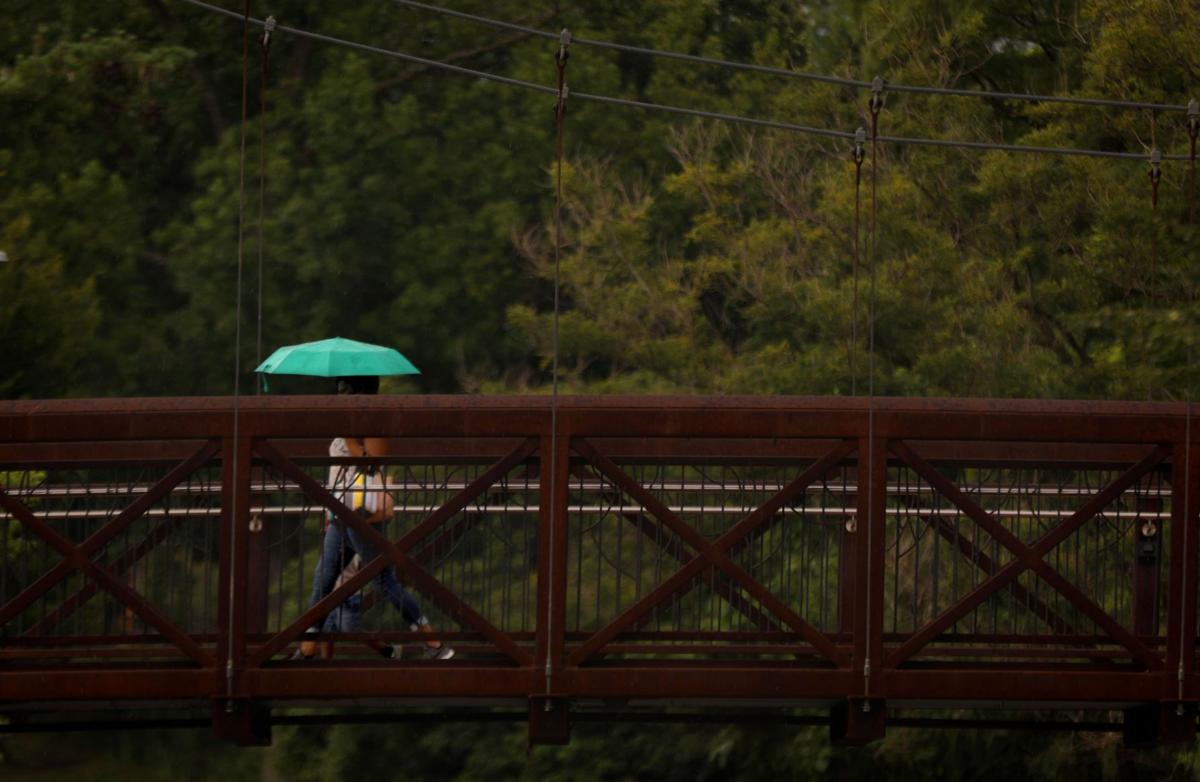 Get your portable fans and coolers ready, St. Louis. It's going to be a hot one.
Temperatures this weekend are expected to be in the high 90s, with the heat index over 100. On Sunday, temperatures are slated to reach 98 degrees, with a heat index of 110.
Mark Britt, a meteorologist with the National Weather Service in St. Louis, said it's typical for St. Louis to see at least one instance of dangerous heat each July and August.
But the worst of it will stick around only through Sunday, Britt said, before things return to a (still-hot) normal in the upper 80s and lower 90s.
This weekend, specifically, people need to be careful in the heat. Britt said the best way to stay safe is to wear lightweight clothes, avoid strenuous activities and drink lots of water. It's also important to consider staying indoors and in air conditioning and checking on your neighbors, especially the elderly and those with preexisting conditions that make them more susceptible to heat.
"When we put out heat advisories, emergency departments tend to see an increased amount of heat-related injuries," Britt said. "Heat tends to be the biggest cause of weather-related fatalities in the area."
Dr. Kurt Venator, chief veterinary officer for Purina, said it's important to make sure your animals are staying safe too. Just like for humans, overheating can be harmful to pets. He said the main thing to keep in mind is that if the heat is uncomfortable for you, it probably is for your pet as well.
Some ways to make sure your furry friends are safe are to always have water available, both on walks and in the backyard. Adjusting your schedule so that you aren't walking your dog in the peak heat of the day is also a good idea. Check the pavement to make sure it isn't too hot to the touch because if it burns you, it'll burn their paws too. Venator said telltale signs of a heat stroke in your pets are excessive panting, heavy drooling, difficulty breathing, rapid heart rate, weakness or lethargy, and dark or red gums and tongue.
The last tip from Venator is to never leave your dog in a car.
"When it hits 80 degrees outside, it can be over 100 in a car in minutes," Venator said. "Your pet can quickly become overheated or worse."
If you are headed to a water park or pool, even with COVID-19 cautions, plenty of other people may be seeking the same relief. Julie Pohlman, director of operations at Raging Rivers Water Park, said that although they never know what kind of a crowd to expect, they are usually busy on the hottest weekends.
"High temperatures bring people to the water," Pohlman said.
At the Grafton water park, capacity is limited to 50% because of the coronavirus pandemic, so customers may need to show up earlier in the day to get in. Pohlman said more than 30 hand-sanitizing stations are spread throughout the park, and employees must wear masks when talking with customers. Guests are encouraged but not required to wear masks.
While St. Louis normally has cooling centers to allow people to escape the heat on days like this, COVID-19 restrictions have caused some to close or change locations. Erin Smith, vice president of communications at United Way, said anyone looking for information to find relief from the heat should call 2-1-1 and talk to a Navigation Specialist about open sites in their specific areas.
Be the first to know
Get local news delivered to your inbox!