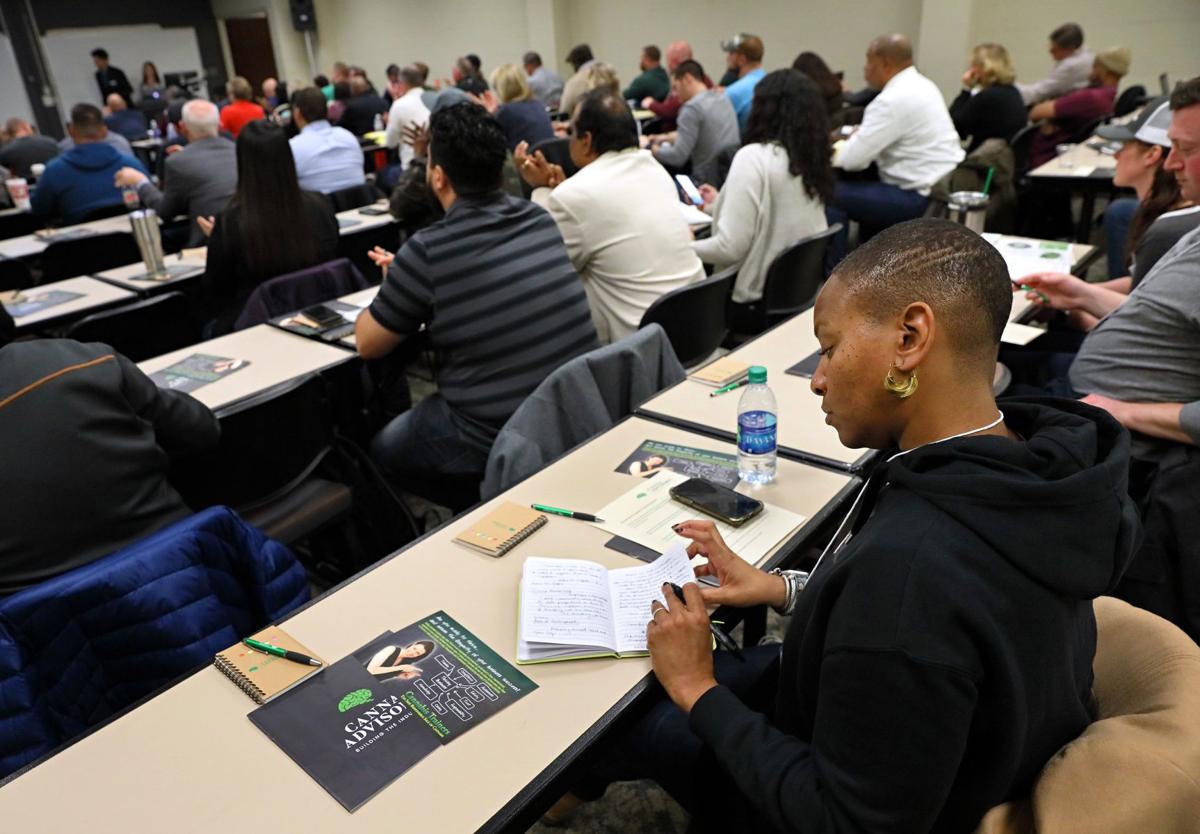 ST. LOUIS — As she applies for a state license to make marijuana-infused products for medicinal use, Keyonna Gray is thinking of people in her north St. Louis County neighborhood who were incarcerated for nonviolent marijuana offenses or battled addiction to opioids or other drugs. 
"I look at it as a way of creating jobs," said Gray, a first-time entrepreneur. "And creating safer access to steer people away from other, more dangerous drugs."
In making its selections, the state plans to use a blind scoring process that strips applicants' identifying information, including race.
But black business owners, like Gray, and policy advocates say Missouri should give extra points to minority-owned businesses seeking to enter the medical marijuana industry as a way to bring wealth and jobs to communities where people were disproportionately arrested for marijuana-related offenses.
"That should count when you are setting up an industry where it's difficult for people of color to gain ownership and access because of the capitalization piece, and taking into account that people are still sitting behind bars for what is now being legalized." 
The considerable financial capital and know-how needed to break into the marijuana industry makes it easier for big businesses to be successful, and harder for people like Gray and her mother, a home care provider. 
The two spent time in Oregon and Colorado apprenticing with legal marijuana businesses there and are courting investors in Missouri where they can. They're also in talks with a company that offered to buy them property in exchange for sharing a percentage of their revenue.
"We're exploring our options right now to see if we can find investors and people willing to give us a chance to join this industry, or people who don't know how to do it themselves and will invest in our company."
Deep pockets
African Americans are about four times as likely to be arrested for nonviolent marijuana offenses as whites, despite both groups using marijuana at similar rates, said Karen O'Keefe with The Marijuana Policy Project. 
Meanwhile, ownership in the legal marijuana industry nationally has skewed heavily white and male, O'Keefe said. 
That is in part because of the considerable financial capital marijuana business hopefuls need to get started and laws barring people with marijuana convictions from taking part. Missouri, for example, requires a group applying to open a marijuana-growing facility to have $300,000 in cash; it can cost about $1 million to build the type of secure, high-tech facility needed to meet regulations. 
And the federal ban on marijuana makes banks wary of loaning to marijuana businesses and property owners reluctant to rent to them, O'Keefe said.
"You have to have deep pockets, and people who have suffered through centuries of discrimination, redlining (and) incarceration aren't sitting on that much wealth," she said. 
"The constitution was very prescriptive about what we could consider in deciding the categories of scoring," he said. 
Williams pointed out that the points will be given to applicants that locate their businesses in low-employment areas or whose business plans describe how to "address diversity" in their top management and how to make medical marijuana available to low-income patients.  
But there is no guarantee the plans will be followed through, said Derek Mays, an intellectual property lawyer and compliance attorney who founded a largely black-owned company applying to open marijuana businesses in the St. Louis area. 
"We all know that you can buy a diversity plan from an articulate consultant from somewhere outside of Missouri and never have any real intentions to implement it," said Mays, a board member of the Missouri Medical Cannabis Trade Association. "And they can win licenses off of that."
"To me, it's a farce. We'll see how things shake out."
May's group, Real Cannabis, has been working toward breaking into the industry for years and is well positioned to succeed in the industry, he said. They hope to bring jobs and safe access to marijuana to black communities, he said.
"It's a retroactive law that prevents people who are actually pretty skilled and knowledgeable in operating in this space from participating, and in my view it's an additional punishment after they've already paid their debt to society," Mays said. 
In the meantime, Richardson said, businesses can use the marijuana industry as a tool for racial equity by making diverse hires, offering job training, and establishing benefit agreements with communities where marijuana businesses are located. 
"It's about putting people into position to gain knowledge and hands-on experience so they can be their own champion and ambassador," she said.