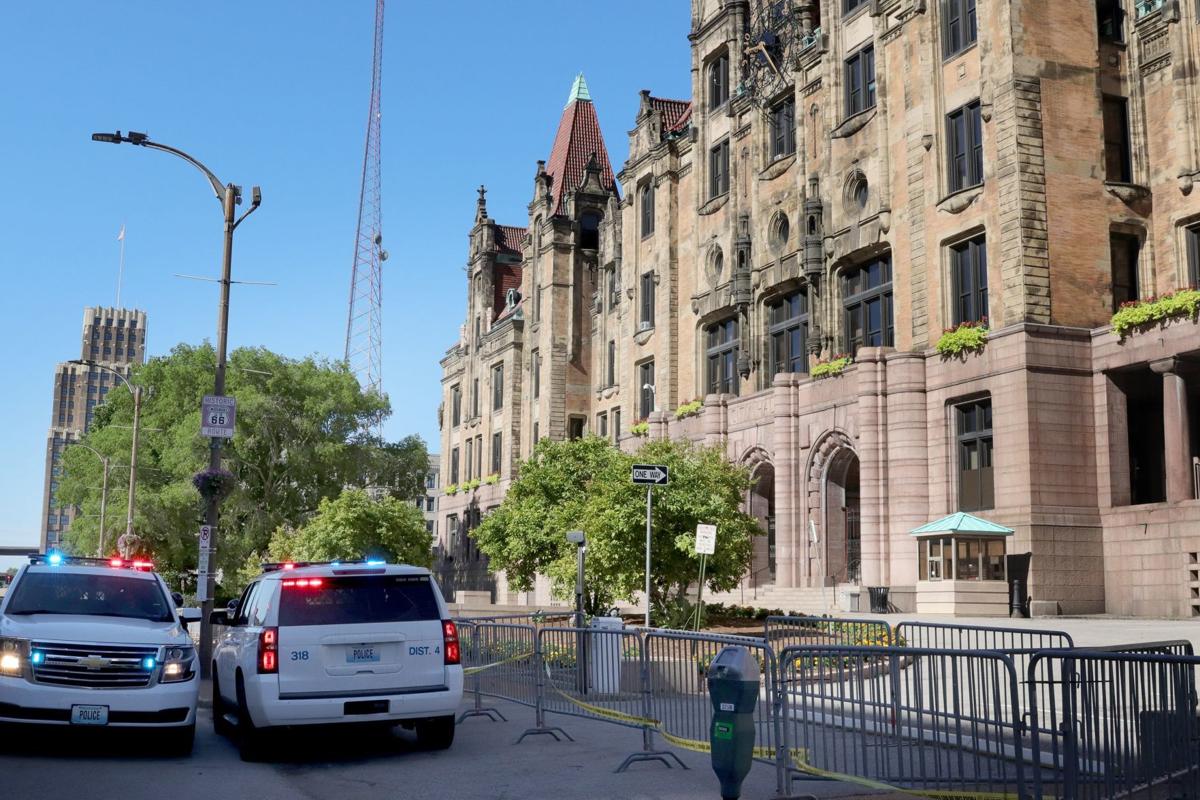 Seven people were arrested and two St. Louis police officers were injured Sunday morning as police once again tried to clear protesters from camping outside St. Louis City Hall, police said.
Officers first cleared the encampment around 4 a.m. Friday from the building's front steps and lawn, where protesters had been since Wednesday night demanding the resignation of St. Louis Mayor Lyda Krewson.
Sometime early Sunday, police again cleared protesters from the property and put up metal barricades around City Hall.
Around 7:30 a.m., however, protesters cut ties holding the barricades together and knocked them down, which was caught on film by a KMOV news crew.
After knocking down the barricades, the protesters came on to the property, police said.
Police made seven arrests on charges ranging from assault, trespassing, interfering with arrest, drug possession and parole violation, according to St. Louis police detective Brian Percich. The individuals were still being held Sunday morning pending warrants.
Two officers were also injured, Percich said. One officer suffered a possible broken arm. Details of the other officer's injuries were not yet known.
One protester who was arrested was sent for medical treatment after claiming to have COVID-19 and coughing on police, Percich said. Photos posted on social media by protesters show police officers not wearing face masks.
No other information was yet available on those who were arrested. On Sunday night, a handful of protesters sat outside the City Justice Center, waiting for arrestees to be let out.
"We are holding space in solidarity with our comrades who were arrested," said Cathy "Mama Cat" Daniels. "We are holding space until they are released. As a mother, as an elder of this group ... I'm not leaving."
Krewson's video was deleted a few hours after it was posted, and the mayor apologized for reading the names and addresses. A petition for Krewson to resign following the video has garnered more than 61,000 signatures.
Krewson has said she will not resign.
In another demonstration Sunday night hundreds of people gathered at the steps of the St. Louis Art Museum to pray the rosary, just behind the bronze statue of the Apotheosis of Saint Louis that depicts King Louis IX of France.
Members of the group, most of whom identify as Catholic, have been coming there since June 21 to pray for the preservation of the statue and what it represents to the city, a speaker said.
"It's important now, at this cultural moment, with so much disorder and passion in this city and in this country," said Andrew Thompson-Briggs, an organizer with the St. Louis Forever Rosary Coalition. "St. Louis was named after this great saint and king ... he was an imperfect man, as we all are."
After the ceremony, the group left and a handful of activists who want the statue removed from its spot atop Art Hill in Forest Park arrived.
"He was anti-Semitic," activist Umar Lee said of King Louis. "Why should Jews have to pay for anti-Semites? Put (the statue) on church property ... We think it's a fair compromise to give them the statue since it's special to them."
Editor's note: This story has been updated to include the correct name of a police detective.
Be the first to know
Get local news delivered to your inbox!