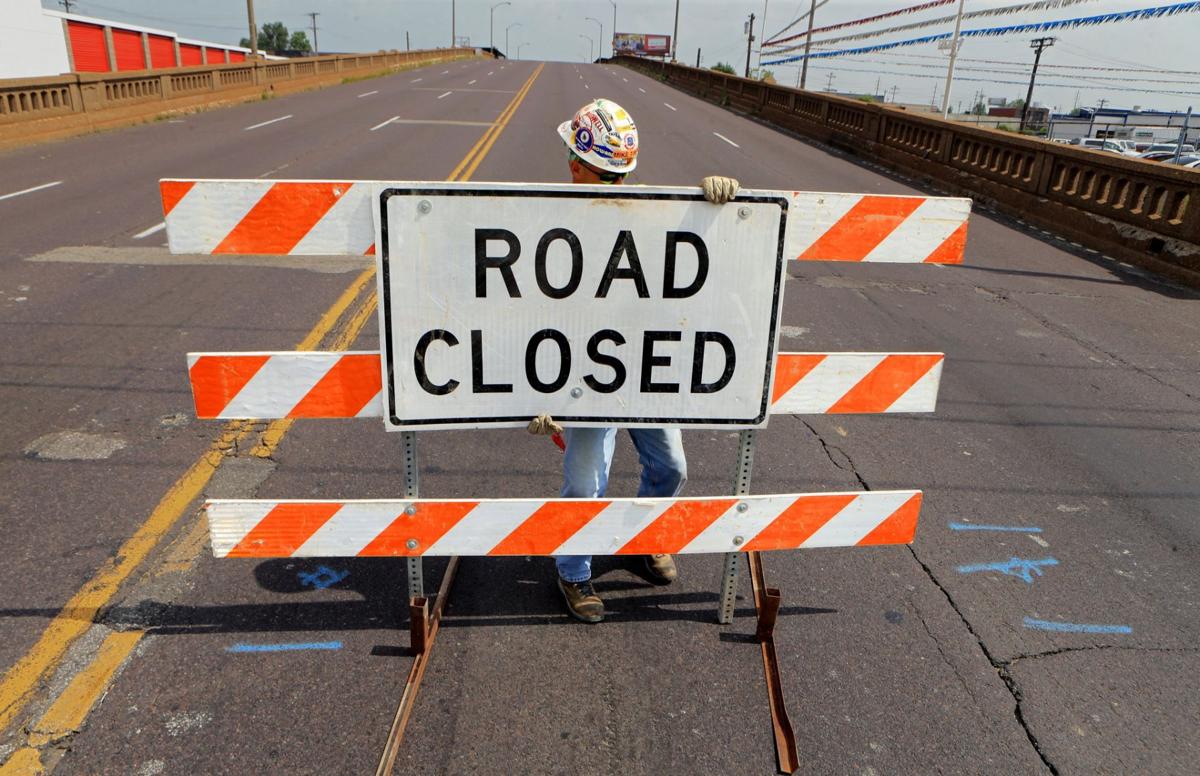 Looming construction on Grand Boulevard will be another traffic snarl for south St. Louis drivers, who already are navigating around the Kingshighway closure.
Commutes will be further complicated by the shutdown of a ramp from Southwest Avenue to eastbound Interstate 44 through summer's end, as well as long-term lane shutdowns on the interstate.
Construction on the Grand bridge over Interstate 44 is set to start in June, the Missouri Department of Transportation said at a meeting Monday at the Carpenter library branch.
MoDOT will remove, replace and raise the bridge about 1.5 feet to meet interstate standards as part of the $5.5 million project, said Jeff Bohler, the project manager.
Drivers will not be able to make a left turn at the bridge likely through November — southbound drivers won't be able to get to eastbound Interstate 44, and northbound drivers won't be able to turn onto the westbound Interstate 44 ramp.
And there will be times when drivers won't be able to make right turns from Grand onto the interstate. All traffic will be moved in the northbound lanes June through August. Drivers will have one southbound lane and two northbound lanes.
Traffic will be moved to the outside lanes from late August to early September so crews can work on the middle of the bridge for two weeks. Drivers will have one northbound and two southbound lanes on the bridge.
Traffic will be moved to the new southbound lanes from September through November.
When the bridge construction is complete, which is set for Dec. 1, drivers will have two northbound and two southbound lanes, and a dedicated left turn lane.
A bike lane and sidewalks also will be added in both directions.
At least one lane will be open in each direction on Grand. And in September, Ameren is set to do work on manholes north of the Grand bridge between Park and Chouteau avenues in the northbound lanes for about a month. A detour is expected around Hickory Street.
The Kingshighway bridge between Shaw Boulevard and Vandeventer/Southwest avenues is slated to open in spring of 2017.
Tony Zebrowski, who lives in the Southwest Garden neighborhood, said MoDOT should wait until it's open before working on Grand.
"It shouldn't be done at the same time. It's too much," he said of the traffic problems of both projects at once for drivers.
Bohler said MoDOT worked with the city to detour traffic east, to Jefferson, and away from Kingshighway for the Grand project. He said it's necessary for work to begin as soon as possible on the Grand bridge, which was built in 1969 and is one of the few along Interstate 44 that is below the standard 16-foot height for bridges above the interstate.
MoDOT also is renovating the Southwest, Hampton and Sublette bridges over Interstate 44, meaning one lane in each direction between Hampton Avenue and Arsenal Street will be closed around the clock into early fall.
Crews might close an additional lane in either direction during nonpeak traffic hours for the duration of construction, MoDOT said. And the ramp from Southwest Avenue to eastbound Interstate 44 will close Tuesday until the end of the summer. Drivers can use Arsenal or Hampton to access eastbound Interstate 44.
---
EDITOR'S NOTE: An earlier version of this story gave an incorrect spelling of St. Louis resident Tony Zebrowski's name.