KINLOCH • Keri Gilyard's childhood world revolved around three basketball courts in this north St. Louis County town.
It was the 1990s, and Gilyard spent almost every moment he wasn't in school or sleeping on the courts on Mable Avenue, across from the apartment complex where he grew up.
The basketball courts in Kinloch Park were a hub for a group of boys and young men like Gilyard from the community, the oldest African-American city incorporated in Missouri.
They would be on the courts at 6 a.m. Sometimes the games were so intense they would miss the school bus.
The friends would spend whole days there in summer, playing past midnight under the lights.
Gilyard remembers one Christmas break when they started trash talking and decided they needed to play. There was 6 inches of snow on the ground, but they shoveled the entire court and played.
Just like the city of Kinloch, the courts saw a steep decline. In 1972 when the courts opened, the community's population was about 7,000. The number of residents shrank to 260 last year, and the courts decayed, with faded paint, graffiti and a backlog of repairs.
Gilyard, now 27, tried to maintain the place as best he could.
This year, he got some unexpected help.
In August, the nonprofit Project Backboard enlisted St. Louis artist William LaChance to paint the courts with a bright abstract design.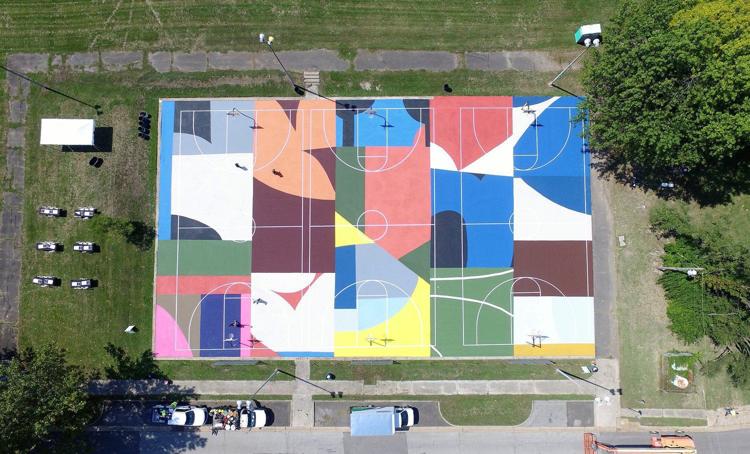 "It went from being this neglected place to a 105-by-175-foot piece of museum-quality art," said the project's founder Daniel Peterson.
For Gilyard, who now works as a barber in nearby Berkeley, helping to paint the courts and watching the center of his childhood transform was surreal.
"It felt like nobody really cared about Kinloch," Gilyard said sitting on a courtside bench. "But this to me is beautiful. It's all beautiful."
The heart of Kinloch
Kinloch was a different place when the basketball courts were built in the park in 1972.
At that time, Kinloch was vibrant, tightknit and often insular. Even the street layout cut it off from neighboring towns.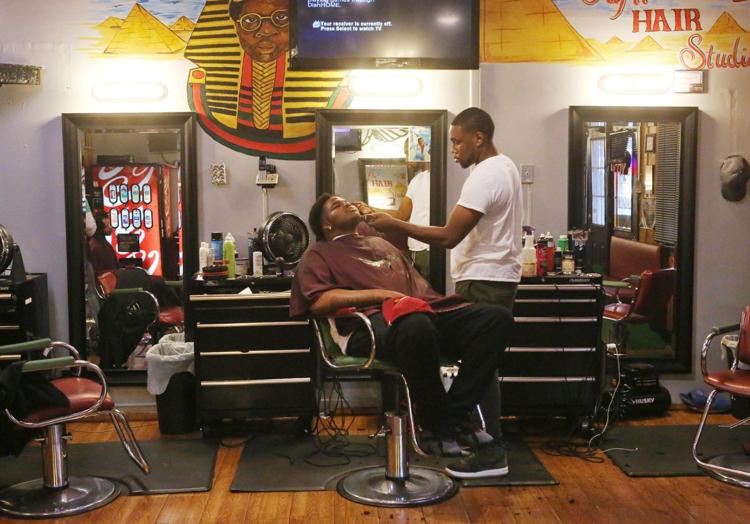 Residents' incomes were always significantly lower than in nearby Ferguson and Berkeley, but there were active community institutions, according to a civil rights report about Kinloch from the time.
"We had our own doctor's office, stores, churches," said Keri Gilyard's mother, Yolanda Gilyard. "You really never had to leave."
Yolanda Gilyard remembers Kinloch Park in the late '60s and early '70s.
"We didn't have a pool, so the fire department would just turn on the sprinklers and kids would run through them in the summer," Gilyard said.
The park was a home for church baseball leagues, regular barbecues and an annual Kinloch festival that included a carnival and rides.
It featured a playground, but the basketball courts were the most important corner of the park for boys like Keri Gilyard and his brothers.
"As a single mother of five boys, I knew that they could go out there to play, and they would be OK," Yolanda Gilyard said. "I could watch them from my sister's window or I knew someone in the neighborhood would look out for them."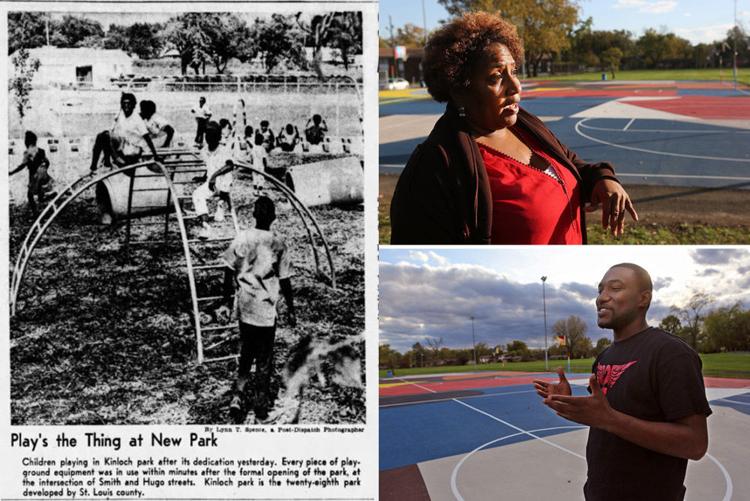 Keri Gilyard said the courts became known for some of the most competitive pickup games in the area.
"It was like a proving ground," he said. "People from Berkeley, Ferguson, Jennings would come out to Kinloch."
Gilyard's time on the courts eventually helped him win a spot on McCluer South-Berkeley High School's basketball team.
But by then, Kinloch was in decline.
In the 1980s, St. Louis Lambert International Airport began buying homes in the city for a noise-abatement program, ultimately purchasing roughly 1,360 properties.
The population plummeted and blight took hold. At times, the city's utilities were cut off for failure to pay its bill. Whole streets were abandoned, blocked off with discarded mattresses and furniture.
As the city faded, so did its park.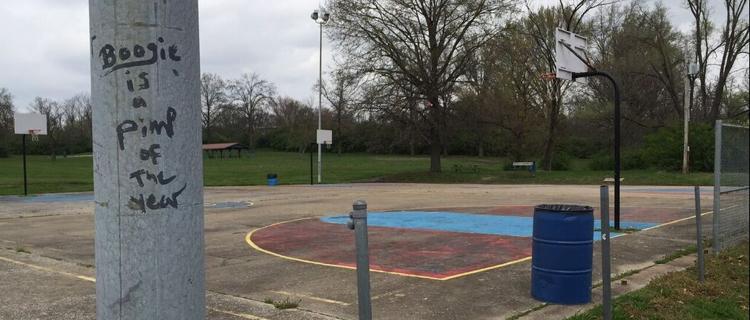 The Kinloch Festival ended in the early 2000s. The playground closed. The lights on the basketball courts were shut off.
The Gilyard family moved away in 2008, holding on longer than most of their neighbors.
Still, Keri Gilyard would bring his son, Keri Jr., now 7, to the courts to play. He would often clean up trash or tree branches.
"I just didn't want it to go vacant," Gilyard said. "Because that's my childhood, and I just wish my son could have that same experience I had there, that community."
In 2014, Gilyard started an annual basketball tournament to bring people back to the courts on his birthday, Aug. 31.
He offered a free haircut for anyone with an entry fee to the tournament and funded a cash prize of $500.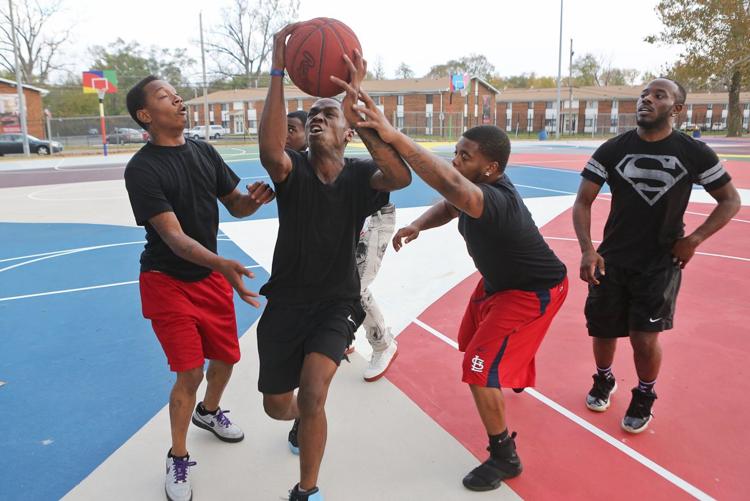 Some 300 people turn out every year, including many whose homes were bought out.
"It's like a reunion," Gilyard said.
Gilyard became the unofficial caretaker for the courts.
Then this summer, he met Daniel Peterson of Project Backboard who said he wanted to help.
"I was just happy," Gilyard said. "Finally, it was something good happening here."
Project Backboard
Peterson started Project Backboard in Memphis in 2014 while working for the Memphis Grizzlies community investment department.
It started with Peterson painting fresh lines on run-down courts in that city, but he began partnering with artists to create more elaborate backboards and, eventually, full-court designs.
Since then, the nonprofit relocated to Los Angeles and has completed six full courts plus dozens of simpler designs across the country.
Peterson said he had been interested in doing a project in St. Louis and contacted the St. Louis County Parks Department in April.
He toured a couple of parks and settled on Kinloch.
"I liked that there was still a dedicated group of local guys that were playing there every week," Peterson said. "And there was clearly someone keeping the park clean."
Peterson found LaChance, a St. Louis abstract artist who agreed to create the design.
"I thought his work had such a vibrant energy to it," Peterson said.
LaChance created the geometric design on canvas in his studio.
"I was working with 20,000 square feet, so I treated it as more of an architectural model," LaChance said. "When I went to see the site and some of the areas around it — they look like a war zone. So I wanted to try and imbue the area with beauty."
LaChance said he focused on passages of bright, uninterrupted color that could serve as a backdrop to players.
Photos: The makeover of Kinloch's basketball courts
The basketball courts in Kinloch Park were a hub for the community, the oldest African-American city incorporated in Missouri. As the number of residents shrank, the courts decayed. In August, the nonprofit Project Backboard enlisted St. Louis artist William LaChance to paint the courts with a bright abstract design.
Peterson reached out to Gilyard, and Gilyard agreed to help paint and gather community support.
They used a grid to plot out the design and painted the surface with Plexipave, the type of paint used on tennis courts.
By the second day of the project, folks from the neighborhood noticed the work and joined in.
LaChance estimates 50 to 75 people came to help.
The work was finished in about a week and cost about $32,000, according to St. Louis County park officials.
It was completed just in time for Gilyard's annual basketball tournament.
"Everybody loved it," Gilyard said. "They treated me like some kind of hero. … I just think people were looking for something to come back for."
Many Kinloch alumni, as they call themselves, say they hope the courts will inspire more revitalization.
"I have a dream that one day that will be a nice community," said St. Louis County Council member Hazel Erby, who represents the area. "There is a lot of pride in Kinloch and a lot of history. I think people would come back if they could."
But it's not just people who live in or visit Kinloch who see the artwork.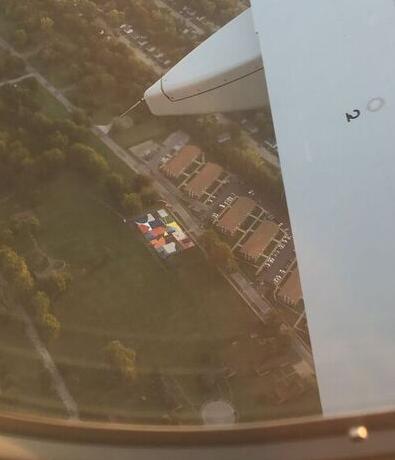 The courts are visible from dozens of commercial airliners each day, flying in and out of Lambert, the place many former Kinloch residents blame for the demise of the city.
Peterson, of Project Backboard, spotted the completed image on his flight out of St. Louis back to LA.
"It put me in a type of mind thinking about where this type of art fits, what it can be for a place," he said. "I was viewing it all from the sky."
Be the first to know
Get local news delivered to your inbox!